Damon Bradshaw sealed his legendary status by winning the 1988 Osaka Supercross. In the premier class. At 16 years old. Damon has now repeated the story a hundred times. On the podium that night, Ricky Johnson, the sport's top rider at that time, told Damon that the win would not necessarily be a good thing. "You screwed up now because when you call home and say you didn't win, everyone is going to wonder what happened," is what Bradshaw heard from RJ after the race. "You know what? He was exactly right," Bradshaw admits now.
From then on, every time Damon didn't win, people were going to ask why. His race victories did become legend, but that's a lot of pressure, and expecting to win every race would come back to haunt Damon later.
We recently had a chance to talk to Trey Canard about his own magical beginning back in 2008, when he busted out of the gates winning not only the first supercross race he ever competed in, but then the next two as well! Three in a row to start his rookie supercross season!
"It was both the best thing and the worst thing that could have happened to me," says Canard today. "It was crazy! All three of those races are tied together. I was just living a dream. I really did not expect to win that year, I was hoping for podiums. To win three in a row was crazy! Again, it was one of the best things and worst things that could have happened to my career. It was awesome, you don't turn down three race wins and you don't turn down a big points lead. But for my expectations—the bar was set really high from there for myself."
Canard's big start culminated at the legendary 2008 Daytona Supercross, the subject of the latest Leatt Re-Raceables Podcast hosted by Steve Matthes and I. We dive into the details of a race where riders were diving into Daytona, which was under siege all day and night from massive rain. It's arguably the wettest supercross ever, and Canard topped the 250 class. Chad Reed looked set to win the 450 main until his bike expired with just two turns to go, and Canard's Honda teammate Kevin Windham sailed by to take the win in the big class. It was just another great thing during a great time for Trey.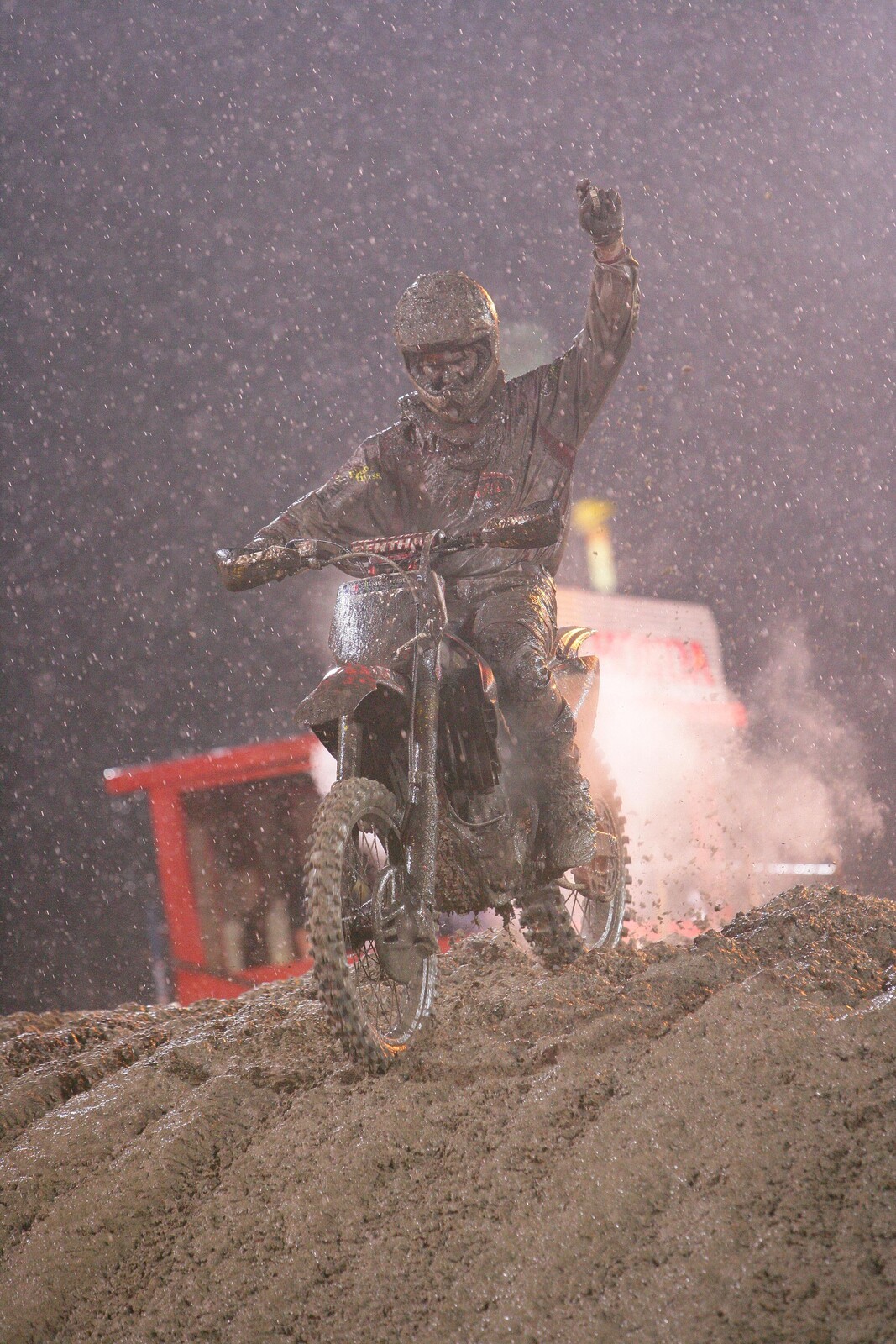 "I had like this really naive optimism," Canard says. "To become a good athlete, you have to have this good mix of where you are but also where you want to be. I just had it in my mind. Nothing had really happened that challenging for me at that point in my racing career, the last three or four years of my amateur career everything had gone really well. I remember looking at Ricky Carmichael and thinking, 'If you just work really hard good things will happen. I work really hard so good things are going to happen to me!'"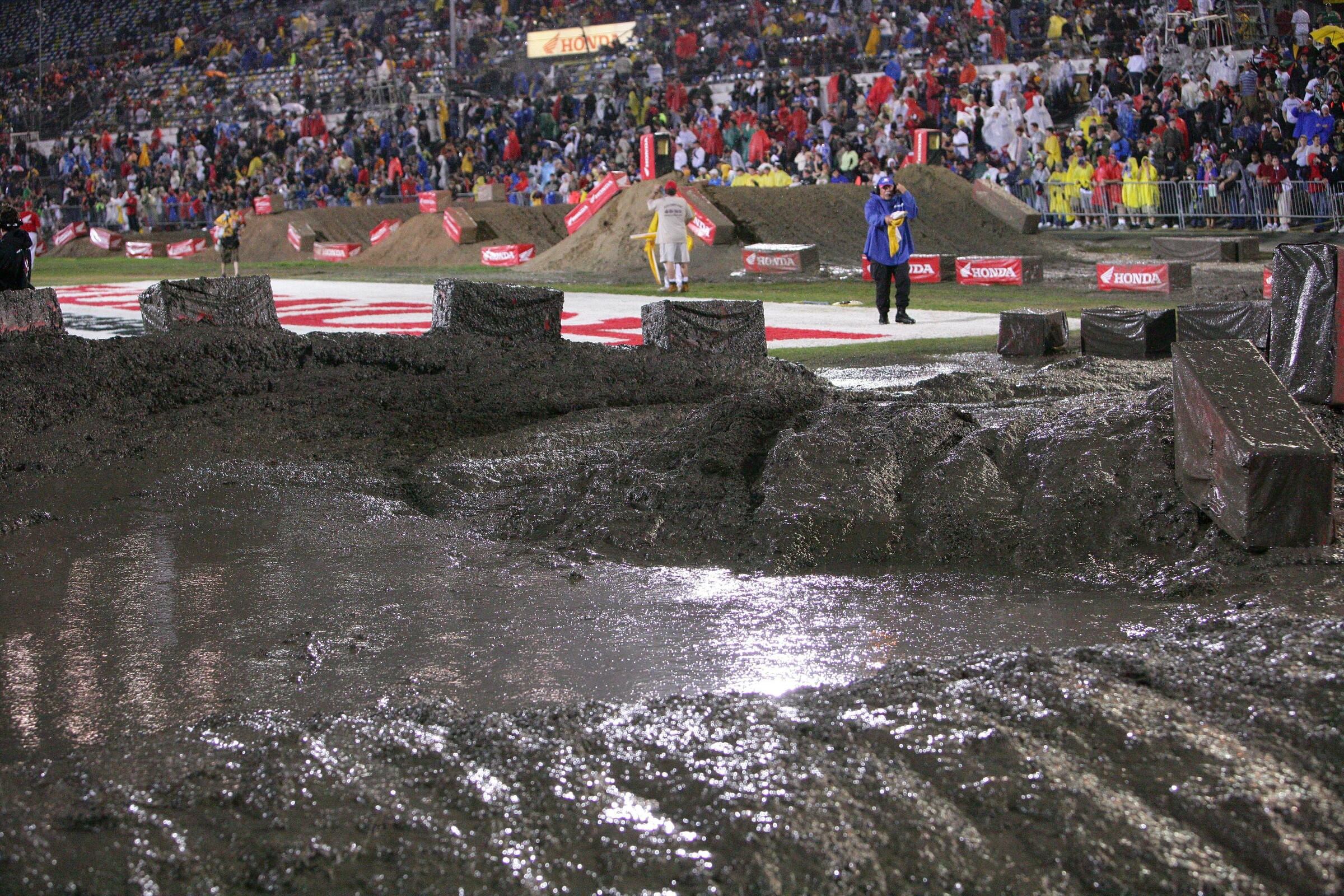 Canard finished his amateur career at the 2007 AMA Amateur National Motocross Championship at Loretta Lynn's. He was part of a big group of graduates, alongside Nico Izzi and Austin Stroupe, who left Loretta's with factory pro deals. In fact, with the Great Recession on the horizon, these three grads would stand for years as the high-water mark for amateur-to-pro deals. After Loretta's, Canard then scored 11-10-5-8 finishes in the final four rounds of AMA Pro Motocross. Supercross expectations, of course, were tempered going into 2008, especially since he would be paired against veterans Ryan Villopoto and Josh Grant.
"There was a pre-race show that year and I remember that they didn't even mention me as part of that coast," said Canard. "They interviewed Josh Grant and RV, and I remember RV saying, 'Yeah this coast is kind of light, and it will just be me and Josh Grant and the next guy will be a distant third.' I used that. I remember we had a slogan, which was 'D3.' And what that meant was distant third! So that was my motivation to get up in the morning and give….200 percent. Which is a phrase that was probably way overused!"
Watch the 2008 Daytona SX Lites main event below, starting at around the 41:38 mark.
Ah yes, 200 percent. Canard repeated it in nearly every interview that year, sticking to that optimism that hard work would equal success. Tougher times would come, but in Atlanta, Indianapolis, and Daytona that season, it really was simple: the 200 percent effort resulted in wins at 100 percent of the races.
Canard gives a lot of credit to his trainer at the time, Greg DiRenzo. We spend much of the podcast laughing about Greg's New Jersey accent and hard-core training methods. Indeed, while most motocross trainers look like lean, mean bicycling machines, DiRenzo looked like he was ready to kick sand in everyone's faces. He was big and buff, built like a bully. Not surprisingly, Trey says they did a lot of gym work, which he thinks put them a little ahead of their time. Back then long cycling sessions were the go-to training method for motocross. DiRenzo went for higher intensity.
"I give Greg a lot of credit for coming in with the kind of intensity and optimism that I had," Trey says. "We worked hard. Really, really hard."
"Those first three rounds I had no expectations," he says. "I was just going to go and do my best and see what happened. Somehow that ended up being three in a row. It seemed like from that point in the series on, I had the pressure that I expected that I should win. But of the three I think Daytona really tops it off for me. Man, I still have that jersey at my house! I left it completely muddy and framed it. I was just a super special night. I think most people will remember that night."
In that epic Daytona mudder, Canard got out front early. Villopoto, determined to end the win streak, started getting close, but then he fell and then fell again.
"I just remember it was the weirdest race," says Canard. "I got the holeshot somehow. I had a horrible jump. I remember pulling into my gate and the water was over my wheel. My mechanic Brent [Presnell] was trying to pack the gate and he was literally just stomping water! Yeah, I got the holeshot and it was one of those races that seemed easy to me. I could see RV creeping up on me, but I was just going to hit my marks and try to not crash. From what I could see most of the whole night, people are just crashing like crazy. I remember I pushed really hard for a bit but then I almost looped out. I was spinning, spinning, spinning, and then I caught traction and almost looped out. I just maintained the lead from there. I think because I had clear vision, I was out front, I knew that if I could maintain this thing, I could win."
Following Daytona, Villopoto turned up the heat on and off the track. He started throwing shade at the rookie, saying that he would eventually crack and make a mistake. He accused Canard of being a dirty rider. He applied pressure in every way he could, and it almost worked.
"I remember thinking, 'What did I do?'" laughs Canard now. "I looked up to this guy and why is he so salty to me?"
Villopoto started winning again and he got the mistakes he needed, as Canard missed the podium at the next three races, going 4-4-8. Villopoto, after failing to finish the opener due to a crash, was in position to dig the championship out as they headed to the finale in St. Louis. That race was another all-timer, as Villopoto took the race lead from his young challenger, only for Canard to fight back. They battled hard, bounced off each other, and Villopoto ended up in the metal stanchions surrounding the finish line jump. Canard won the race and the title in his rookie supercross campaign. But St. Louis is another story for another day. That one was tinged in nerves and drama. Daytona, even in horrible conditions, was nothing but smiles.
"I was just so young and optimistic," says Canard. "What, water and dirt bikes don't mix? I wasn't even worried about that!"
Listen to the full Re-Raceables Podcast on the 2008 Daytona Supercross below.