One of the biggest standouts in 250SX this year was KTM Orange Brigade rider Joshua Varize. He didn't get some of the hype as the factory riders making their debut this season, but you might be surprised to see that Varize ended up seventh in points for the 250SX East Region championship. Despite the field being plagued with injuries, Varize still landed in every main event and consistently rode his way into the top ten. On top of that, he was still racing amateur events during the downtime as the Orange Brigade program is for KTM amateur riders. So with this strange Pro-Am deal and some solid results in his first AMA Supercross season, we called up the California native to get some insight on his program and season.
Racer X: So first off, it was an amazing rookie supercross season for you. You finished seventh in 250SX East, you got three top tens, you made every main. You've got to be pretty happy with that, right?
Joshua Varize: Yeah, I'm super stoked with that. I was stoked before our break to make all of my mains straight up out of the heats. But then Salt Lake 1, I had a little crash in my heat race and couldn't finish it, so I had to go to the LCQ. That was so stressful.
The field was kind of decimated, but you finished 12th at the opener with everyone there, so did that kind of set the tone for you where you felt like, "Man, I actually belong here?"
Yeah, at the opener finishing 12th, I thought, "Okay, I belong in the top ten." So, we were working towards that and then the next weekend I had a crash so I couldn't finish inside of the top ten and was farther back. But then, round three was kind of when a lot of people were getting hurt. So, it was like, "Yeah, a lot of people are out right now and not racing." A good way to put it and the way I always explain it to people is that it's like one big race. It's not just the one race that counts and staying healthy is part of the race. Some people are good at it and some people aren't staying healthy the whole time. It kind of sucks because there's a lot less dudes out there and I feel like if nobody got hurt that it would be a pretty even playing field, but you know, with people getting injured, that's just one main thing is staying healthy in this sport.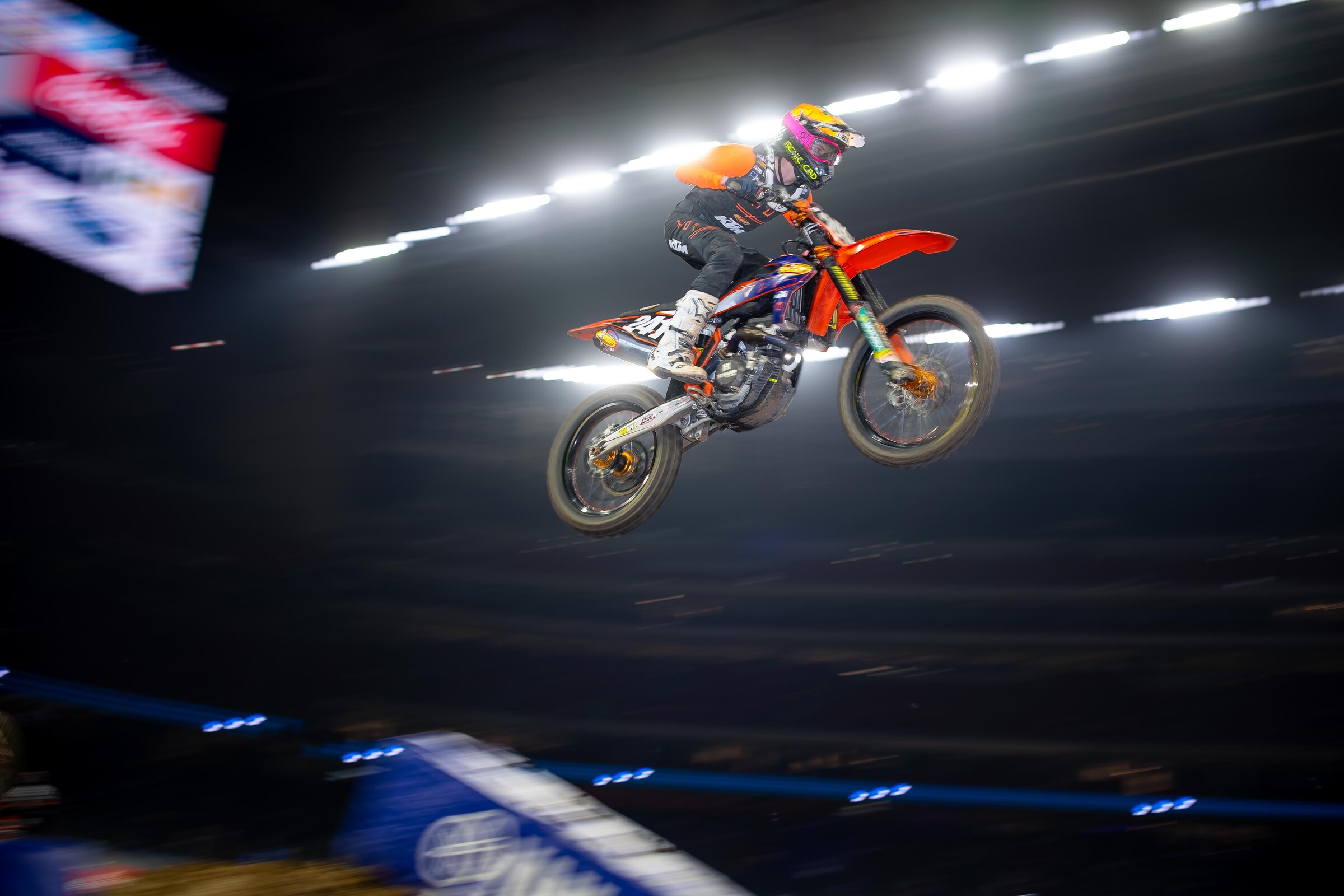 In terms of staying healthy, to me it seems like you're more of a smooth and consistent guy instead of someone that tries to put a bunch of hot laps down. Is that your approach or are you trying to find that next step with your sprint speed all the time?
Yeah, I really want to try to find that next step actually. I'm always pushing in my sprint laps and there is a few times that I'll get sketchy or clip something in the rhythm and feel like a complete goon, but I'm for sure hoping to find that next step pretty soon.
Tell me a little bit about your program. I know you and Max Miller ride for Orange Brigade, you're doing some amateur events here and there, but then racing supercross as well. So, how is your program set up where you guys race pro level and amateur at the same time?
So, I think it was back in probably October or November of 2020, we were talking about it and decided to do East Coast. I think it was the West Coast at first because it went back and forth but whatever coast was going first just because it worked out with being able to race Freestone and Spring-A-Ding. Obviously, me and Max Miller race for KTM Orange Brigade, which is an amateur team. They don't have a pro deal or anything. So, we raced the first part of supercross and in our break we went and raced Spring-A-Ding and Freestone Amateur National for Orange Brigade. Then after that, I got back to riding supercross to get ready for the last two rounds in Salt Lake and hopefully do good there and possibly have a factory team or a team look at me. I'm always telling Nate Ramsey, the team manager, "Oh come on, we've got to start a pro team." So, the last two rounds of supercross, I was really hoping to do good in the East/West Showdown to maybe have factory teams having an eye on me going into Pro Motocross and maybe next year we're able to get something.
What do they sort of tell you about the pro team and how that works out? Because obviously the Orange Brigade program used to kind of lead into the TLD KTM system but now they're GasGas so is there any kind of direct like to stay on a KTM and move to the pro ranks anymore or is it that they're taking you to the end of your amateur career and then it's an open field after that?
Yeah, you'd race for KTM Orange Brigade and the next step would be to go to the TLD KTM like you said. I never had that opportunity to do so and then TLD went to GasGas, which is still obviously like KTM owns GasGas and Husky. So, for me, they took me through my amateur career and now it's like I can go wherever but obviously I'd like to stay on the KTM manufacturer side. You know, either GasGas, or even KTM I'd love to stay with them, or Husky, but if there were ever any opportunities to go elsewhere, I'd love to see what the opportunity is and go from there.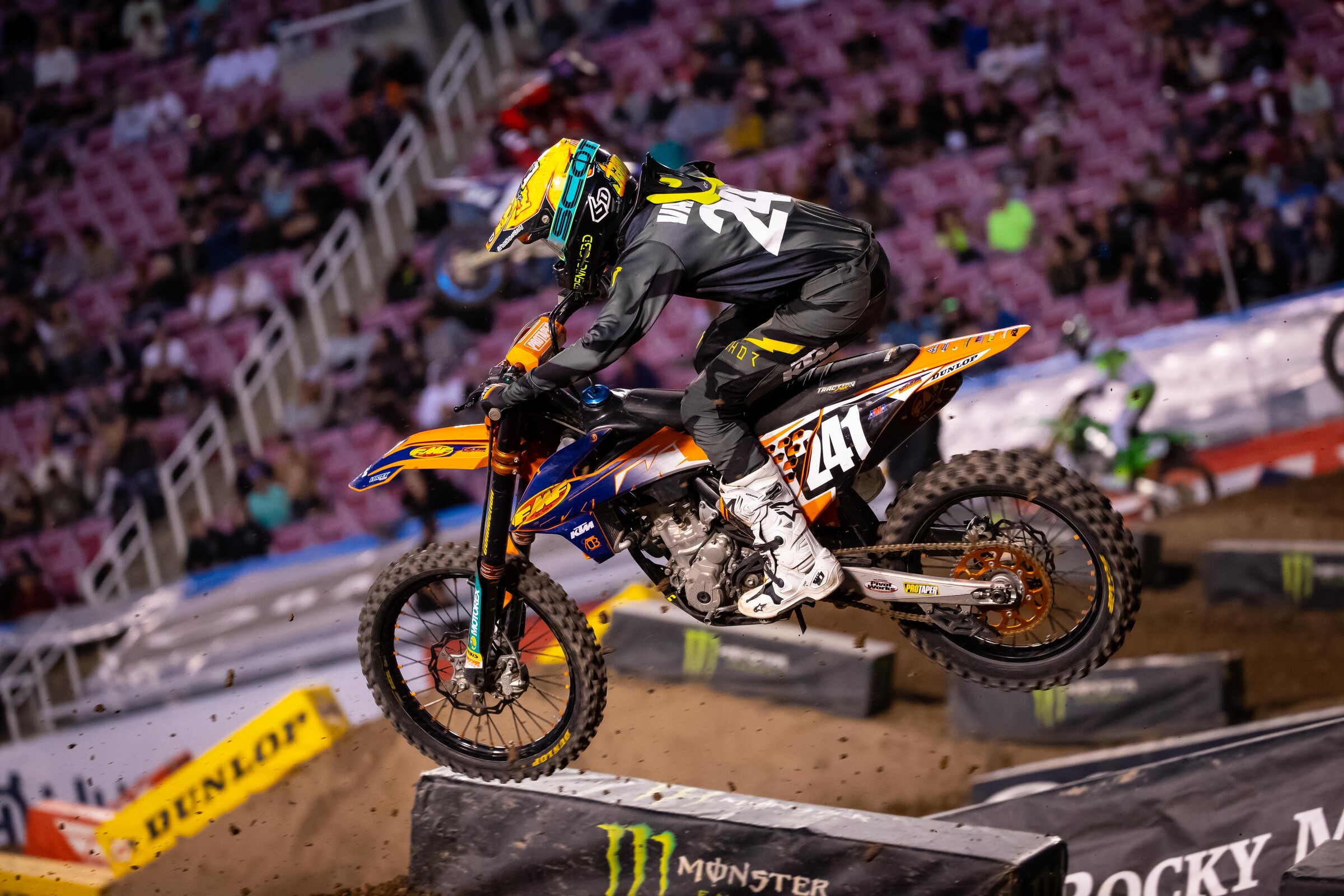 So, the plan is then for you and Max to still be part of Orange Brigade and then race all of Pro Motocross this year?
I believe Max's plan right now is to race all of the pro nationals, but afterwards, I'm not too sure. My plan is to for sure race all of the pro nationals with Orange Brigade and then my contract is up in October when all of the contracts are up. So, pretty much until October, I'll be supported with KTM, and then after that if we don't get anything then I'll just be full privateer status.
As much as you can tell me, you've obviously put in some impressive results for supercross, have you had anybody approach you? Has there been some phone calls at all?
No, actually. I've thought about it and I'm not too sure if most people think that I have some kind of deal with Orange Brigade that's like a pro career deal, so I'm not sure if people think that or not. But I haven't gotten any kind of phone call or email from any team but I'm for sure praying and waiting for that phone call to get the opportunity.
Well talking about your supercross season again a little bit. What is the biggest lesson you learned from your first full year of racing supercross and racing on the same track as the top guys?
A big lesson I learned it just qualifying, you know. You've got to get your laps in clean, work on your sprint laps, which qualifying isn't like a big part of it, but it's nice to be in the top range of the leaderboard. And then, just staying healthy for sure. I always knew staying healthy was obviously a good thing, but after this year and seeing how many people were out whenever you're on Racer X's website and you see all the red plusses next to everyone's name, that's super important to stay healthy. And then just staying ready, because we were racing Saturday-Tuesday-Saturday a couple of times, so it was pretty back-to-back. But even racing Saturday to Saturday, it's kind of just being able to recover fast between race days.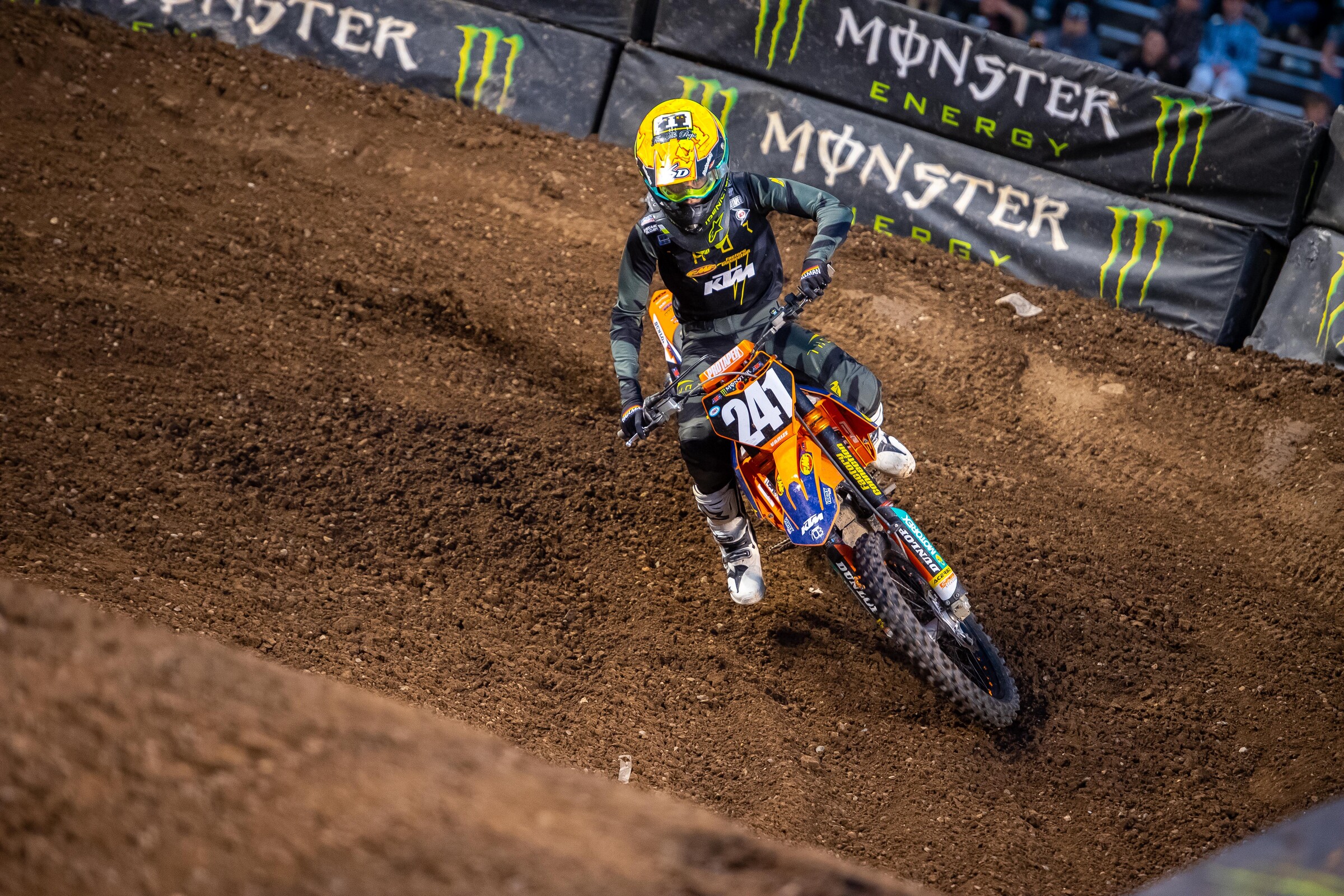 How different would you say supercross is than what you thought? Being on the big stage next to all of the guys you see out there, was it exactly like you expected, was it a lot different, was it more nerve wracking?
Honestly, going into it, I didn't really know what to think. It kind of just felt like going to another race, but obviously it was supercross. So yeah, I didn't really know what to think, I was just kind of going to have fun and see where we're at. Plus, from racing Monster Cup back in 2015, 2016, and 2018, like 2015 Monster Cup was for sure my first time ever experiencing something like that. So, I kind of knew what it would be like with fans, and I knew that there wasn't going to be as many fans due to social distancing and COVID[-19]. But I was kind of just having fun with it, just something new, and this is the big leagues now! And I for sure thought like, "Oh I'll just make the main straight out of my heat no problem." And then I saw my dad put on my pit board and say that I was in 11th place in the heat, and I was like, "Oh no! I cannot go to the LCQ!" So, I made a few passes right there and then after watching that first LCQ race, my goal for myself, like I set plenty of goals, but one of them was not to an LCQ at all because those do not look fun at all.
Who would you like to thank for getting you to the races and for everything that's happened for you this season?
I'd like to thank the Lord for keeping me safe. KTM Orange Brigade, my mom and dad, my little brother, my grandma and grandpa, THOR, 6D, Scott, Alpinestars, Asterisk, Perris Motocross, State Fair, Freethepeeps.com, Irenic CBD, and I know there's a lot more. Nate Ramsey for being there and supporting me with everything and giving me the opportunity to race supercross and experience that. MotionPro, Factory Connection for sure with big support and getting my suspension dialed in, Twisted Development for helping me get off to the great starts that I wish I had but we'll get 'em next time [Laughs], DT1, Pro Taper, Traction MX Seat Covers, Sticker Standard for making our bike look sweet with those graphics, and anyone else I forgot thanks, I appreciate it!