Thanks to the folks at MIPS for hooking us up with interview time with MXGP World Champion Tim Gajser. Although the 2021 MXGP season has been delayed again, currently slated to start on June 13th in Russia, the Honda HRC man is still hard at work, trying to balance training and riding while not peaking too soon for what will be a long season once it finally starts. We talked to Tiga last week during a photo shoot with his Honda HRC team.
Racer X: How do you manage the schedule right now? Your season has been pushed back. I guess you have a pretty good idea of when you'll start. How weird and different is your schedule once you found out you have to wait even longer?
Tim Gajser: I have to adjust, definitely. Last year was something new to everyone. This year we kind of know what to expect and what to do in this kind of situation where we have delays of the schedule, of the races. So, I continue to train, but definitely I changed the training a little bit because I don't want to over-train myself because we still have two months until the first GP. Also, I'm going to do now a couple of races here in Europe, just to warm up a little bit. We're going to start this week in Maggiora. I'm going to do the first race and then a couple more just to warm up a little bit.
What you guys always seem good at is when you do these warmup races, it seems like it doesn't always necessarily predict how the season is going to go. So, are you going into these races saying, "Hey, I'm world champ. I need to win everything?" Or however these warmup races go it doesn't really matter so much? How do you manage that?
Of course every race I'm entering my goal is try to win, but I think the biggest goal is to just warm up a little bit. Now I haven't raced for the past five months, since Arco, since the last GP. So, it's been a while. So, it's just to get back in the race rhythm. So that's the main purpose of doing these races.
It blows my mind how long your season is. You have to ride through so many ups and downs. Last year, you had bike problems or crashes or whatever and it's like, it's not looking good, but then it all worked out fine and you won the title. How do you manage those ups and downs? When you have a bad race, are you crushed, or are you aware that there are so many motos, I can't let this get me too down?
Like you said, the season is pretty long. I think everybody knows that. The consistency is the most important thing. The winner is the one who makes the least mistakes in the end. But of course, bad motos, bad GPs, you feel bad, but you try to regroup as soon as possible because we have races every weekend, last year even every three days because of the schedule that they did because of COVID. So, you don't really have enough time to think too much about it because you have to make ready yourself for the next race. So, you don't think too much. We have 20 GPs in a year. It's quite a lot of motos, races, but you try to be as consistent as possible, and that's it.
Do you almost kind of know everybody is going to have a few bad ones here and there? Do you think that way?
Not really, because you don't want to do these mistakes. Of course, everyone wants to have a good season without mistakes, without having a bad moto, without throwing away the points.
Last year you had a new bike. Now that's essentially the production bike. Does your bike change a ton this year compared to last year?
Not really, because last year we had a completely new bike. So, for this year we made a couple of changes, but they were not really big. Some little changes. Basically, the bike is quite similar to the one that I was riding in 2020.
When you bring in an all-new bike like you did last year, is it actually changing a lot throughout the season? What you raced at the end of the year, was it similar to what you had in the beginning?
Here we are testing basically almost every two months over here, and the Japanese always bring something new. It depends also how good you feel on the bike. If you are struggling in the beginning of the season and you didn't really find everything that suits you, then you are kind of searching for it. But as soon as you find the bike that suits you, that you enjoy, that you feel one with it, then I just like to keep the bike the same for the rest of the season.
So, when you get an all-new bike like you did last year, it's not like you go to round one and they're saying, we're not totally ready?
Immediately when I sat on the new bike, I felt quite home with it. Little changes, and then we were set. Last year around January, February I found already the setup that I liked. Basically, during the season we did just little, little, little changes. Just little clicks on the suspension, these kind of things, about the electronics. But the rest was quite similar because I was feeling good, so there was not major, big changes.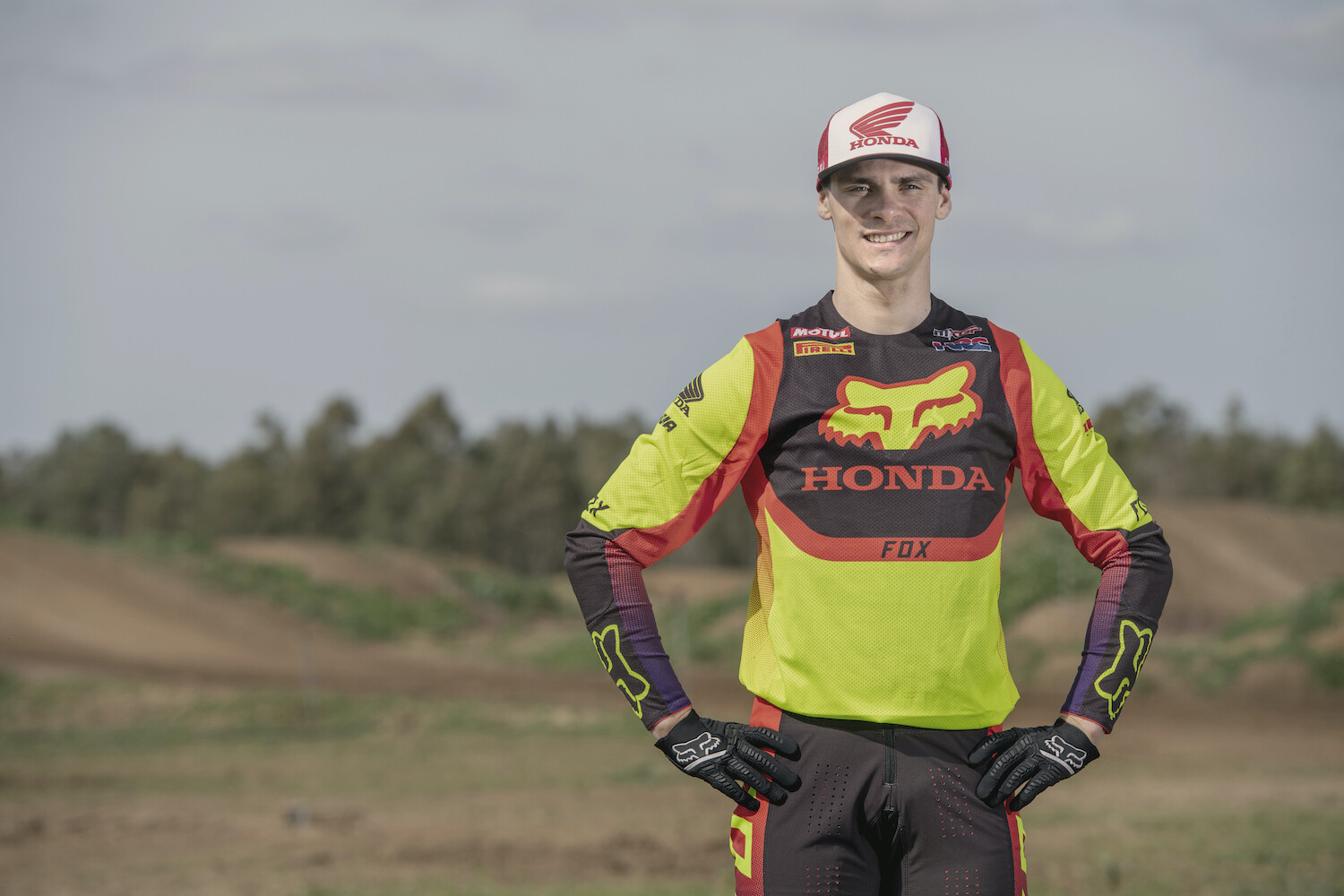 Roczen was great on the bike immediately. Do you feel good when you see that?
Yes. Also with Kenny, we were talking a little bit because last year I was already riding the new bike. Kenny was still with the old bike. He was asking me many times how is the new bike. So, we were talking a little bit. Now when I see how well he's doing with the new bike, how comfortable he's feeling on it, it makes me happy. Of course, we are teammates. We are both riding for HRC. He's been really good this year. So, I'm happy.
One thing I've always wondered about you is your backstory of coming from a relatively small country to this success. Was there a local racing scene and that's what you did, or did you just ride by yourself? What is the local racing scene like in Slovenia?
Actually it was really difficult in the beginning. Like you said, I'm coming from a really small country, Slovenia. We are just a little bit over two million people in all the country. So, let's say that maybe until three, four years ago when I became first time world champion in MX2, nobody really knew what kind of sport is motocross. So, it was difficult to come from such a small country. Also, I'm coming from a family that we didn't have really a lot. My father gave everything for motocross, so we were kind of struggling. I was riding with old bikes. But I was always trying to be successful. My dream was that one day I would be a world champion. I always followed that dream. First, we started to do some European Championship races when I was back in 65. Then I became a European champion in 65s, then two years later in 85s. Then we went to 125s, and as you know 125 races are on the same tracks and the same days as MXGP. From then on, the teams started to notice me. First, I was riding for KTM two years. I signed with Honda in 2014. From then on, I start to live my dreams, I would say.
Are there a lot of local tracks where you grew up? How did that part work?
Not really. Let's say that we have maybe five tracks in the whole country in Slovenia, official ones. But I always had my private tracks close to my house. So basically, I was training all the time over there and my father was building the tracks for me and I was training just on my own tracks. But overall, like I said, motocross in Slovenia was not that big. But now with every year, it's getting more popular. Now almost everybody knows what kind of sport is motocross in Slovenia. So, it's growing, and that's really good.
One of the reasons we're talking here is because I know you guys signed a deal with MIPS. Are you familiar with how that works? Did you already know what it was or is this a whole new thing for you?
I kind of knew some things, but it was kind of new to me. But I'm wearing the Fox helmet already now for the past four years, five years. For about three years I think they started to do helmets with MIPS products. So, I kind of know what it means.
Maybe no part of riding gear has changed as much as helmets lately. It seems like every year someone is coming up with some new thing to make helmets safer. Is that something you notice?
Yes. The helmet is really important. The bikes and everything are getting faster. They are really fast and also, I think it's really important to take care of the gear because of the high speeds, bigger jumps that we are doing on the tracks. So of course, it's really good to see that all the companies that are producing the helmets and all the gear for the motocross equipment, also the protectors and everything, they are also developing these things. So they are going with the times, how the bikes are improving, also the gear is improving. That's good.
The cool thing about MIPS is that a bunch of different helmet brands use it. So, if you come up with something good on the safety front, they're not hiding it from each other which I think is pretty cool.
I guess I really don't follow the other brands, just Fox, but when we are talking about protection, I think it's really important to do have good protection, that everybody is safe, that everybody has a good product. That's the right thing, I think.
I'm just going to be honest. This is what we always talk about you here in the US. We will watch these highlights. You mentioned the high speeds. You have some crashes, man. You have some serious crashes! And somehow you get up a lot of the time. This is just what we see over here. I don't know if that's something you think about, but you're pretty good at taking a hit. I can tell you that.
Yeah. Just a couple of days ago I was watching all highlights of my crashes. Some of them were nasty big ones. I'm really happy and thankful to walk away from these big ones. When you hit the ground at such a high speed, the impact and everything is really high. It's really big. Just happy to walk away from all these crashes. It's even difficult to put your hands in front of your head when you crash at 80 or 90 [kilometers] per hour, fourth gear wide open. Everything happens in less than a second. Everything happens so quick. Sometimes of course if you have time, you try to save it. You try to fall on the side. You try to roll or something like that. It depends also what kind of crash you have. If you have time to think a little bit what you're going to do, or it just hits you from nowhere. Those are bad, especially when you don't have a lot of time to recover.
When you had those multiple races crammed into one week, did you not quite feel 100% recovered by some of those races towards the end of it?
Honestly, I was feeling really good. I never feel that my body didn't recover until the next race. The more the season was going towards the end, the more stronger I was feeling. Basically, for me, if we had the same schedule like last year it doesn't really matter. But I think also it depends on how good shape you are in. I think it's really important to predict correctly how to train now in this period, to not over-train yourself, to not start too early because then you came in the first race 100 percent ready and then you have like twenty GP's and of course you can't keep that shape during twenty GP's if you are riding 100 percent in the first GP. So, I think the prediction when to be 100 percent is really important.
I feel like you see it. Someone starts off really hot, and then they're nowhere to be seen at the end. So, it really does happen.
Yeah. I think everybody in MXGP has a lot of years under their belt, so everybody tried to be ready as much as possible. Everybody has experience. Everybody knows how long the season is. Like I said, I think the goal for everyone is to be at the first GP around 90% ready and then try to build the momentum the first couple of GPs, to warm up a little bit, be there in the hunt, be in top three, top five, then towards the second half of the season start crushing it.
The ever-changing schedule doesn't make it easy to plan all that.
Yes. It's difficult. They delayed already twice the schedule, but it is what it is. It's the same for everyone. We hope now this change is the last one, and hopefully in the second half of June we can start with the races and everything. So, we will see.