Atlanta, GA
Atlanta 1 (West)
Monster Energy AMA Supercross Championship
Cooper Webb didn't have the easiest of days at the Atlanta 1 Supercross. A fifth-place finish in his heat race raised a few eyebrows as the start was going to be so critical on the slippery, damp racetrack. But Webb, like he has done so many times this year, optimized his positioning on the start and was rewarded with a second-place start. He wasn't happy with his riding, though, but it still ended up being a good event on paper since his championship rival Ken Roczen went down in the first corner. Webb coasted in a third-place finish to extend his championship lead.
The media spoke with Webb via Zoom following the race.
Racer X: Obviously, the race strategy changed with Kenny's starts. After Kenny got a bad start, you weren't charging maybe towards the end of the race there. Was that part of the bike or just already how comfortable you felt during the race?
Cooper Webb: Honestly, I wasn't really thinking about too much. I saw he was pretty far back, so in my mind, it was kind of a sigh of relief, I guess. I put myself in a great opportunity to be up front. Honestly, I kind of rode like crap, to be honest. Was struggling with some lines and just kind of riding tight and made a lot of mistakes. So, at the end of the day, I was happy to still be on the podium. Kind of felt like I left a lot out there, though. I felt like I was in a great situation and didn't take advantage of it. So, a little bummed on that aspect, but overall, the big picture, it was great for the points. To be on the podium on a day that you're struggling is always a huge plus, so we'll take it.
A lot of talk lately about the mind games and where you and Kenny are at mentally, whether you're inside his head or not. It was the focus of the latest Red Bull Moto Spy series. At the end of that thing, Kenny made a comment about it just takes one of these guys to have a bad race and I'm back in it. That kind of made me feel a little like, "He's already out of it unless one of you has a bad race, almost." What do you think about that comment? I may be looking too much into it.
You never know. I know where I'm at mentality-wise and moving forward what I need to be at with these races left. Obviously, when it comes down to later in the season it's easier to overthink. I'm just doing what I can and trying to get those good starts, like I did in the main, and put myself up front and honestly contend for wins still, I feel. That's the goal. It's hard to say. We've heard all kinds of comments from him this year, so you don't know what he's thinking. I know what I'm thinking and my strategy, and I guess that's all I really try to focus on.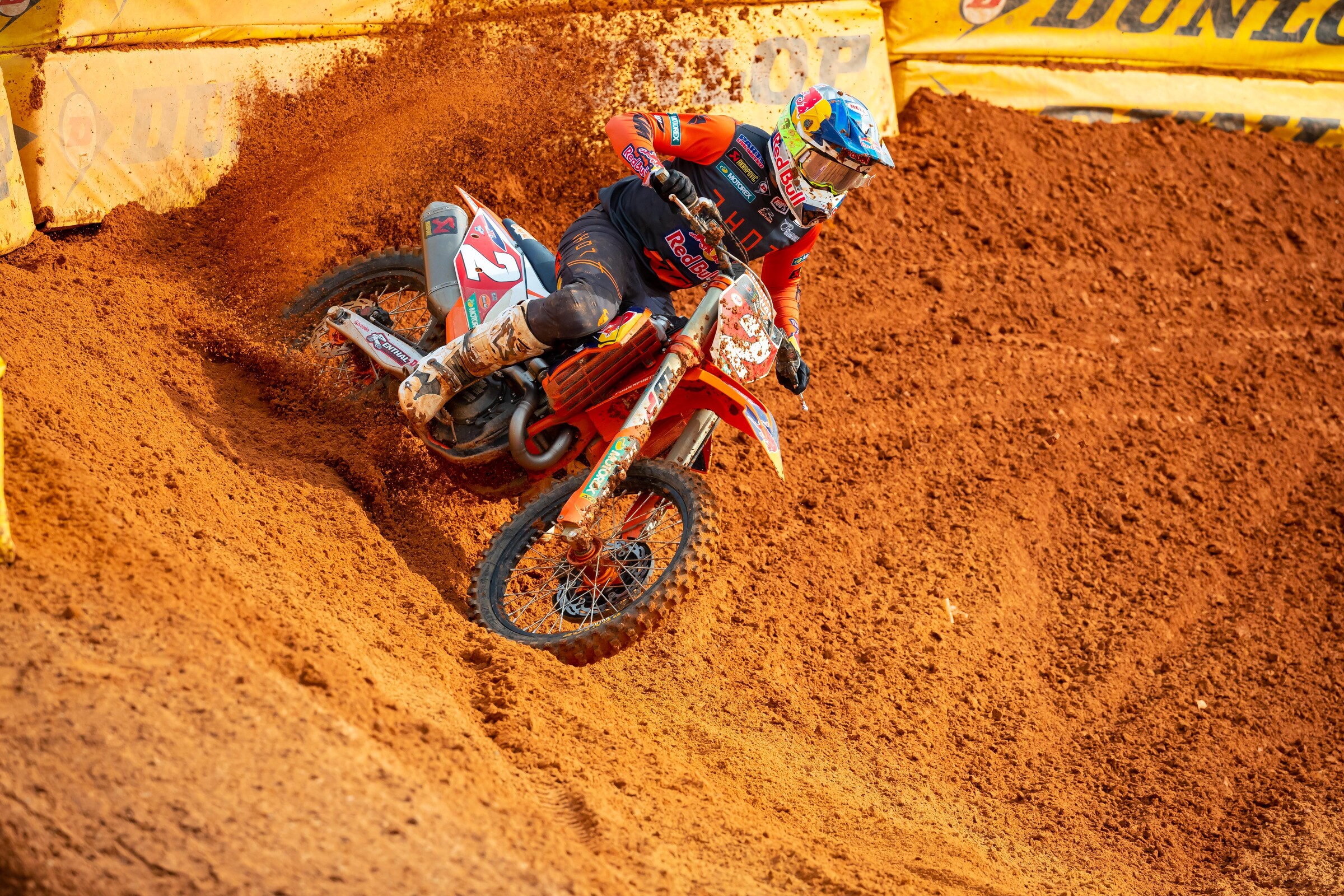 I know you weren't happy with your ride tonight, but you produced a start when it really mattered, and you've had races where you don't seem to have the pace, but you find the pace. It's almost like you will yourself to go quicker. Is that what's happened, or do you have mental strategies you've put in place to be able to produce whenever the big moments arrive in these championship races?
I feel like it's situational to a sense. Every race is a different situation, depending on where you qualify, how you're feeling that day, how the bike is. There's so much to it. Obviously in our class, there's so many good guys. So, I just feel like I'm good at blocking out the noise, I guess, and however qualifying went or however the heat went, just being able to put that behind me and focus on the main event and what I've got to do to execute. Tonight, the start was key. I nailed a really good one. Like you said, I was kind of struggling a little bit, but I knew the guys were behind me. Just trying to ride my pace. Once they kind of got around me, I tried to hang for a little bit. It's more situational. I try not to focus on practice or the heat race or whatever it was and just try to execute in the main. It usually helps to get a good start, and just adapting to the track. I think like Chase [Sexton] said, it changes so much in the main event that you've got to be able to adapt. Usually, the guys that adapt can win the race, I think as we saw tonight. It's just kind of having that experience of knowing what I need to do. I don't know what it is, but I just feel like when the main event comes around, it's go time.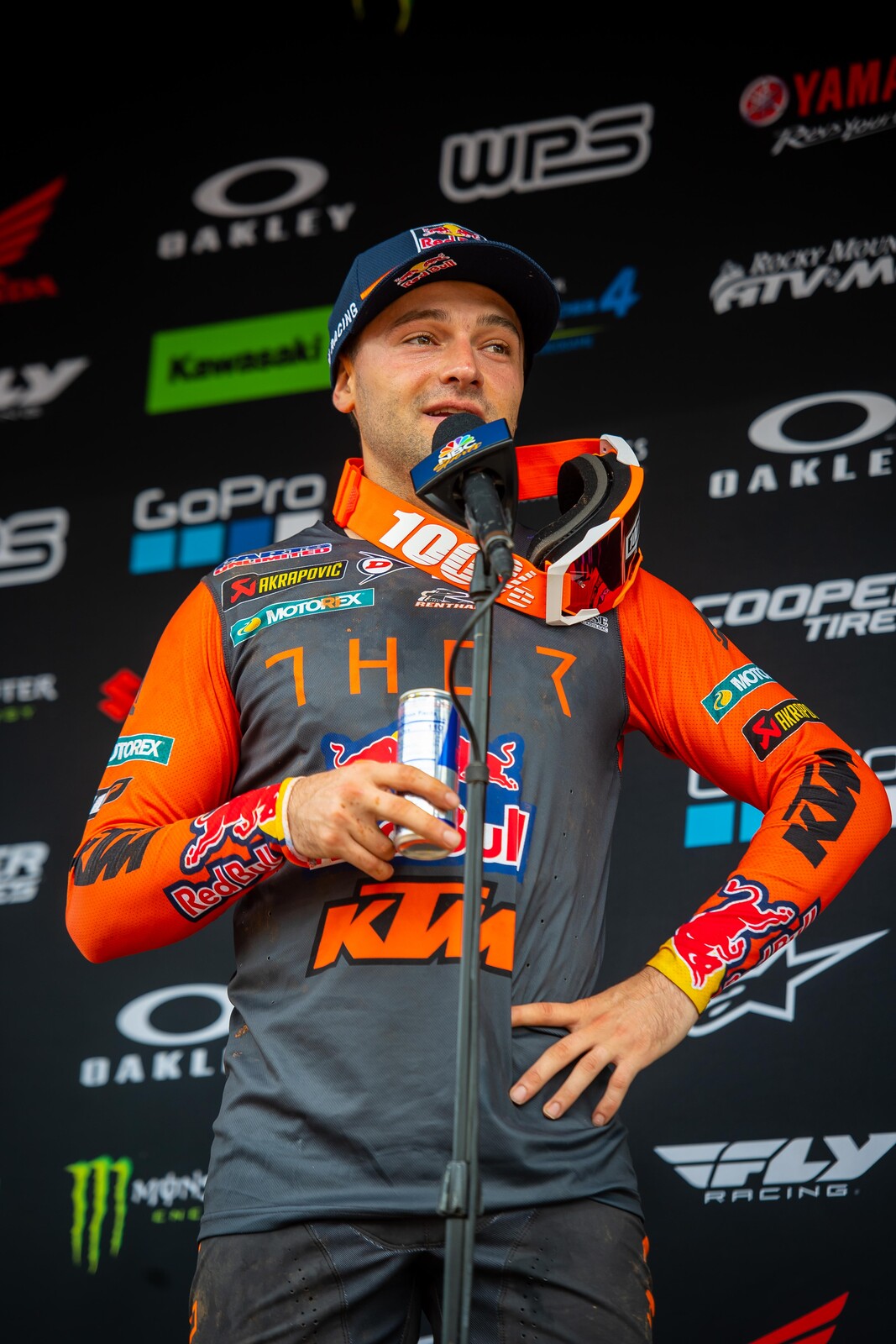 Do you change your strategy based on each rider you're racing, in terms of how you pass them or how quickly you go to pass them whenever you catch them?
For me, I do. Every guy you race is different. I try to know everyone's weaknesses, their strong points, and what to expect. That's something that once again it's kind of situational, who you're racing against, knowing their pros or cons, how they're going to race you, try to think how they would think when they're behind me. So that maybe is something I do that other people don't.
They mentioned on the broadcast that you were on the outside of the doghouse. First off, what were your options? Was there anything inside available at all? Second off, when you were out there, was there any concern that you were not in the best spot being out there and you really needed to get that jump out?
With the fifth in the heat or whatever, being ninth pick, you're kind of limited to what you get. I was just looking around. I wanted to be probably more in the middle, obviously, but I saw the guys that were on the inside and I just felt like it was too far in. So, I went outside the box. The rut was good. Honestly, when I got there, I was pretty stoked. I was like, "Man, this is actually a pretty good gate." If I execute, I can probably holeshot. It worked out well. I came around in second and got lucky, but obviously you had to execute because if you don't, you're probably coming out pretty bad. So, it was important to dial in that start, for sure.
Watch the full Atlanta 1 Supercross post-race press conference below: