Atlanta, GA
Atlanta 1 (West)
Monster Energy AMA Supercross Championship
The rainfall coupled with the extremely unique track at Atlanta Motor Speedway on Saturday was almost certainly going to provide us with surprises and what a surprise it was. In just his sixth career 250SX start, Nate Thrasher became the fourth different first-time winner in the first six rounds of the 250SX West Region in 2021 (after Cameron McAdoo, Seth Hammaker, and Hunter Lawrence). The Tennessee native had just a ninth-place finish as his prior career best until he broke through for an improbable first win on Saturday.
Afterwards, he spoke with the media via Zoom.
Racer X: It's been an hour and a half now, almost two hours maybe since your main event. What does it feel like? When you woke up today, did you have any idea this was going to happen? Now that it's happened, what does it feel like? Let us know how you've taken this.
Nate Thrasher: Yeah, it was good. We got off to kind of a good start to the day in timed qualifying. We only had six or so laps on the track today, so you just kind of had to learn the track and adapt quickly. Second timed qualifying got canceled, so we had a decent gate pick going into the night that we knew could make that work. Then had a little trouble in the heat race, a couple crashes, but had good speed in the heat races. So, I felt like it was going to be a good night. I just needed to get in the LCQ and make good work. Got through that and ended up winning the night. It's a surreal moment, for sure. I've dreamed of this my whole life, pretty much. So, it's not sunk in yet, but it will probably be tomorrow. We'll just take it day by day and then we've just got to keep getting better. There's still things to improve on. We got to be ready for Tuesday and then Saturday. That's the good thing about these three races back-to-back. You don't really get time to sink it in. You just know you've got to put your head down and go back to work.
How do you explain that everything clicked today, and you won that race? Why today?
I think I was feeling good all day. We had a little three-week break there. We put in a lot of work. Just things started clicking. Two big sets of whoops today and I felt like I was really good in them. So, we just clicked away every lap in the whoops, and that gave me the lead that I needed to win. A lot of people were trying to jump, and it just wasn't working. So skimming was the way for me. I skimmed the whole main and feel like it was the best way to get around the track.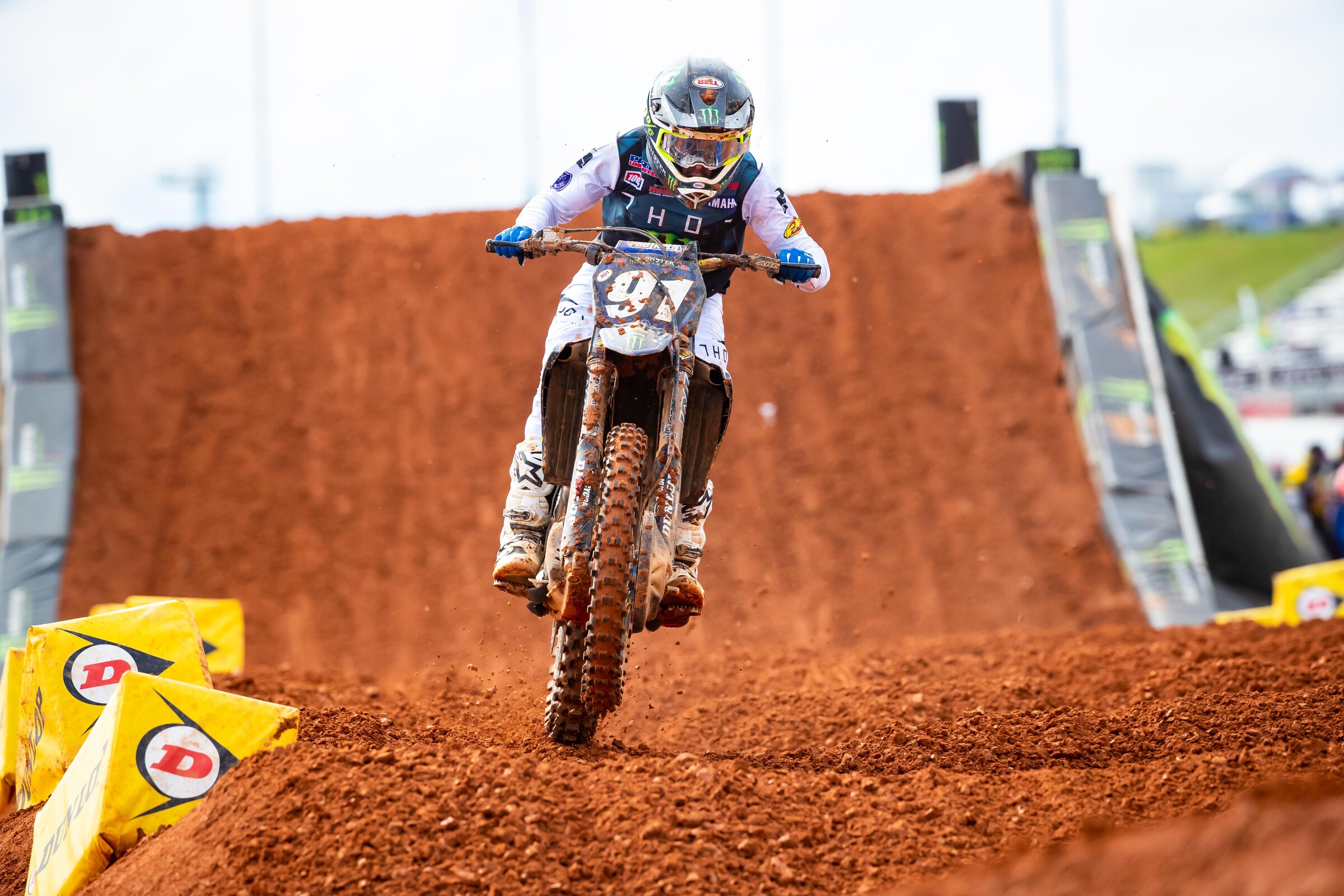 Heading into this weekend, your best race so far this year has been a ninth. You struggled going into this. A couple LCQ's. At this point, had you been getting frustrated, or did you just know that it would possibly be coming, and you felt like it was coming soon?
No, I've been a little frustrated. I've been dealing with a little bit of arm pump in the mains. I feel like I've had good speed. I ran at the top five, just a little bit of arm pump late in the motos has kind of been my downfall but we've been working really hard on the bike and we've got it really good right now and it's kind of went away. I feel like that's one of the things that could put me a little bit higher now. In that three-week break we really worked hard trying to get a little bit better late in the motos and just be better overall. We worked on the whoops a lot too. So, I think that's the key to supercross, pretty much. If you can hit the whoops better than everybody else you've got a good chance to win. So that's pretty much what we've been working on. So, I feel like it's helped us be better this week. We've just got to keep it going.
We've seen obviously great improvements from you this season. Anything that you've taken away from your teammates or even Wil Hahn while at the practice track that has helped some of these improvements? Anything you can talk about that has made a big difference?
Yeah, for sure. A lot of my teammates have won a lot, like Justin [Cooper] here. I can kind of watch what he does here in timed qualifying and stuff like that. I've struggled with that a little bit this year, just trying to get good laps in. He's really good at that. You can watch him and be better there. Like Craig and Nichols and all of them. They've won a lot of races this year also, so they kind of know how to win. Everybody at the team I feel knows how to win, so you can kind of take every piece from them and just listen to it and try to build. That's all you can really do.
Early in your championship, Stilez Robertson gets a podium, [Seth] Hammaker gets a win. Obviously, they're rookies like you. You guys grew up racing each other. Was there any concerns from you just with their development happening quicker than yours? Was there any kind of those thoughts early on? Second off, if there was, how did you kind of work your way through that? I feel like that could be defeating sometimes, but you've kind of gone the other way. You've gotten better and better, and now you get a win.
Yeah, not really. We've raced each other but they've always been a couple classes or a class ahead of me. Stilez is pretty much my best friend. We were at Aldon Baker's together for a little bit, so we're pretty close. He was always in the A class and I was in the B class last year, so it was kind of not really racing each other. Then Hammaker has always been two years older than me in those kind of classes, so not really. You want to do better than all the rookies, obviously. You want to be the best guy out there. You try to put yourself out there, but I wasn't really concerned how they were doing. I knew it would come. We've not been on supercross but this year. This is my first year doing it. Obviously, we've just got to keep building it every weekend. That's what we've been doing. I felt like we've had better rides than we have finishes. I feel like we've been building every week. We've just got to keep getting better.
---
Watch the full Atlanta 1 Supercross post-race press conference below: