Atlanta, GA
Atlanta 1 (West)
Monster Energy AMA Supercross Championship
After two weekends to recharge and refresh, we are back! Round 13 begins the Atlanta Motor Speedway residency and with it, a brand new look for Monster Energy AMA Supercross in Georgia! We have been racing SX in the downtown metro area of Atlanta for decades with great success but how will we fare with the move south to the speedway? Daytona has been the speedway mainstay ever since we abandoned the Charlotte Motor Speedway rounds of the mid '90s. I am curious to say the least but I do believe the racing will be much different than what Daytona brings. The orange Georgia clay base will present a race that feels much more like Charlotte 1997 than Daytona 1997. In any case, I am ready to get back to racing as we inch closer to the end of this 2021 campaign.
Dirty Little Secrets
The track map for ATL 1 is simply incredible in size and scope. There are so many rhythm sections, I get lost even looking at it. First things first, the start is remarkably short. It fires into a 180 left and I expect riders to be bunched up and jockeying for position through that left. The first rhythm section has a curve halfway through, similar to what we see at Daytona. I expect to see riders taking the obvious lines here, doubling and tripling just how it's drawn up. There is an interesting triple into a 180 followed by an immediate triple out and into yet another 180. I will be watching to see if riders are able to pull this off cleanly. The idea will be to triple into the berm, then seat bounce out of the berm to triple back out and then use the second 180 to pivot towards the next section.
There is a double out of said 180, leading into the finish line jump. There is a short straightaway upon landing and then another rhythm section that curves and snakes its way towards the far end of the speedway. The unique aspect of these doubles is that if riders choose either side, they are forced to hit a small bump on the landing, disrupting their momentum. Watch for riders to try to maneuver in a way to avoid the small bumps between the doubles, weaving back and forth through the S rhythm. A simple double wraps up this end of the speedway and sends riders headed back towards the center of the infield.
A standard supercross triple lines riders up for what could be a quad, followed by a 3-2 into a 90-degree left. A tough triple-onto-tabletop is up next but as it follows a 90, riders may opt for sticking to the inside and doubling.
The next rhythm section is one of the most aggressive and unique of the season. There are a few possibilities for those willing to go big. If so inclined, a rider could triple out of the corner, then quad to the backside of the taller 5 foot landing, then triple onto a tabletop (or downside) and then double into the corner. This would be massive to execute and similar to Arlington 3 in that aspect. Watch for this section to be a crucial one to figure out.
As if riders heart rates won't be spiking already, a whoops section comes right after a 180 to the right. A small double leads riders into another 180 but this particular one is long and flat, forcing riders to utilize their flat track skills. Another standard supercross triple sits on the exit of the flat 180, followed by a series of similar jumps that will force riders to find some combination of doubling and tripling through.
A fast sweeping left is up next with three flowing jumps that will likely end up being a 2-1 option, setting riders up for the fast right hander that follows. Riders will then sprint across the start straight and into another whoops section. This one has a much longer lead-in, so look for riders to attempt passes here.
The whoops lead into a 180 at the far end of the speedway and back we go towards the infield yet again. A wall jump greets riders immediately on the exit of the 180 and if there was a concern about this track not having a bit of literally everything, there is a sand section up next. There looks to be several wave jumps that will wreak havoc on rider flow, not to mention goggles. The sand section leads into the first corner from the start and begins lap two.
Overall, this is the most involved track I have seen in years. Many of the sections will be basic and easy to dissect but the sheer volume of jumps and subsequent variety of rhythm sections is on a different level than what we're used to seeing. Well done to everyone involved.
Fantasy Talk
These residency rounds are a fast and furious fantasy bonanza. The good news is that if you have a bad weekend like I have been lately, the next round comes around more quickly than normal. With only five rounds left, we are going to be on the eve of the finale before we know it. I am hoping we get a few wild rounds to shake up the fantasy world. Atlanta could deliver as we might see inclement weather on Saturday and unpredictable results overall at a new venue.
In the 250SX class, it's been difficult to find any consistency. With juicy picks often disappointing (think Alex Martin, Jordon Smith), winning teams have been thinking outside the box. A rider that could upset that trend would be Pierce Brown (-1) but I think there is more value to be found elsewhere. Dominique Thury could be one to take a risk with after posting a 52 point score at the Arlington 3 Supercross. Will we see Nick Gaines make his 2021 debut at his home race? These are the names I will be watching for. There are less-obvious picks that might benefit from the long break and change in confines and that's how the game will be won and lost at the Atlanta races.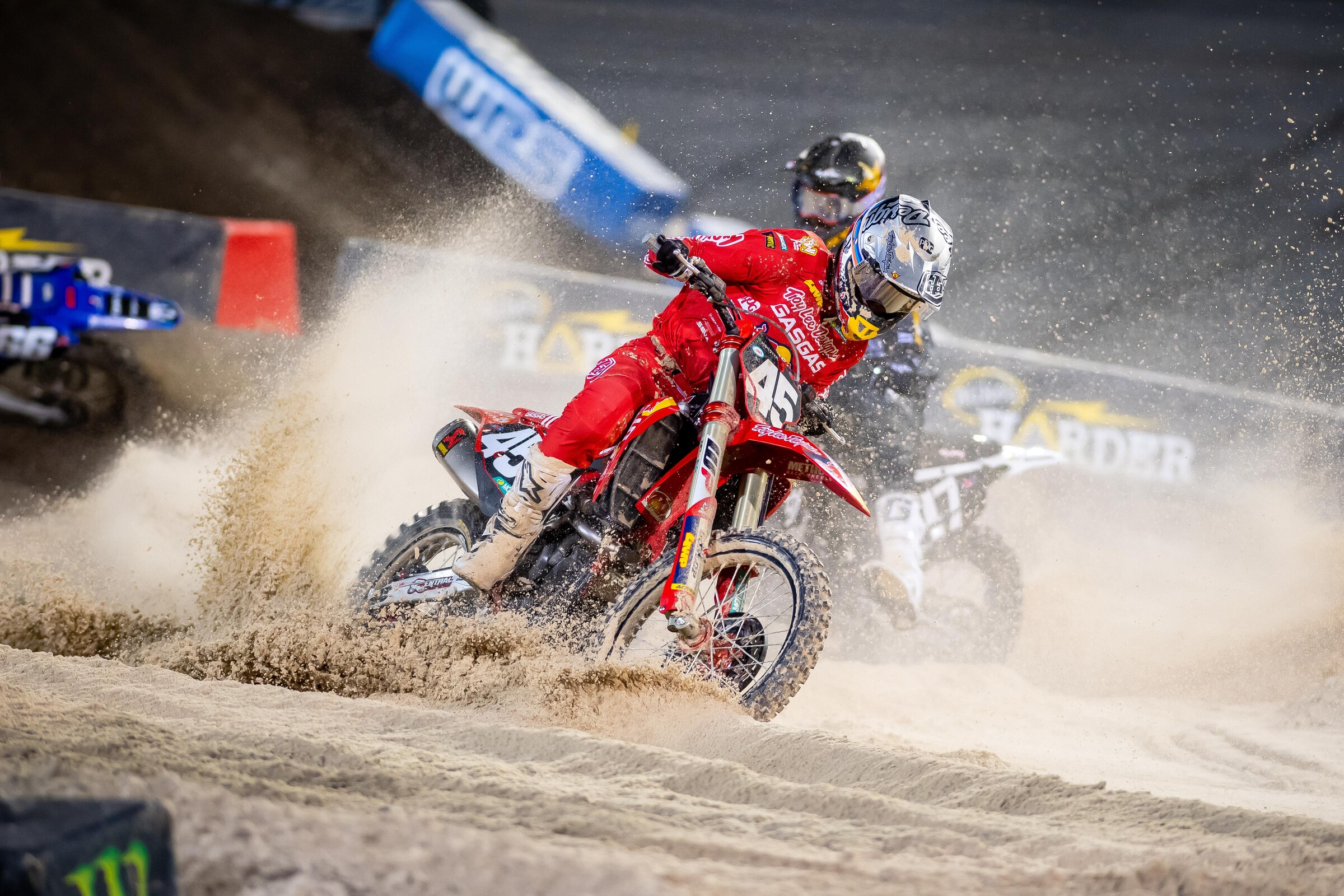 The 450SX class lies on the other end of the spectrum for me. I believe the middle-of-the-road picks are where success remains. Chase Sexton (-1) should be inside the top six, providing solid points and predictability. Broc Tickle could be a nice choice here also. His familiarity with this type of dirt (remember he is originally from North Carolina) coupled with his skill set line up nicely for Atlanta's layout.
If you are set on taking more risk, look for riders like Alex Ray, Tyler Bowers, Brandon Hartranft, Cade Clason, and Kevin Moranz to be in the mix for big points. The downside here is that a few of these will not qualify, meaning you have to choose wisely from a group that all share similar odds of success or failure.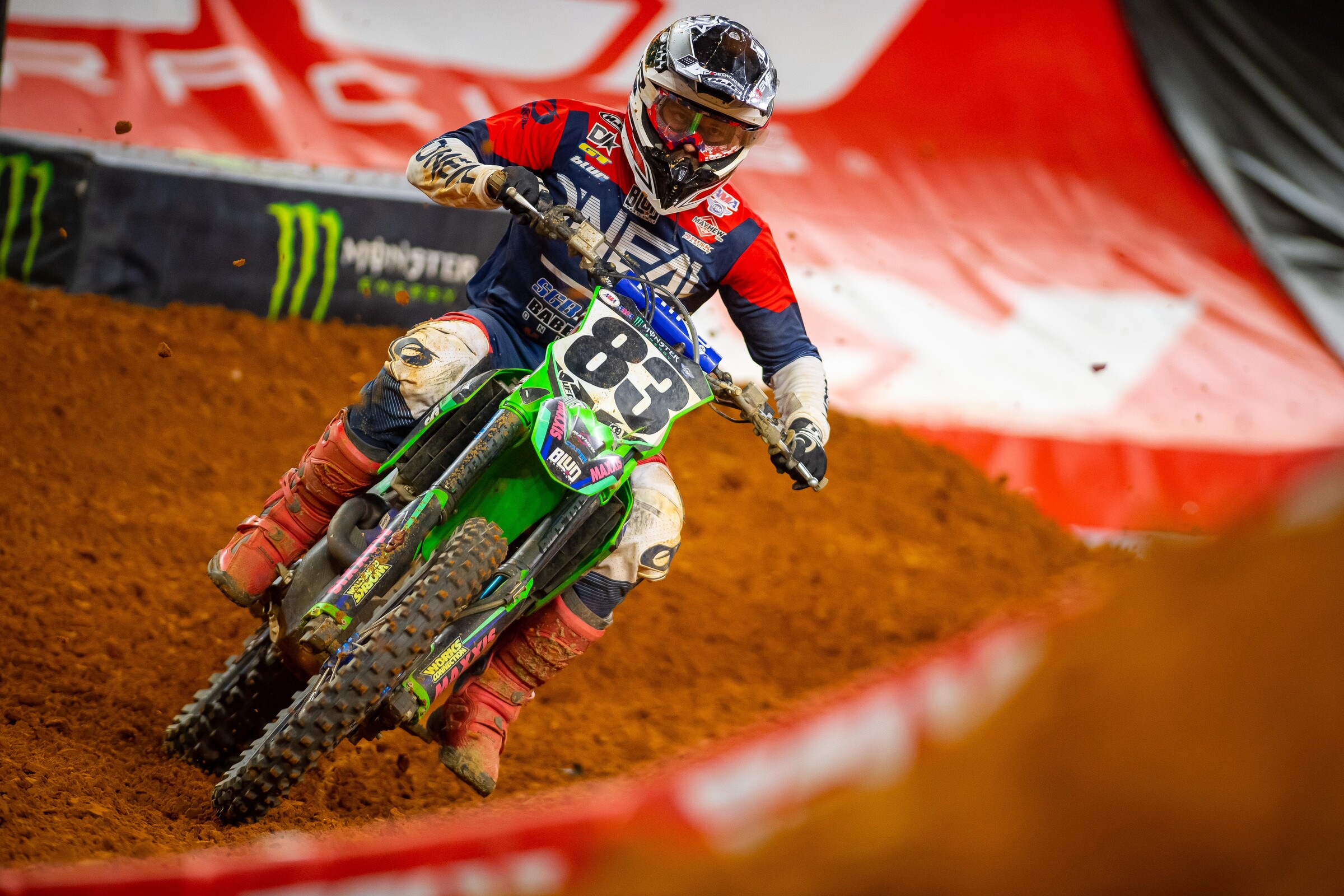 Bold Predictions
Aaron Plessinger arrives to Atlanta via horse and covered carriage, citing a reversion to a simpler time of mustache and mullet.
Cooper Webb ramps up the mental game in Atlanta. He challenges the entire 450 main event to a rap battle just before the sighting lap.
Rutledge Wood blesses the SX world with another appearance. David Vuillemin is seen running shirtless through his neighborhood screaming obscenities.
Cooper Webb leads every lap of the main event.
The 250 class is chaos defined with crashes literally everywhere. The National Guard is called in to collect debris and a state of emergency is officially declared.
My Picks
250
Justin Cooper
Cameron McAdoo
Hunter Lawrence
450