Arlington, TX
Arlington 2 (West)
Monster Energy AMA Supercross Championship
The great equalizer of supercross: starts. It's the one time where a lesser-known privateer can maybe get in the shot with the factory guys, because even though factory bikes produce perfect power and go through endless hours of testing to improve, sometimes a privateer with a quick trigger finger can beat them all to turn one.
That's what Kevin Moranz has been doing lately. Normally a 250SX East Region rider (he's currently 11th in points), Moranz grabbed a stock 2019 KTM 450SX-F so he could keep racing when the 250SX West division started. He's made the last two main events in Arlington, some of that powered by his unbelievable starts. Moranz nearly holeshot the Arlington 1 450SX main event, and then nearly holeshot his heat race at Arlington 2 on Tuesday. On a completely stock 2019 against the best supercross bikes in the world!
Kevin talked about the starts, and his unique sponsorship program, in a press conference on Wednesday night.
Racer X: Kevin Moranz. Dude, the starts.
Kevin Moranz: [Laughs] I know, man!
[Laughs] What are you doing? It doesn't matter where you're at—inside, middle, outside. You're up in the front, bar-to-bar with factory guys. What's going on?
It's been pretty legit. I even was talking to my parents and my brother about this. I don't do anything different than I ever have. I think it's just a lot of confidence. Obviously I'm good at starts, so knowing that, whether it's [Eli] Tomac, or [Ken] Roczen, or [Cooper] Webb, or anybody beside me, I feel confident enough. Yeah, maybe I can't run their pace on the track, but I'm a pretty good starter so I can get to that first corner first. It's just a 2019 stock KTM 450 so to be doing it the way I'm doing on that, a bike that's got 40 hours on it, I'm pretty stoked about it.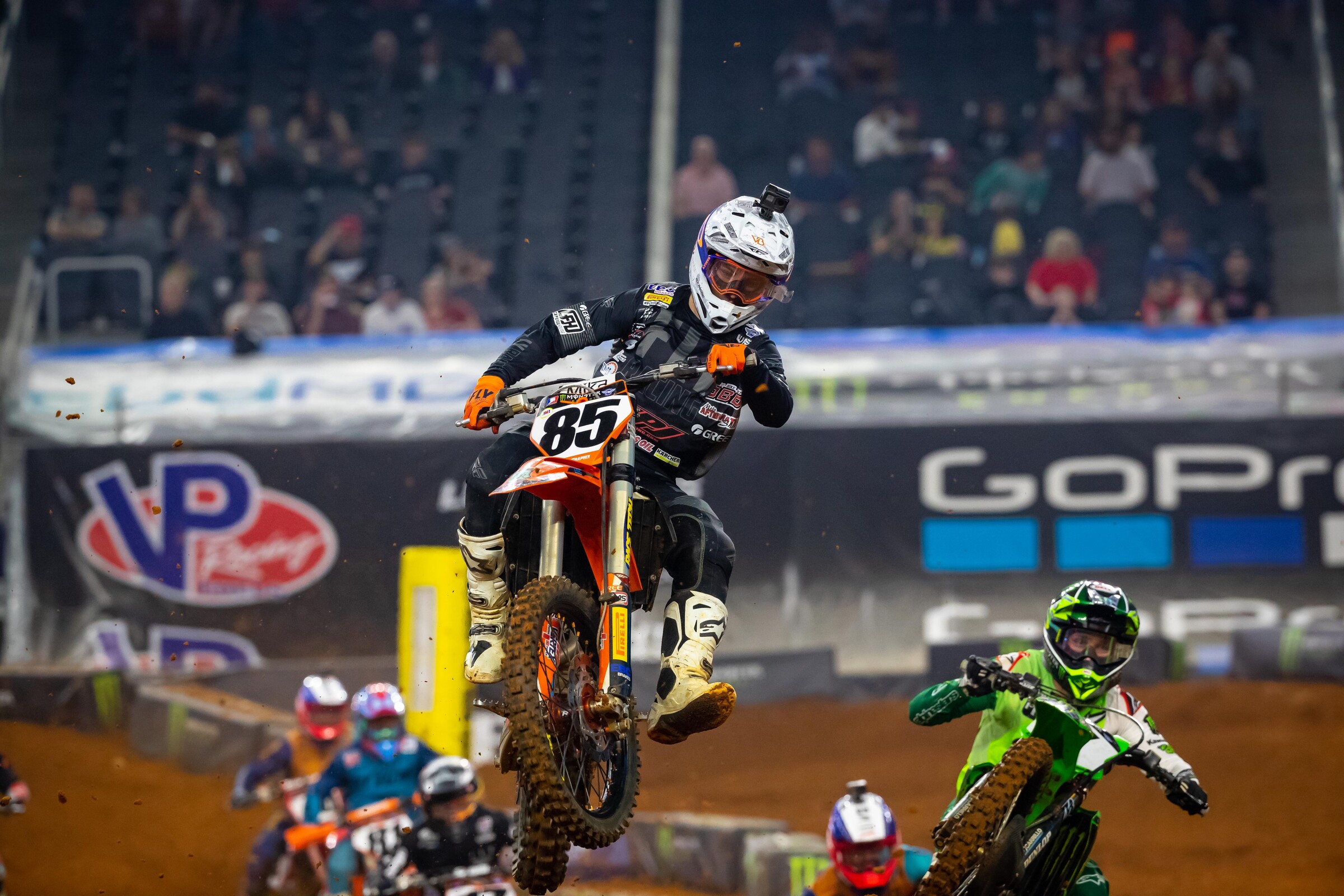 Last night was another incredible ride. Toward the end of the moto there we saw you having to push the bike over the line. First off, that's just heart right there. I think we can all agree that's pretty deep. How are we looking with the bike? Do we pull the motor down this morning? What's going on?
After that happened, I pretty much came off after the main event and washed it. Immediately started tearing it apart because I knew time is kind of of the essence. Got it all stripped out, went to bed. Woke up this morning and tore down the motor, and even went to a local KTM shop to use their flywheel puller. Got it all taken apart. First gear is completely stripped. All the teeth are off of it. So that's what went through all the motor, so it's not pretty. It even cracked the cases and everything like that. So, it's not looking good. I've actually just been talking with KTM a little bit and as of right now we'll see. Who knows with shipping, but hopefully there will be a motor showing up tomorrow, just a stock 450 motor. Hopefully we can get it and get it going and get back up in the main event. It was pretty cool to get back up in there again. It was only my third race on a 450 period, so to be doing as good as I'm doing and feeling comfortable like I am, I'm pretty excited about it. To be running top 15 in that main event until about five minutes left when my motor kind of shelled was pretty sweet.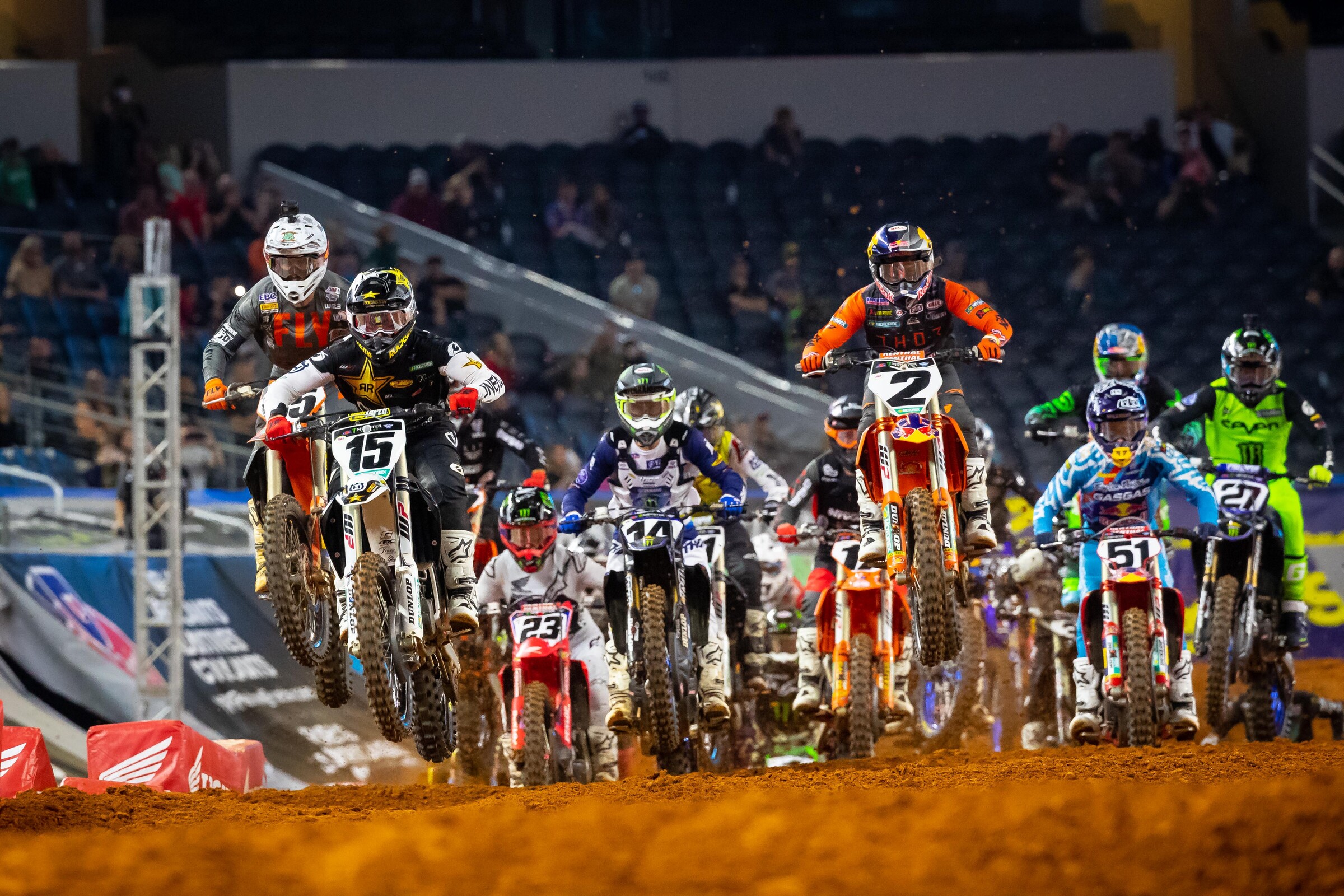 Who helps you? Do you have a mechanic that's helping you out, or do you do all that yourself?
I actually had Matthew Hubert who's just another guy that's part of the TPJ Racing team. One of the other rider's mechanics, Dave, came together and also Jason Watkins. We all just kind of tore the bike apart, got it down to the motor, and then it was just Matt and I this morning taking it all apart until we got it down to where the fly wheel needed to come off. Then we went down to the KTM shop and they kind of gave us a hand. Then it was just trying to figure out what my options were, whether I could find a loaner motor or find a new one that I can just buy. That way I can keep it in the bike. With the transmission destroyed and the cases cracked, that's a lot of work to go into an engine that may not even be able to run again. So the biggest thing was trying to find another motor that I could get in. So other than that, it's just Kev!
Once upon a time you could race both the 250 and the 450 class. Is that a program that, if that ever came back, is that something you would be interested in? What do you think would need to happen for you to be able to pull something like that off, given the fact that you've only raced three races on both bikes so far, and one of the only guys to win an LCQ in both?
Are you saying race 250 and 450 in the same night?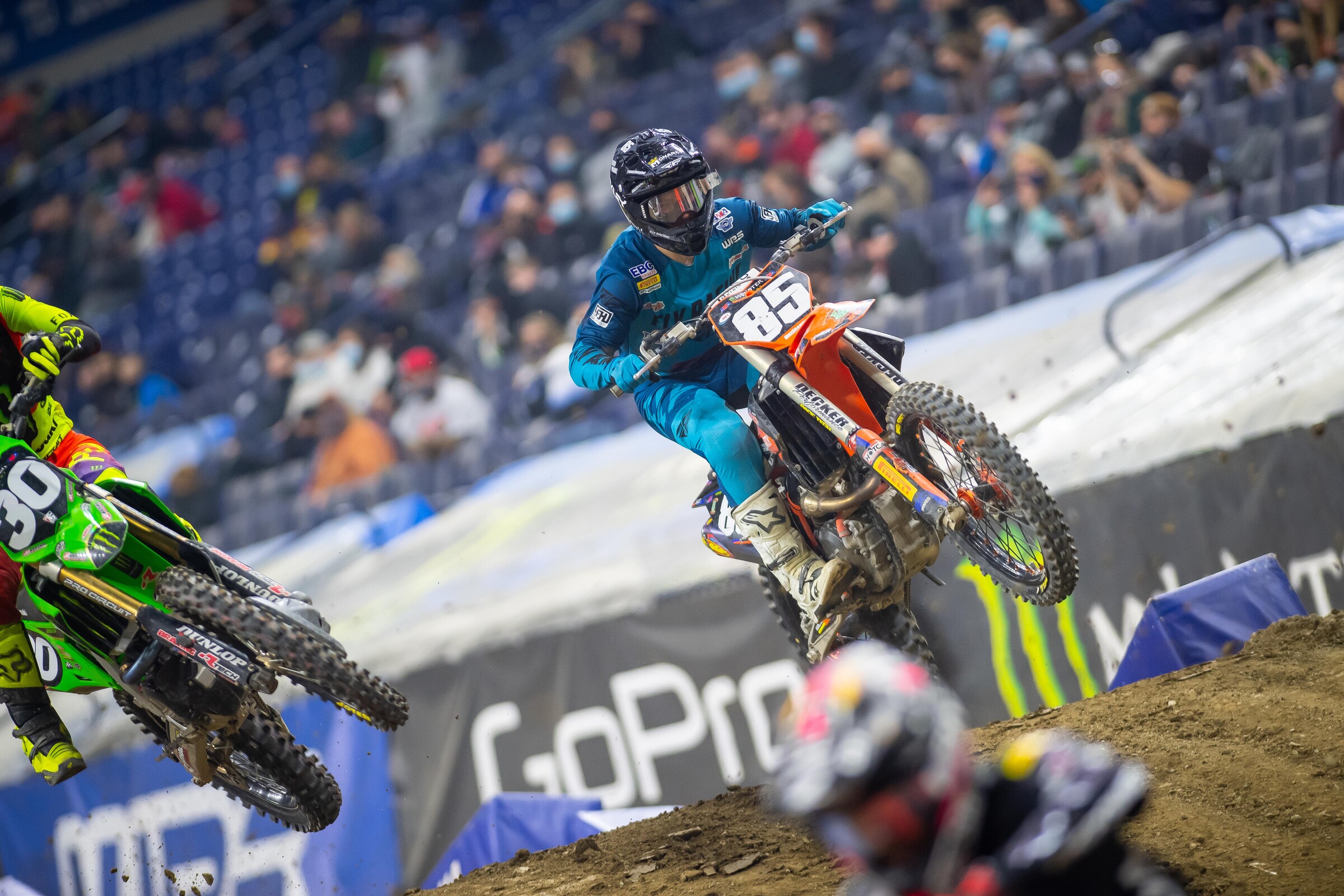 Same night, yeah. You used to be able to double class it.
Oh, yeah! 100 percent I would do that! Maybe I don't have the fitness, but I definitely would like to race more. That would be something that would be cool to talk about. In the arenacross stuff, which Chris [Blose] can vouch for as well, I did both the AX Lites and the AX, which literally you never come off the track. So I definitely would do it, for sure. Yeah, if you go through the 250 main and then you make it to the 450 main too, you're for sure going to be spent, but I would do it, absolutely.
We know obviously the privateers and teams all get funding and sponsorship from different things. We know you do your own thing with your own website and all the local sponsorships that you do. What has that been like? Have these triple-headers kind of helped you start relationships you can build off the next time that we visit this state again and this venue?
I don't know all these guys. I'm actually kind of curious to ask them, being on a factory team or a team that supports you, if they like it better. I know as a privateer, 100 percent I like this way better. I hope we never go away from this little setup because it's a lot easier as a privateer. You don't have to travel as much. Obviously a big expense for us racers is training in-between rounds, so not having to worry about that as much and being able to stay and just race and race and race, and kind of race myself back into shape more or less is a lot easier than flying and all the expenses to travel, and then paying somebody to ride and all that stuff. So as a privateer, I think it's a lot easier. I love it. But when it comes to the sponsorship side of things, it's actually really good. It's tough because you have so many back-to-back-to-back, but it's pretty cool. BB Steakhouse, which is just five minutes down the road from the stadium, they were my first real helmet wrap last year, when I kind of introduced the whole idea, and they got back on board for actually this last round. So, it's been really, really cool just building my own program, sending people to my website to support. Just getting creative to continue racing because obviously it's expensive. If I'm funding it on my own, I've got to find ways to pay for it.
Since this interview, Moranz has taken to Instagram to share he has in fact received the motor! Check out the two videos below where he shares his excitement and thankfulness and then where he gets back to work on his bike.