Arlington, TX
Arlington 1 (West)
Monster Energy AMA Supercross Championship
The supercross residencies provide extra time for riders to arrange Zoom calls and interviews while waiting for the next race. Between a Sunday round table press conference and some interviews conducted by our own Steve Matthes, here's what we learned so far in Arlington regarding three riders in the series.
McAdoo took over the 250SX West Region points lead after scoring his first career win last weekend in Daytona. With bad starts in his heat and the main, Arlington wasn't as easy, but McAdoo focused on staying composed—which he admits wasn't always his specialty.
Racer X: Just take us through that main event.
Cameron McAdoo: Yeah, terrible start for me. I jacked it right away, and I was probably mid pack. When you're going down those first few rhythm lanes when you're mid pack, it was sketchy. I was stoked to get out of that on two wheels. Once I got into third I struggled to make anything really happen, those first two guys were pretty far away from me and they were riding super good. I kind of stayed there, and with probably four laps to go I probably had two seconds on [Justin] Cooper, I kind of tangled with a lapper in the whoops and then I missed the quad line on the same lap. He [Cooper] got on my rear wheel and made a pass on me, then I cut underneath him on the triple. We went at it the last few laps for the last spot on the podium. I ended up getting third and that was good because that was a four-point swing and a podium. I was stoked on that and stoked that I stayed composed. It was the first time I've been in this position, with the red plate and coming off that win at Daytona. I was happy with the way I held myself and I look forward to racing Tuesday.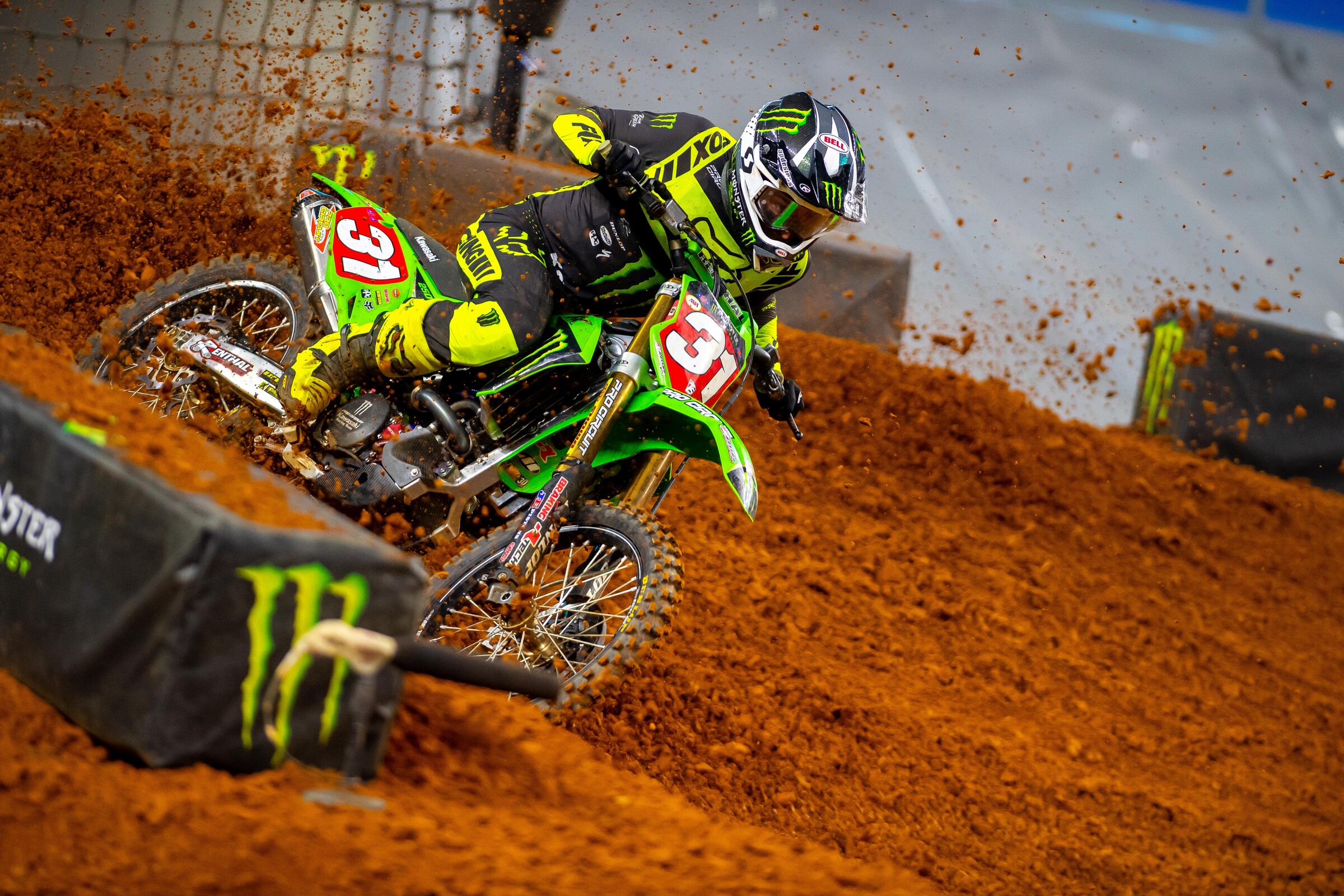 One of the things we have talked about with you is that you're Ram It, you're Wackers, you're always exciting. But dude now you're not! You got a bad start but you didn't make mistakes. You're composed, you're in shape. You just seem so confident and so smooth so we can't say that anymore.
That's what we work for. Everyone knows I will do whatever it takes and give it 100 or 110 percent, but 110 percent doesn't work for me! I need to just ride at 100 percent, but it takes a lot for me to ride that way, and to make myself do it. Especially after I've done it for so long, years and years of riding how I want to ride. It feels like I'm going fast even if I'm not really going that fast. I wish I could get some better starts and that would make it easier on myself, but I felt really composed tonight. My biggest goal today was to just approach it like a normal race day. I was pretty decent in qualifying. That's really been a struggle for me in the past, being good at qualifying, and the guy I'm battling, [Justin] Cooper, has always been really good at qualifying. So that was good for us, and I just felt like I was composed. That's the goal all year and that's the best version of me.
How about this kid Seth? [Hammaker, teammate, taking his first career win.]
That was awesome, right? He was riding great all day. He crushes his corners and some areas of the track he was really good. He got away and he did it—you can't discredit anything he did. He stayed up there and he made it happen, really great for him. Kid works his butt off. He's a really fun kid to be at the test track with, as well. He's just a really humble kid with a good head on his shoulders. I don't like to talk myself up or anything, but I feel like he approaches it the same way I approached it coming into the pros. Stoked for the opportunity and just grateful to be where I'm at. That's the way he approaches it and it's really cool to see him have some success too.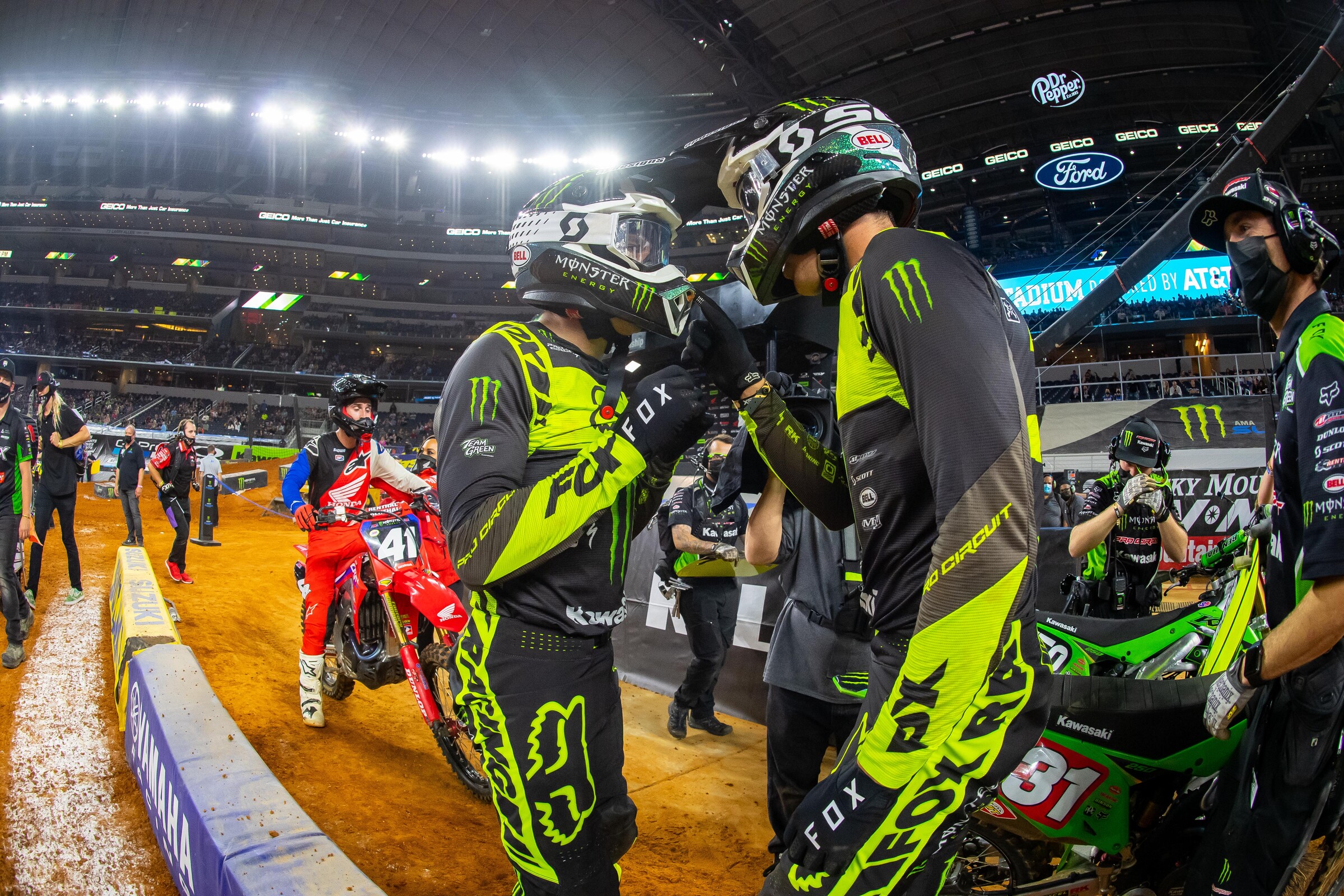 After a shoulder injury suffered while leading the main event at round two, Sexton returned to Monster Energy AMA Supercross at Daytona and immediately made an impact. Literally. He tried to turn a wall jump into a huge double—or triple?—and smacked his face hard on his bars. Battered and bruised, he finished eighth. He was better in Arlington, taking a career-best fourth.
Racer X: What made you try to do the wall jump last week?
Chase Sexton: Um, so I rode press day last week and I kind of thought it was possible. The wall was pretty flat compared to a real wall, so I thought the gap was doable. I just didn't know how it was going to shoot me, and it obviously shot me way longer than I thought it was going to. Yeah, 10 feet shorter or 10 feet longer it would have been a different story.
Did your coach James Stewart have anything to do with it?
Uh, yeah he was definitely encouraging it. He definitely wasn't shying away from it at all. I like to jump, I've always been a jumper, and it was kind of me self-driven. I knew it could be a lot faster if I could have gotten it down, but obviously the result wasn't worth what I did.
After missing six rounds and coming back at the halfway point, did you have any specific goals you've set over the back end of this season?
For me, mostly just trying to get back to racing and back up to speed. It's a little more difficult than I thought, especially in the 450 class. Everyone gets into such a groove. Daytona I got smoked I went from second or third to like eighth. I was not happy about it. This weekend I wasn't super fast in practice but I felt really good on the bike. I had an okay heat race but had a bad start, got an okay start in the main event and found my way past a few guys. I was in third for a while but I made a few mistakes and Jason [Anderson] got me. I feel like that's the kind of rides it's going to take for me to build. I want to compete for a championship next year, but I just need experience. Obviously I'd love to be on the podium or maybe get a race win, that's the ultimate goal that's what I train so hard, so for me it's just getting better every weekend and building off of yesterday.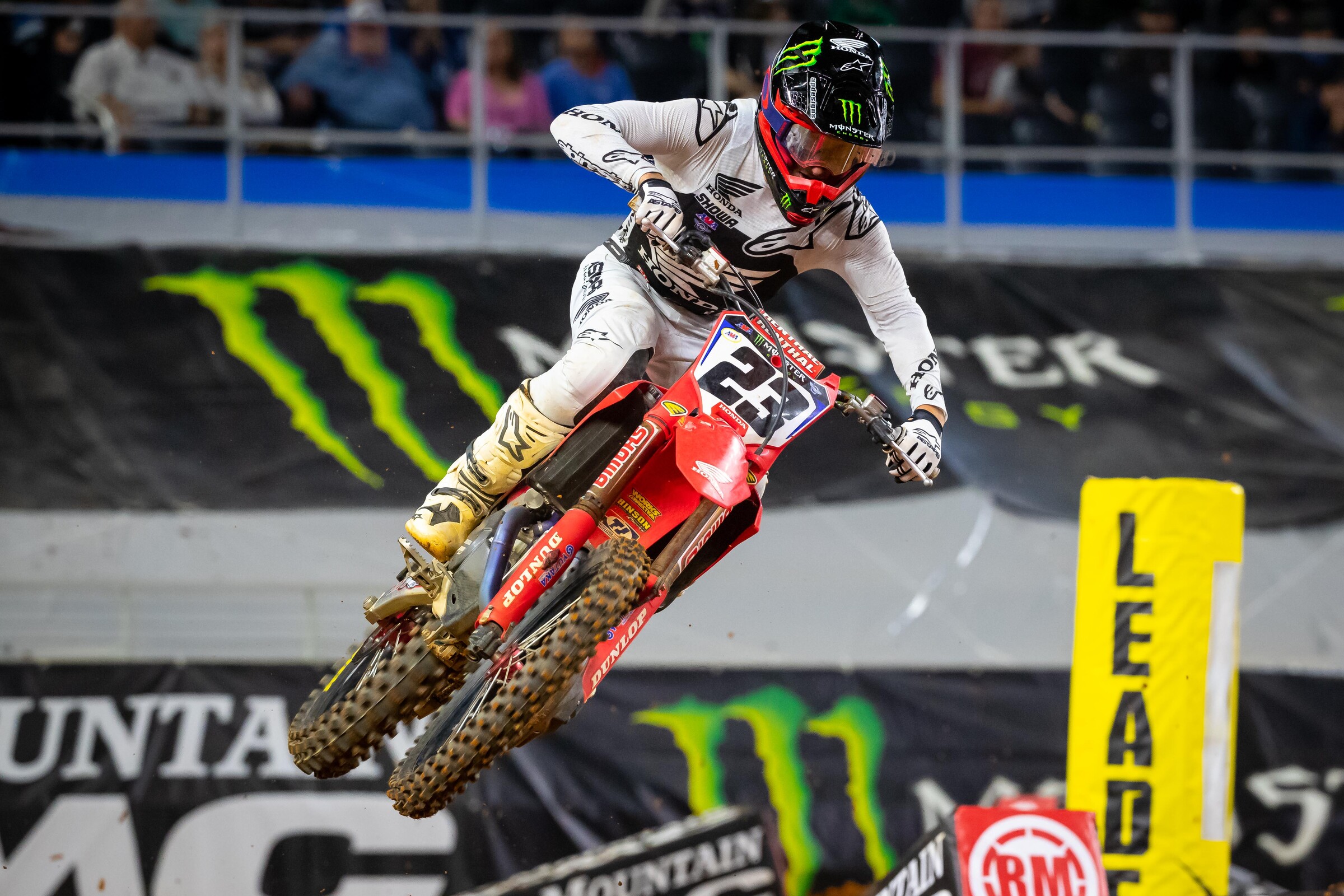 Savatgy has shown signs of life in his comeback season (he missed all of 2020 Monster Energy AMA Supercross with a foot injury). At Arlington 1 the Rocky Mountain ATV/MC-KTM-WPS rider scored a season-best seventh.
Racer X: You recently moved from GOAT Farm in Tallahassee down to the 83 Compound. How is it for you to ride with some younger guys like the Lawrence brothers and then some veteran guys like Jason Anderson and Justin Bogle to give you a positive influence?
Joey Savatgy: Yeah obviously with Star buying the GOAT Farm I was kind of out of a home, in a way. But for me it was a good time to make a change. Jason [Anderson] wasn't there at the beginning so I missed out on having him there at the beginning, and then Justin [Bogle] is the recent edition to the squad. Jett and Hunter were there the whole time I was. As soon as Jason got down there, for me it was a game changer. Having someone there that is as good as they are, it helps you whether you know it or not. There are days where you feel like you're maxed out and you can't go any faster, and then someone is faster than you so it pushes you to do more. Plus the atmosphere is good. We have a good time but we take it very serious and make sure to get our work done. It's been a good switch.
We see some riders will start putting together a few good rides but maybe the results don't match, and then all of a sudden it clicks. [Aaron] Plessinger was one of those. Do you feel like you're about to go on a run? Are you feeling that too?
I hope! Honestly it's really tough right now to get a bad start and do well. Having a good heat race is more important that qualifying good. The field is cut in half, so even if you're 15th in qualifying you still have a decent pick in the heat race. But if you have a good heat race and you have a gate pick of eight or better, you put yourself in a good spot. My heat races this year have not been the greatest. My speed has been a little bit own, some of it is I've just been battling things. Missing all of last year didn't help, and you forget these guys are quick and hang it on the edge. I'd like to think that I'm going to go on a streak and that's the goal. Starts are huge. If I can get some good starts the results will come. It's just a matter of putting it together throughout the day. It's one of those things where on paper, mentally it's frustrating and it's hard not to get caught up in it. You come off the track and you're 11th. But then you see it's half a second. That's a half a bike length and that would have been the difference between 11th and fourth. For me, my starts are getting better and if I keep putting myself in good spots the results will continue to improve.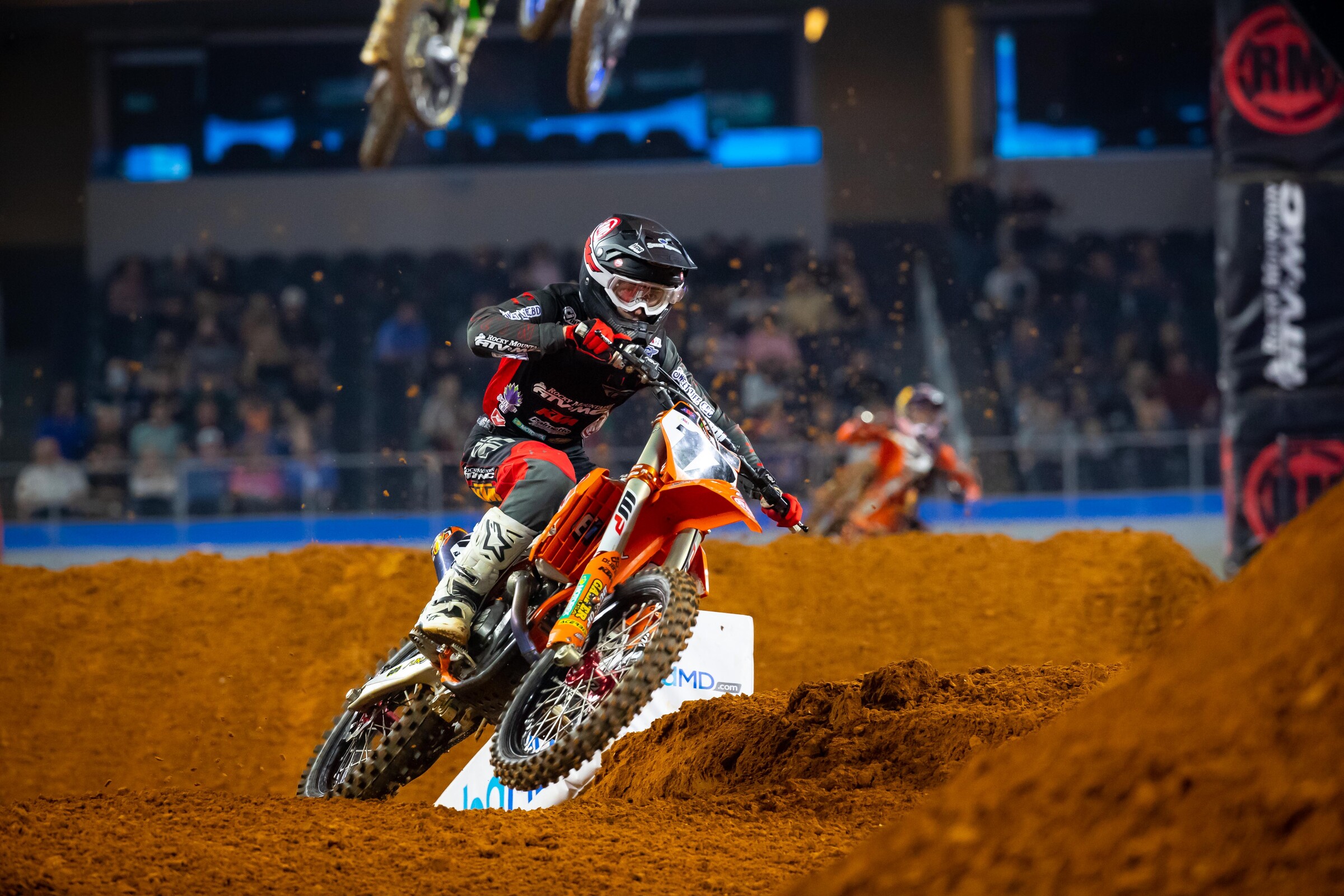 You found yourself in the main event battling with Kenny [Roczen], you were in that mid-pack group and you guys were more or less running the same pace. How intense is it that when you're nose to tail for all 28 laps?
Yeah the first few two were really chaotic, just a lot of traffic jamming in the corners. The first few lanes when you don't have the holeshot are a little scary. In hindsight I should have forced the issue on Kenny earlier in the race when I had the opportunity and then tried to make the pass on Dean [Wilson] quicker. I didn't force the pass on Kenny and probably shoulder have, then Kenny got around Dean pretty quick and it took me longer to get around him. Then Kenny got away and I lost that tow. It is very intense. I do miss the 20 lap and 15 lap days when it was pretty straight forward, we're doing a lot of laps. Mentally, when you're about to leave the gate, it's a long race but if you put yourself in a good position it's pretty short. You put yourself in a good spot and it goes pretty quick, you put yourself in the back, it's chaotic. It was good just to be up there a little closer to the front like I want to be and to get the full distance in and feel good about it was huge for me. As long as I keep getting good starts and put ourselves in position it will be good.