Union, SC
Big Buck
GNCC Racing
Text by Jason Weigandt, Mikey Waynes, and Rodney Tomblin
The Grand National Cross Country series is already here! The 2021 title chase begins this weekend at the Big Buck GNCC in South Carolina. In a massive change, Kailub Russell, who has won the last eight-straight GNCC Championships, will not line up for the series this year. KR is moving onto something else, although he and KTM remain tight-lipped as to what that actually will be.
With the title up for grabs, we've entered a #whosenext situation, the same way Monster Energy AMA Supercross hyped it when Ryan Villopoto stepped aside after four-straight championships. Who will win this year's GNCC title? Hard to answer, but we can look at the landscape here. GNCC announcers Mikey Waynes and Rodney Tomblin as well as Jason Weigandt weigh in on the new season.
Mikey Waynes: Paul Whibley. That's the last guy not named Kailub Russell to capture an XC1 Pro GNCC Championship. That was in 2012, when Russell finished just four points behind Whibley. Since then, Kailub has come out on top every year.
There's still obvious buzz around Kailub. He's retired, sure, but he hasn't ruled out lining up on row one at some GNCC's here and there. Something tells me he's a little more focused on ... how do I put this? Being outdoors right now.
So it leaves us with the huge question, who's going to fill his racing boots?
The obvious answer, after last season, is Stu Baylor. It's hard to ignore what he did after the summer break with AmPro Yamaha. He knocked off three wins in a row, took second at round 12 and finished the season with a fourth victory. Yeah, 1-1-1-2-1 scores is a pretty good way to end a season!
But wait, there's more! Ben Kelley, four second place finishes and one third after the summer break. If he hadn't gone outside the double arrows at round 13, we'd be talking about him capping the season off with a win. Something Ben Kelley has had all winter to think about.
Then there's Josh Strang. Strang has this way of turning back the clock right when everyone wants to count him out. He was a podium regular last season and clicked off two wins. How many more years does the wily veteran have left in the tank? What better way to cap off a career than with his second XC1 National Championship?
Now we get to the wildcard, Thad Duvall. The fact that I just called Thad a "wildcard" goes against everything we knew prior to 2020. Prior to 2020 the only sure thing in GNCC was Thad and Kailub battling up front for three hours. But Thad missed almost all of last year with knee surgery, so he's fallen off the radar a bit. Make no mistake, Thad is more than ready for 2021. If you've been following Thad and Kailub on social media, it's no secret they've been training together. The kid in me can't help but liken this to Rocky III. Rocky starts training with a recently retired Apollo Creed, his former nemesis. Rocky picks up a whole new bag of tricks and it's bad news for Clubber Lang. Can Thad bounce back and capture his first XC1 Championship with his new bag of tricks? Only time will tell. Whatever happens this season, it's going to be new and exciting!
Also, whoever wants to take the role of Clubber Lang, well I just hope they cut their hair into a mohawk.
The April 2021 Issue of Racer X Illustrated
10 Minutes With Kailub Russell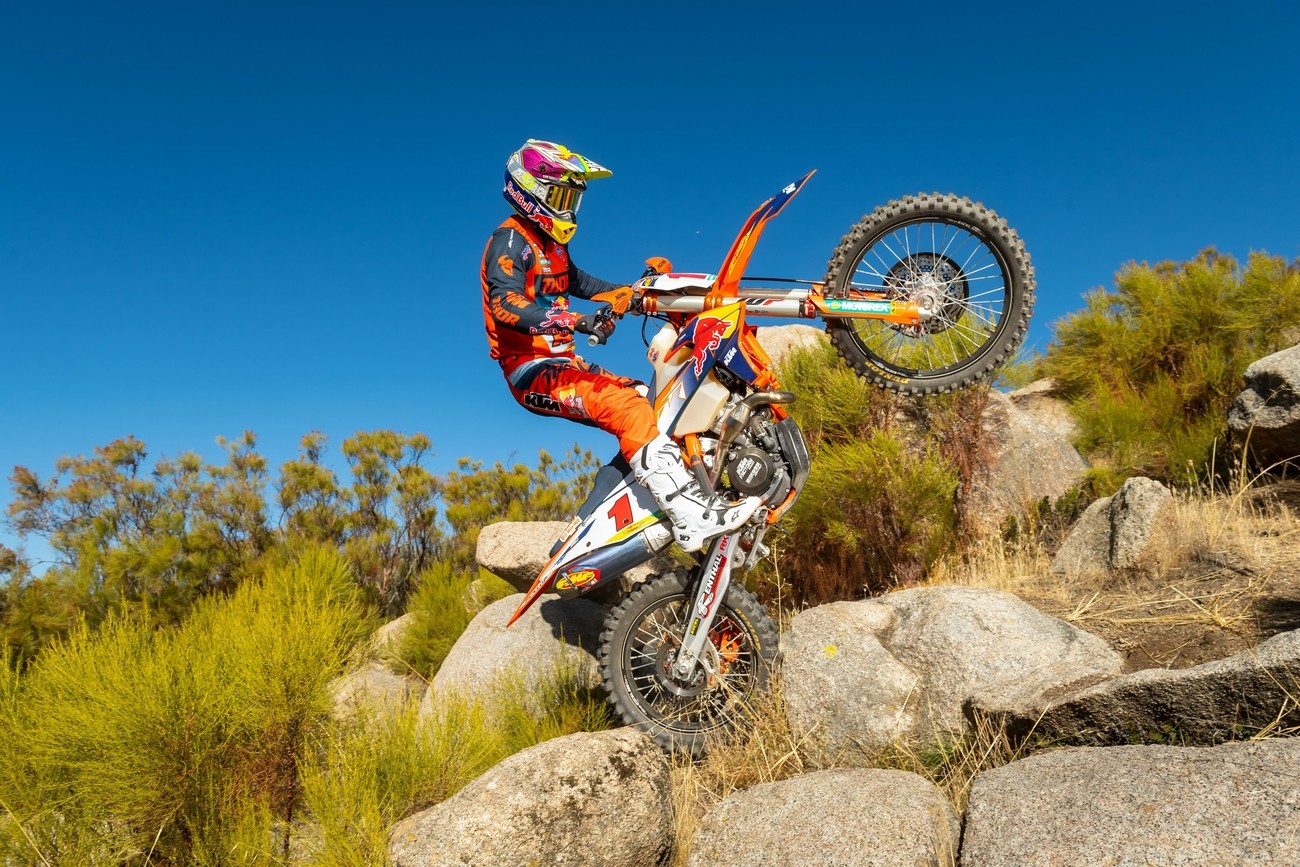 Prior to the beginning of the 2020 season, FMF KTM Factory Racing's Kailub Russell announced that it would be his final season of full-time GNCC competition. What does 2021 look like for KR557?
Read Now
Preview Now
Rodney Tomblin: It's a double edged sword heading into the 2021 season with no Kailub Russell on the starting line. I mean we are going to miss the epic battles and depths riders would dig to in attempts to beat him, but those battles have created some real beasts. These guys are ready, so that should give us some of the tightest racing we have ever seen. Period. I've been with this series for over two decades and never have we seen so many riders performing at the level these riders do today. This season will come down to true heart and determination. Who wants it most, who has worked the hardest and who is willing to take the chances that need be taken? Who can get away with taking those chances? I am going to miss Kailub racing and the level he has brought the sport , but his retirement ends one era and leads us directly into a new one.
Honestly I have no predictions. I have never felt like I couldn't make a call on a title, but most years you have maybe two or three riders you know will shine. It's easy to pick. Now there are so many that are capable and determined that this whole deal is left wide open!
I will go out on a limb and say this: Staying healthy and consistent is going to be the key. Steward Baylor is a strong favorite for obvious reasons. IF he can stay the course and ride with the heart he did last year then he will be hard to beat. If he gets at all complacent with his position the contenders will swallow him whole.
Josh Strang may be one of the strongest contenders based on consistency alone. He is a past champion and knows the game better than anyone. Add to that he is fast as ever and it's a good combination.
Thad Duvall has the speed but honestly health is my biggest worry for him. If his problems have been fixed or he can overcome them he without a doubt has the speed to win but again the consistency will be key. One bad race may be all it takes to put you out of the hunt this year. Hey, that's not unlike past battles with Kailub, but I really do respect how high the level is even without KR on the line.
Ben Kelley is on everyone's mind to be the heir apparent. He's on the same FMF KTM team Kailub rode for. I believe he has a little to prove. He is without a doubt fast enough and maybe even consistent enough if he stays healthy. He is still kind of an unknown variable. Like everyone, he is feeling some pressure right now and the question that I wonder is, will he be able to deal with basically 10 guys that think they are going to win now that Kailub is gone? Maybe I overlook Ben sometimes but I with some seasoning I think he will be a stronger competitor and even bigger threat. I guess we will have to wait and see what he brings this season. He may have the key already but if not this season I feel Ben will be a champion someday.
Ricky Russell will be in there mixing it up. I'm not sure he is ready to win the title but he will be a contender. A lot will be determined for him when he returns to action after nearly a year from a very life threatening injury. Will that be in the back of his mind? I would think not but there is always that possibility.
Cory Buttrick may play spoiler on occasion too. Even though he seems so much older he is actually still relatively young as far as things go in GNCC. If he finds the speed and flow of today's pace, which I feel is very possible, he could mix things up. He might not be a full championship contender but I think he could mix it up here and there.
Finally, one guy not many have mentioned is Grant Baylor. He's the quiet "Grizzly" lurking in the bush, ready to pounce at any given moment. Don't be surprised if he doesn't play a pivotal role in the title fight as well. When Grant clicks, look out because you may be surprised what he unleashes.
Jason Weigandt: I love GNCC and I'm super intrigued on how this will all play out. Kailub won eight-straight titles, but along the way there are lots of battles with the likes of Strang, Thad, and Stu (and Whibley and Charlie Mullins before that), so those guys know what it's like to race at the very top of the game. I swear we went about three seasons with Thad and Kailub wheel to wheel through every mile!
So, the riders who have done it before are the easy picks. Stu Baylor definitely has a chip on his shoulder, and with his outsized personality, you know that really means something. I think some riders try to keep it low key and low pressure. Stu is the opposite. When the heat is on, when he gets outspoken, when he gets brash, he backs it up. Stu believes the industry didn't back him like it should, didn't believe in him they like should, etc. Stu feels like when Kailub announced his retirement, he should have gotten top billing as the next guy, but that love didn't come. When AmPro Yamaha gave him a bike to try, he backed up his words, winning, winning, and winning some more. A fired-up and focused Stu will be tough to contend with, but can he do the right things all season long? I recently heard someone say you can ride will in anger for a little while, but not long term. Luckily, I think Stu is much smarter with his race strategy than his personality would indicate, but, he still has to stay injury-free and consistent all season. Can he do that? [Editor's note: Stu was impaled during the first National Enduro of the season, which required stiches. He had quite a gnarly hole in his side but he still won the event!] Man, I can't even imagine what a Stu Baylor championship party would look like, but I'd like an invite!
I think you can count on Strang to be good all year. Not much to say there. He really set the clock back a bit in 2020 and found top form again. If Thad Duvall is back to the old, pre-knee-injury Thad, on paper he should be the favorite. He's battled the closest with Kailub over a whole season.
Of course, for any of those three to take it, it means Kailub's old FMF KTM team is finally going to relinquish the crown. You don't want to bet against that group. They've got young guns Ben Kelley and Josh Toth learning as much as they can as quickly as they can. It's unfortunate they both missed time last year with injuries, there were likely some critical lessons about pressure and race craft (so vital in a three-hour GNCC) that they could have learned going bar-to-bar with their old teammate. However, the growth process of young riders is hardest to track. They can suddenly find "it" and become unstoppable. I wouldn't rule that out.
But I don't want to be lame and not pick a favorite. So I'll go with the data on paper. Over recent years, Duvall has spent the most time going wheel-to-wheel with Kailub for straight up supremacy. That's legit. He's also now training with Kailub's guidance. I think that helps neutralize what the young guys like Toth and Kelley are learning, because he's there with them. He missed a full season with the knee. Can Thad keep his old form? Is his window still open enough to finally hoist this big trophy? Those are huge questions, but if he's back to the old Thad, I think he's got enough to get it done. Oh look what I just did! Probably pissed off Stu enough for him to go out and dominate!