Orlando, FL
Orlando 1 (East)
Monster Energy AMA Supercross Championship
Welcome to Racerhead—and if you're like us, you are all of a sudden missing "Tuesday Night Supercross." Seriously, all of the strange things we've been going through, and the races that were run three-per-week in residency? I honestly missed that on Tuesday. Monster Energy AMA Supercross on Tuesday had become like Big East NCAA basketball, when my beloved West Virginia Mountaineers would just get brutalized by various New York City teams. I hate that we lost, but I love to wake up on a Tuesday morning knowing there was a game to watch that night. The sprints through Houston and Indianapolis were quick and awesome to watch, but as soon as we had time off, like this week, it took a little steam out. But now they're headed to a place rich with supercross history. The nac-nac as we know it was born in the Citrus Bowl in January 1994. Our colleague Brett Smith explains it all.
Orlando's Citrus Bowl was the site of AMA Motorcycle Hall of Famer Ron Lechien's first win as a professional, at age 16, as well as Ricky Carmichael's last SX, which he lost to a very game James Stewart in 2007. Two years earlier, Orlando hosted the first ever race with Stewart and Carmichael and that 2005 Orlando SX is the topic of a recent podcast by Jason Weigandt and Steve Matthes that's an awesome listen for the weekend.
Sadly, I had to sit this trip out, like a lot of folks. COVID is still a thing, and it's wreaked havoc on life, on the sport, and on the series. But the racing goes on—safely—and we should all be glad that we have Monster Energy AMA Supercross to watch this weekend. A lot of folks on a lot of teams are working hard to give us a championship in 2021, and while I missed the racing on a Tuesday, I am so thankful for this season so far.
O-Town (Jason Weigandt)
Any use of the numbers shows that Ken Roczen is well in control of this series. It might be a 17-round gauntlet, but rarely has the actual champion not emerged by round six. And since Kenny has won three of the six rounds, he's been even better than many other champions at this first juncture. Winning half the races is no joke, and let's not forget Kenny had the speed to win a few more if a few breaks had bounced his way (ahem, that Dean Wilson thing). Yes, there's still plenty of time for others to track him down, but we rarely see that happen: whoever is best around that round 3-7 juncture usually ends up winning the whole thing. Credit to @3lapsdown for identifying that the first rider to three wins nets the title 81% of the time since 2000.
This year is different, though. Different tracks and dirt don't impact the results in supercross as big as they do in, say, MotoGP, but it can have an impact. Roczen has been great so far, but his greatness in six rounds has come in just two different stadiums, not the usual five (we'd run two Anaheim races and four other stadiums to start a normal season). Maybe there's a chance the dirt or venue or layouts at these upcoming events will change the tide. Daytona is always different, and no one knows exactly what to expect at the Atlanta Motor Speedway tripleheader. So the door is a little more open than it usually would be at this juncture of the season. Also, Roczen has started strong many time: he held the red plate in 2014, 2015, 2017, 2019, and 2020. Further, a healthy Eli Tomac and Cooper Webb are still lurking. Webb couldn't quite pull his last-lap magic last Saturday, but he was darned close. Often times the clear championship favorite emerges around this time of the season because many other contenders have already crashed their season away. Not so thus far.
It helps that Roczen has nailed good starts in five of the six races this year. Kenny's first-lap speed is so strong that he only needs to start in the top four to get to the lead quickly. He doesn't have to holeshot to get to the front, but if he starts too far back, even he can't make it all back in lap one. Back in 2019, Cooper Webb was the best starter in the series. He won the title. Cooper's starts have not been as good over these last two seasons. If Webb gets his holeshot prowess back, it could change things, and I know his mechanic, Carlos Rivera, is obsessive about starts. They're working on it, I'm sure. While numbers show the first rider to three wins in a season usually takes the title, this is not quite the usual season, so we very well might have surprises in store. Here's one way to look at this: Kenny has ridden well enough to win five of six races this year (three wins, and oh so close at two others), but only Indy 2 was a real blowout, dominant ride. I feel like, watching this year's events, the actual results seem predictable, but the gaps between everyone are smaller than ever. It gives us that extra tinge of the unexpected in the moments before the gate drops, as not only do we know there are still several riders that can run the pace, but the riders themselves know it too.
So I'll just repeat what I've said here every week: this upcoming race will be very pivotal for the series.
Lappers Cont'd (Keefer)
This has gotten beaten to death this week, but I wanted to just give some food for thought here. Also, I think I might be in the minority, but I think we all need to calm down on trying to "solve" the lapper problem. Lapped riders have been part of the sport since we started racing dirt bikes, and sometimes shit happens. This is with everything in life, not just dirt bike racing! Yes, I know what you're going to say. "Keefer, Friese has been a part of more than a few run-ins!" But maybe I am in the minority on this one as well, I just don't see THIS ONE being his fault. Yes, he was in the racing line; yes, he was going slower than Barcia. But I am seriously doubting that he was just cruising into the double/triple with the intent of screwing up Bam Bam's race. Yes, Dean Wilson screwed Roczen out of a win (not a podium) in Houston, but again, this isn't an every-race occurrence. We may see lappers screw up a race once or twice a year in supercross, and all of a sudden we need change? STOP IT! It's a part of racing that's fun for us fans to watch, isn't it? I mean, how many times are you on the edge of your seats at home or in the stadium because you know the leaders are coming up on lappers and it's going to be a nail-biter? That's the kind of excitement/stress that die-hard fans love. Look at all the cool podcasts and shows that have come out of it! MORE CONTENT FOR US FANS TO BENCH RACE ABOUT! Yes, it sucks when an obvious win (Roczen's Houston race) gets taken away, but how often do we see that? Not that much.
I try not to compare NASCAR or F1 to our sport, because supercross/motocross is so unique. We don't need lapper lanes or black flags. What the AMA could possibly do better is teach these guys who are waiving the blue flags to wave them at the right times. Educate them more. Also, maybe put a few more blue-flag bodies out on the track? Maybe that will help the guys in 15th or so. We don't need to change our sport with every incident we see on the track. We should try to polish up the area in need a little bit and see if that helps.
Imagine if the AMA did fine the guys getting lapped for possibly having a mental error while racing. We would have no more racers, because the guys in 11th through 20th would all be broke. They would just say screw it! Mental errors happen all the time, even with the top-tier riders. It's human nature, and we screw up from time to time. Add the fact that your heart rate is 200 bpm and then you've got Bam Bam revving his GasGas up your ass at 11,000 rpm—it's enough to mentally break anyone. Also take note that guys who are in 13th place aren't going to move over as quickly as a guy rolling around the track in 20th. The riders know their position while they're racing, and when you start creeping up near the top ten, riders are going to be more reluctant to just hang a left and let the leaders by. It's up to the leaders to be a little smarter as well, not just the lappers. Just because Roczen, Tomac, Barcia, and all these other guys are faster than the guy in 13th, we should just blame the guy in 13th for screwing him up? Come on!
Let's all just woosaah a little more and see what happens Saturday night.
Bob and Linda Leach (DC)
Very sad week for the Pacific Northwest motocross family. Bob and Linda Leach, owners of the Albany SX track in Oregon, were tragically killed in a head-on automobile collision.
From the Albany SX Facebook page:
"We are at a complete loss there has been an amazing amount of support and love for my parents they loved and devoted there life to the sport of motocross they loved all of u we will get past this we will have a celebration of life at Albany MX not sure when yet but I hope all can come and share stories and laugh and cry..."
wpark89 wrote: "I don't know if younger guys or people from out of the NW know how totally Moto this family is. Bob helped lay out the very first Washougal track in the early 70s and was a promoter of the National back in the day. Both boys won Loretta's titles in the early 90s."
Roby Leach won the Open B/C class in 1991; Ryan won three titles, two in the 250 C classes in '91 and then a couple years later in the same Open B/C that his brother won. They were fast kids and a wonderful family, and they never left motocross. Bob and Linda were a huge part of what makes our sport and our lives in motocross so important. They touched the lives of more kids and families and more fans than we can ever know. Godspeed, Bob and Linda.
'94 Three-Peat (Andras Hegyi)
Team Honda's Ken Roczen just had the best three straight races in his 450SX career, sweeping the tripleheader at Lucas Oil Stadium in Indianapolis. After the first six races of the year, Roczen has the most wins (3), the most podiums (5) and largest points lead yet, 16 on the runner-up Cooper Webb. This is the first time he has ever won three consecutive rounds in Monster Energy AMA Supercross.
As a Suzuki rider in 2016, Roczen took back-to-back wins in the 15th and 16th rounds (Foxborough, MA, and East Rutherford, NJ), and then, while debuting for Honda in 2017, he won the first two rounds of the season, Anaheim and San Diego. Those are his only win streaks prior to this season.
In the history of the series, 17 riders have grabbed at least three consecutive wins. The standard for the most consecutive wins is shared by Jeremy McGrath and Ricky Carmichael, both of whom got 13 wins in a row, McGrath in 1996 and Carmichael in 2001. The last rider before Roczen to get at least three consecutive wins is Roczen's own current rival Eli Tomac, who won five straight in 2017.
---
The april 2021 ISSUE OF raCER X MAGAZINE IS NOW AVAILABLE
The April 2021 Issue of Racer X Illustrated
Moto Outliers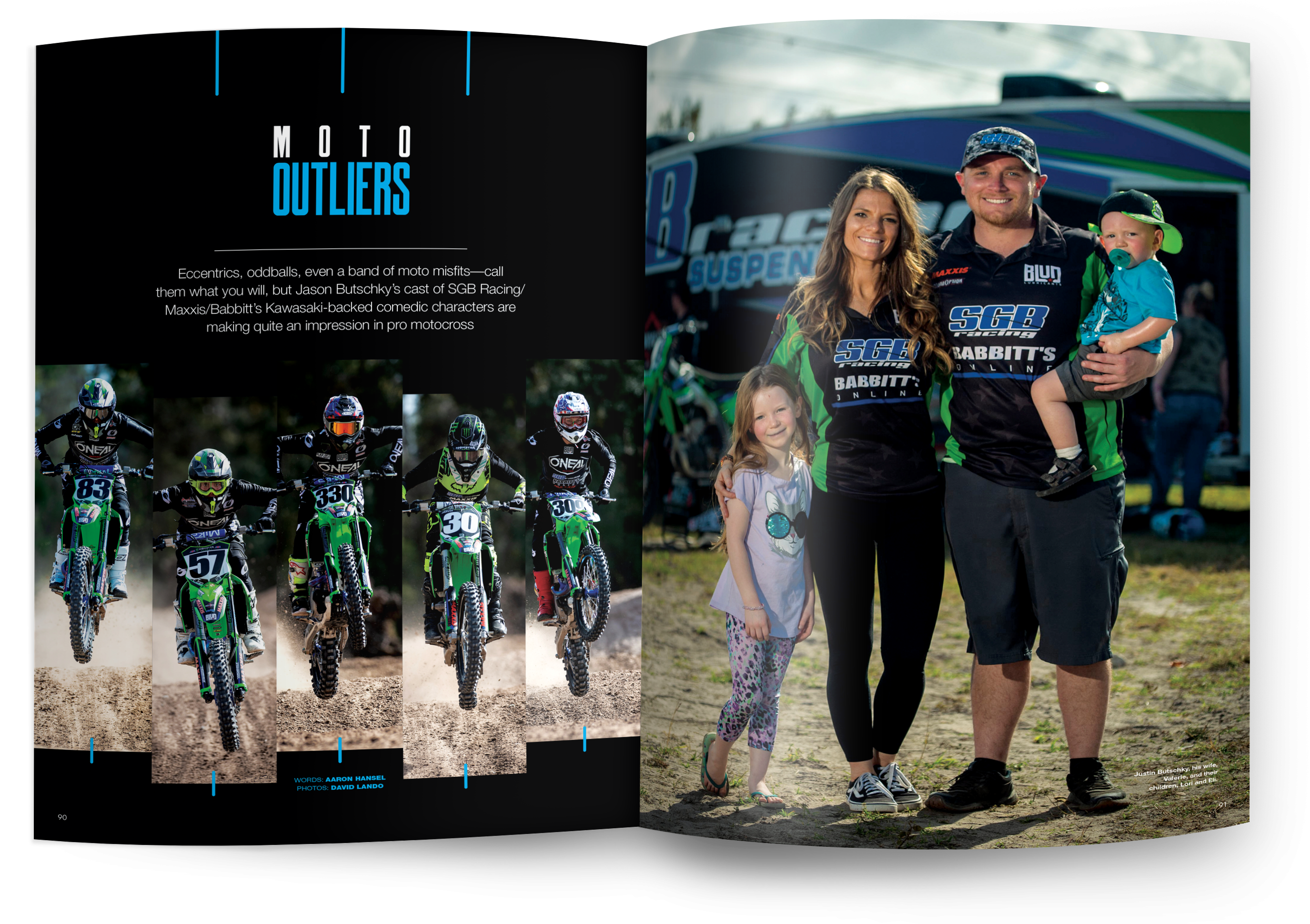 Eccentrics, oddballs, even a band of moto misfits—call them what you will, but Jason Butschky's cast of SGB Racing/Maxxis/Babbitt's Kawasaki-backed comedic characters are making quite an impression in pro motocross.
Read Now
Preview Now
Listen To This
When GasGas rolled up to the starting line in 2021, it became the latest in a long line of brands to participate in AMA sanctioned racing. In the newest Racer X Read Aloud, Davey Coombs reads his feature article "Brand Exchange" from the April 2021 issue of Racer X magazine.
For more from DC, Jason Weigandt, Steve Matthes, and the rest of the Racer X crew, subscribe to Racer X.
Racer X Read Aloud is brought to you by Renthal.
We recently had the chance to talk to Ryan Dungey about the latest stories and perspectives in his life. Dungey certainly personified hard work as a racer, but what happens when you retire and it all stops? Ryan had to find himself, and that almost led to going back to his old job, with an attempted comeback for 2021. That didn't happen, and now Ryan has a new venture to pour his ambition into via his RDCoffees.com. Jason Weigandt chats with Ryan for a look at life after racing.
Head-Scratching Headline/s of the Week
"Super Bowl LV drew higher TV rating in Boston than in Tampa Bay"—Yardbarker.com
"BRADY SCHOOLS THE CHILDREN"—Drudge Report
"Texas woman, 63, who believed she was dating BRUNO MARS in Instagram catfishing con is swindled out of $100,000 after she fell in love with the 'singer' and agreed to pay his touring expenses"—DailyMail.com
"THANKS FUR NOTHING Six raging bears turn on their rescuers moments after being released into the wild in Iraq"—The-Sun.com
Random Notes
For the latest from Canada, check out DMX Frid'EH Update #6.
Thanks for reading Racerhead. See you at the races!