Indianapolis, IN
Indianapolis 2 (East)
Monster Energy AMA Supercross Championship
When the checkered flag waved at the second Indianapolis Supercross last Tuesday, several riders walked away from the 250SX main event with their career best finishes. Atop that list was TiLube Honda's Grant Harlan who collected his first career top-five finish with a fifth place. Even with a result that monumental in his career, Harlan remained reserved about the finish and is keeping his head down as the first 250SX East Coast swing comes to a close this weekend.
We caught up with Harlan this week to hear his thoughts on everything that's gone on in 2021.
Racer X: Talking about your season so far, the fifth at Indy 2 was huge obviously, but what do you make of the way your season has gone thus far? Are you pretty happy with it?
Grant Harlan: Yeah, I'm pretty happy with the results on paper. I'm more happy with my riding than some of the results on paper. But it's definitely a huge improvement from last year, you know. From not making the night shows to being a top five guy so that's been super cool.
Where do you feel like you're making the biggest leaps with supercross this year?
I think just experience. Not being so nervous in qualifying and being able to figure out the track a little quicker. Being comfortable with going out there with the top guys instead of hanging back a little bit. So, I think that's just a combination of everything and the biggest thing being experience.
I talked to Kevin Moranz about this on Monday but you guys both did some Hoosier Arenacross in the off-season. How does doing that series help you for your preparation coming into supercross?
I think it's good to just get some gate drops. Get the racing jitters out of the way a little bit and have the heartrate up a little bit. You know, with training during the week, it's good and you've got to do it, but nothing really stimulates you like racing does.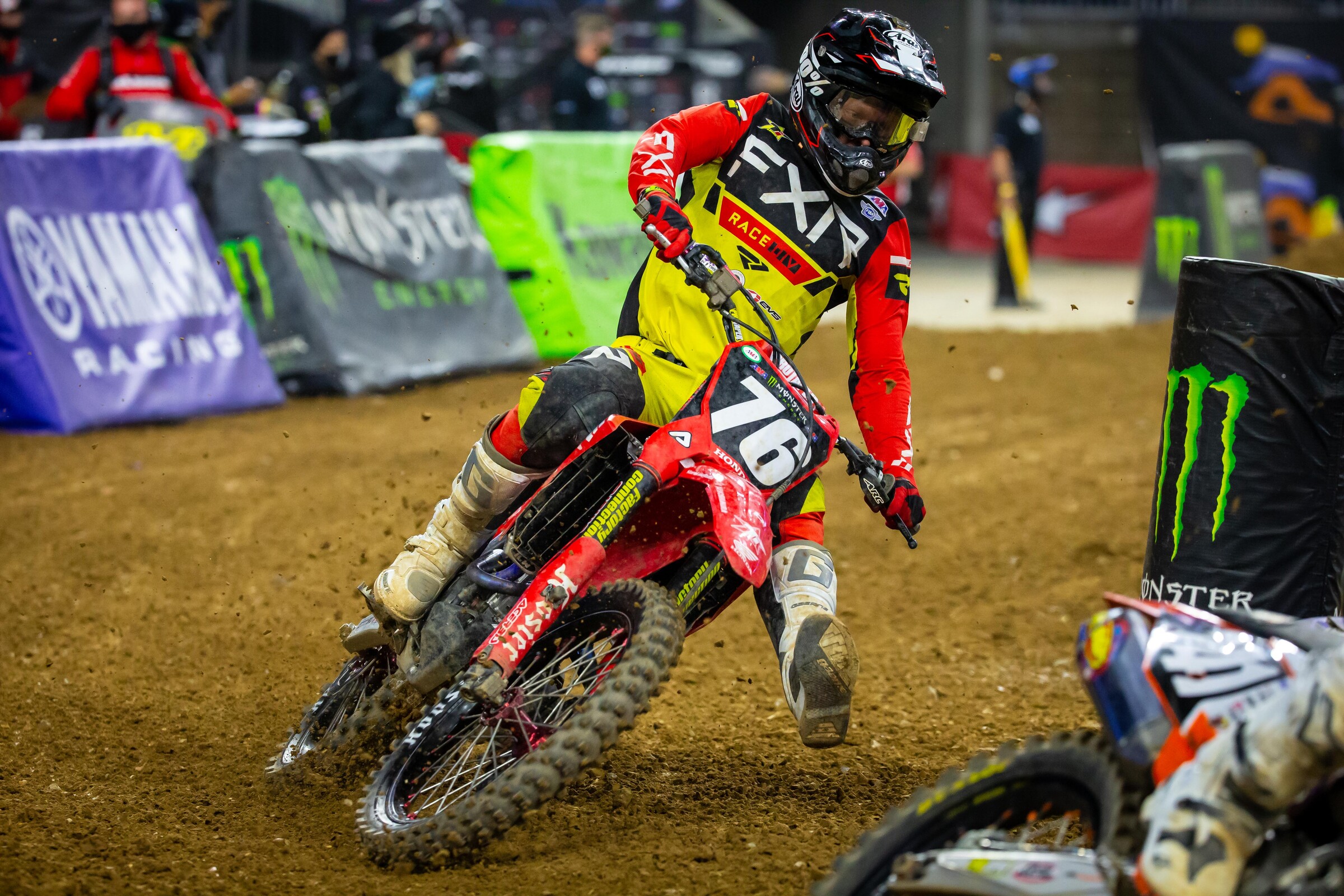 I know this past weekend at Indy 3, a lot of guys were saying it was a little bit tighter and more technical than the first two Indy's at least. Did you find that you were excited about that having done some Arenacross in the off-season and you were a bit more comfortable with that?
Yeah, I actually really enjoyed the track, like the layout and the tightness. I struggled a little bit with the dirt. It was pretty hard packed and dry even though it was pretty rutted. Like I was even surprised to see that there were some rocks showing up.
How much did the dirt change from Indy 1 to Indy 3? Did it harden up a lot?
Yeah it hardened up a ton! Indy 1 and 2 were like what I expected Indy to be even though it was a little bit less rutted than normal. The dirt was wet, and it rutted up pretty quick. And then Indy 3, it was pretty hard and slick with just a couple of loose ruts, not necessarily soft ruts.
So, talking about these tripleheaders a little bit. What do you normally do during the week? When do you get there before that first round and then what are you doing the whole week in between?
I get there Thursday, get my COVID[-19] test and all that. Friday, we get the truck setup, get bikes dialed in and then race on Saturday. Sunday and Monday, just like some light recovery and cardio. And then, race again Tuesday. Then pretty much a normal gym routine on Wednesday and Thursday, rest on Friday, and then get ready to go again on Saturday.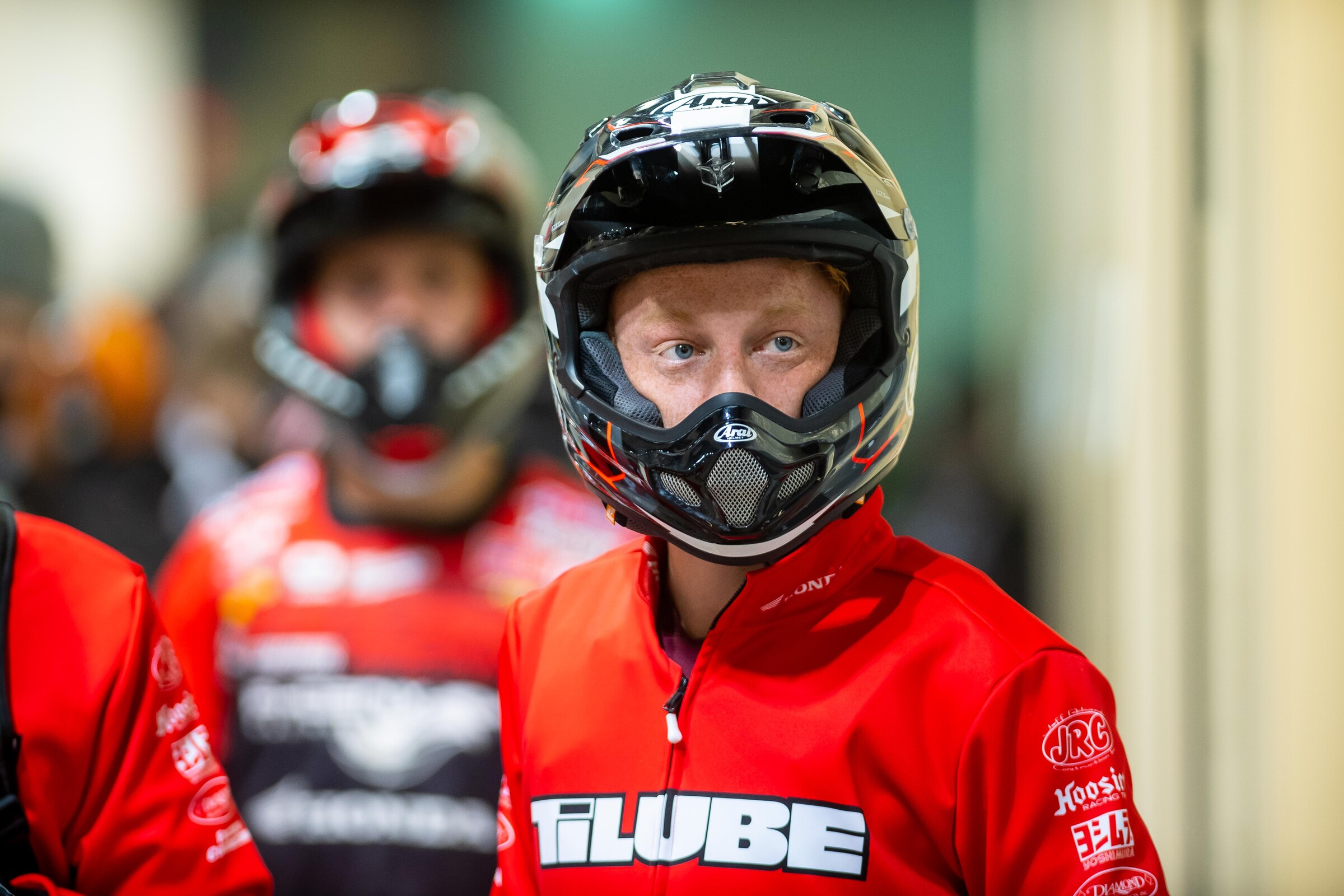 Did it get a little bit boring to just kind of hang around and not have many places to go or things to do during that time?
It was pretty boring during Houston. I was hoping to do some riding when I was down there, and I think it rained Thursday and the tracks got rented out, so I just hung out a little bit and that one was pretty boring. But with us being in Indy, the team's shop is actually located in Louisville, Kentucky, so it was only like and hour and a half drive. So, we just went back, and I helped tear some bikes down and clean some stuff just to make it a little bit easier on those guys since it's only a two-man team. So, I helped out with them and got ready to go.
Are you enjoying the tripleheader stuff so far or would you prefer it go back to the every weekend deal?
I really enjoy racing like this. I think you've really got to prepare. You know, you don't have time to go home and figure it out. So, that's a pro and a con. For Houston, I kind of wish I could have gone back during the week and figured something out and come back to try again. But it's like, "Hey! You have two days. Figure it out and go again."
How much changing or working with the bike, setup wise, has there been through the first six rounds. Has there been any big updates or are you just making subtle adjustments?
I think I've made two clicker adjustments on the forks so far. It's the same setting I had last year. I don't know how to mess with suspension too much, so I try not to mess with it. I just try to ride what I've got and not think about it too hard.
How's everything been going with the TiLube Honda program this year? Has it been difficult to navigate everything with COVID-19 or are you guys getting settled in quickly?
No, we got everything dialed in pretty quickly. Like I said, the suspension is exactly the same as last year and the bike is exactly the same as last year. So, pretty much just got right back into it once I got that call and nothing was any different.
I asked this to Wilson Fleming last week, but the 250SX East class has been getting decimated a bit with injuries. You guys are still just racing and trying to get your results. Has it adjusted your goals as racing has gone on and less and less guys are out there?
I don't know if my goals have changed any. The goal is always to get a good start and get the best result possible. I was actually talking to [Ricky] Carmichael and [Leigh] Diffey today about all that and it's like, yeah some of these guys are injured but it's a good year to be a privateer in this class. A lot of our names that most people might not know are getting mentioned on live television, so I think just staying in it and being up front is really good for us.
What was your immediate reaction at Indy 2 when you got off the track and realized you'd finished fifth? Did you know you had finished fifth and how did that go afterwards with the team?
Yeah, I saw the pit board that said fifth and I looked up at the monitor and it said sixth which I was kind of confused about until the official results got posted and it was for sure fifth. But honestly, I was probably the least stoked out of everyone that I talked to about it only because I got lapped still. I mean like, obviously the result is still pretty cool, a fifth. But I want to be closer to those top guys and stay on that lead lap because I think that would be pretty big.
I know that you did some 450 motocross. Do you still have a 450 and are you planning on doing any 450SX rounds when the East Coast stops and West Coast kicks up?
Yeah, so I was planning on going down to Florida this week and racing Orlando 1 and then staying down there and racing Orlando 2 and Daytona on a 450. I still have the same bike that I raced outdoors on. But it's been raining down there all week and probably going to rain some more next week so I just figured I'd take a break after the first Orlando and get dialed in on the 450 for supercross and then go race Daytona on it. And I think I'm also going to race Arlington on it as well.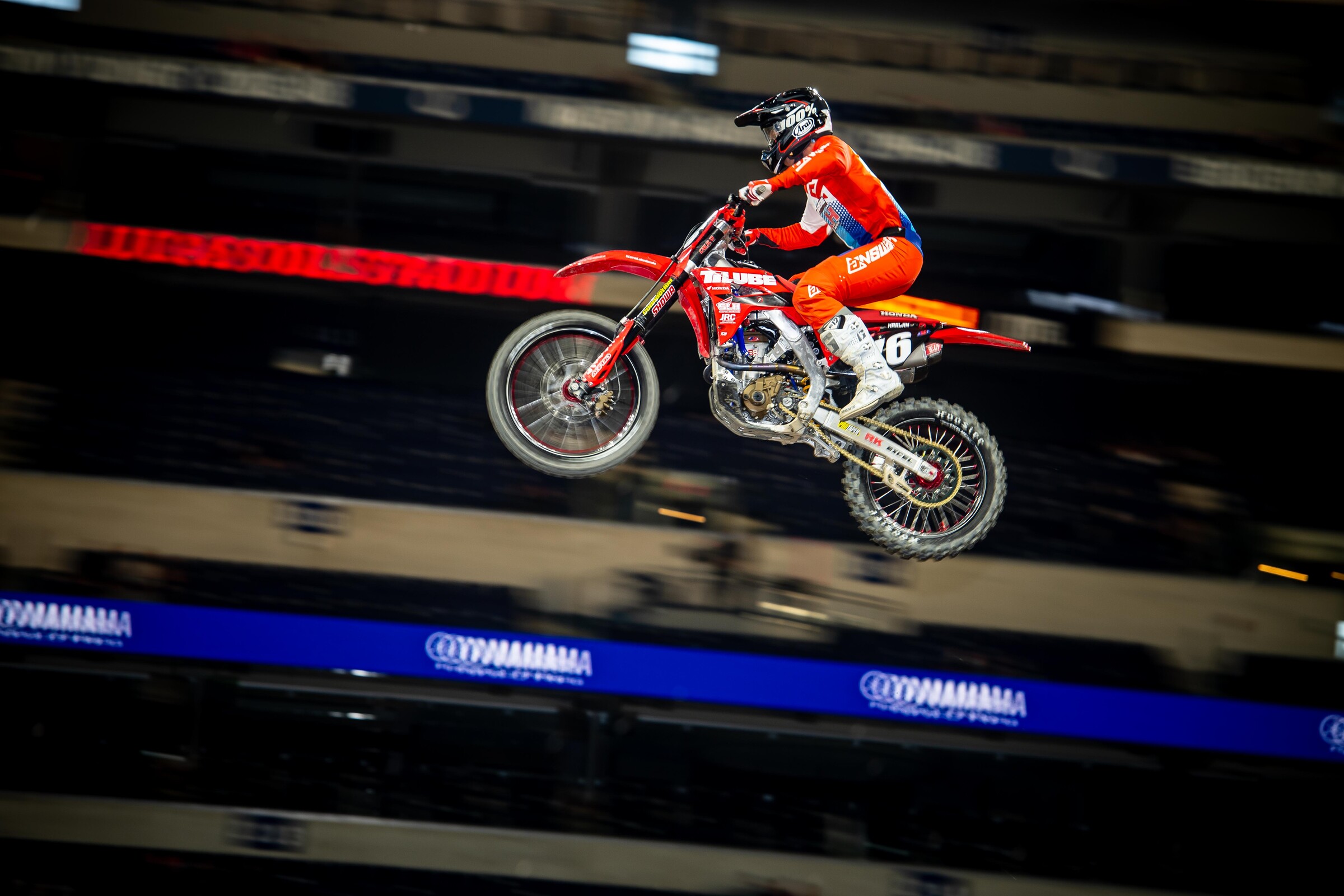 Moving on from supercross, what's the plan moving forward into outdoors? Are you going to race 450s again and are you doing the whole Nationals season?
I'm hoping to be able to do the 250 Class. With next year being new bikes and stuff, I might be able to get a little bit more support from the TiLube Honda guys with the current year bikes and be able to do as many as I can on the 250 and give it a go on that. Last year, I came off an injury in Utah on the 450 and I was just trying to race it for fun and get a little bit more experience and got some pretty good results at the end. But I want to be able to race the 250 Class and compete with those guys.
Well, who would you like to thank for helping you get to the races this year then?
I want to give a big shoutout to the TiLube Honda guys. They put in a lot of work during the week and it's pretty stressful, but they make it happen. Big thanks to Greg Albertson as well for helping me out with training during the week and all the other little details that he's got access to. And all of the sponsors that help out with the TiLube Honda team, they make it happen during the week.