Indianapolis, IN
Indianapolis 3 (East)
Monster Energy AMA Supercross Championship
On paper, the Monster Energy Supercross season is a long slog covering five months. Often, though, the championship comes down to smaller moments that end up creating and defining the entire 17-month championship. In the early going, you look for those moments and try to determine the trends that will lead to a title run. We're seeing quite a few of those from Ken Roczen, who notched yet another victory—his third-straight—to sweep the season's Indianapolis visit, and further extend his series lead.
With Roczen having won the first two Indy races, a third isn't a shocker, but the manner in which he won this one looms large. At the last race on Tuesday night, Roczen was simply the class of the field, pulling away from the pack immediately and winning big. On this night, he was not quite as sharp, plus, his main championship threats (Justin Barcia, Cooper Webb, Eli Tomac) where right with him with their claws out, looking to make something happen. Barcia had more speed on this night than he did on Tuesday and tried to make a pass. Webb—on fire all day in qualifying—tried to make another last-lap hero charge. Roczen weathered it all. That's big.
"This was amazing, I wasn't gelling with the track very well, I don't feel like I was riding it as well as I should, so that just makes me all the more stoked to get that win," said Roczen. "I want to give it up to my team, the Honda guys and my mechanic, for keeping a cool head and giving me a good bike".
It was Webb who looked ready to win throughout the day. Not normally fantastic in qualifying, he topped the lap charts in all three sessions. "I think I finally just have this air shock figured out and that's huge," he said. He wasn't quite as dominant in the night show, as Barcia topped him for a heat race win. In the main, Webb's start was okay, as he ended up just behind Roczen and Barcia in the early laps, with Webb and Tomac right behind. This is the four-pack the crowd wanted to see at the front, and they each exchanged runs, Tomac closing on Webb, Barcia closing on Roczen, but no one could make a move. Barcia then tried to get inside of Roczen, but when Roczen cut down in a berm they collided. Barcia grabbed the brakes at the last moment to prevent the contact from getting worse, and Roczen was able to escape with the lead still. Webb and Tomac weren't able to take advantage as they would have hoped. The four pack continue to circulate together, and then Webb heated up late as he usually does, displacing Barcia and making an all-out press on Roczen at the end. On the final lap, Webb got to him, but this time Roczen held up under fire and scored the win by just .888 seconds.
Webb didn't have the last lap magic touch this time, but he was still encouraged by his progress at this race compared to the previous.
"It was a great day, a step in the right direction, a lot of good qualifying times but I just came up short in the main event," said Webb, second in points, 16 down on Roczen. "So close, so far. Ken rode great and adjusted as the race went. I felt like I put in a good charge and got around Bam Bam and really put my head down and got close. I missed the rhythm with two to go, I felt like that really kind of killed it for me, but he rode a great race and beat me straight up. But we made a huge step today with setup and bike comfort. I feel like I'm right there and it's a long series, I hope we get back to that top spot soon."
Roczen may now only have to worry about Webb's attack for this title, because a late-race incident proved very costly to Barcia and Tomac's championship hopes. Barcia was still close to Webb when he got tangled with lapped rider Vince Friese with about two laps to go. Barcia went down and Tomac had nowhere to go, so he got collected as well. It was a heartbreaker for Barcia, who was not hurt but shaken up, and dropped from third to 19th. Tomac was in fourth, got up in fifth, but ended up seventh. That's a huge points loss for the two contenders, which means more upside for Roczen's title bid.
Barcia said he and his Troy Lee Designs/Red Bull GasGas team had thrown a lot of changes at his motorcycle, and it worked. He was definitely more competitive with Roczen on this night compared to Tuesday. Yet, on Tuesday he finished second, and here he finished 19th due to the crash with Friese.
"The day was going good, I had my best qualifying position with fifth and I felt like we got the bike working really well and I felt really comfortable out there," said Barcia in a team statement. "The Main Event was going good, I was battling for the podium and unfortunately had a lapper come across on me and take me out and that's pretty much how the night ended. It's pretty disappointing but onto the next one."
The racing Gods owed one to Marvin Musquin, who has been fast but luckless all year. In three-straight races Musquin found himself down on the ground and in 22nd place on the first lap. This time he picked his way through patiently, and when Barcia and Tomac went down, he inherited a podium, his second of the season.
"My goal tonight was to stay on two wheels and be more patient," said Musquin. "The last two or three rounds have been super frustrating to me. I've been very aggressive trying to make it happen in the first lap, and ended up going down to dead last and had to come back. Tonight I was maybe too patient, I lost a few spots in the first lap, but after that I was able to pass Adam [Cianciarulo] and Malcolm [Stewart]. I was a fifth-place guy tonight but it's racing and the two guys in front of me went down and I got third. Feels good to be on the podium, but fifth place was my place tonight."
Malcolm Stewart was in a battle with Musquin and Cianciarulo for most of the main. He outlasted Cianciarulo, but Musquin got him. The fourth ties Stewart's career best. For a rider once known for heat race flash but questionable staying power, Stewart has rounded into a solid, consistent force in the field, and a podium is well within reach.
"The podium is right there, Marvin got me with about three minutes to go," said Stewart, of Monster Energy/Star Racing Yamaha. "Overall I felt really good, the whole Star Racing Yamaha team, this is a career best for me, we're right there, that podium is right on the edge."
Cianciarulo continues to show starts and early-race speed. He led the field into turn one of the main, but was positioned slightly outside due to a bad gate pick and fifth-place finish in his heat race. This allowed Barcia to get inside of him, and they bumped, allowing Roczen to immediately shoot into the lead. Cianciarulo ran fourth early, was passed by his teammate Tomac, and then hung tough for awhile before yielding to Musquin and Stewart. After Barcia and Tomac went down, though, Cianciarulo finished fifth.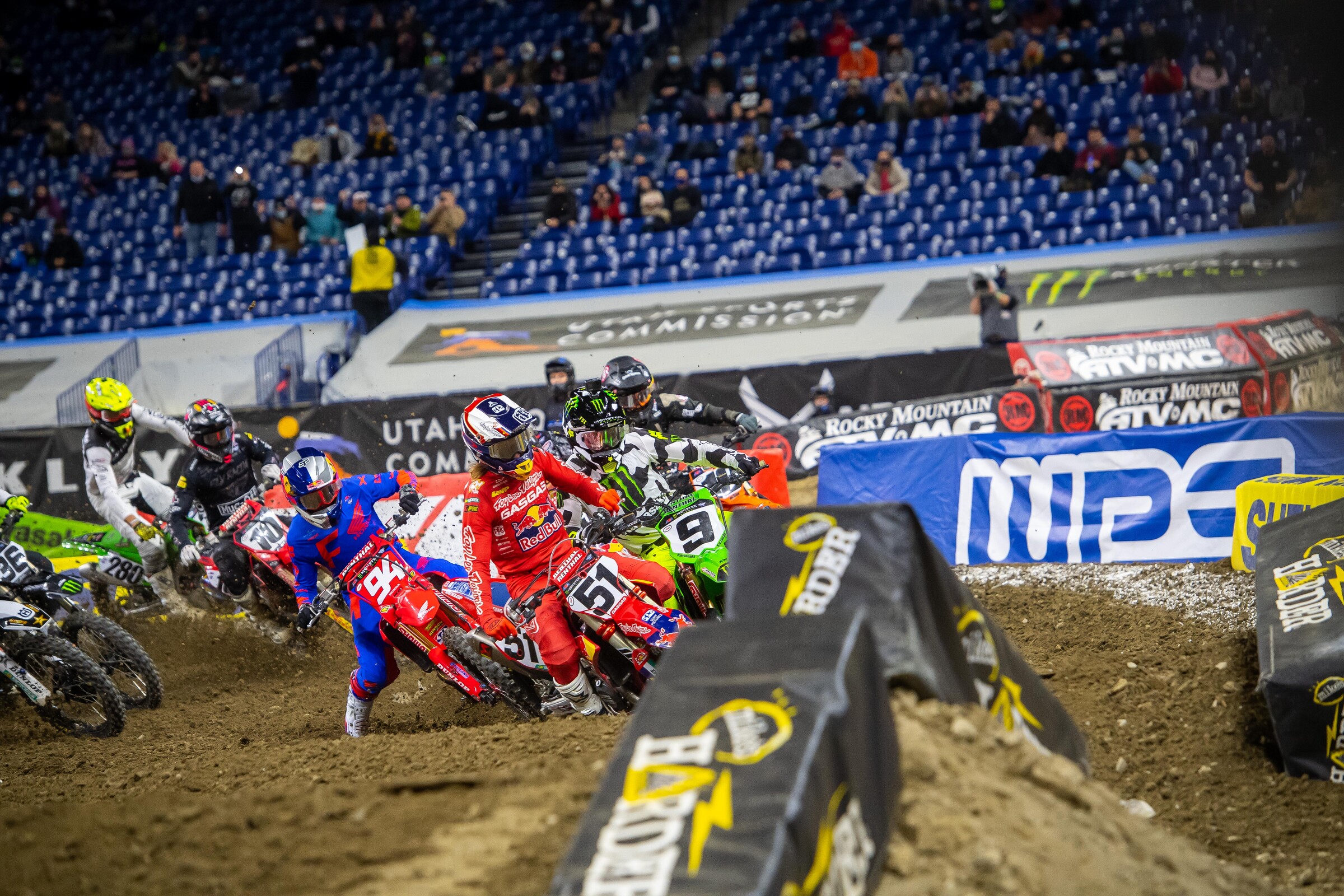 Jason Anderson didn't even race on Tuesday due to a dislocated finger. He not only returned on Saturday, he rode his best race of the season, with sixth. My night went decent, I was just pumped to be able to do enough therapy on my finger to be able to race tonight," Anderson said in a team statement. "I had a better heat, which made myself feel a little bit better and we did some suspension work. In the main, I didn't get that great of a start but I was able to get better and move through the pack. I'm slowly getting better but not where we want to be, so we'll get there."
After Tomac crashed with Barcia, he got up in fourth, behind Musquin, but Stewart, Cianciarulo and Anderson all got by the defending champion. Tomac was running laps in the 49-second range before the crash, but ran a 54 and 53 over the last two laps, indicating that there was an issue after the crash. Tomac is now 24 points behind Roczen in the standings.
Dylan Ferrandis was eighth, Joey Savatgy ninth and Zach Osborne tenth. While Roczen is getting some separation at the front, the rest of the 450 pack is still ferocious, and the battles in the group just off the podium are tight.
"It was a little bit of a tough night," Osborne said. "I didn't get a start in the main and it wasn't one of my best rides of the season. Back to the drawing board this week, I have a few things I would like to really work on and focus on to be better for next weekend in Orlando."
Roczen three-peated the 450s at Indy. Colt Nichols looked ready to do the same in the 250s, even joking that Lucas Oil Stadium, home to the Indianapolis Colts, could be named "Colt's Stadium" if things went to plan. It looked good, as Nichols was fastest in practice, dominated his heat race and grabbed the early lead in the main event. He was already checking out on the first lap when he made his first major error of the season, losing the front wheel on the exit of a corner and crashing on the face of the next jump. Since this was lap one, Nichols had to wait for the entire 250 pack to go by him. He was stuck in last, but, facing an injury-depleted field, he quickly clawed his way forward.
Up ahead, Nichols Monster Energy/Star Racing Yamaha teammate Christian Craig had taken the lead from Mitch Oldenburg and checked out. Craig scored his second win of the season, which was much needed as Nichols had taken control of the series. Once Craig had the lead, his ride was uneventful. Earlier in the day, though, he dealt with bike troubles in practice. It was a solid turn around for the night show.
"Yeah the whole day was off for me, I didn't get to ride one practice, my qualifying time wasn't good and I felt like I was still learning the track in the heat race," said Craig. "I saw my teammate go down on the first lap, I hope he's okay because that looked like a good one. Man, to have one of these days and it end up like this, I'm truly thankful."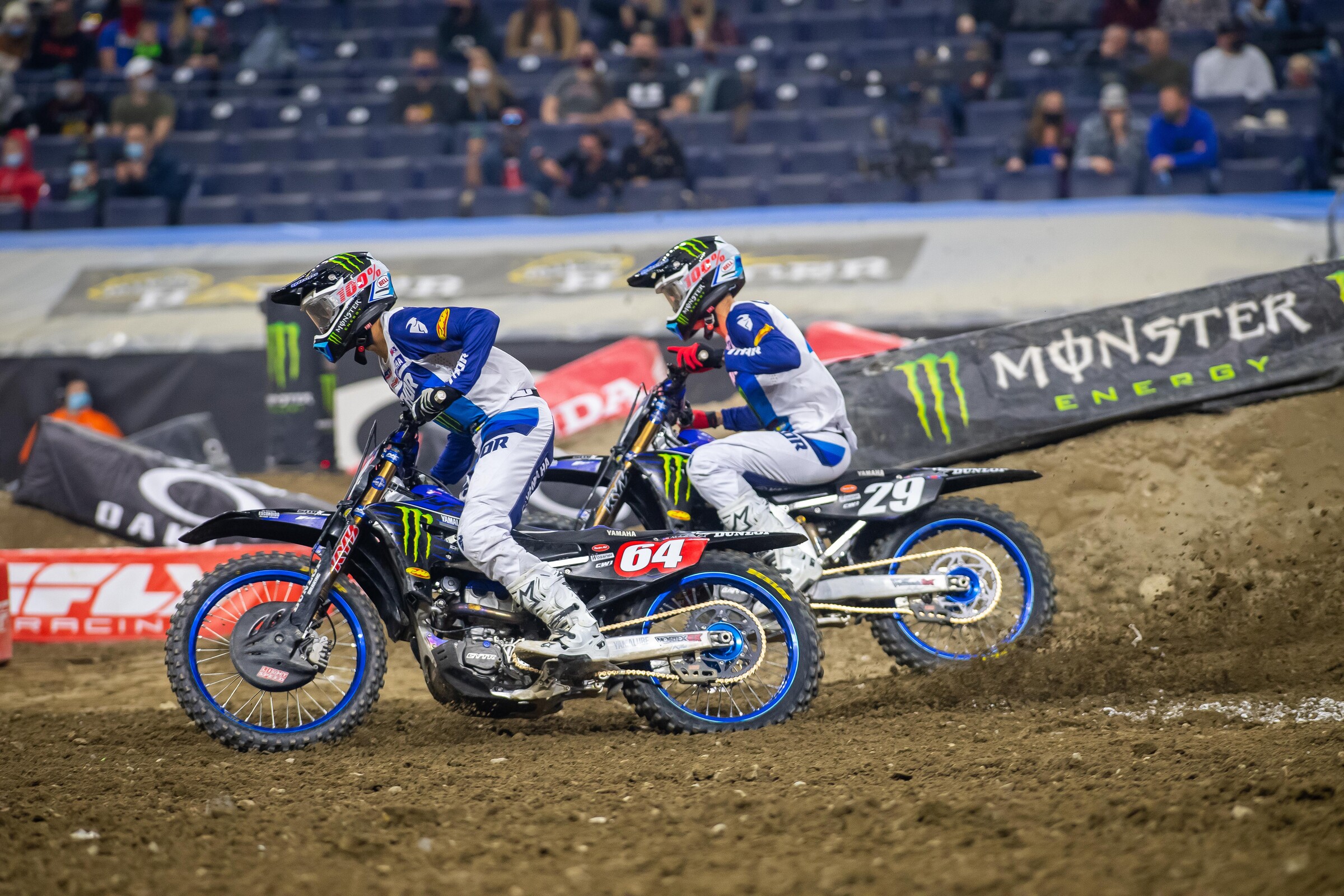 Jo Shimoda rode another steady race on his Monster Energy/Pro Circuit Kawasaki and netted second. That's his second podium, but he felt better about this one. A week ago he only scored third when Craig and Jett Lawrence tangled and went down on the last lap.
"I think this one I could say I got a [real] podium," said Shimoda. "Good start, kind of pushed, pushed, pushed and just kept my own pace. I know Christian was pulling away. I just want to thank everyone, my mom and dad, this was a real podium."
All hell broke out behind this. Lawrence was returning to action after hurting his shoulder on Tuesday. He gutted out a heat race win but got a terrible start in the main. As he worked his way forward, he was met by Nichols, and the two engaged in a huge battle. Lawrence rode right on the line between defensive and dirty, using creative lines and some brakes to slice and dice Nichols, who was faster. They caught third place Oldenburg, then lost time battling, then caught back up to him. Lawrence made the pass to take third from Oldenburg, then Nichols followed and readied one last attack on Jett. He might have got him, but lappers provided all the help he needed, and Lawrence got held up and Nichols went around. Then another lapper knocked Lawrence off the track, although he recovered for fourth.
With that, Nichols completed a remarkable last-to-third run, salvaging points, and he holds a six-point edge on his teammate Craig.
"That was a battle," said Nichols. "I was coming through the pack and the first lap I was going over a triple and Christian was already on the other rhythm before the finish. I just kept digging. Shout out to my trainer Gareth Swanepoel, I've been working really hard ever since Salt Lake City last year, and I feel like my fitness is good. I just kept digging. Me and Jett actually had a pretty sick battle, that made fun going back and forth like that. I can't really be disappointed, I did everything perfect, executed that start to a T, but then I made a boneheaded mistake. That happens. I gotta rebound next weekend."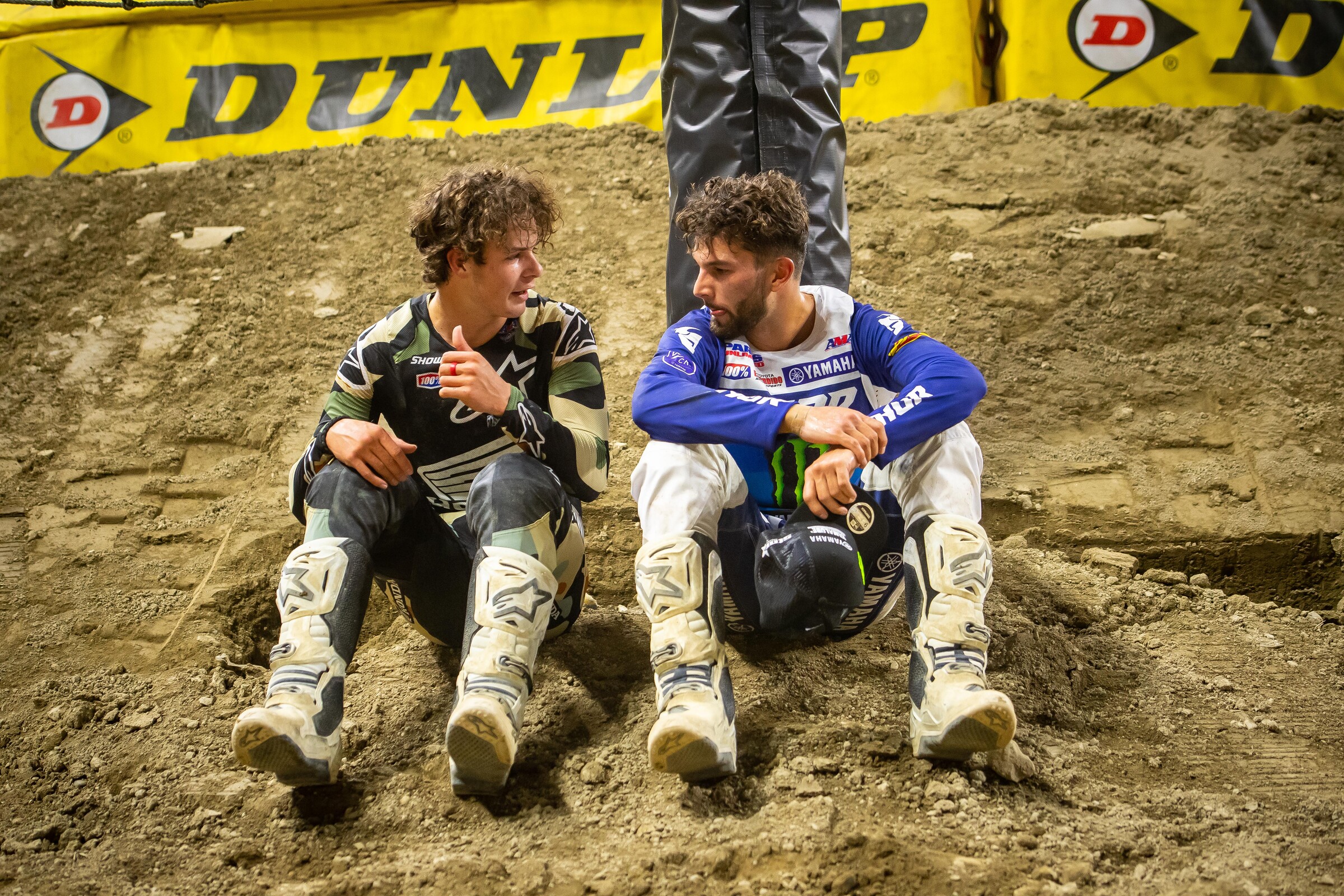 Lawrence was fourth and Oldenburg fifth. The class lost yet another top rider when Michael Mosiman came together with another rider on a jump late in qualifying. He didn't even crash, but he broke his hand when making contact. Mosiman, who was rounding into a contender for a race win, will now need surgery on his hand.