Indianapolis, IN
Indianapolis 1 (East)
Monster Energy AMA Supercross Championship
After back-to-back rounds of frustration for Honda HRC's Ken Roczen, Saturday's victory felt like a must grab for the 26-year-old German. Despite jumping off the track while leading the main event late in the race, Roczen regrouped and passed championship rival Eli Tomac right back for the lead. The first win of the season for Roczen was also the 16th victory of his career as he continues to climb the all-time wins ladder.
Following the victory, Roczen spoke to the media via Zoom.
Racer X: Kenny, you mentioned on the podium you went off the track, you come around the berm, you kind of noticed that Eli was there. It looked like you were in a position to kind of scoot in front of him. Was that a tough decision in that moment to back off and let him go? I have to imagine you were kind of dealing with a little bit of a frustration by going off the track, but I just want to know about that moment, deciding to lay up in behind him and ultimately make what I think was the right call.
Ken Roczen: Yeah. First off, I was trying to decide in the air because I cross-rutted and jumped off to the left. I was trying to decide in the air if I land, I could still tuck in and stay on the track, but I would have hit the tuff block. There was just no way. So, I went all the way around. Obviously, I missed the whole wall, and by doing that I felt like it was wrong staying in front of Eli because I clearly made a mistake. So, I let him by on the straightaway there and tucked in behind him and capitalized a couple of turns later. I knew that the AMA would have a close eye on that one, so I feel like it was just the right choice to let him by and kind of settle in back there.
Watch Roczen's mistake at the 1:38 mark of the highlight video below:
Then was there some urgency to get him back right away? It didn't seem like you wanted to wait very long.
Honestly, I was just trying to stay there and with him because I didn't just want to let this be the decider. Just found an opening and took it without planning it, by any means. It just was a really quick, short decision.
Obviously, I'm sure you're bummed the way the last two races went with the penalty and losing the lead on the last lap. Did you have a little extra motivation to try to get this one done?
I've just had huge motivation to win in general. It had really nothing to do with what happened the last couple of rounds. I honestly forgot about it. Like I said, I've talked about it over and over that I really want to—especially it got hyped up even more and more, which was to be expected just because it was a big deal. But I was over it way before everybody else stopped talking about it, pretty much. So, I just wanted to win. That's all I wanted.
Do you feel like the success you've had early season—you had a new bike, and you took outdoors off—did you know you were going to come in this ready and this solid? Did you feel that way, or is this actually a little boost in confidence, how strong you've been these first four rounds?
Neither. I'm just trying my hardest. I'm definitely not getting on this thing of I've gotten two two's and one one, I'm the guy now. I don't really want to have my mind work that way at all. Coming into this, I didn't really know what to expect because I changed everything up within me and my program. I shouldn't say everything, but a lot. I just kind of wanted to see where I was at, and honestly enjoy the process and put the ego aside and just kind of rebuilt my whole, not image, but just rebuilt my career a little bit. So that's what I did.
When you were behind Adam there, and you know Eli is right there behind you too, what are those emotions like in those first ten minutes of the moto? Especially because you went for a few pass attempts and knew, I have to make this happen now otherwise I'm going to come under attack myself?
Yeah, that was the case. Obviously after Eli crashed it was Adam and I in front. I made a couple of attempts that also after that I was kind of just a little bit further back and not really in striking distance. But every time I was on his wheel, we were kind of yo-yo-ing a little bit and then I really heard Eli coming. I had to start riding defensive a little bit which really hurts you first off because the front guy can take better lines and you're losing touch a little bit. But there were just a couple of spots that the way the start was laid out, they were just really open turns. If you tuck it really tight you just are not as good that way as like if Eli, for example, sets up and he goes wide and cuts down. I saw him next to me a couple of times. I just really needed to get by Adam. I wasn't really sure where I was going to make it happen. Then I just dove to the inside and finally steered clear of that. But it was a good battle. Obviously with all three of us it was a little hectic there for a second, but it was fun.
When you went off the track there and you had to go around the berm, what was it like? You went full adventure bike on us. Were you wondering what was back there if there was anywhere for you to even go at that point?
Yeah. First off, in the air it was kind of funny how quick the mind works sometimes. In the air I was like, "Dang it!" I knew I was going way too far left. I also thought, Hey, I can brake and make it on the inside, but as soon as I got close to the landing I was like, There's no way. So, I literally just decided instead of catching a Tuff Block or whatever, and also Eli was coming jumping so who knows? We may have collided as well. Then I went behind the berm and was just hoping for an opening somewhere to make it back in without losing a lot, a lot of time. But then obviously I had to go around the whole wall and then I was on the start straight. That's where I had to let Eli by because I clearly was off the track, big, big time. I feel like it would have not been good to jump back in there and stay right in front of him. I just feel like that would have not been the right thing to do.
With that corner backing up to the whoops, it had to be a little spooky wondering what was back there.
Yeah, it was. It wasn't just like; I was off the track for a quick second and jumped back in. I was probably off the track for a solid few seconds and really slowly making my way around there.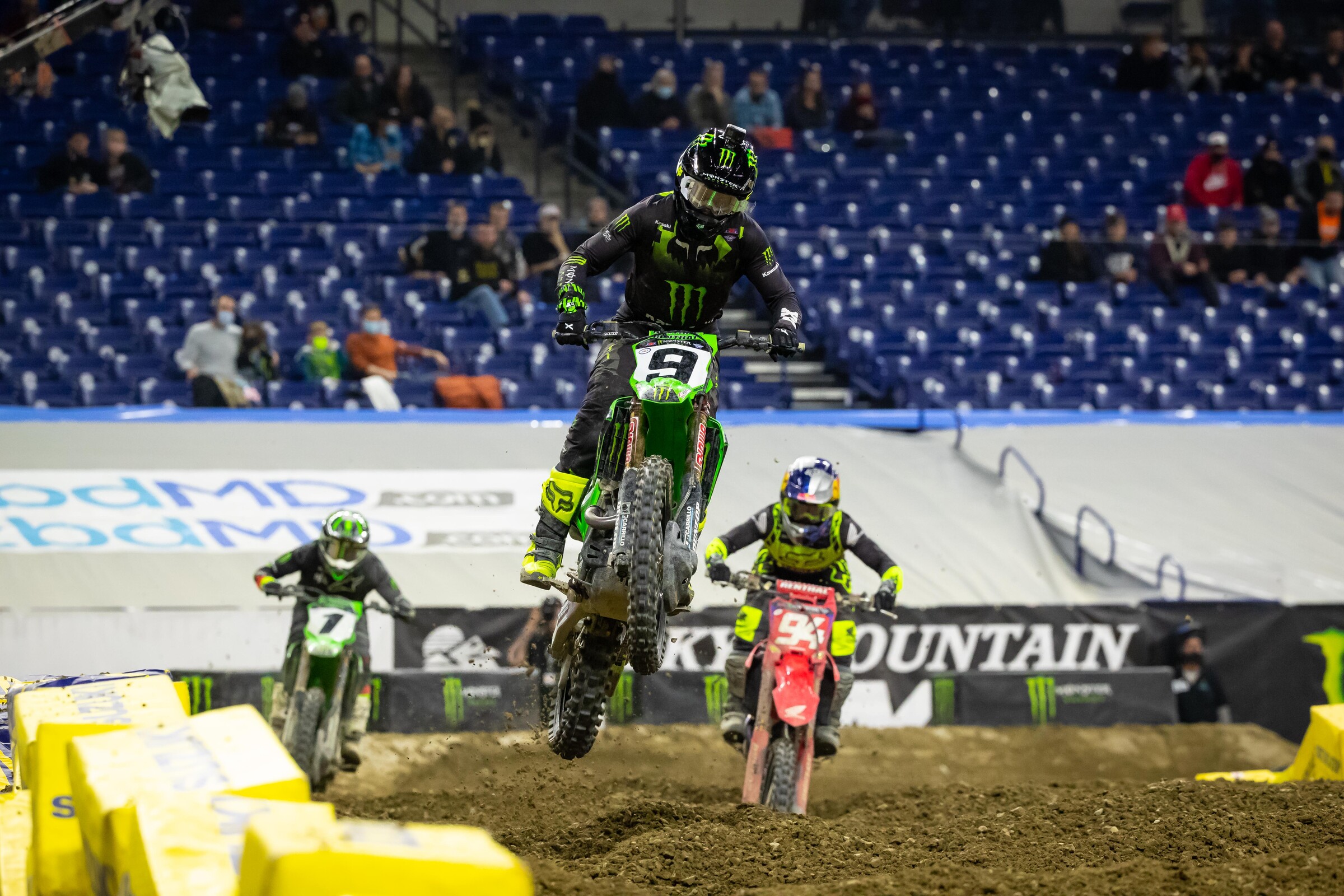 We saw a lot of different riders kind of make different mistakes tonight. How do you think the track is going to develop over this coming Tuesday and then Saturday?
It will be interesting. I just thought it was an odd build. We have these two big doubles in-between there. I think the day started off kind of weird, just because the free practice was a shit show, I thought. We were doing a few laps and then red flag, and the start this, start that. It was just weird. When I originally saw the dirt when we got our tests done, I'm like, it looks sick. It look a lot more loose, but then it got really rutted. I think that rhythm section was built really tight and steep. I thought the track was pretty gnarly with how many ruts that developed. Even on the big doubles and stuff, because I cross-rutted there obviously and jumped off the track. It will be interesting to see. They also watered it, I think, before the first practice this morning, so it will be interesting to see how it will develop in this next race and then how the build will be as well, if they're building it as tight again. In general, the track was super basic, but just the ruts made it gnarly.
Did you agree with the changes that were made for the opening lap? How was that?
Yeah, I think for what it was and obviously them not wanting us to look around and hit the two big doubles just was the best option we could have possibly had, for sure, especially on a quick change like that.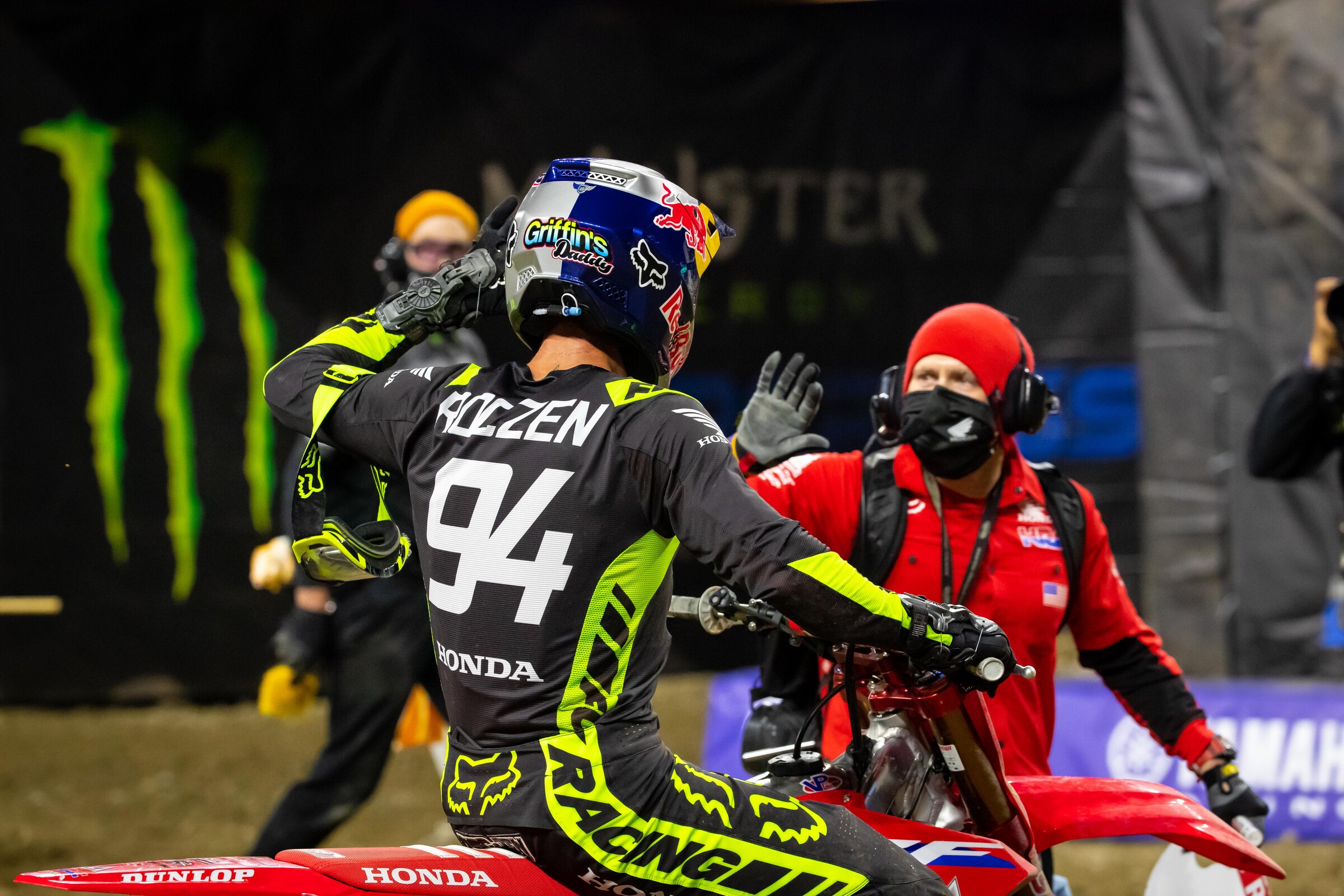 Can you talk a little bit about your preparation from Houston to Indianapolis? Did you have any riding on the bike between Houston and Indianapolis? What do you envision for this week for riding and for preparation for the next few races? Will you have access to tracks, or at your level do you not need that access for track practice? You might have the preparation coming into the series.
Going to be hard practicing in six inches of snow. I don't think there will be anything going on here, per se. Between Houston and here, it wasn't really that much time either. I left Wednesday night. Just kind of feel-good days and just kind of stay good and fresh on the bike. Racing three times a week is a lot of stress on the body as well. But I do enjoy getting the three rounds, if you want to say out of the way, and have three rounds in one week. It's kind of nice because we're already past round four in just a little amount of days.
We see you guys [Roczen and Tomac] race all of the time, and the big emotion and the big thing that gets debated about being a professional racer is how gnarly it is and how intense you guys are. But you guys don't do this unless it's fun, so how fun is it to be in a battle for a position like you guys were tonight, with two of the best riders in the world, your training partner and one guy that's been your archrival for so long?
While we're racing, you don't have that much to think about. For example, when I was sitting out for outdoors, as much as I needed that break, but we're used to it and done it our whole life. There's just something about competing. We've done it 80 percent of our lives. Of course, it's the fun, otherwise I wouldn't do it. Especially now having family, it makes that whole thing even better. Honestly, I've just figured out a way again to just enjoy the process of trying to be my best and trying to win and doing all the stuff. There's something about it that makes us keep coming back. At least for me, it kind of felt like a little bit of a new beginning. Of course, there's anxiety, if you want to call it that, but that's the nature of competing. That's I feel like why we do it, with the adrenaline and getting antsy and things like that. I love that feeling. Now we're doing it as a family which makes that even sweeter.
Just going off what you were just talking about. Your first win as a dad. How was that when you saw your little fellow there at the end of the race and all that emotion with him being right there? Run us through your emotion with that.
It was the greatest thing ever. Obviously lately, even on the couple of second places, my wife wasn't able, and my son weren't able to come down there, but seeing them there as soon as I went down there, he's just such a smiley bugger in general but as soon as I was looking at him and he was just smiling and laughing the whole time, it's the best feeling ever. It really is. Hard to explain to somebody that doesn't have a kid. It just gets better and better every single day, I feel like. Now that this was in our bag, was just a huge relief. I don't even know what to say about it. It just makes my heart smile. Even in-between all the practices and the races and whatnot, we're up in the semi here and just playing around, changing diapers in-between the practices. It kind of eases everything up a little bit.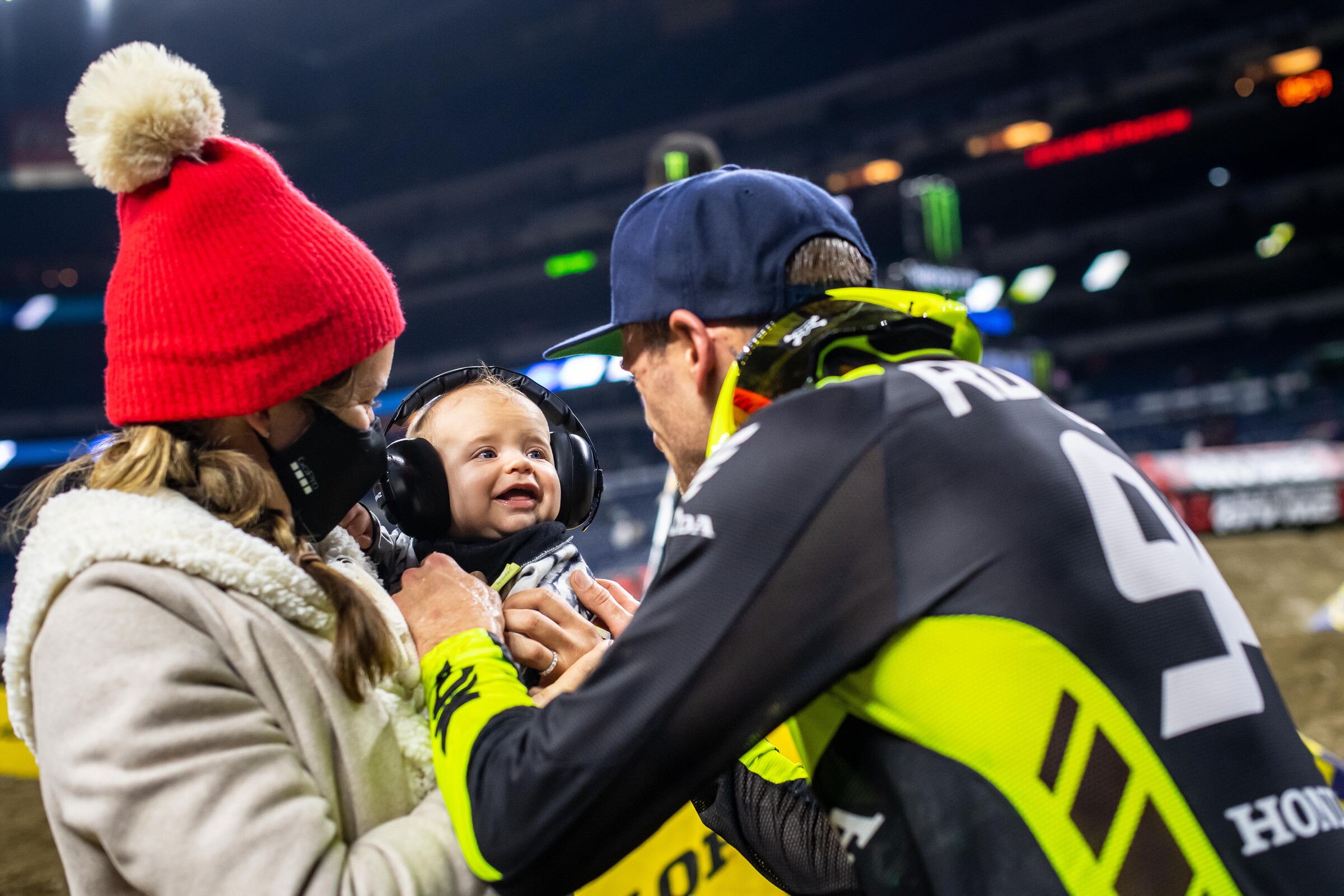 Watch the full press conference from the 2021 Indianapolis 1 Supercross below: