Houston, TX
Houston 1 (East)
Monster Energy AMA Supercross Championship
Marvin Musquin and Colt Nichols both had reasons to believe the first round of 2021 might be a bit of a slow start. Musquin had knee surgery at the end of 2019 that left him sidelined for all of Monster Energy Supercross last year while Nichols was injured at the final supercross race last year and missed all of Lucas Oil Pro Motocross because of it. Both riders wound up in third spot in their respective classes on Saturday night, kicking off the new season on a high. After the race, Musquin and Nichols spoke with the media via Zoom call.
Racer X: Marvin, congrats on the podium and third. We talked all day about just how stacked the field is. There's so many guys in this 450 class. For you, we kind of didn't know really where you were going to be, because you missed you all last year. Does it feel good for you to come out here with this stacked field and be able to complete the opener and be on the podium?
Marvin Musquin: Yeah, it's huge. To be honest, practice went pretty good. I qualified third. That was awesome. Times were so close, the top fifteen within a second. I knew the start was going to be the key. The heat race was a little rough. I was not feeling comfortable. I felt like it was completely different than practice. I was a little bit mad. I ended up crashing and qualified eighth out of the heat. Then you go on the starting line and you have a bad gate pick. You're like, man, it's going to be a tough one. But actually, I had the gate by the box, and I ended up having a great start. I was up front. I got passed right away. I was third or fourth, but then I got to settle down right there. Passed [Justin] Brayton back and then passed Adam [Cianciarulo] back for third. So, I was super pumped on my riding. I just wanted to be smooth and be consistent for the rest of the main. I knew the two guys up front were gone. So, to be smooth right there in third place. I rode my own race. It was just amazing for a comeback in the first race. It's unbelievable.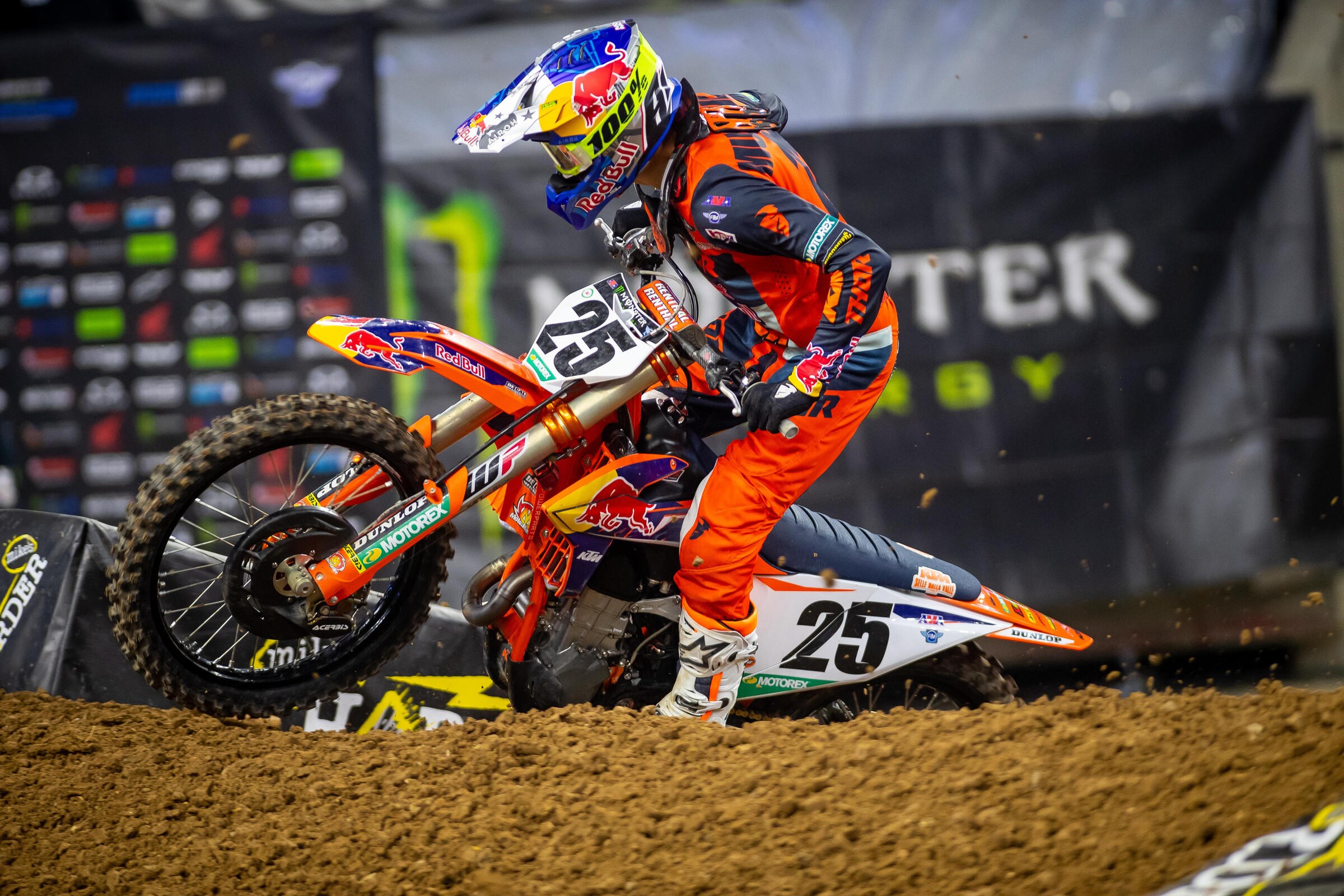 How important was it to shake the rust off? Or did you shake the rust off this first race after what you missed last year?
For myself, to be honest I was a little bit nervous because I feel like supercross you have to be very precise. I feel like you race closer to other guys than outdoors. But I was super excited, and I just wanted to get out there and get the first one done. I'm going to get better with more racing, fitness-wise, confidence-wise, everything. So, I'm excited to go racing again very soon, on a Tuesday. To be honest, missing a whole season and to come back, I know like Ken [Roczen] said, we've raced for so many years, but still missing a whole year it is weird. When I got out there, it didn't feel too new. I'm still used to that. It's just fitness-wise to me, I feel like, and the intensity that needs to come back. So that's why racing multiple times like that in the week will be good.
You mentioned fitness. Is that just something that only comes with racing? I'm sure you worked hard to get ready. Is that just something you need racing to get that final step?
Yeah, I think so. That's what I mentioned. You do your motos at home but racing just feels different to me. The intensity of the riders, even though I practice with good guys, with Cooper [Webb] and Zach [Osborne], but when you're racing you have 20 other good guys. Like in the heat race, I was not riding really well, and everybody was right on my tail and pushing and revving. It's different. So, you've got to be on point. The racing and the fitness for the whole 20, it feels a little bit different. Every track is different from what you have at home and racing. So today the dirt was super tacky, so it made it different than what we have at home, even though we have two different tracks, or three. But that's why I feel like even racing will help me get better. I need to be healthy, not have little injuries because we're racing so many times in one week. So, we've got to be consistent. But it's a great start. I just need to keep on going and get back to it, I feel like.
Racer X: Colt, we talked about it a little bit on the podium. The starts got you today. You were in a fight the whole time with RJ [Hampshire]. You were in a fight with Jett [Lawrence]. You were in a fight with Austin. Now that you've had a chance to settle down after the race and evaluate everything, will a good start really make the difference for you? Do you feel like you could win this thing?
Colt Nichols: Yeah, they [starts] definitely kind of got me a little bit tonight, but I am happy with it overall. I think me and Austin [Forkner] were battling pretty good the first few laps. There was a lot of carnage the first few laps being that far back. Only seventh or eighth, but it was just a lot going on. I needed that to try to compete for the win or get up there and at least try to get second or whatever. Overall, I'm happy. It's been a long time since I've raced, so I kind of forgot. Being on the gate for the heat race, it was an atrocious start. I think I was fourth from last! I think I just forgot how to do it, to be honest. Overall, I'm happy. It's been a while since we've raced, so being up on the podium is good. I feel like I have good speed. I've got fitness. That fight was there. I was in pretty much a dog fight the whole race. It made it fun, honestly. I'm looking forward to Tuesday and getting back out there.
You kind of came out of nowhere at the end to snag that podium finish. Does this year kind of feel like a reset? Obviously 2020 you didn't really get the results because of the injuries. Do you feel like you're back to 2019 form when you won the opener and had the red plate, and the points lead? Did you do anything different coming in this year?
For sure it was tough with the injury bug and whatnot, like we've all faced. I definitely was very unprepared going into Salt Lake. I was just kind of trying to wing it, to be honest. Got some decent finishes, but I actually got to have an off-season this year like I had in 2019. That's pretty huge for me. I've only had that twice, '19 and now this year. I definitely feel like I'm ready to win. I feel strong. I feel fit. I'm doing things a little different than we did in '19 even to improve a little bit. Put on a little bit of weight, got a little stronger, stuff that I felt like I struggled with in previous years. I feel good. I feel better than 2019 form. I've just got to obviously get out of the gate a little better. My starts were awesome then, so if we can get back to that I'll be happy. Overall, I feel awesome. I feel like I'm ready to go compete for this title. It was a good way to start it off tonight, but a lot of racing left and two short weeks, so got to go make it happen.
Like you said, you haven't raced a whole bunch. How are you going to take these next couple days to recover for the next race?
I think we're all in the same boat, just trying to kind of chill and not doing much. We have Sunday and Monday to really relax. No different than during the week. But the hard work is pretty much already done. Now we just kind of chill, do some recovery spins, hang out a little bit, and then be firing on Tuesday. I love this schedule. I'm pretty excited for it. I'll be looking forward to it in a few days.