Houston, TX
Houston 1 (East)
Monster Energy AMA Supercross Championship
The 2021 Monster Energy AMA Supercross Championship kicked off over the week in Houston, Texas, and before the second round takes place on Tuesday, we fired off questions for one of our editors-at-large, Jason Thomas. JT spent nearly 16 seasons as a professional supercross racer himself, so we wanted to get his insight on the opening round from the Lonestar State.
By the main events, it seemed the track had limited ability for passing despite many 180s and sections with multiple options. How did that happen and can anything be done different in terms of track prep?
This is accurate but the design was the culprit, not so much the conditions. The biggest reason seemed to be the lack of challenging sections. There were two technical rhythm sections that certainly challenged riders at times but unless a big mistake was made, there wasn't much of an opportunity to pass. When really analyzing the rest of the track, there were a lot of easy jumps into corners dominated by an inside line. That allowed the lead rider to protect the race line and force a pass to go the long way around. Further, the whoops were slowed by a wall jump. That stop-and-go before the whoops took away any whoop blitzing advantage that a rider like Malcolm "Mookie" Stewart might have. It put almost every rider into a very tight range of speed through a section that is typically leaned on to create a passing zone. Overall, it felt like a track designed to ease the field into the series.
Justin Barcia and Ken Roczen were both hitting the quad after the finish, but I'm more interested in both of them clipping the landing nearly every time. I understand that's to help slow down for the corner but how much more risk is involved to need to be that precise lap after lap?
It's definitely a high level move but the biggest factor is the landing of the quad. If the landing is sharper or larger, Roczen and Barcia would have been forced to land it cleanly. With a forgiving landing, they were able to use that subtle clipping to slow them down. It's literally a 1-2 foot difference on a 75-foot jump. That's just a small example of how precise these riders can be when necessary or beneficial.
Any explanation for the contact (x2) between Eli Tomac and Vince Friese? Is there some beef that started before that?
From the video we have seen, there is no explanation. I wonder if there were any shenanigans before the cameras focused on them because Eli's anger was misplaced from what we saw. History has shown Vince Friese to be involved in tomfoolery before but I will need to see more before I place any blame on him in this particular scenario.
Anyone leaving the opener legitimately scratching their head or was the entire night too unpredictable?
The only rider I think has reason to wonder is Cooper Webb. He just looked a bit off. Once he got a holeshot, his heat race win seemed to be an almost certainty, yet he wasn't able to seal the deal. His main event ride just felt a bit uninspired, too. It didn't feel like the Cooper Webb we are used to. Obviously Tomac had a bad finish but it's hard to make a real judgement on his riding since he was involved in a few incidents as we mentioned above.
Is this the year it all comes together for Christian Craig?
It could be! Wow, he looked great. If he can take that confidence and roll it forward, he will be a force in this 250 East Region. I am still very high on Austin Forkner's chances but Craig served notice that 2021 is a new year. We have to be careful with drawing conclusions from one race but that was an unbelievably great way to debut at Monster Energy/Star Yamaha Racing.
I think it was exactly what he needed! Max was not hired for immediate success. They have a long term plan for him that will require patience. He didn't look out of place and a top ten at your first race is nothing to sneeze at. I think the pace will start to "slow down" a bit for him, much like a college quarterback moving to the NFL. I was just looking for a drama free weekend to get the ball rolling and that's exactly what he delivered.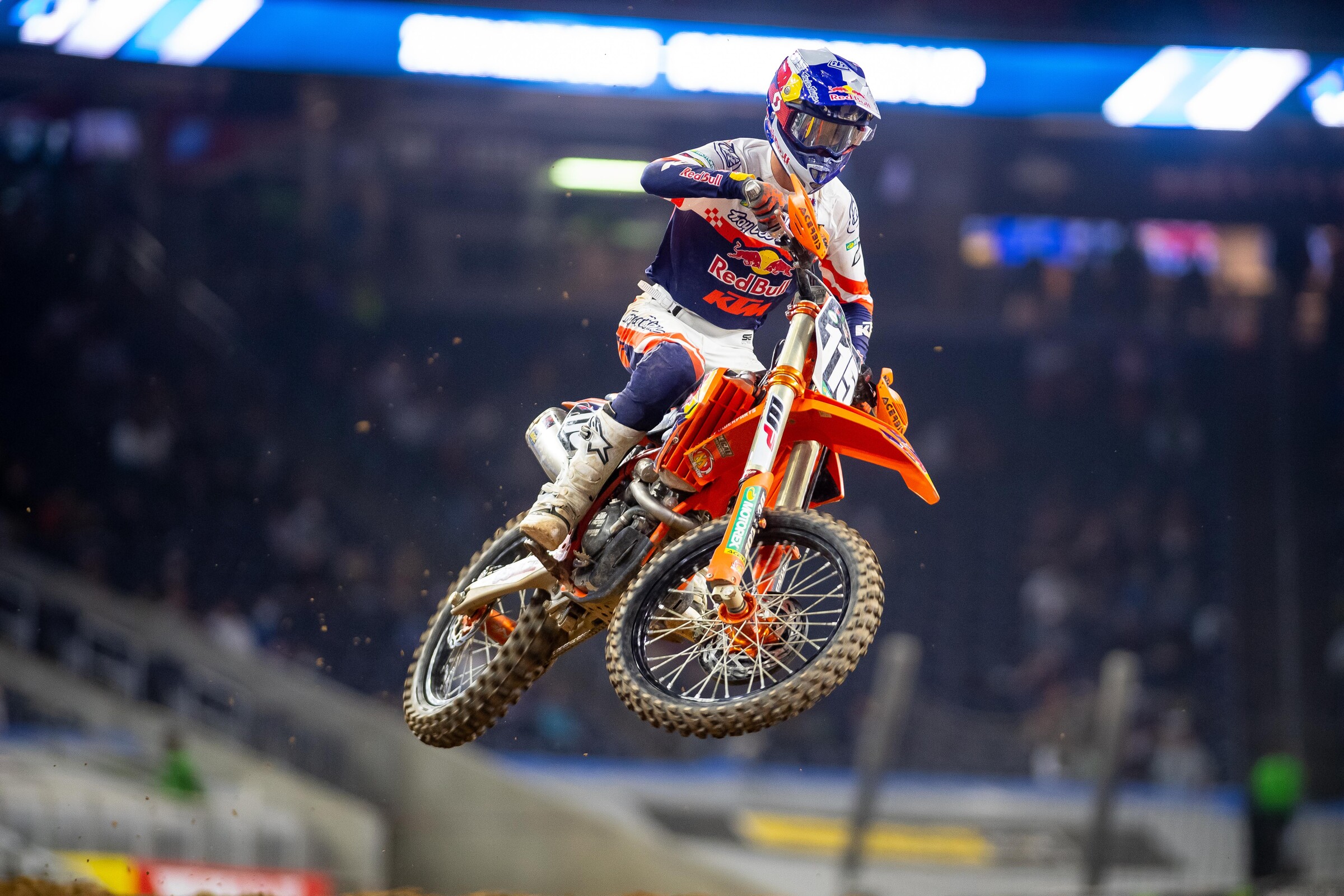 Could Zach Osborne have more of an up and down 30 or so hours than he had from midday Friday until the checkered flag on Saturday?
Let's hope not! That was a wild swing and surely a big ask for Zach to stay even keel through the turmoil. I think if you had a worldwide pause button and could ask Zach "would you take a top ten tomorrow?" as he's flipping down the racetrack on Friday afternoon, I think he would immediately say, "Yes!" So, with that in mind, things didn't end up all that poorly. Plus, top-ten is quite good when you're coming from last place in this field. He gets near immediate chance for redemption on Tuesday, too.
Fantasy heroes and zeroes: Who shook it up the most?
The biggest challenge for many teams had to be Benny Bloss. He looked like a no-brainer but a pair of crashes in the qualifying races kept him out of the main event. Benny was such a tempting pick at a nine handicap and it took every ounce of will power I had to avoid clicking his name. With him bumping up to an 11 for Tuesday, is now the time?
Another tough beat was Curren Thurman, who many had pegged as a main event surety. As a general rule for fantasy, timing is everything. Look for Thurman to turn it around tomorrow.
On the positive side, many 250 riders paid big points. Josh Varize was a max scorer with his 12th place finish in his supercross debut (thank you). Jeremy Hand was another one testing the sanity on anyone who picked him. Although he crashed his way to a 21st place finish, making the main was the key, and he delivered.