Houston, TX
Houston 1 (East)
Monster Energy AMA Supercross Championship
It wasn't a packed house at Anaheim, and most of the riders admitted there was a much different feel to this race than the usual season opener for Monster Energy AMA Supercross. Yet, the opener still delivered its usual thing—pressure—and the two riders who managed those nerves best rolled away from the competition, then settled the race with a great, close duel. In the end, Justin Barcia topped Ken Roczen to win the season opener. Incredibly, Barcia has now won the season opener for the third year in a row. The race was also his debut for his new team, Troy Lee Designs/Red Bull GasGas. GasGas (now owned by KTM) is currently undefeated in supercross competition!
"It felt different, it's not Anaheim, the pressure at Anaheim is a little bit bigger," said Barcia. "It felt good to come here and not have that pressure—the three-peat thing was not even a thought. I mean, I had enough pressure on myself because I did that [fake] Anaheim video. Yeah, the vibe was different for sure."
Barcia had worked hard to control the nerves and hype coming into this race. His debut on a new machine and team and carrying the tag as the opening-round specialist had the potential to sink his night. Every rider is nervous for the opener in general and adding any extra pressure beyond that is more than most can take. Barcia admitted he still felt nervous throughout press day and practice, even though he was riding well. Then he holeshot and won his heat over Roczen and it finally sunk in that it could possibly be a good night. He delivered another holeshot in the main and again held tough under Roczen's pressure to win it.
"I've always been a really good starter but the last five years have been difficult," he said. "To get those starts back, it felt good."
With the win and some of that pressure off, Barcia can finally hype his new bike a bit. When asked if his renaisssance off the start is due to his new bike, he didn't hesitate. "It's a bike thing for ," he said. "Steel frame is sick and the power of it is incredible. I never tested anything with the engine I just rode what they gave me. I've always been good at starts. On the 250 I was great, I had good bikes then. This bike suits me. It's skinny, and it's a rocket ship, but I don't even mean like a rocket ship that loops out. It just goes."
Barcia led every lap of his heat and the main, but he also dealt with huge pressure from Roczen throughout both races. Roczen, on his all-new Honda HRC CRF450R, had the speed to match Barcia and rolled up to his rear fender several times—Roczen said his knuckles are bloody from the roost—and twice when Barcia bobbled, Kenny got next to him and tried to make a pass. Kind of.
"You have to pick your battles," said Roczen. "When the ruts get deep and tacky like that, to make a block pass there, you don't want contact but sometimes it happens, and you can lock bars, and if we both go down right there we're both going to be mad. If I had a little more of an edge right there I could have made the pass. Could I have made it happen? Probably, but I was just picking my battles."
Roczen was more than happy to take second in the opener.
"Really good, yeah," he says. "It feels like it's been forever since I've raced, since I didn't do outdoors. This race was the most normal race—Salt Lake didn't feel normal, whatsoever. Just even having some fans, it was like the good old days, I guess you could say. It felt like the middle of the season."
This year's 450 pack is the standard #deepfield we see at the opener, which led to tons of stories and battles throughout the pack. Marvin Musquin rode through that to net third, a great return to supercross after missing all of last year with a knee injury.
"Yeah it's huge!," Musquin, of Red Bull KTM said. "Practice went pretty good, I was third, that was awesome. We were all so close. The heat race was rough, I was not feeling comfortable, it felt completely different from practice I was kind of mad and I crashed. I had eighth in the heat and the bad gate pick, but I ended up right next to the box which was okay. I got passed by a few guys off the start, but I passed [Justin] Brayton back and passed Adam [Cianciarulo] back. I just wanted to smooth and consistent, the two guys out front were gone. To come back and get third in my first race back, that was great."
Monster Energy Kawasaki's Adam Cianciarulo rode solid for fourth. AC's rookie season was dotted with great speed but also too many crashes, so a solid fourth is exactly what his fans would like to see. Similar race for fifth-place Malcolm Stewart on his Monster Energy/Star Racing Yamaha—he rode great, looked fit, and was even closing on Cianciarulo at times.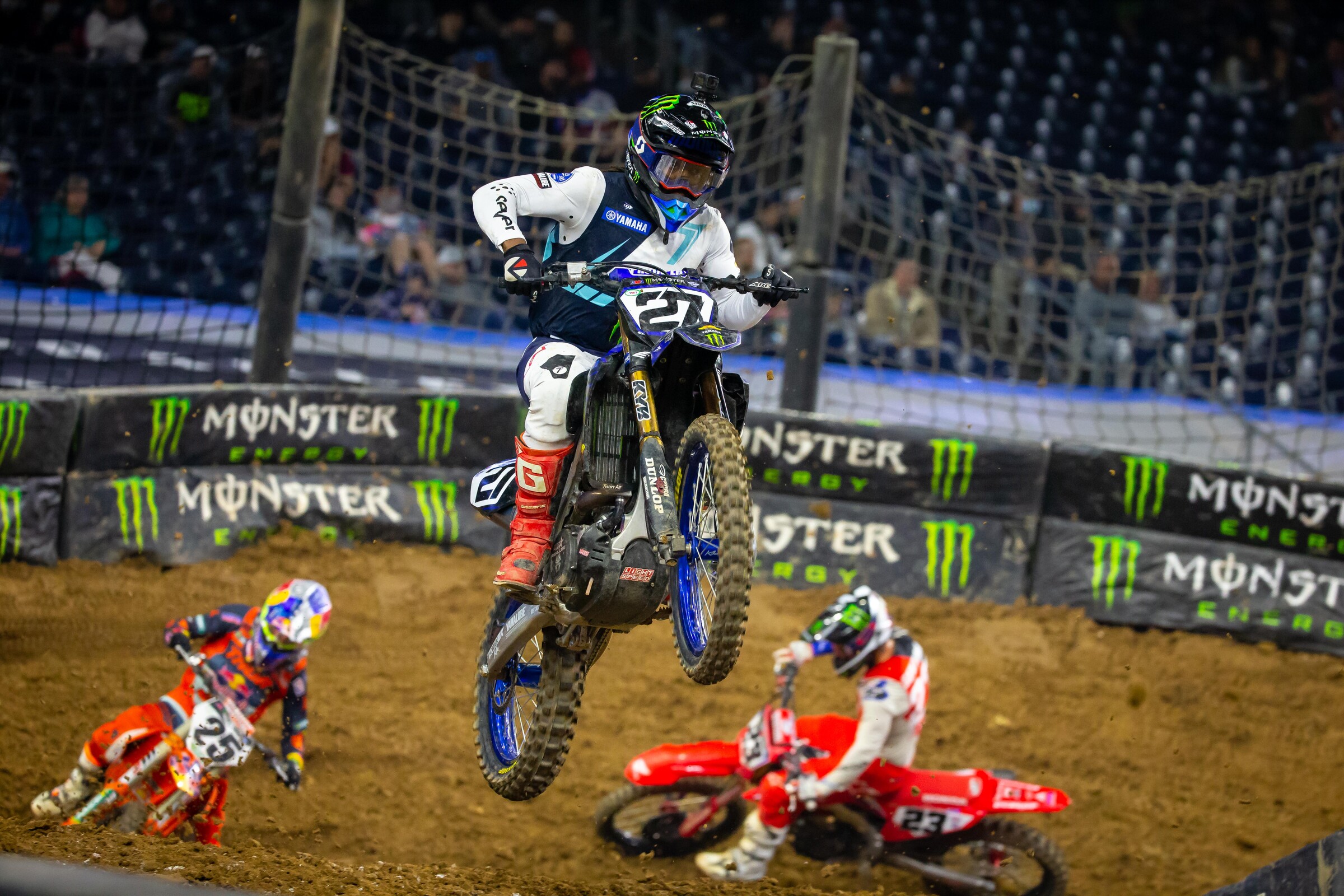 Justin Brayton started at the front on his Muc-Off Honda and was passed by Musquin, Cianciarulo and Stewart. Behind him came a deep pack and it looked like JB might get swallowed up, but he held it together and netted sixth. Aaron Plessinger showed signs he will be better on his new Monster Energy/Star Racing Yamaha, looking speedy in his heat race and making a real run at Brayton in the main. He struggled late, though, and was overhauled by his rookie teammate Dylan Ferrandis. Ferrandis took seventh, Plessinger eighth, giving Star Yamaha three bikes in the top eight.
Disappointing night for 2019 AMA Supercross Champion Cooper Webb. He spent most of the race stuck in tenth and moved up to ninth late when Jason Anderson started to fade. Webb no doubt wants more than ninth when the series returns for round two on Tuesday.
"The heat race went pretty good for me, I got the holeshot and led a majority of it and got second. In the Main Event, I got a really bad start and just struggled to come through. The track was really hard to gain time on tonight and I made a few passes but I struggled. We'll look to get a lot better for Tuesday."
Zach Osborne survived a rough weekend for tenth. After crashing hard on press day due to a bike malfunction, he looked rough early in Saturday practice, but turned it around to win a heat race with an impressive ride. Osborne went down in turn one and had to come from last (22nd) to tenth.
"We had an unfortunate incident yesterday and I am really lucky to be riding today, so I was happy to start to feel like myself again in qualifying, get a heat win and have a decent Main Event," Osborne said. "I would have obviously liked to have been a little better than 10th but to be down in the first turn, come back to 10th and get some valuable points is a positive takeaway for me after yesterday."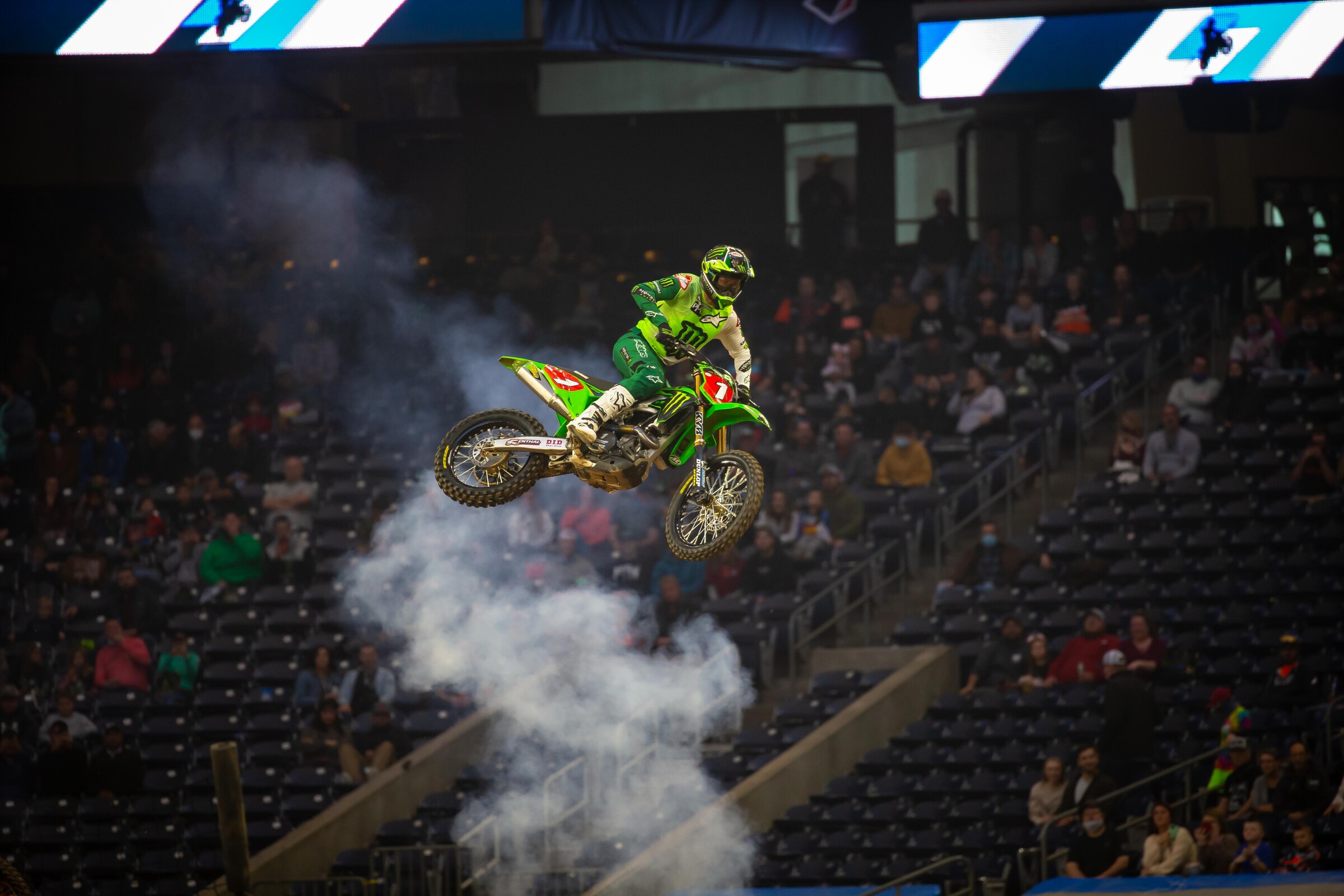 Joey Savatgy was 11th in his debut with Rocky Mountain ATV/MC WPS KTM. Dean Wilson looked fast in qualifying but suffered a terrible start in the main and took 12th. It was a terrible main event for defending Monster Energy Supercross Champion Eli Tomac. He got a bad start and then tangled with Vince Friese (SmarTop/Bullfrog Spas MotoConcepts Honda) and went down. Tomac was angry and then punted Friese off the track later. He struggled the rest of the way to 13th.
Rookie Chase Sexton showed his 450 potential again with the fastest qualifying spot. The rookie mistakes soon swallowed him up, though, as he crashed not once but twice…on the sighting lap! Then he crashed twice in the main and took 14th.
Jason Anderson ran in the Plessinger/Ferrandis pack around eighth place most of the way, but then started fading badly in the final five minutes. He took 15th.
"My night was not that good but we're going into the next round and going to stay positive about it," Anderson said. "I was up to seventh and then I got arm pump and kind of went backwards but all-in-all, we started the season and I'm happy to be back racing so let's go from there."
In the 250 class, Christian Craig lived up to his potential by riding incredibly well all day, and then replicating that in the heat and main on his new Monster Energy/Star Racing Yamaha. He outdueled RJ Hampshire for the lead in both races to net the win.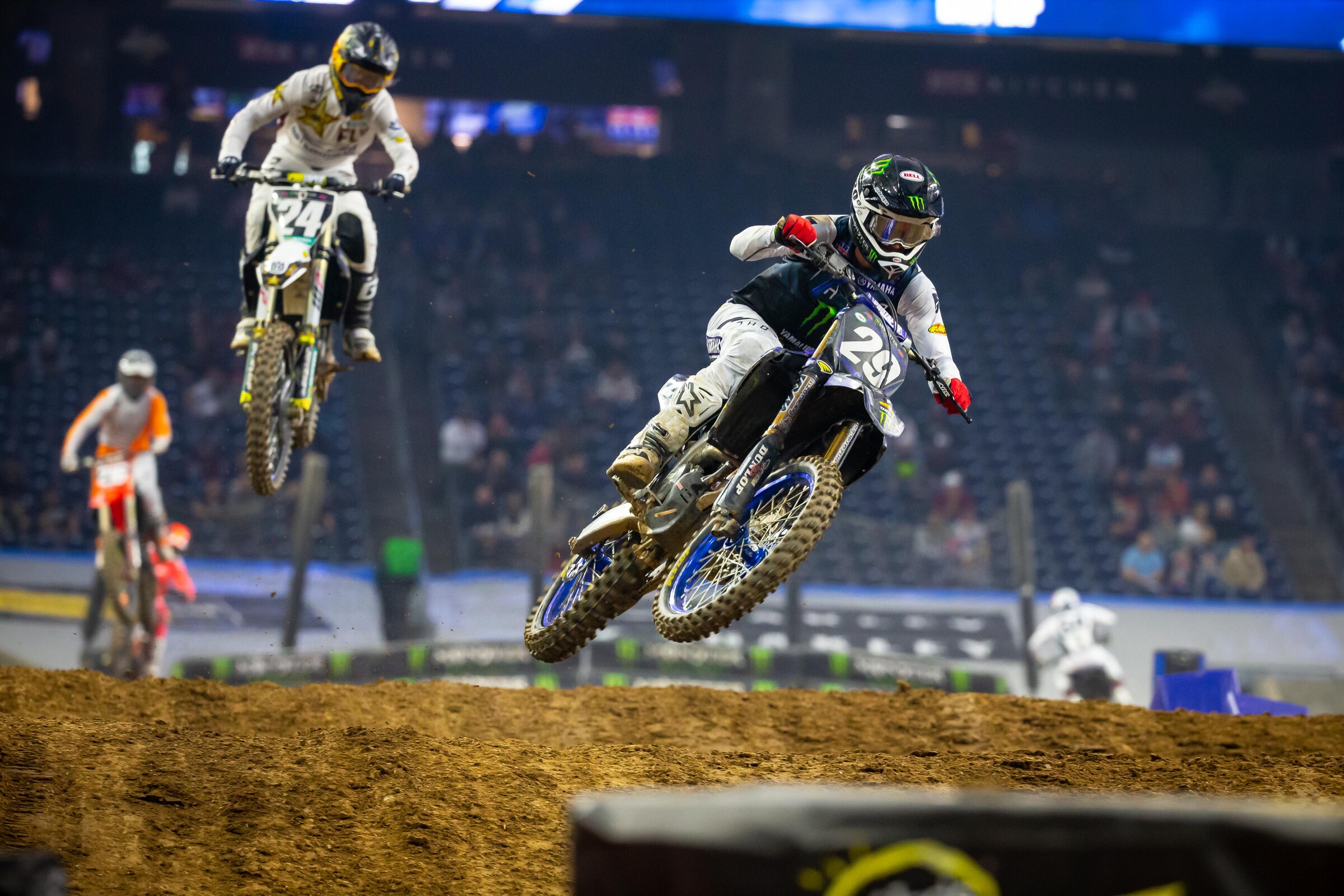 "The whole day felt good, but I've had those days before," said Craig. "Anyone who has followed me knows, I can be fast in qualifying and I can win heat races. Then something happens in the main, I have a bad start or a make a mistake or a tip over. Something happens. Today it was like I had this chip on my shoulder. I had to prove it to myself. I do believe in myself and after the off-season we had, I just felt it all day. I was flowing. Man, it was awesome, and when I crossed that finish line. So much stuff I've went through the last few years."
Monster Energy/Pro Circuit Kawaski's Austin Forkner didn't look to have the pace in practice, but when the lights came on he was a different rider, passing his way forward in his heat and the main to net an impressive second.
"It would have been different if I had been passed and got second, but I was happy with this ride," Forkner said. "I came through the first turn and all of the big names in this coast were ahead of me. I got into second and that was good. I looked ahead and put in a charge and I was trying to reel Christian in, I kind of did a little bit, but there was a red cross between us, and I lost two seconds. I tried but I just couldn't get that time I needed to catch him. All in all it was a good race, coming back from my injury from last year, and having to come through the pack and pass guys, to get second, tonight was a win."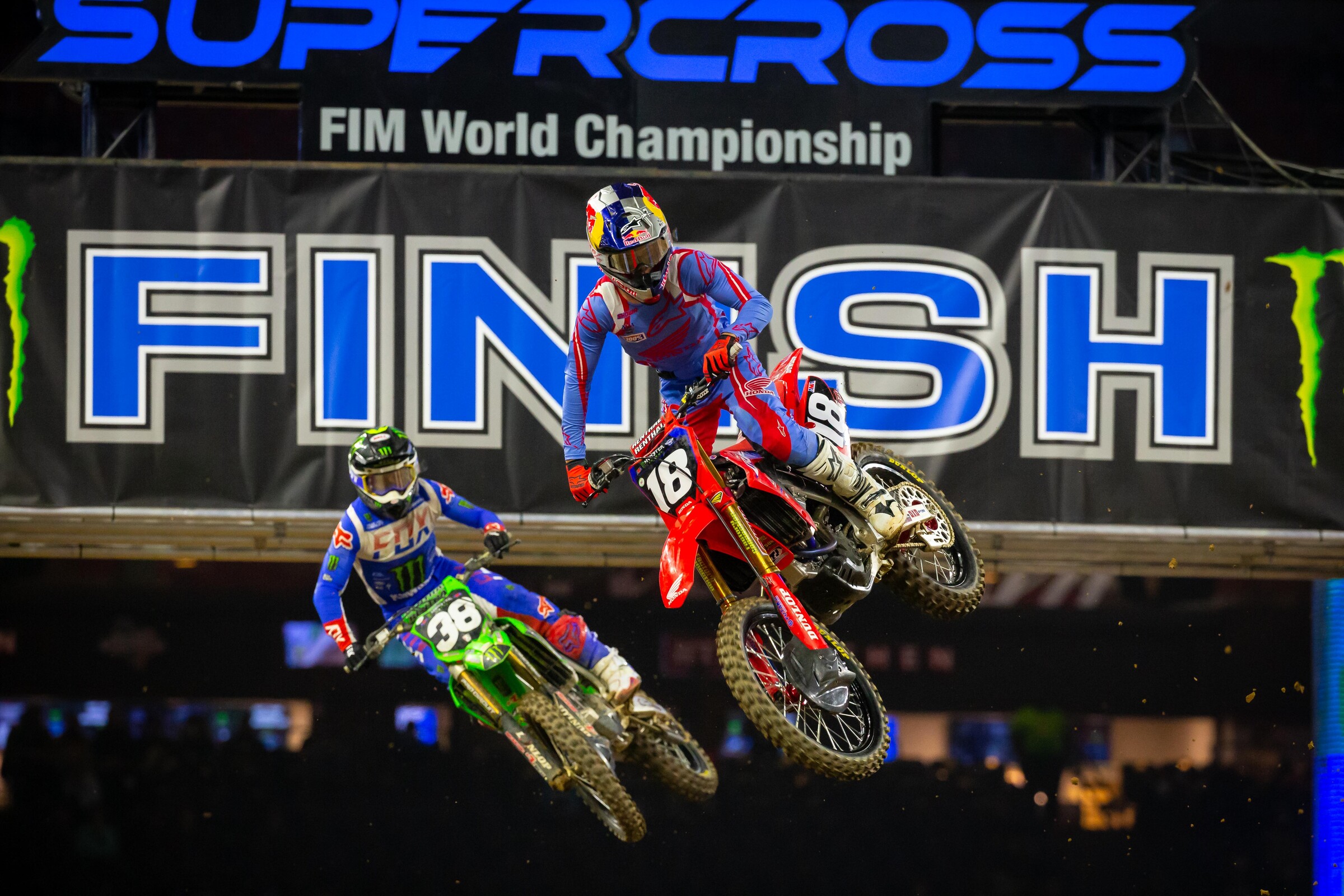 "Yeah the starts definitely kind of got me a little tonight," said Nichols. "I needed to start better, there was a lot of carnage, only like seventh or eighth, but there was a lot. Overall I'm happy, it's been a long time since I've raced. I feel like I have good speed and fitness, and I was in a dog fight the whole race. It made it fun, honestly."
Monster Energy/Pro Circuit Kawasaki's Jo Shimoda was in battles all night and was solid for fourth. R.J. Hampshire was also in the fight all night but ended up going down and finishing fifth on his Rockstar Energy Drink Husqvarna.
"We felt good in the beginning and it just got worse as the day went on," Hampshire said. "In the Main Event, I ripped a start and just did not ride very well at all. I lost my front with a couple laps to go and then jumped off the track on the last lap. I'll regroup and recover over the next couple of days and be better on Tuesday."
Jett Lawrence made a few too many mistakes on his Honda HRC machine. He was in the battle with Nichols, Hampshire, Shimoda and more, but late in the race he tucked the front end while running fourth and went back to sixth. Similar story for TLD/Red Bull GasGas rider Michael Mosiman, who crashed and took seventh. Muc-Off Honda's Mitchell Oldenburg was eighth, rookie Max Vohland ninth in his debut with Red Bull KTM, and Phoenix Racing Honda's Josh Osby was tenth.