When the 2020 Monster Energy AMA Supercross Championship went on pause—along with the entire world—back in March, Rocky Mountain ATV/MC-KTM-WPS team owner Forrest Butler became worried about how the situation would impact his team. Butler, who started the team in 2004 (then Butler Brothers MX), knew he needed his team to compete at races or else they would be forced to close the doors. Until the bikes were on the track again, Butler worried. Then during the Lucas Oil AMA Pro Motocross Championship, the rumor of the GEICO Honda team having to shut down didn't calm Butler's worries at all. Eventually, both GEICO Honda and the JGRMX team were forced to close their doors after the 2020 season, and it wasn't until the 2021 KTM team introduction day yesterday in California that Butler's worries had changed to excitement. Now, he is full steam ahead on 2021.
Weigandt caught up with Butler yesterday to ask about the impact of COVID-19 on his team and the 2021 team lineup, which will consist of Justin Bogle and Joey Savatgy.
Forrest Butler: Jumping back, we can go back to the very start of COVID, in March and April when the world shut down, in that moment it was a crap-your-pants moment. That wasn't an industry or sponsor thing, that was just the whole world economy. As a team we handled it verbally because that's what you had to do. April was just the unknown, then you started hearing about supercross. Maybe we would go to Glendale. We were getting updates weekly. Then it would be pushed back again, and we would get more worried. On my own side with sponsors, it's been a heck of a year, of course, things are drastically changed. By the time we went racing again, we already had those changes in place, so we knew what we were dealing with. Same for outdoors. We thought we would race Fourth of July Weekend, then it was pushed back a month, and that's when I started getting worried. I don't want to put words in Carrie's [Coombs Russell, of MX Sports] mouth, but I told her some things straight. We weren't communicating with the promoters probably as we should have. Some people were, but not everyone. That helped—the phone calls from there, I believe, got better.
Racer X: Oh, I heard. You literally were calling saying you had to have races, or you might have to shut down! You needed to go racing!
Forrest Butler: Right. If we had not gone racing, I don't know. So, then we were taking it time by time, with each race we got in, I was thankful. As far as talks and plans for 2021 and it started to come together. But we're still living in the unknown. Everyone was saying "Just wait for the elections and then we'll all know what to do." Well, now we're past the elections and we still have no idea what's going on.
So, what you're saying is that the first two months of this, March and April, you were worried, but it has not gone on all the way until today, where you were still worried all the way into November?
Well, I'd be lying if I said I wasn't worried, because I'm a worrier. Ask my wife! The better answer would be, "What level were we going to go racing?" I had confidence we were going to go racing, but how do you not get scared when you start to hear the rumors that GEICO was going to go away. In my shoes, I didn't want to believe it. It's just stuff on the internet, it had to have more truth in it, so I didn't believe it. Then I talked to a friend right before the last race, that it was true, and then it happened. And even JGR, they're all heartbreaking. I hope they come back, maybe in their own form or after they regroup. We've been on a meteor ride, it's like a rollercoaster. So, I just kept telling myself, "We heard the same story [with JGR] last year and it all came together, it will happen again." We all want to get back to the industry standard, when everyone knew what they were doing in October and you announce it. Whoever texted me that day that JGR was done, I couldn't believe it. It's shocking. It's not good for the industry by any means, but it shows you what's really out there.
Are you able to separate COVID-19 problems in 2020, with just industry problems in general? Like, do you think these teams were struggling or was it just COVID?
I honestly don't know the answer for those teams. I have no idea about their teams. I would just assume, without knowing the answer, that it was because of COVID. It's just nasty. A lot of people are unemployed. This is a global pandemic and it's not over. You have to slow down and think about it this way: I don't know if they will have books for our grandkids, but whatever technology they use to read, they're going to read about this the same way they read about Vietnam or World War II. That's how big this is.
Dude, you were weirdly emotional today on stage announcing 2021 plans.
I was looking at the crowd, as we started, I was like "Holy crap, it just got exciting." Every seat there for the media was filled. I was speaking the truth up there. This is exciting. It's exciting that we have a plan and we just got to have hope that it's going to work out and we're going racing. I think we are, it's just really hard to guess where you're going in two and a half months from now.
You have a rider change. What can you say about this?
Nothing other than that this is the new team moving forward into 2021. You know, Justin Bogle has been with the team for two years. One year he was a last-minute fill-in, and last year was his shot but just typical bad luck, he got hurt right off the bat and missed the whole year. So, the person he was the fill-in rider for the year before was now the fill-in rider. For Justin with his head injuries, it's very important to know, "What's the right time off? What do you do?" If it had been a normal year, the whole season would have been written off. But because we had so much time off from COVID-19, Justin was able to rest and heal properly.
Where's [Blake] Baggett? Do you have anything you want to say on that?
We just couldn't come to terms on 2021 and the future. That's all there is to say. [Note: Baggett's camp has confirmed Blake's contract actually went through the 2021 season, but they would not provide any more information.]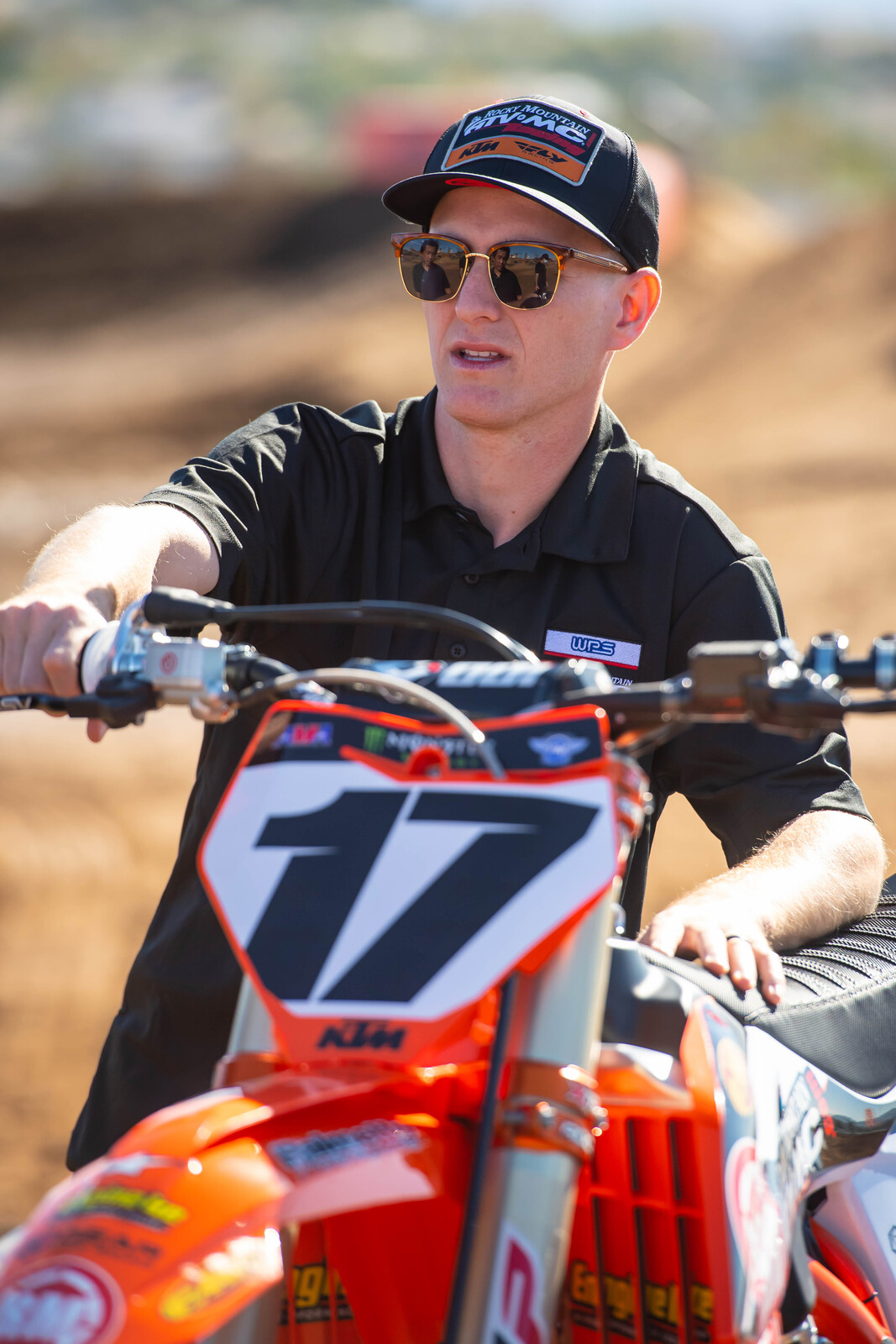 And with Joey, another weird side-effect of 2020 is that a dude like that just ends up being available.
I guess for the big picture in our team and our outline, we just came to terms and picked Justin maybe two weeks ago. So, it was really between those two. As far as talking to Joey, we were talking about that spot. Bogle might not have been in that spot, that would have been Joey's. We decided to go with Justin for our own reasons and then with the way everything worked out, we were open to look for another rider. That's why the Joey thing, he's not riding today because we just came to terms on Friday.
So, you've got to be stoked. This is a heck of a guy to get. This is a guy that could win.
Yeah, as far as stoked, I'm more happy for the team and progress of where we're going. Joey's one of those riders where you're leaving the 250 class after being there so long and you're riding for Mitch [Payton] and you don't know whether it's the team or the guy. And then they go into their rookie 450 year, and he came out at Monster Cup and almost won the thing. Then he went the whole year on Kawasaki, and I thought it was a phenomenal rookie year. This last year, I think he would have been just fine on [JGR] too, he just got hurt. So, him and Justin are very similar in age and we're just looking forward to getting to work and doing what we've been doing for 20 years now. Just trying to be better, trying to help our riders be the best they can be and get the best results they've ever gotten.
So, at no point during this year, you weren't hanging by a thread for nine months? Everybody was hanging by a thread in March and April, but you had ways of thinking you're still be out there in 2021.
Of course there's been worries. Are they the same worries that are spread all over the internet? No. If I could address it, the internet's the internet. I've done exactly what I feel is right which is my business is my private business and that's it. So, I can pick and choose if I want to go be in internet battles with people I don't even know. It's not their business, it's mine and my sponsors business. I think the bigger show is that we're here, we're launching everything today, and today was a big day to show that everything with the team is here. The team is strong moving forward and doing exactly what we're supposed to be doing.
Listen to the full interview with Butler in the latest episode of the Racer X Exhaust Podcast (the interview starts around the 23:00 mark).