Pala, CA
Fox Raceway
Lucas Oil AMA Pro Motocross Championship
A third-place finish in the final standings of the 450 National Motocross Championship means this wasn't the typical outdoor tour for Monster Energy Kawasaki's Eli Tomac. His three-year title run in Pro Motocross is over, but he is packing the 2020 Monster Energy Supercross AMA Championship and enjoying a new baby, so it certainly wasn't a bad year for Eli.
As always, Tomac offered zero excuses for coming up short on the outdoor crown. It just didn't happen this time. He was happy to end with some momentum courtesy of moto wins in two of the last four motos.
He spoke about his season with the media last week.
Racer X: Eli, a good day for you all in all. You got that first moto win. Charged hard there. It looks like in the second moto, you kind of were a little further back by the time you kind of got up to fourth and didn't have the time to make that run and close in on those top three guys. Ended up with a 1-4, second overall. Ended up third in the championship with that performance. Talk about your year. You were three-time champ. Unfortunately that run comes to an end, but all in all a great year for you winning supercross, another solid year outdoors. Talk about your 2020 season and your day at Fox Raceway.
Eli Tomac: It was a good day, other than the second moto was a little bit… obviously I didn't come through the pack the way I did in the first moto there. It seemed like to me the guys got away earlier in the race that time. I was able to make quicker passes in moto one, maybe started a position or two forward from there. I made one small adjustment in moto two that actually didn't work out to my favor. I just was a little bit hung up that way. Overall, happy with the last two races. Found some winning speed again. That was nice. The middle of the season, I was just off. I was off the pace of the front. Some things just weren't going the right direction. Happy to at least find something towards the end of the season.
Obviously the supercross season had to have taken a lot out of you. It does to everybody every year and then you throw in the pandemic on top of that and all this downtime and all this uncertainty. On top of that, becoming a father for the first time. You had a lot going on in 2020. Did all of that stuff come into play and have any impact on your ability to go out there and try to make four in a row happen?
It's easy to point the finger at that, but I would say no. First, I put myself in a huge hole at the beginning of the series at Loretta's there. The second DNF was basically the axe in my season for a true championship fight. It's easy to say it now. You never want to give up but that was not a good start that way and then the middle of the season there the way it was. I'm not going to point the finger with being busy with Lev [new daughter] here. My body is fresh. I never felt tired or worn out that. Just to win championships, the world has to just go around the right way. That wasn't quite the case for us this time.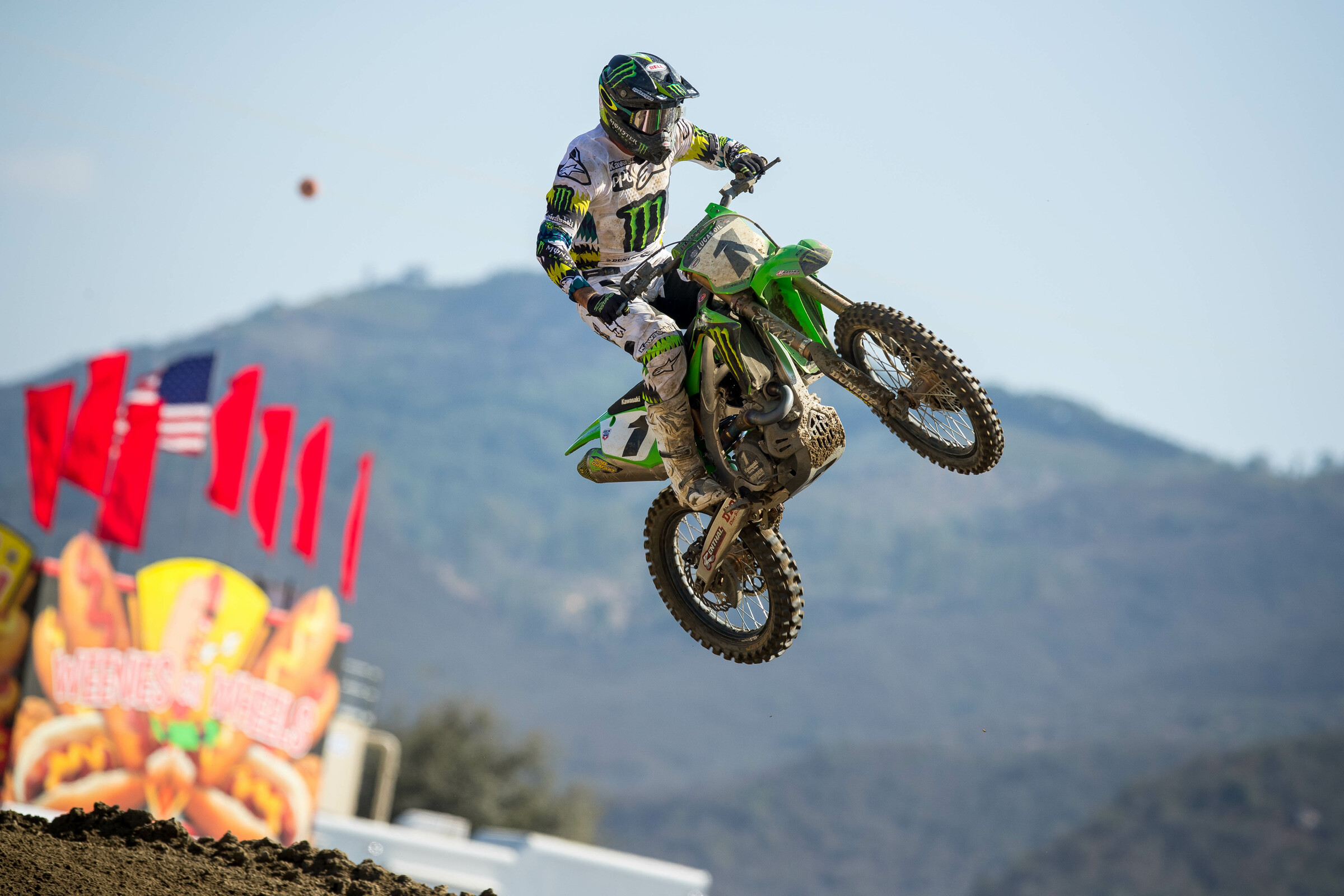 All in all, are you satisfied with your pro motocross season and how it ended up? You did end on a high note.
Yes, just because the last two rounds. If they would have kept going the way it was there, say at RedBud round two or even Millville. That's a track I always love and I had a very marginal result. So if it would have stayed that way, yes, it would have been lackluster. But the way we ended with some momentum that was something.
Eli, first moto, Adam was down 24 points but I know that some people were on the sidelines thinking Kawasaki is going to try to use team tactics. But you guys just battled it out for the moto win. So could you just take me through your perspective on that?
There was no talk beforehand. I will help out if I can, but 24 points is a lot at that point, so there was no last-minute talk beforehand in that situation.
What was your perspective on that, Adam? Was it just race it out?
Adam Cianciarulo: Yeah. I didn't think anything of it when Eli and I were battling. We were racing each other pretty hard there at the end. If I was in his position, I would have done the same thing, I think. It's a win and it's not like it's eight or nine points. I might be a little bit mad if that was the case, but 24 points is quite a bit. It's pretty much going to take a disaster every time.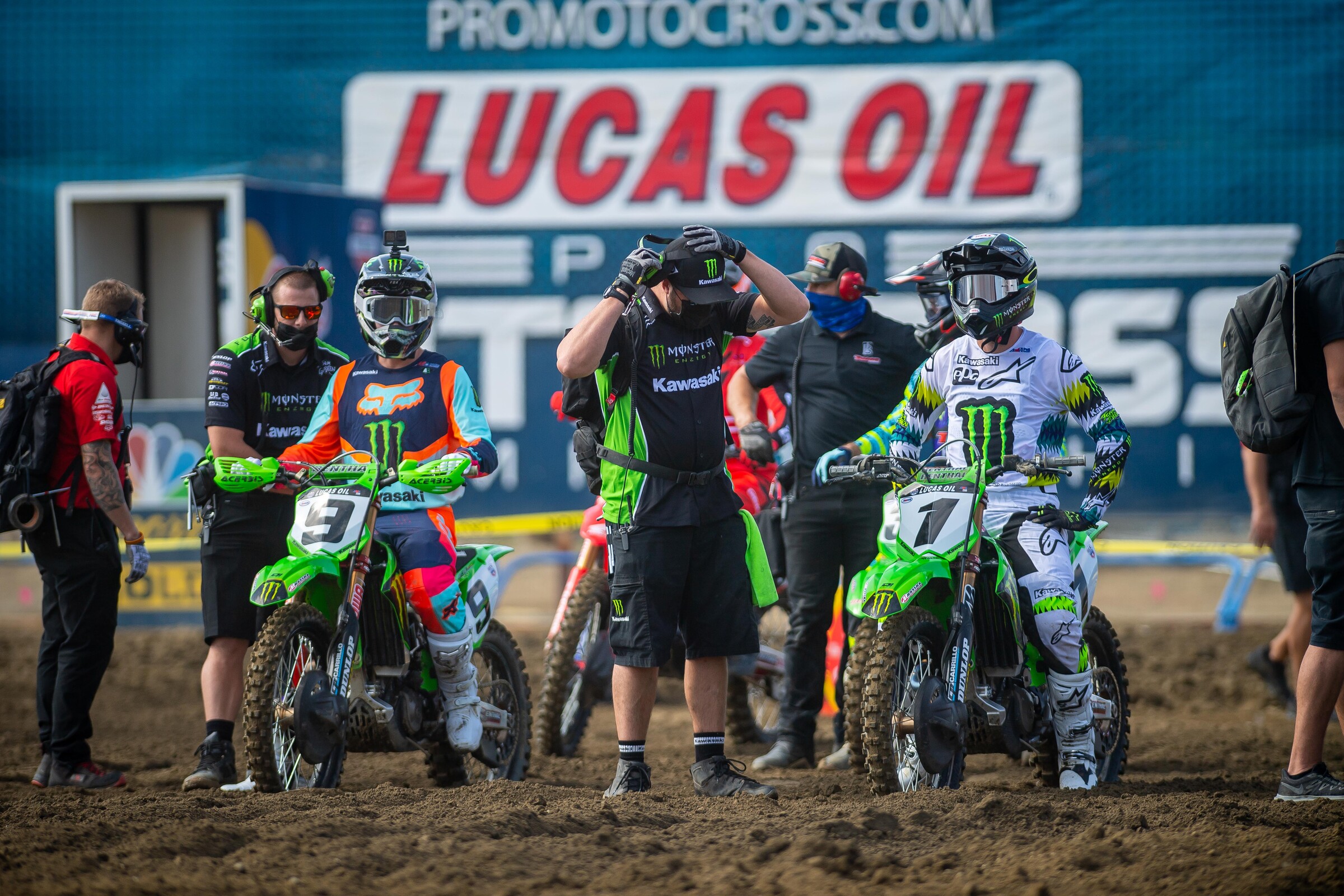 Eli, what were your thoughts looking back now on the outdoors season being later in the year? Would you opposed to that sort of happening in the future?
First off, the most important thing is we were able to race, for everyone's sake. The timing of it, it's not great just because now our off-season is pretty short for that sense. We'd have to have more time off in-between even our supercross schedule. I think the supercross is so crammed. Sorry for kind of skipping around here, but I think supercross, we need more weekends off in-between for everyone's sake as well. Then maybe you could push out motocross because guys wouldn't get so burnt in the middle of supercross there. Really it's just important to do any racing at all. That was only nine rounds. You've got to think about the season would [look like it if it] had three more rounds added to this time of year. Just a weird year all around.
What has it been like from your perspective to have someone like AC within the same team as you? You've obviously had solid teammates in the past, but this time we've got what looks to be a future 450 champion if all goes well for him. How's that been like from your perspective?
Really nothing has changed from a teammate's perspective. It's just now I've got another really fast guy in the class to battle against, and a true player and a winner. From a teammate's perspective though, nothing's really changed.
The talk of Ryan Dungey sort of being interested in a comeback, that seems to have sort of lost some momentum, but do you have any thoughts on that if he were to come back to supercross?
All I can say is in my opinion the 450 class has gotten harder. I think there's more guys now that are truly going to have the opportunity of winning races. So it'll be tough, but people can do whatever they want. I'm sure he misses the love of racing and that competitive environment. I think it's easy to maybe call things too early. But everyone has got their own deal.
You had mentioned how the last two rounds ended obviously really well for you, but you had also had the win at Ironman earlier in the season. Where do you think things went wrong at rounds four through seven for you?
It's hard to point the finger at one thing. I really don't know. I can't point the finger at one thing. At Ironman I got really good starts and I started up front in the pack there, so I'll say that was a good thing. The rest of the rounds, I was pretty far buried every time, with the exception of RedBud. I got a second place. So I don't know. I can't say much.
It seems like you're in a better head space, even your struggles this year. Getting that supercross championship out of the way, at this point in your career it seems like you took it better in stride this summer. Is that a fair statement?
It is. Supercross was huge for me. With that being said, I felt like that's where I was just better anyway and that's what I was maybe missing beforehand was better head space in those early seasons, the ones that I failed to win. Different mindset on the line this year, I felt like for supercross that way. That was just huge to finally get that.
With Zach Osborne at 31 winning this title, would that possibly at any point change your retirement plans? You're 27 now. Can you do this four more years?
It's very cool to see. I don't know what the deal is or why it is, but 26 or 27 seems like the time to write it off in this sport, but obviously that's not the case now. Zach has proved that wrong, and other names like Brayton and Reed. I don't know. I don't think I'm done after this next season. I would like to get one or two more in. So hopefully that's the case.
I was hoping you were out checking game cameras. When are you going to get in the woods and hunt something and relax and decompress from this year?
I'm actually on a little road trip right now. This is about it. We get like two weeks off here and we'll hop back on the supy track.