Mount Morris, PA
Mason-Dixon
GNCC Racing
For several seasons, the Grand National Cross Country (GNCC) Racing had been plagued with a number of wet and muddy races. In 2020, it has seemingly switched to a number of dry and dusty races, and the Mason-Dixon GNCC, held just across the street from High Point Raceway, would see some of the toughest conditions of the season. This would lend a hand in making one of the most interesting and exciting races thus far in 2020. Here's what we learned.
It Was Dry… Really Dry
Like most motorcycle racing events, weather plays a huge factor in GNCC Racing. However, when conditions are dry the long, wooded GNCC courses don't allow much access for water trucks like a motocross event. Typically the start, finish, field sections and even a few areas of woods close by roads will get some water but this leaves the conditions of majority of the racecourse up to Mother Nature. At the Mason-Dixon GNCC, she decided to keep things really dry and much like the 2019 running of this event, it played a pretty big factor in the outcome of the race.
By the 1 p.m. Pro motorcycle race on Sunday afternoon, many sections of the course were left with deep, silty dirt. In fact, the section around the six-mile mark looked and felt like Florida sand when riding it, except if the sand was even looser and had some rocks and big roots hidden in it. Several of the uphill sections were the same way, but there were also a number of spots on the course that were actually really good.
The 2019 version of the Mason-Dixon GNCC saw similar conditions and a number of riders and entire teams suffered mechanical issues due to bikes sucking in the deep dust. Teams were prepared this time around. Not just with the removable filter skins, but entire air filter swaps mid-race as well. This swap is done fairly easily and quickly by the KTM and Husky teams due to the quick access to the air filter on those machines. For the Kawasaki boys, a filter swap would take a little extra time given Kawasaki's traditional filter placement, which requires the removal of the entire seat.
However, the Yamaha guys who would have the best stops of the day. With the Yamaha's air filter placement located higher on the bike, just above the gas cap, the Yamaha filters received far less direct dust and they were able to complete the race with no filter changes at all. This would help to play a role in the outcome of the race.
Baylor, YET AGAIN!
Steward Baylor continues to impress the GNCC faithful, and what a following this guy has got. GNCC fans absolutely love Stu, and he's given them something to cheer since returning to the series upon its return from summer break. With two wins in the previous two rounds, Baylor was the favorite coming into the Mason-Dixon, but he would was buried in the pack in the early portions of the race. Stu would ride around between sixth and fourth place for the first four laps of the six-lap race.
It was actually his new Yamaha teammate, Layne Michael, who would lead the majority of the race. Layne has led portions of races before, and ran in podium contention even more often, but this would actually be Layne's longest run at the front of the pack. Unfortunately, a hard fall in the pro pits would drop Layne out of the lead, and he'd actually fall all the way to fifth place. Regardless, this had to be a confidence boost for Layne and we very well may see him up front more often.
Into the second half of the race, Michael would lead, and Kailub Russell would sit second just eight seconds back with Ben Kelley in third, just four more seconds back. Thad Duvall, who would make his return to GNCC Racing for the first time this season since recovering from a torn ACL, sat fourth and less than a second behind Kelley while Stu Baylor was fifth and just five seconds behind Duvall. This all came on lap four, which was nearly two hours into the three-hour race! The entire top five were separated by just under 20 seconds after two hours, and still had an hour to go. This would be the opportunity Baylor had been waiting for and he seized it.
Baylor would take over the lead on lap five and hold that lead to take his third straight win. However, Ben Kelley still made Stu work for it, as the two would finish just under two seconds apart. Kailub Russell would end the day in third.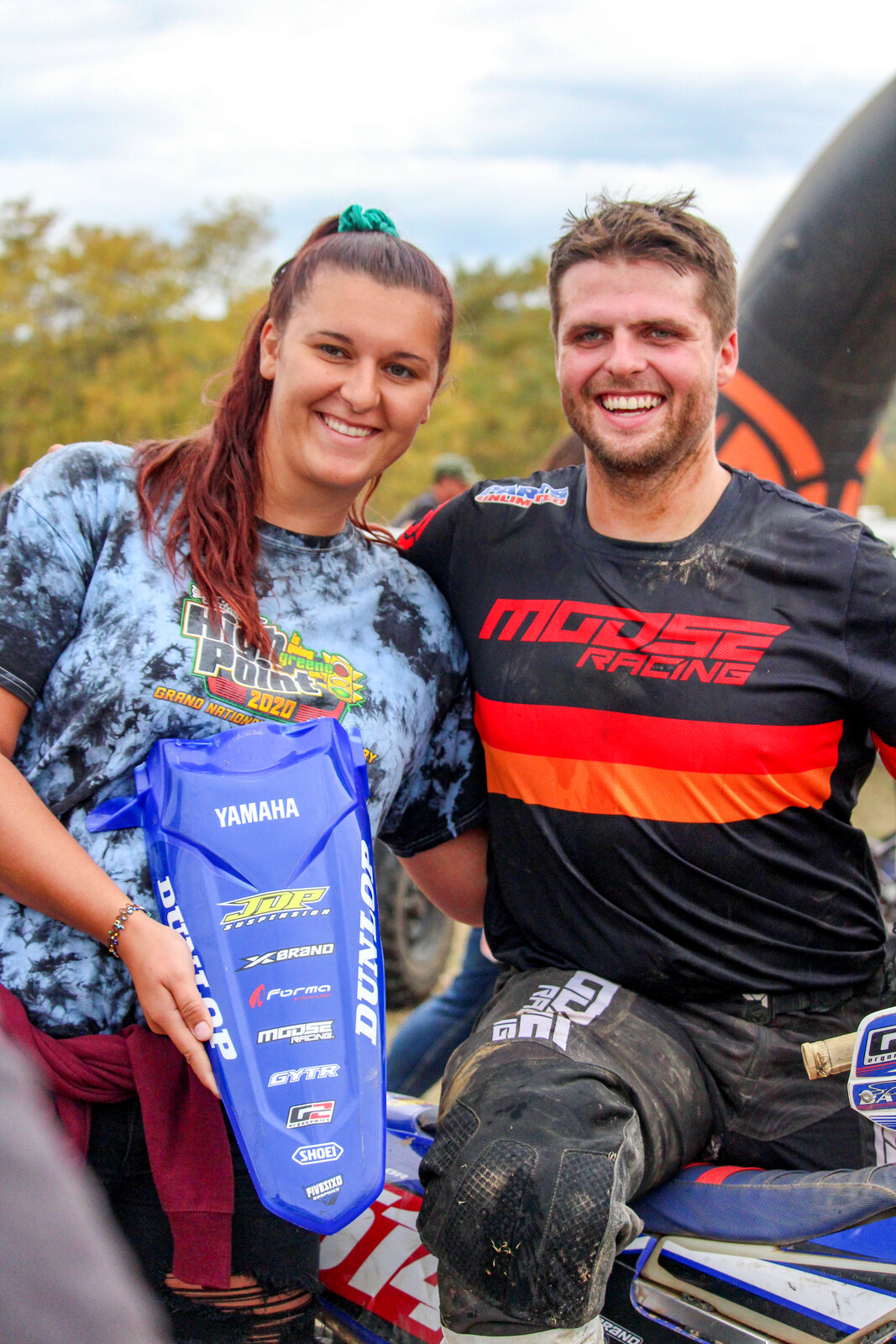 KR Clinches Number Eight
Kailub Russell suffered a knee injury at the previous round, resulting in a torn PCL and meniscus. However, Russell was back on the track at the Mason-Dixon and his third place finish would be good enough to secure his eighth, and final GNCC National Championship. Eight championships in eight consecutive seasons is a pretty impressive feat, but that's even harder in GNCC Racing as there are so many factors in the racing. Anything can happen, and any mechanical issue or injury can ruin an entire season in the blink of an eye. However, Russell has the defied the odds and will end his full-time career with an eighth championship.
In doing so, Russell has also amassed 67 career overall wins. This shatters Scott Summers' previous record of 46 and the closest a current rider sits is Josh Strang with 21 wins. While Ed Lojak still holds the most titles with nine, Russell has the most consecutive titles as Lojak's nine came with a loss in 1985. Russell has set a goal that many future professional GNCC competitors will strive for, but will likely struggle to match. Russell's first overall win came at the 2011 Powerline Park GNCC during his rookie XC1 season and with 67 wins in a total of 122 XC1 starts by Russell, his win percentage is a whopping 54.92 percent.
Russell's XC1 career began at 21 years old, with his first title coming at 23. The current youngest XC1 Pro riders are Josh Toth and Grant Baylor, who are both 23 years old. While it's possible for anyone to step up and dominate like Russell, the tables have really turned in GNCC Racing.
GNCC used to be a bit of an old man's game as a number of former Pro Motocross racers turned to GNCC when their motocross careers dwindled down. Fred Andrews, Ty Davis, Guy Cooper, Rodney Smith, Ryan Sipes, and others have all contested entire seasons of GNCC Racing upon their departure from professional motocross, but guys like Kailub Russell, Thad Duvall, Steward Baylor, and others have transformed the top level of GNCC Racing to a more youthful dominated spot.
XC2 Still Up in the Air!
It looks as if the hunt for the XC2 250 Pro championship will come all the way down to the wire. With two rounds remaining, there's still just a spread of six points from first to third place!
Johnny Girroir (270 points) still holds the XC2 points lead, but a tough Mason-Dixon event left him finishing fifth place, which would ultimately cost him valuable points after winning the previous three rounds. Craig Delong (266 points) would close the championship points gap to just four points behind Girroir, but Delong would only finish third on the day. Mike Witkowski (264 points) took the win on his Yamaha, which gave him valuable points to pull up to sit in third place, just six points behind Girroir.
Witkowski would actually lead wire-to-wire to take the win with Cody Barnes hanging in the second place position the entire day to land his second podium finish of the season. Girroir's fifth place finish would ultimately be a disappointing end to the day but he actually ran as far back as ninth place in the middle portions of the race, so the fifth helped salvage as many points as possible.
With two rounds remaining, it's highly likely that the XC2 championship will come all the way down to the final round November 8 in West Virginia. This should also make for an exciting race at next weekend's Ironman GNCC also as all of these guys will be looking to get out front and earn as many points as possible.