Pala, CA
Fox Raceway
Lucas Oil AMA Pro Motocross Championship
In 1998, the team we came to know as GEICO Honda started quietly as a career-extender for veteran Mike LaRocco, who had soldiered through two difficult seasons with Team Suzuki and was in need of a career rebuild. Factory Connection Suspension's Rick Zielfelder got together with LaRocco to build a small team that kept The Rock racing. LaRocco overdelivered on results. He turned 27 that year, ancient by the standards of the day, and reestablished himself as a podium threat. By the next year, LaRocco and Ziggy's squad gained even more Honda support, and within a few years the team was operating a Honda 125cc effort as well. At the top, LaRocco's career resurrection was mirrored by a similar effort five years later for Kevin Windham on a 450.
Veterans LaRocco and Windham had the respect and love from the fans and industry. What really cemented the legacy of this team came from a much younger set, though. The squad's 125cc success was mixed, until it reached into the amateur ranks and signed Trey Canard, then started to revamp the industry playbook. Canard won a Lites Supercross Championship as a rookie, and soon massive prospects like Justin Barcia and Eli Tomac were on board. For a while, the "who would be the next FC Honda amateur" sweepstakes became the pinnacle game of the amateur pits. Eventually, it wasn't just the riders that FC Honda had, it was more about who the other teams didn't have. They snagged so many great young riders that they effectively left their competitors prospects bare. One by one the titles and wins came, and by the way, Canard, Barcia, and Tomac all moved up to Honda 450 rides.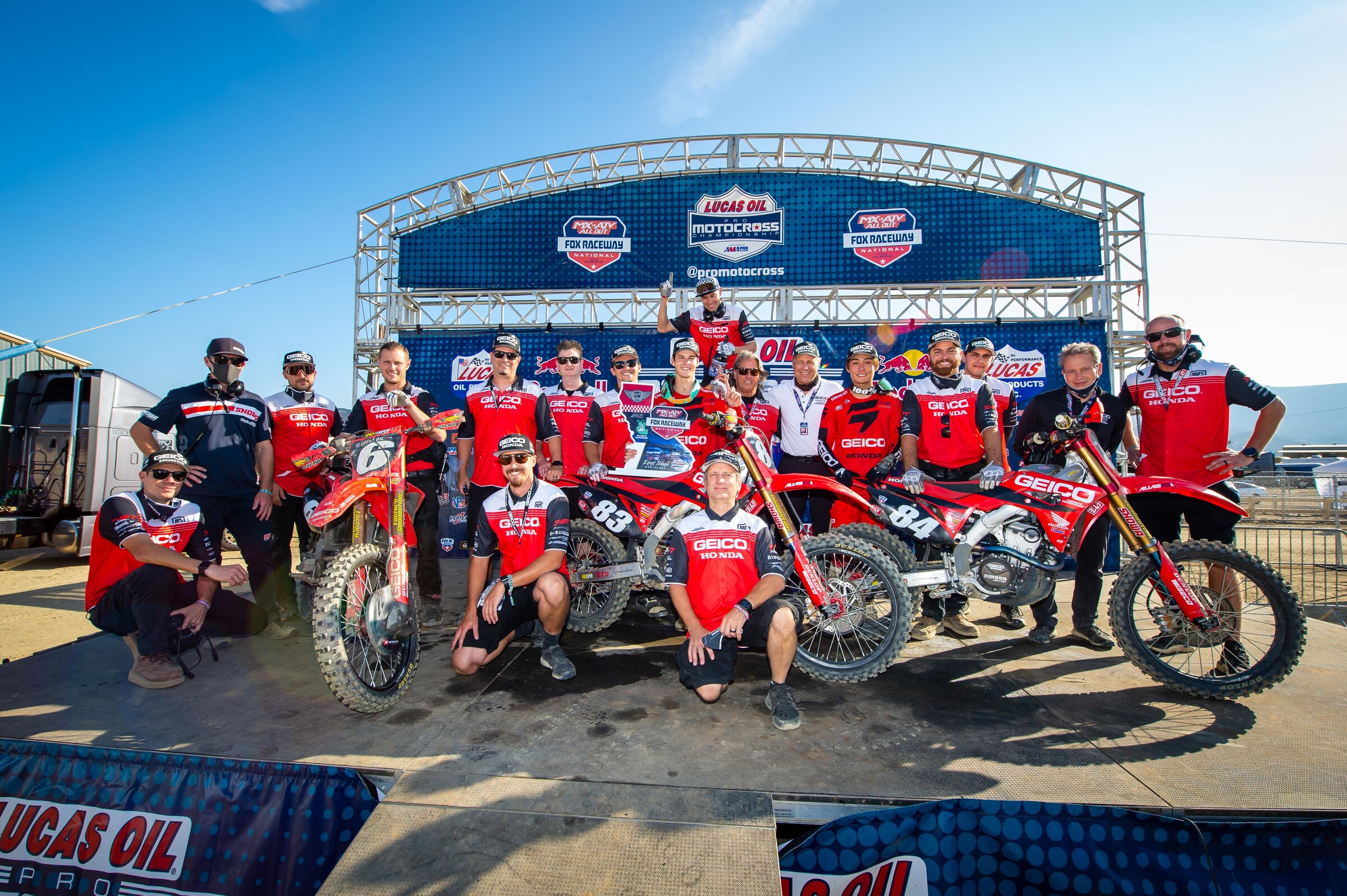 Imitation is the sincerest form of flattery, and now the motocross landscape is completely maxed with factory 250 teams securing young talent to pro deals well in advance. Pre-Canard/Factory Connection Honda, this was an exception. A dozen years later, it is a rule.
Unfortunately, the team built for the future now no longer has one. In late July, title sponsor GEICO informed the team it would not renew when its current deal expired at the end of this racing season. The team had already lost another significant, long-time sponsor with Amsoil. With scant time to find a replacement for GEICO and sitting in one of the most uncertain financial environments of all time, it became a daunting task to find new capital to fill the seven-figure slot a team of this scale requires. Certainly, it would not happen quickly.
The team scrambled with feelers for two months, but the 2021 season is looming quickly. On Thursday night, the team decided to close doors. Even the most promising sponsor deals don't come quickly, and the harder you push, the more chance you have to lose the entire deal. Time was not available, time had passed. Over the weekend at the Fox Raceway National, the team informed staff that it would close. At least the riders and staff get a small bit of time to find employment elsewhere, instead of stringing the process along only to hit stop right before the next season begins.
For much of the staff, this is a bitter pill. For a few riders, it will actually be okay. Jeremy Martin did what he needed to do this year. By winning again, he re-established his value, so even though he won't get to honor the final year of his GEICO contract, he will most assuredly find another home. Will he get the same salary he did with GEICO now that's he becoming a last-minute addition to whatever team can sign him? Maybe not. But he will win again. The Lawrence brothers are hot prospects, and Jett Lawrence indicated they'll be okay.
"I'm not sure when, but we'll obviously release something soon," said Jett on Saturday night. "I'm not going to give you guys any details. I'll let you guys wait until the end, keep it a little surprise. I'll give you one here: basically, we have two wheels."
The December 2020 Issue of Racer X Illustrated
Mr. Motivated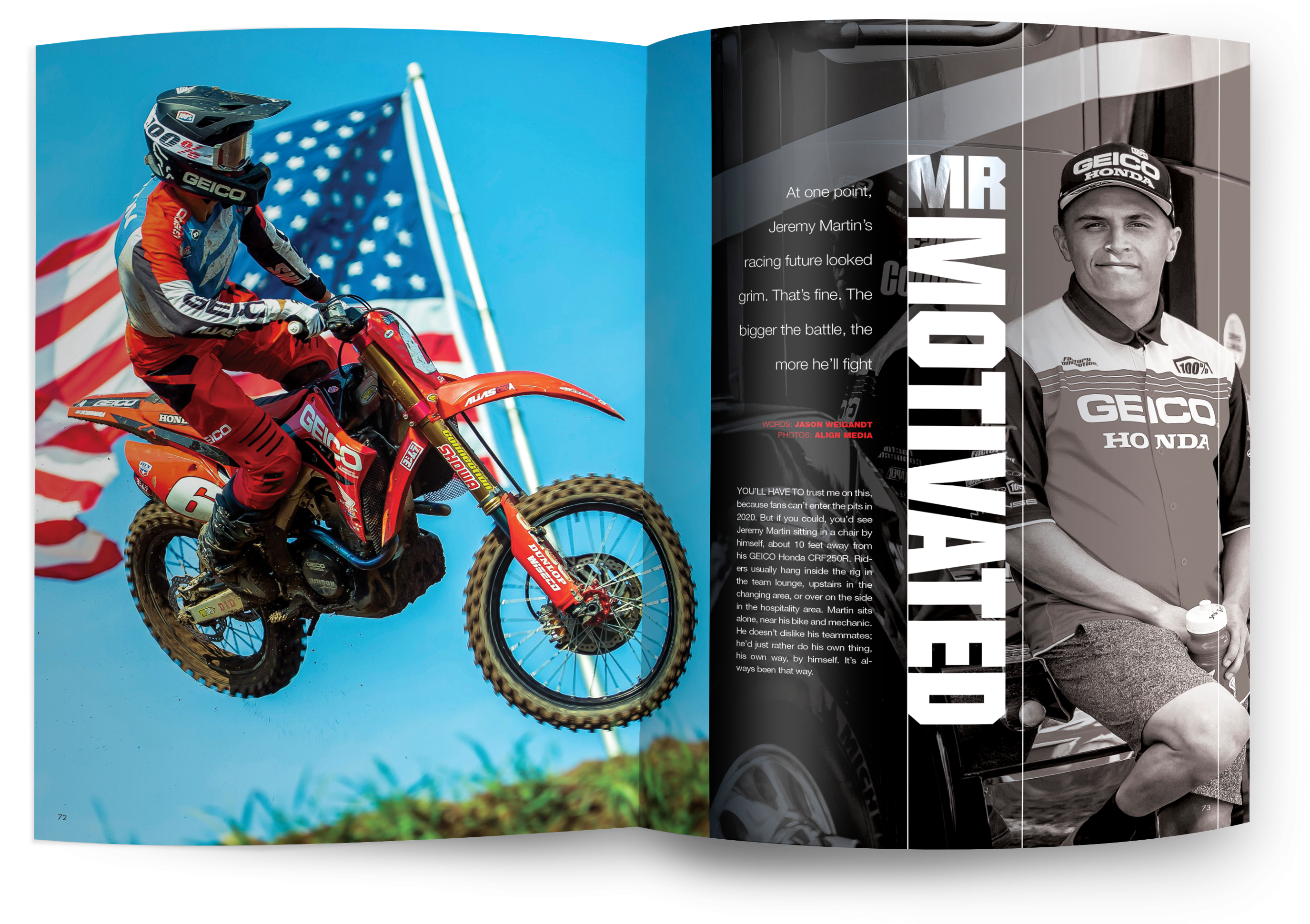 At one point, Jeremy Martin's racing future looked grim. That's fine. The bigger the battle, the more he'll fight.
Read Now
Preview Now
Jett just scored his first pro win. It's not hard to picture Honda locking him up and starting a factory 250 effort to make sure he stays on red. Do the same with Hunter and you've got a 250SX rider for each coast.
That leaves two other riders in the lurch, and they're both rookies, the kind of prospects this team has groomed for over a decade. Jo Shimoda ended the year with a season-best fifth overall at Pala including third in the final moto. Carson Mumford was ninth overall, with 9-10-9 overall finishes in the final three rounds. Shimoda and Mumford weren't lighting in a bottle like Jett Lawrence, but they represented the steady progress that could result in future titles, just as the team had engineered before. For those riders, the loss is biggest of all.
The pathway that could have been is obvious. In a poetic day, Chase Sexton scored the 450 Class overall. Sexton was a GEICO Honda rider this year, delivering the 250SX East Region Championship for the second year in a row. Christian Craig, long time member of the GEICO team, took second in the final 450 moto (his last ride as a fill-in with the Honda HRC team).
Seeding Sexton to be the future of Honda's 450 effort. Delivering a win with Lawrence, and steady gains for young talent like Shimoda and Mumford. The team was delivering the future again, until the deliveries stopped.
They'll be missed in so many ways.