Christian Craig, now Ken Roczen's fill-in with HRC Honda in the Lucas Oil Pro Motocross 450 Class, has one of the smoothest riding styles in the sport. There's a stereotypical problem for anyone who rides that way. From Kevin Windham to Robbie Reynard, Damon Huffman, and many more, certain riders might be pushing just as hard as everyone else, but it just doesn't look that way.
"I'll come off the track and my heart rate is at 200, and they're like, 'Are you even trying?'" Craig explained in a press conference this week. "And I'm like, 'Yeah!' I'm pushing as hard as I can, and they're like, 'You can hit that corner faster.' I'm like, 'Really? I feel like I'm pushing as hard as I can.' That's just how it looks."
Craig, indeed, is pushing this summer, trying to figure out how to run at the front of the 450 pack in Lucas Oil Pro Motocross. He says that right now he's a six-to-ten guy (sitting ninth in points with 7-9 overall scores at the two RedBud races), but he would love to figure out how to match the top five. That's his next step after a weekend off, as the series heads to Millville, Minnesota.
When this Pro Motocross campaign began, Craig was just trying to get finishes of any kind. Supercross had been filled with crashes. Also, the last time he got the Honda 450 fill-in slot, he crashed at Glen Helen and tore his ACL. So first he just wanted to build a base. Now he wants more.
"Yeah, that was kind of the goal outdoors," he said. "Supercross, I missed two rounds only, but I think I only rode good at two rounds—just falls, tip-overs, just dumb things that shouldn't have happened. So now, you can look at my results from Loretta's 1 through now, they've just slowly been progressing, and that plays into that consistency."
Craig provided a good illustration of what it's like to try to match the elite of the 450 pack. Eli Tomac was bearing down on him a few times at RedBud.
"It was pretty crazy," he said. "I think everyone could agree that Eli is not at his best right now. He's unstoppable when he's at his best. When he was behind me and he couldn't pass me, I was like, 'Okay, I know he's not as his best, but I must be doing pretty well.' The last moto on Monday, he was catching me pretty quick. I was like, 'He's on a roll and he's coming through the pack.' He came up on me, but he couldn't break that two-second gap between us. It was like that for four laps. I swear we were neck and neck for four laps, and I went into the red zone pretty deep with my heart rate, just pushing. So it's pretty cool for me, but I need to expect that out of myself a little more. That was a good little test right there."
The May 2020 Issue of Racer X Illustrated
2 Tribes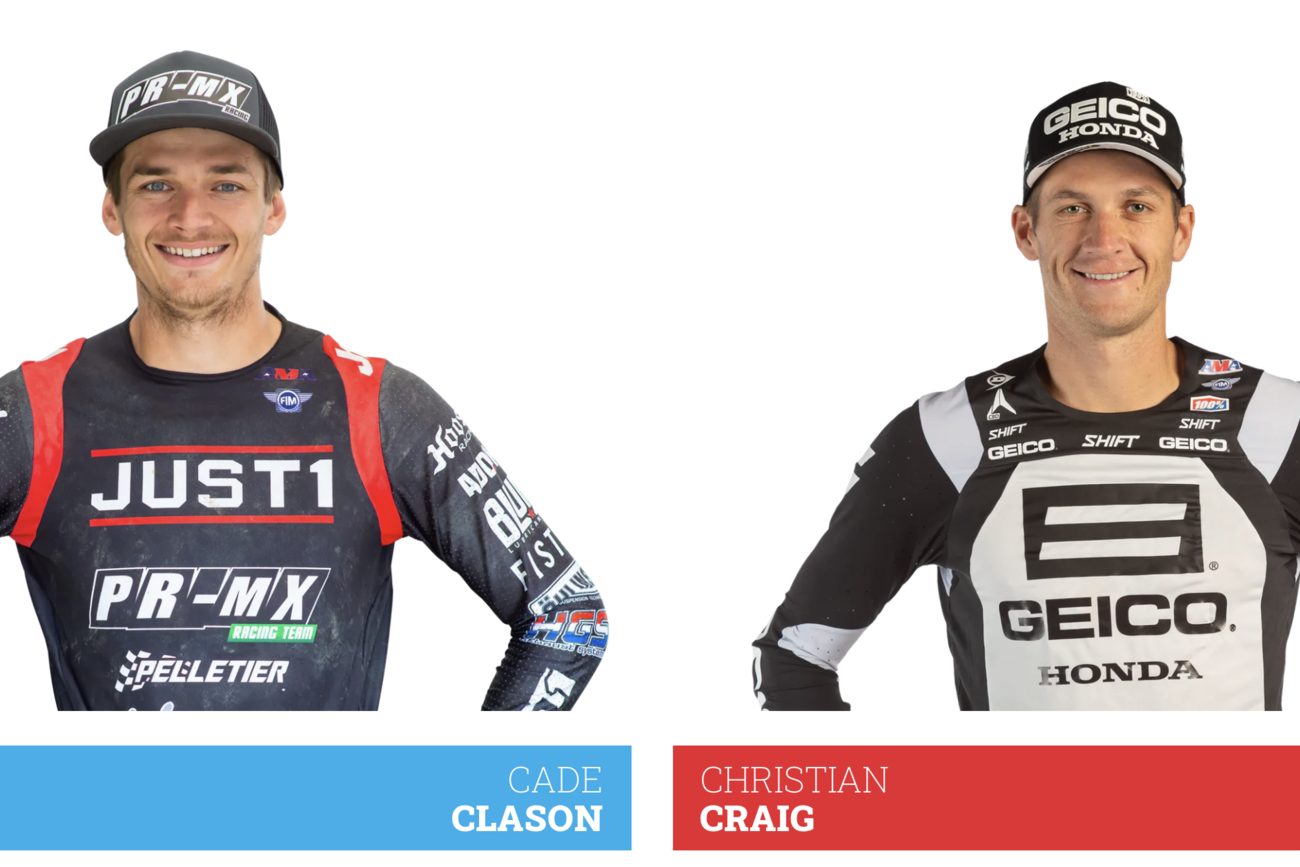 Cade Clason and Christian Craig square up.
Read Now
Preview Now
In that moto, Craig held on for sixth, a spot ahead of Tomac. In the first moto of the RedBud doubleheader, Craig tried to hold Justin Barcia at bay to the end, but Barcia made a pass literally as the checkers were in sight. His quest to match the best continues.
"I've started up there in third and fourth, and I'll hold it for a couple laps, then those guys progressively just get faster and faster, where I just stay the same pace," he explained. "I need to adapt and latch on. My trainer and I, we've talked about it. You're right on the cusp of the top five, but you're this much off. It's not much. We've been searching. What is it? What do I need to do to stay with those guys? It gets a little frustrating after a few motos when you start up there and you fall back to the same position. But I spent this week trying to work on those things, and hopefully at Millville I can do it."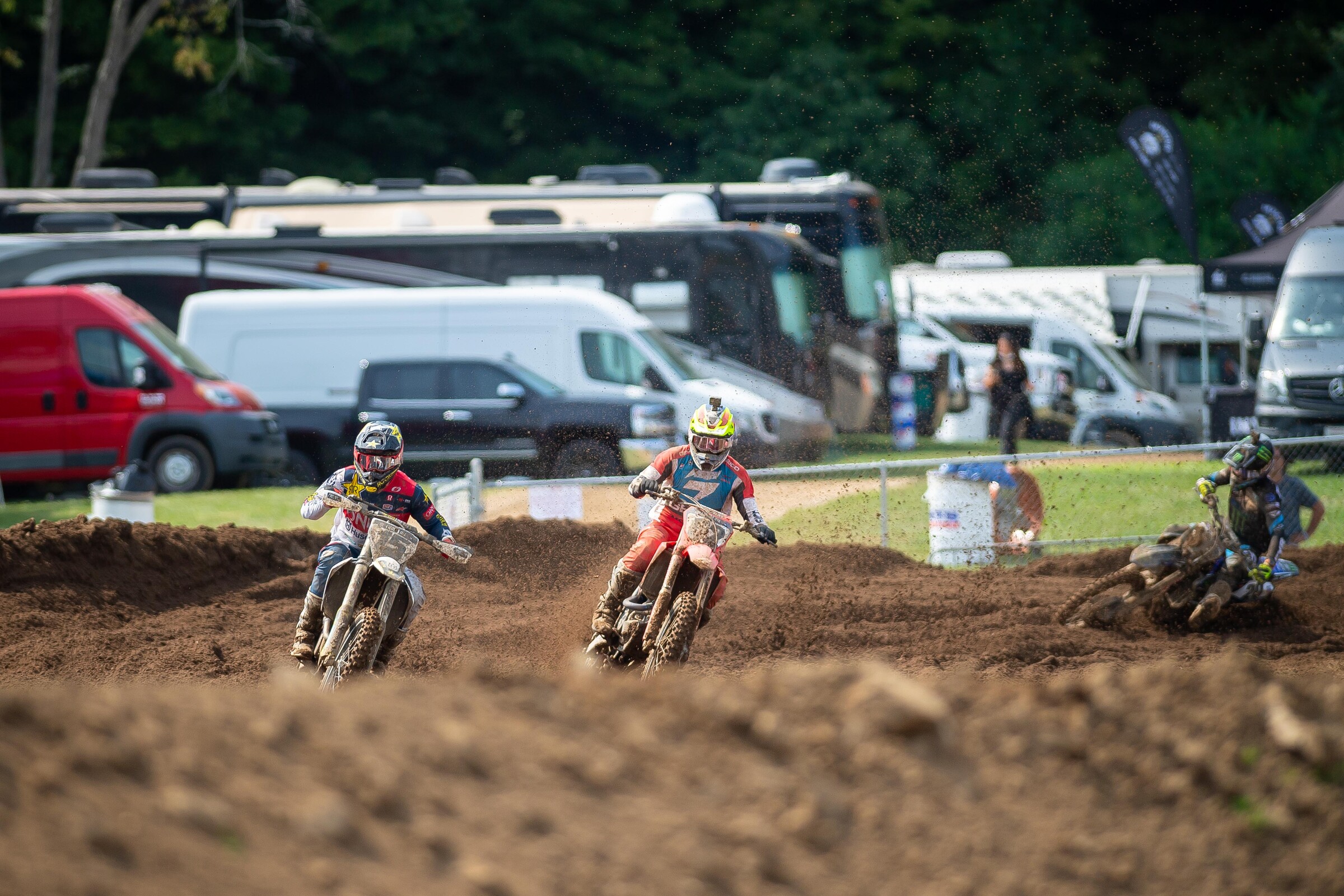 Craig can count on all the help Honda can offer. Even with the all-new 2021 CRF450R in the wings, the race team keeps looking for an edge with the current bike.
"We test quite a bit, Craig said. "They don't talk about the '21, really—it's trying to make this [2020] bike as good as possible. Yeah, there's only four races until they have a new bike, but you wouldn't know it under that tent. They're always trying to make it better, and they translate that to the Japanese, and they all want to help, even if it's not their focus anymore."
Craig shares the rig with Chase Sexton now. These two have a long history, and it's a full-circle story to see both, normally GEICO Honda 250 teammates, up on the factory 450s. Craig will be back to the 250s when this is over, and he's rumored to have signed with Monster Energy/Star Racing Yamaha for 2021. Of course, Sexton is Honda's future, with a long-term 450 deal in place. Craig sees two sides to that story.
"[Chase] lived with me for a year as an amateur, then he moved to Florida," Craig explained. "We were at that point where we were battling each other and he was progressing, so we didn't hang out so much. But we're still friends, and we still joke around in the truck. Sometimes I'm like, 'Why did I help this kid so much? Look at him now!' It's kind of frustrating. Dang, I did I help that kid a lot when he was an amateur, which is cool to see now, but I'm like, 'Jeez, he's come a long way.' It's cool to see."
Craig was once the high-flying prospect, and now he's a veteran presence just trying to find his fit, in either class.
"It feels like a while ago since we raced now—we had the weekend off and a break," he said. "It was fun to do the Friday-Monday racing. We've never done that outdoors. That was fun, and results were pretty decent. Not the best. I'm just really trying to drop a couple seconds to get to that one-to-five group. Good starts and running up there with those guys, that's the goal."