Indian Motorcycle's Jared Mees is back with a vengeance in 2020, putting in a ton of work to try to reclaim the American Flat Track Championship Briar Bauman took from him last year. Of course, he had to wait to show it, because the season that was supposed to start in March only just got going over the weekend due to the COVID-19 lockdown.
When it finally did go this weekend with a double header race in Barberville, Florida, Mees won both races. Yesterday, we called the veteran to get his thoughts on the weekend and what's to come.
Racer X: Dude, you go back to back in the openers. You have to be pumped. How did it go?
Jared Mees: Oh yeah we're happy, couldn't have gone any better, obviously. To go back to back was awesome. The races were different. First night I got off to the early lead and rode my own race, from what I was told Bauman put in a late-race charge and made a last-lap pass on Sammy Halbert to take second. Second race, we were on the second row on the start, had to work my way through the pack, get by Bauman, Sammy, those guys. So I got the lead and kind of marched away. It was cool to win in two different ways.
How much did the track change with the back-to-backs? Was it exactly the same?
I tried to make a change for the semis on Saturday. The first day was kind of trial and error, and it became more one-lined at the bottom. They wanted to get the groove further up the racetrack, but every time they watered it, the groove would get narrower. It didn't seem to help much, so they tried to water it less. They spent a lot of time on Saturday trying to work in a higher groove with a side-by-side, sounds funky, but it worked good, it pushed us up the racetrack, but then it was stupid fast in qualifying. So for the semi we tried something a little bit different, and it went backwards for us. For the main, we went back to the setup we had the night before and it worked even better. So it was really good for us.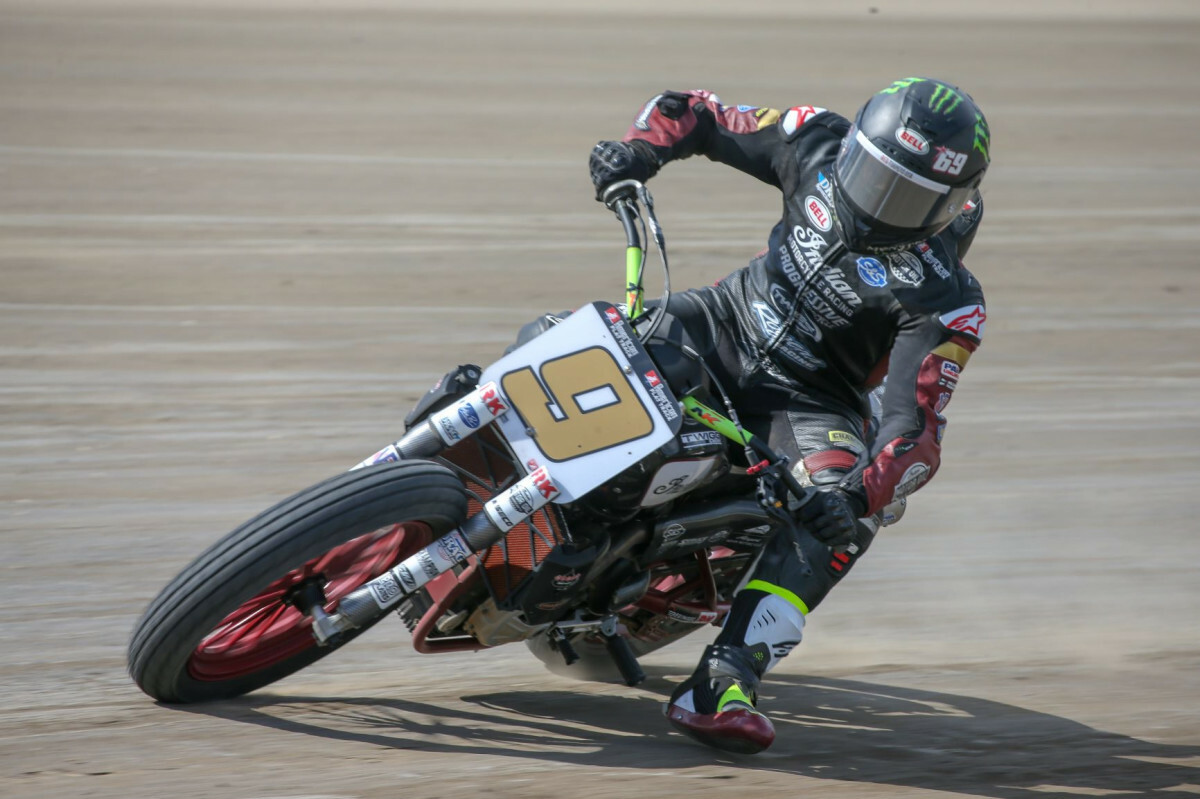 I know you worked really hard before what should have been the season opener in March. Do you feel you were even better with this time you had, or where you already maxed out?
Well, we had a plan after what would have been the Daytona TT opener to do some testing on the bigger oval tracks, anyway, and I think we would have learned back then what we've learned now. This schedule now is really focused on the half miles, and in previous years I felt like the half miles were my thing. Then last year I felt like we started missing setups and struggling a little bit. Everyone got better and we didn't progress. So, in the off-season we went back to the drawing board with some ideas, we got comfortable with things and it showed.
So do you take this as a big confidence boost or do you never get too pumped over just one weekend at one track?
I'm feeling very confident. I feel like last year Bauman had the edge on me on the half miles, I had an edge on the miles but on the half miles he had the edge on me. So I feel like, he started on the back row the first night, and I got out to an early lead and did some heater laps. He rode awesome and got to second. So, I was like, "Oh I don't know." The big confidence booster came from starting in the second row on Saturday, he started from pole, and I ended up running up on him and then putting a good chunk of distance on him. Like I said, I feel like we now have a really good setup on the half miles, and the setup from track to track isn't going to change much.
What was the feeling just being there? I know you were going nuts and bored during the break. When you were there, did it just feel like another race or did you have this huge sense of relief in the back of your mind?
Yeah, it was a huge sense of relief. Everyone knows the amount of cases in Florida daily is like off the charts. There was a small buzz going on around like, "Man, is this really going to happen? Is this race going to go through?" You have states with 500 or 800 cases a day and are shutting down or moving back in phases, but good old Florida is having 10,000 or 15,000 cases a day, record highs. There was a time where I was waiting for any day to get a phone call saying it was shutting down. It was a big sense of relief to finally start the season. I had a few sponsors where, if we didn't get racing soon, it would have been kind of bad. So it was good to go racing and I'm looking forward to the rest of the series.
Now there's another break, next race is currently scheduled at the end of August. Do you wish you could just keep this momentum going and race next weekend?
Yeah, once you get rolling it's always good to keep it going. But I mean, hell, the last race I won was the final round at Meadowlands last year, and we had a bigger break and we won this one. That was like a 10 month break! As long as we don't have a break that big again, I think we'll be okay.
I know this isn't just your success, you've had a tight group of guys around you for a long time now, your whole crew. Is there ever a worry one of those guys is going to move on during the off-season? Maybe go work for someone else or maybe they don't want to do this anymore?
Actually last year Bubba Bentley got married, and he told us a long time ago, when he got on board with us, that when he gets married he's not sure he's going to be able to do this. So, when he got married last October, we were like, "What's going on?" and he would just say, "I don't know." To be honest, I kind of had my doubts he would be back. Fortunately he was able to do it, he changed some things like time spent and stuff like that, and this year we ended up having a break anyway, and then with double headers we'll be going like gangbusters in September and October, but that's fewer weekends gone. Other than that, no. I've had Kenny Tolbert since 2013, Bubba came on in 2017, and Jimmy Wood, my suspension tech at Ohlins, he's been helping me since probably 2013 or 2014 as well. Craig and Steve with SDI, I've been with Craig since 2009. We've had a lot of time together. Kenny [Tolbert] is not a spring chicken anymore, I think he's 62 now, but I don't see him wanting to do anything else besides being a flat track guy. I don't get sick of them and hopefully they don't get sick of me!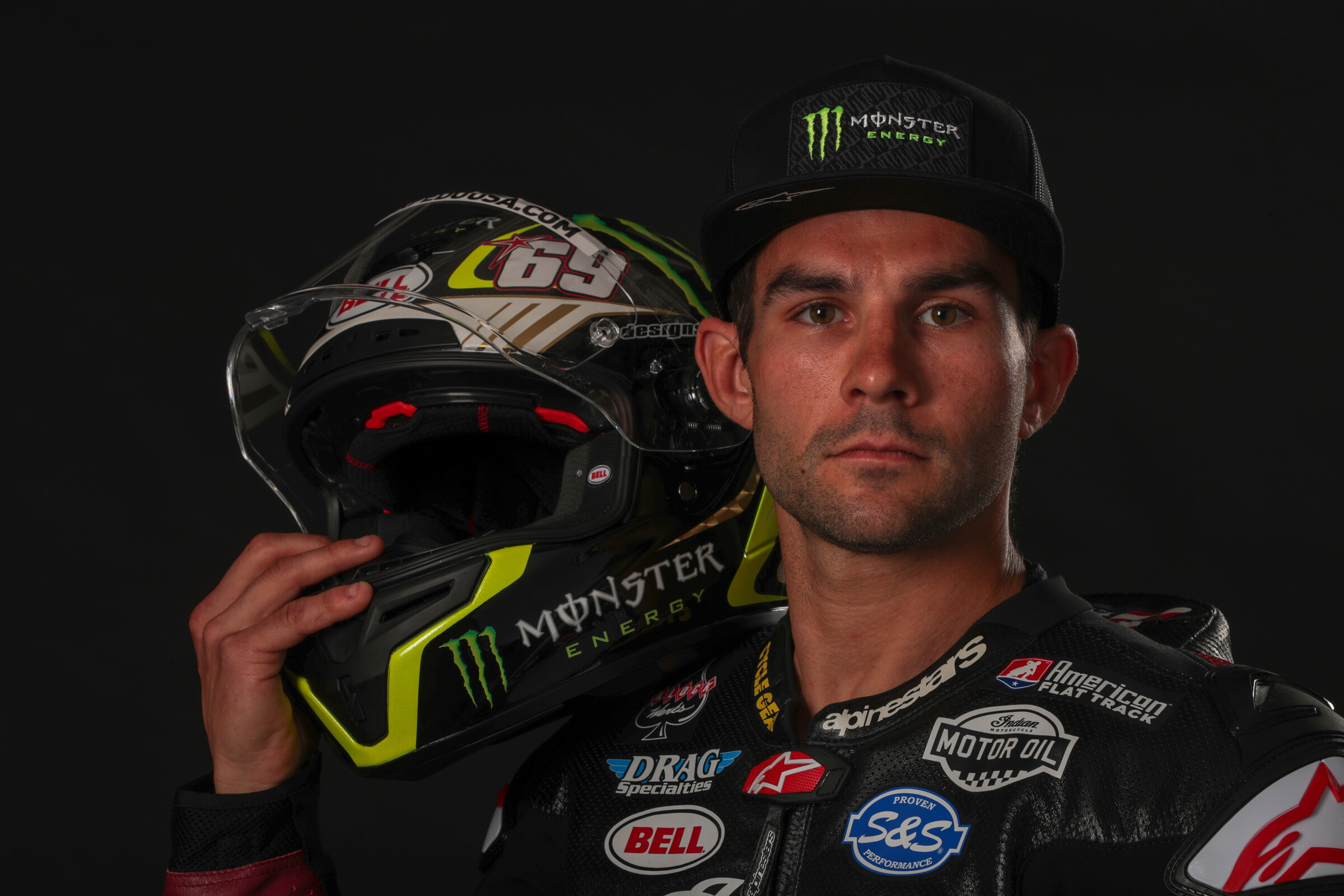 The schedule has changed due to COVID-19. As you mentioned, it's very half-mile heavy. Do you care or do you miss that balance of different types of tracks?
Yeah there were a couple tracks I was really looking forward to, Oklahoma and the Kentucky Red Mile. A lot of the miles got spit off the schedule and that was a huge bummer. It is was it is, we gotta deal with it. Another one that went away was Lima, which is an event I promote. We were unable to do it this year. The health department would not sign off on the date we were scheduled for, or even a date to postpone it to. To not be able to go there is a bummer, too, but to just be able to get on the track and race, have a series this year, is important. I'm thankful for everyone who made it happen. We need to get it done.
Yeah you're the promoter of the Lima event. Just explain how this is not under your control.
Yeah, and the thing is, every state is different. Some go with what the Governor says, some say you have to go to the county, or talk to the mayor. Unfortunately, it's the local health department at Lima, and they're going by Governor's orders. Deep down, I think they could do it, but the problem is no one wants to take the heat if something were to happen, and there's a big outbreak in the area because of the event. A lot of them are just saying "If the Governor says we can, we can." We were really worried about the Springfield Mile. Then right around the time I had to cancel Lima, Springfield finds out they can run the event at 20 percent capacity. I can tell you that at 20 percent capacity, there is no way you can walk away with a dollar in your pocket. With Lima, they first said I could maybe run the event at a max of 2,500 people, but then they came back and my event didn't fall under one of the guidelines, but even at 2,500, I couldn't make any money. I needed 3,000 to even break even, I sent a proposal to fit up to 3,000 people, and I had thought of a way to distance them. Then they came back and said, "Hey, your event actually falls under a sporting event not a grandstand event." That's a whole different topic. But hey, I couldn't run the event and lose money. I would do it if I could break even because it's good for myself, the riders, the series. This year, there's no way anyone is making money promoting races this year. Hats off to these promoters working races right now. It's way more work—the temperature checks, the extra staff, everything the CDC is requiring—that's all stuff you have to pay for. So if you're a promoter, you're going to do all that work and you're not going to make any money to show for it this year.
---
Images Courtesy of American Flat Track