Welcome to Racer X Next, where we interview up and coming amateur racers. We'll check in with racers on topics such as their training program to qualifying for and competing at the Monster Energy AMA Amateur National Motocross Championship at Loretta Lynn's Ranch, and much more.
This week, we talk with Team Green Kawasaki's Chance Hymas.
Current Age: 15
Hometown: Pocatello, Idaho
Instagram: @ChanceHymas_
Team: Team Green Kawasaki
Classes: 250 B, 450 B, and Schoolboy 2
Racer X: How has 2020 been for you?
Chance Hymas: My year has been really good. At Spring Nationals, I won two championships and got second in the other one. Freestone got canceled because of the whole COVID thing, then I kind of had some downtime for a little bit. Took some time off riding and tried to just focus on schoolwork and getting caught back up. Then when regionals came around, I won two overalls and didn't finish the other class due to a crash. That's about everything that went down.
Where do you ride?
About an hour away from where I live. It's in Preston, Idaho. It's called Cache Valley MX. We have an RV, so we took it down there. I've just been staying down there and riding during the week.
Do you ever make it out to California for any kind of testing or anything like that?
Yeah. I think it was three weeks ago I went to Cali for some suspension testing. I was going to go this Thursday, but my bike was working really good so I just stayed home.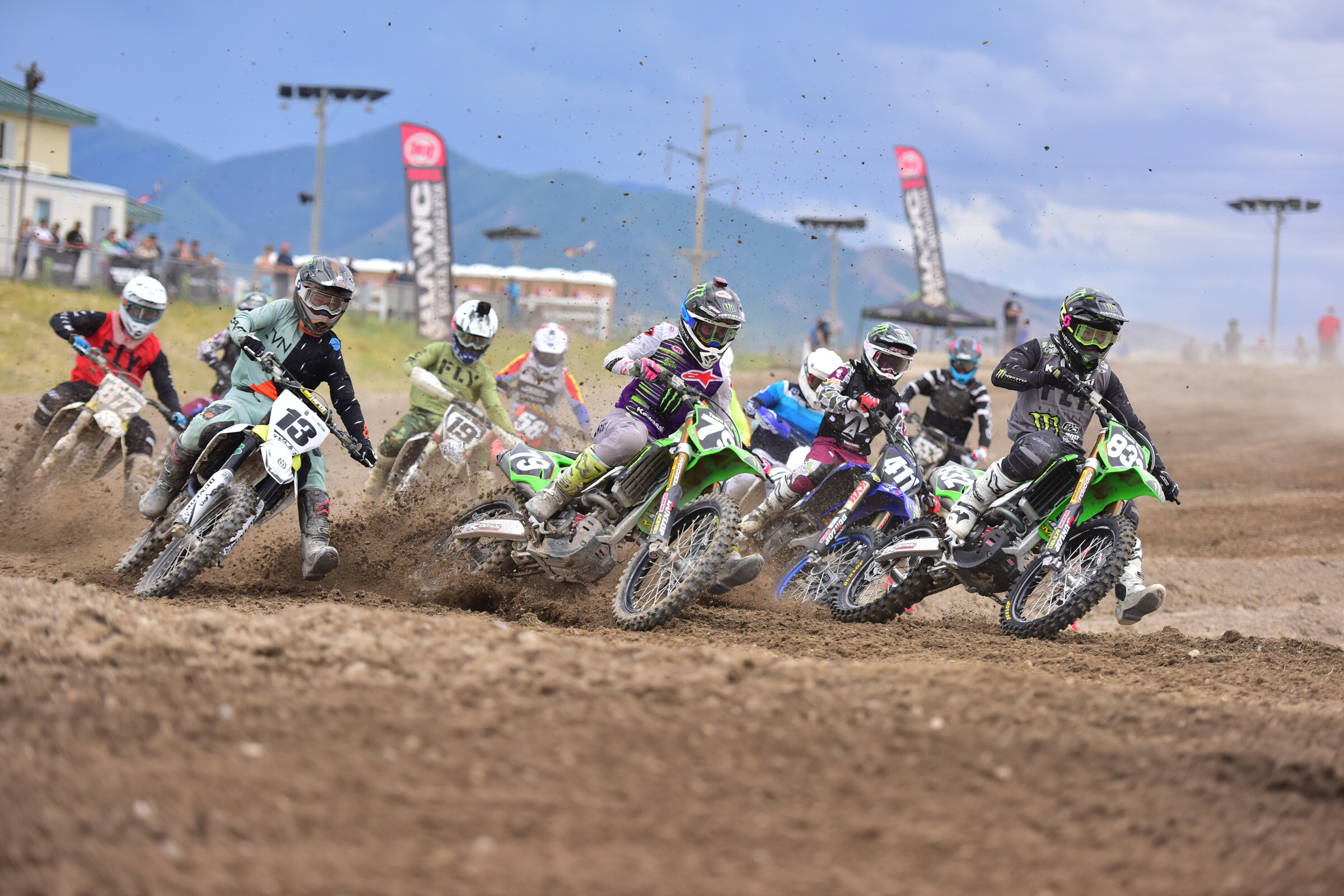 How long have you been with Team Green?
This will be my fourth year. It's been going really good. They treat me like family. I don't think I'd want to be on any other team.
What are your goals going into Loretta's?
My goals going into Loretta's are to win both championships and pretty much just win the six motos. That's my goal, at least going into Loretta's.
How is that compared to last year? Are you building off of anything?
No, not really. I didn't go last year because I broke my arm, but I was on superminis. So, I'm just building off of what my results were at the regional. I raced Jett Reynolds, Nick Romano, [Matthew] LeBlanc, [Hunter] Yoder. Those are the main guys I race, the fastest ones besides [Nate] Thrasher who's back East.
How did you get into motorcycle racing?
My family has done it for a while. My two brothers did it. For my fourth birthday, my dad got me a Honda 50. I just did laps in our backyard until eventually I started moving up to a KTM 50 and bigger bikes.
Who do you look up to in the pro ranks?
I look up to [Eli] Tomac a lot because I think his riding style is pretty cool. It looks like he's super aggressive. I want to be super consistent, kind of like how [Ryan] Dungey was, but be aggressive like how Tomac is. Also be as smooth as how [Ken] Roczen is.
What are your goals from here on as you work towards turning professional?
I feel like I need to win Loretta's just to prove to people that's what I can do, and the people on the pro teams, open their eyes a little bit. Just tell them that I'm for real. But my dream team is I want to ride for Mitch on Pro Circuit and then eventually move up to Kawi 450s.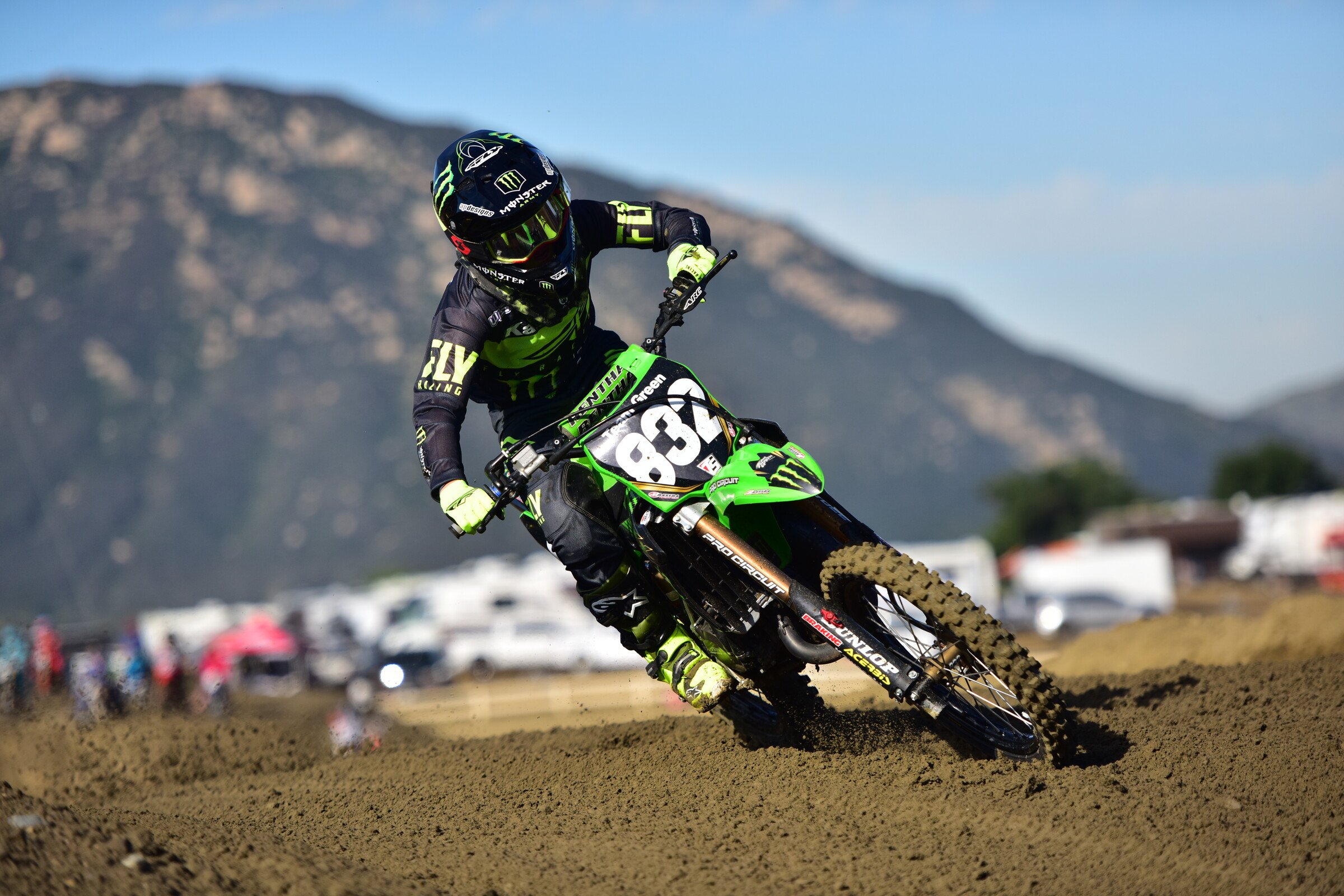 What do you think was the moment or the race that was a turning point for you in your amateur racing career?
Back in 2016, I won a championship at Mammoth. I think I was ten or eleven. I was still on a KTM 85, not getting any support. I had support from some sponsors, but not on a team. So I think that opened Kawi's eyes a little bit, so I got the Kawi ride after Loretta's. Then it took me a few years to get going. The last three years haven't been the most ideal. I think I probably won four or five championships out of the last three years. Then in Arizona in November last year, I won all three championships on my 250. That was my first national on a 250. I think moving to the 250 helped me a lot. I knew I could do better and be on a better bike and just prove what I could actually do. I outgrew my supermini, so it was super hard to get starts on it. I was usually one of the fastest kids, but I would always start tenth or eleventh where I'm one of the fastest kids on a 250 and I can start first, second, third. I can start up front. So it's benefitted me very good, I think.
You talked about doing a lot of schoolwork during the quarantine or the break. What's your school program like?
I went to three days of high school and then I started doing online school, like K12. Just a local Idaho thing that we have here. So I don't do the on track thing or do public.
Are you working with or training with anyone? Who's your support crew?
I mostly train with some of my friends. I train with Preston Kilroy, Taylor Allred, and Deegan Palmer. I get a little bit of help from Jake Weimer just from working on my form and stuff, working on technique and just being smooth.
---
Images: Courtesy of Mad Moose