Salt Lake City, UT
Salt Lake City 1
Monster Energy AMA Supercross Championship
A guy who used to be an agent in the sport, who I respect very much, sent me this:
Clermont, FL elevation 350', Cortez, CO 6,200' elevation. SLC 4,400 elevation, with 7 races roughly every three days apart. Eli's crown to lose
Great point! What fantastic luck for Eli Tomac. He has tuned himself for elevation in a sport that rarely requires such, but can now use his life experience as an ultimate weapon in the seven most important races in his career. That's an unlikely turn of events. Actually, unlikely isn't a strong enough word. We've never had seven supercross races in three weeks! We've never had seven supercross races at elevation! Plus, Salt Lake City, Utah, was not even the first place on the list of cities to hold these races! Altitude-less places like Glendale, St. Louis, Houston, and Orlando were also in the running. In the end, they just happened to hit in the one place (outside of Denver) that would work to ET3's advantage.
It's not over, though. It could be advantage: Tomac, but when you try to analyze and predict how this unprecedented stretch will go, you'll discover plenty of strengths for each title combatant. Not just for Tomac and Roczen. Because this thing ain't over yet.
Elevation Eli: As stated, Eli Tomac rides at elevation during the week. Now, some trainer types are going to say the cardiovascular advantage/disadvantage to this is overstated. Most riders will tell you, for example, that racing two 30 + two lap motos at 6,000 feet at Thunder Valley Motocross Park doesn't even feel that different than any other national. They will tell you heat and humidity impact their physical performance much more.
Okay, fine, people that are smarter than me can decide if elevation matters in a 20-minute and one-lap main event. Maybe that's not a big advantage for Tomac. But keep on reading.
Recovery: Even if elevation doesn't put Eli's competitors in the red zone earlier, it could certainly weigh them down as the weeks drag on. With rider's guessing how two races per week might feel, they also have to account for elevation. I talked to several riders this week, and most weren't even worried about finding a track in Utah for practice between races. Some might not ride. Most said they'd rather focus on recovery.
Well, there's one guy who doesn't have to wonder about recovering at altitude, because he's done it his whole life. Even just mentally, that would have to create some confidence. But wait, there's more!
Horsepower: Bikes are slower at elevation, and Eli Tomac is more accustomed to that feel that anyone. If you ask Eli about elevation races (including his scintillating performance at the Denver Supercross last year) he actually points to this, first. His 450 feels like a 250 at home. He's accustomed to riding a slower-feeling bike. We shall see if this matters.
Rocket Roczen: Don't go handing the title to Tomac, though. There are upsides here for Kenny. He's the dude who routinely comes out of the blocks firing. Roczen has won the Anaheim 1 opener three different times on three different brands of motorcycle. He starts quickly.
"It seems like I always come out guns blazing at the start of a season," he told me on Monday. "At least I have that on my side. Plenty of time after a long off-season I come back and then I'm smashing it early in the season. So that side of things, it's a little bit in my favor."
It's gonna be go time as soon as the gate drops next Sunday. No time for warming up.
On the other end, Tomac usually takes longer to get going, and that includes this season, which started with a seventh and fourth, respectively, at the first two rounds but has included finishes of 1-2-1-4-1-1-4-1 since. Tomac has but one career podium finish at Anaheim 1 (2019) in seven seasons in the 450 class. That's hard to believe.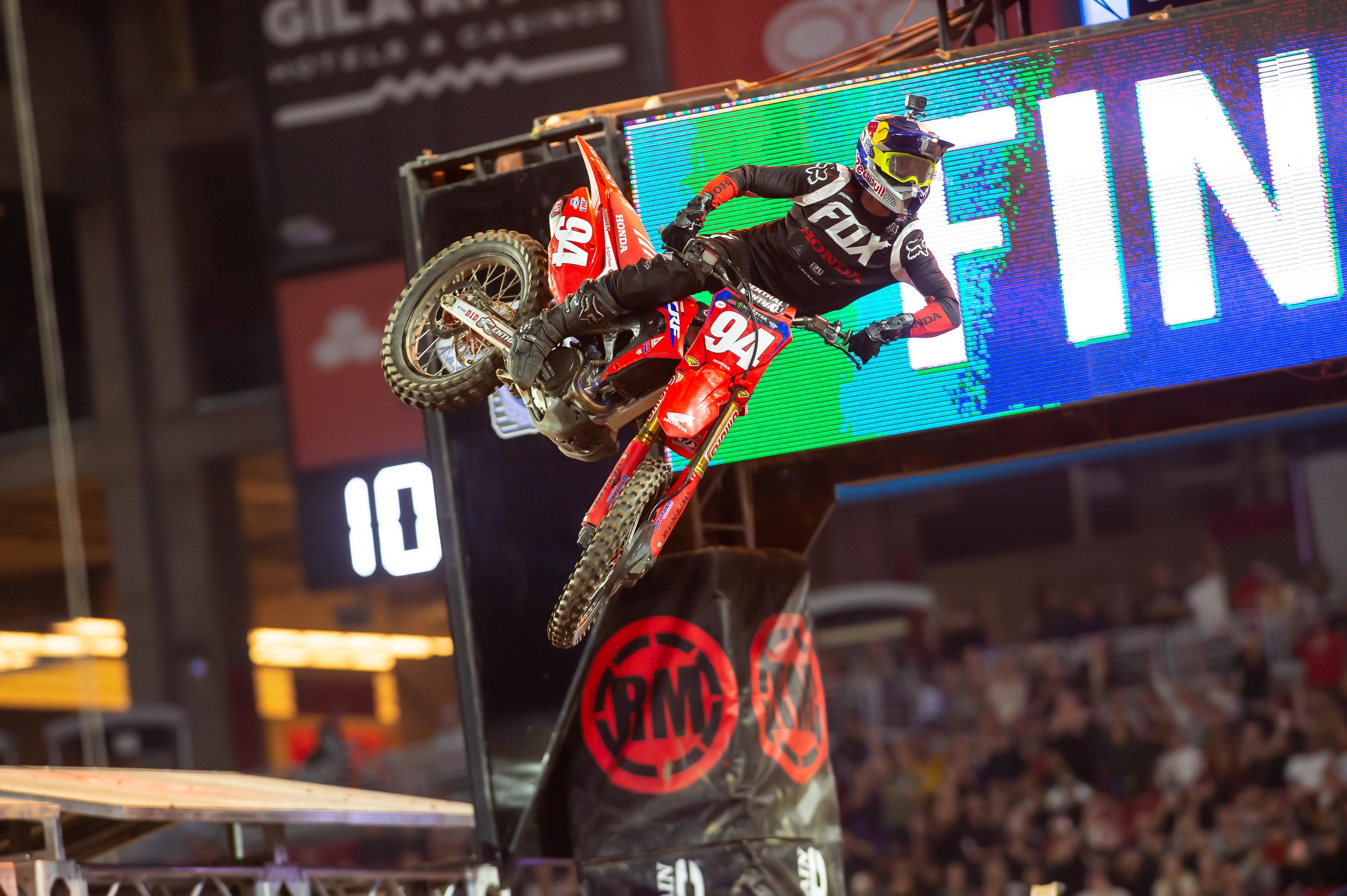 Loose Program: No one is going home to their normal practice tracks, no one will use their normal gyms. Heck, many won't even ride between races. In the end the only real way to handle it is just show up on Wednesdays and Fridays, grip it and rip it.
This has to bode well for Roczen, right? He's made a career of advertising the loose program. That's not to say Roczen doesn't train, and he's actually fallen in love with the process of staying healthy. But, deep inside, this is the same guy who used to advertise that he went surfing during the week, or ate pizza, or drank beer. He's an elite rider that doesn't need a perfect week to build confidence for the weekend. That's an advantage.
You know, this situation really is almost like we're getting playoff supercross now.

Tomac had a better regular season and thus has a small advantage on Roczen, but now they get 7 really quick playoff races to sort it out.

We're getting the "chase" for the championship.

— Kellen Brauer (@kellenbrauer) May 15, 2020
No Room for Error: Time was on Cooper Webb's side in so many ways this year. When he went down hard in Arlington, he made the most of the next six days to recover (enough) for an Atlanta podium—in which he pulled off a last-lap charge to take the position from Martin Davalos. Now the time between races will be much shorter, and Webb has to hope and pray crazy stuff happens to Tomac and Roczen, and the short lead time prevents them from doing the same. Any small injury will be magnified in the two-race-per-week environment. Webb, 29 points down, needs bad luck from the top two to get back in the game. This completely weirdo race environment helps his odds.
SPOILERS: We'll have more on how deep this field is as we get closer to Salt Lake City. There's so much to unpack here! There are many thorns ready to embed into the side of the title combatants. Actually, if you're Justin Barcia, 31 down, you probably still believe there's a chance to become champion. Again, this is a weirdo environment and crazy things can happen. Beyond that, you have, what? Perhaps he healthiest and strongest round-10 field in supercross history? It's incredible how loaded this field is, rested, ready, healed up and back to that unpredictable round-one-maybe-I-can-win mentality. Look out!
Pressure: It's the great unknown, because this thing isn't down to the wire yet. Everything could change if the points are still close by the final two races. Who will handle it best? That could be a bigger factor than elevation. Things are about to get real.