Cade Clason missed the 2018 and 2019 American racing seasons due to an FIM suspension tracing back to an anti-doping test at the 2017 New Jersey Supercross (Clason has a prescription for Adderall and believed he had filed an exemption that would allow him to use it while racing, but it turns out that exemption had not been cleared by the FIM when he took his test. This led to suspension of about two years). His 2020 season with the PR-MX Pelletier Kawasaki team served as his supercross comeback, which of course then got cut short due to the racing lockdown.
Now Monster Energy AMA Supercross is set to return. What does a privateer like Clason think? We asked him.
Racer X: Okay, Clason. Supercross is back. Seven races. May 31st through June 21st. I wanted to find out what privateers think, so I wanted to talk to you first. From your perspective, what do you think of having racing back?
Cade Clason: I'm excited. There's definitely a few quirks that we've still got to figure out. I know there's been a lot of speculation on where we have to stay and how our payout is going to be and different things like that. It's going to be strange. It's better than sitting on the couch and not making any money. There's plenty of people out there that have nothing right now still. So, I'm pretty grateful that we get to go spend three and a half weeks in a pretty cool city. It's one of my favorite cities, so I'm pretty pumped that we get to go race in such a cool place. I'm not pumped on the elevation, but that's how it is!
So, everyone will pretty much be living in Utah for the duration. Have you been planning around that?
Yeah. I'm pumped on the whole staying in Utah thing. I'm not too worried about it. I know they said they're going to try and help us with hotels or something. If we have to stay in a hotel or something like that, that sucks because that's kind of a big bill for three weeks. I get a little help from the team with hotels and stuff, but a lot of guys don't. So that's a big struggle for a lot of guys. But staying in Utah isn't a problem, especially when we're racing twice a week. You might be able to practice between the Wednesday and the Sunday, but between the Sunday and the Wednesday you don't really want to ride, unless you're trying to ride the day before the second race, the race on Wednesday. So, racing twice a week really isn't that big of a deal. It's not ideal obviously, but it's not that big of an issue either. I think some people are kind of making it more than it needs to be.
Are you thinking two days a week of racing is all the riding you need?
If we could ride on Friday, Friday would be the most ideal day because there's a day in-between both races, basically. So that would be the really only day that's ideal to practice. Because riding the day before a race is a struggle because you're spending all day practicing and driving, and then you got to come back and get everything ready for the next day. During the race season, we only ride three days a week anyway. So, it's not that big of a change. But if you're trying to test something or try new things then that's really your only option, I feel like.
So, if you can't figure out a way to ride and test one day a week, would that be a disaster, or would that be not so bad?
It's not that big of a disaster. You have to think, there's only 40 guys racing. So, for guys like myself, qualifying isn't quite as important. I can go out and just kind of practice. I don't have to really worry about qualifying because there's only 40 of us. So, you can go out and use both your qualifying sessions as kind of like a test session if that makes sense. There's really no consequence if I'm ten seconds off the pace if I wanted to go out there and just try to work on my bike and stuff like that. Obviously, I'd rather qualify as high up as possible to get a good gate pick, but if you're having major issues and I need to pull into the mechanics area ten times, that's kind of the only time you can do it. Then you have to give and take a little bit.
You've raced all over the world. You've been on all sorts of different teams. I'm sure you haven't always had the ideal, perfect setup going into every race you've ever done. Do you almost feel like that gives you a little advantage?
A little bit, yeah. I've definitely been in some sticky situations, but that's just how it goes. I'm not really concerned about this at all. I feel like probably the factory dudes are the most stressed about it because it's so weird for them. But for a privateer, every weekend is a little bit different. It's not like you just show up and everything's smooth sailing, you always have hurdles to get over. So, for guys like myself, it's pretty easy for us to adjust, whereas probably guys like Kenny [Roczen] and Eli [Tomac], they have a super meticulous routine that they go through every single weekend. So, for them it's probably a big change, especially not being able to go home and go through the ritual of training and all that stuff. A lot of the privateers drive to all the races, so for them it's convenient to just be able to stay. I'm sure there's going to be more than one guy just staying in their van all week!
Let's talk about the money thing. When this came out, I expected every fan to be like, "Supercross is back!" But I heard a lot of people saying, "These poor riders. They're being forced to race twice a week." What I think a lot of people don't realize is when the racing stops, the money stops coming in. How do the financials work when you're not racing as compared to supposedly now we'll be racing again?
It's kind of a struggle. I do a pretty good job of trying to save money. I'm kind of like you, Weege. I'm kind of cheap. But yeah, none of the sponsors are paying any money, so then if the team owes you money… I know plenty of guys that ride for privateer teams that were like, I'm super back-dated now because the team has no money because the sponsors aren't paying the money. So, it's a struggle for sure. And then you're not getting bonuses for the races. You're not getting purse money. There's all these things that you miss out on that a lot of people don't realize that we get. That's how we make our living. We don't get this steady paycheck every single week. To not make any money that whole time, eight weeks or whatever, is a struggle. It's definitely a bummer. Obviously like I said earlier, we're going to take a little bit of a pay cut but Feld [Entertainment] is doing their best to help us compensate with that, with helping us out with hotels. I actually heard that they might be helping us out with the entry fees too which would be a huge help because that entry fee is $200 a weekend. So that would basically cover the 20 percent or whatever they're going to take out of our pay, which again would be totally fine.
So, you're not making money while these races aren't happening. Is that really what it came down to?
Basically, yeah. I've done some odds and ends stuff. I've been training some kids, so I've been making a little bit of money but nowhere near what I would be making if I was racing.
The backstory to this is this is your comeback season in supercross because of the super weirdo suspension that you got from WADA three years ago. You missed the 2018 and 2019 seasons. How have you felt at least being back in supercross racing?
I felt okay. My speed just hasn't really been there. I kind of did the math and I'm actually closer to the front guys now than I used to be. The problem is there's a ton of privateers that are closer than I am! So, I kind of missed out on that part. So, it looks like I'm really struggling, but I feel like I was getting way better as the season went on. I was getting closer and closer to where I needed to be. So, I'm hoping I'll be able to pick up right where we left off. I've been riding still, but I took plenty of time off. After when Indy was supposed to be, I don't think I rode for five weeks or something. But now I've been back riding. I have my buddies to ride with here in Arizona. So, I hope we can pick back up where we kind of left off and keep making progress. That's all that I can really ask for.
The May 2020 Issue of Racer X Illustrated
2 Tribes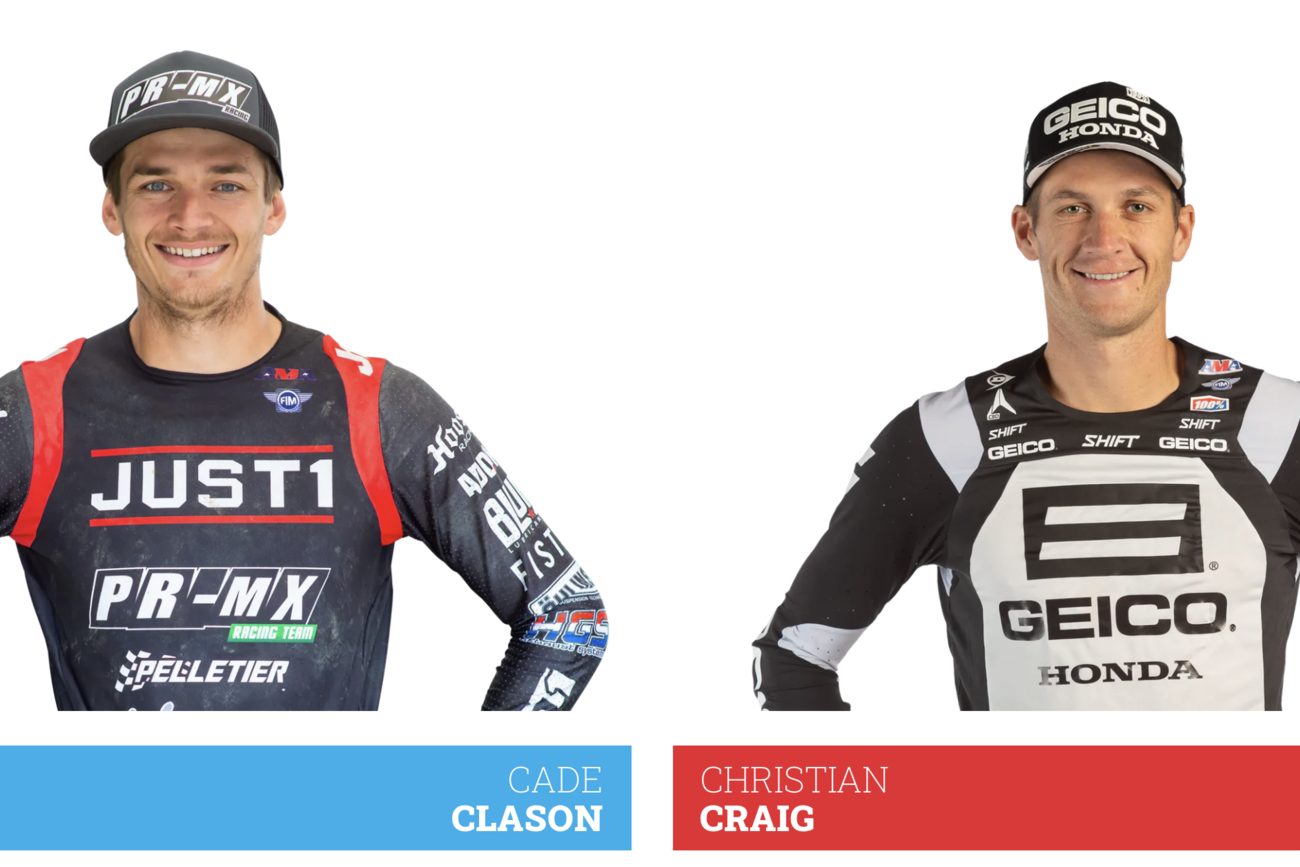 Cade Clason and Christian Craig square up.
Read Now
Preview Now
You were racing in Canada and other places and things like that. You were still racing. Was it a big jump to get back into supercross?
It was a big jump, for sure. Even coming back, I was racing all the nationals in Canada and we came down and I did Unadilla and Indiana. Even just riding those it was a completely different type of racing. It was way more intense. There's so many more fast guys. Then you get to supercross and it's its own world. So, it was kind of an eye-opener. You leave it for a while and then you come back and you're like, "Oh, man. This is way more difficult than it looks."
So, you just need more racing to figure it out?
Yeah. The beginning of the season at A1 I was way off. I thought I was going to be way closer than I was. Then we were getting better and better. I think we were 20th in qualifying in Atlanta. The effort level is there from not just me but my team, trying to make me improve. They know that the potential is there, it's just doing it on a Saturday.
Give us some background. What is this team?
PR-MX is just a privateer effort. They're based out of Montreal. They've been growing and growing the last couple years. Our team manager, Julien [Perrier], he's kind of a one-man band. Each guy kind of has their own mechanic and stuff, but Julien kind of runs the entire show by himself. He does a good job. Right now, stuff's delayed, but that's how it goes. Like I said, it's a privateer team. It's really new. It's the first year they've ever had a semi. There's five guys on it so there's plenty of stuff to do. But I enjoy it. Our biggest issue right now is if he's going to be able to get across the border to get here.
The truck went back to the Montreal area when this shut down?
Yeah. They had to. They were supposed to go home and quarantine. He went home right after Indy. Then they had to quarantine because they came into the country, for like 14 days. He wasn't allowed to leave his house. So that's over with now and he's able to move around, but the border is still closed. So apparently, he's talked to Pelletier and some guys at the AMA and they've written some letters saying that they're needed over here. So, they're going to try and come across this weekend. Our bikes are luckily in the country. They're actually parked at my grandparents' business. They parked the rig there when the border closed because they were close to Indy. We're really hoping that he can get across and they can get the rig there and stuff. Once they get the rig there it doesn't have to move for three and a half weeks. So, it's really a cheaper expense for them!
Was there ever a moment of, "We might run out of money. We might not be able to do this?" Or did you pretty much know that they were going to be back?
It wasn't really ever too much of a concern. Obviously, there was concerns like worrying about it, but in reality, this is almost a cheaper way to do seven rounds than if we did it normal. Everyone kind of had another job too that they could go back to. My mechanic and Julien as well, they all do other stuff. It's not like they only rely on this. So, they went home, and they kept working. Now we're able to go back racing so they're able to come back and do it. It's definitely a struggle to kind of plan out. It sucks having to jump back and forth between one way to make money for them and back to another. So besides that, they never really said, "I don't know if we're going to be able to do this." They've talked about not bringing the rig, just bringing a box truck or something like that and some E-Z Ups because it would be cheaper, but we'll see.
It sounds like it's just "Whatever, man." You're getting a chance to race again and get paid again.
Yeah, exactly. It could be way worse. We could not be racing. I could have no money all summer. My plan isn't to race the nationals. It's pretty awesome that we get this opportunity to go racing. I know it might be a little soon. I know some guys would rather do it in the fall, especially guys that were hurt and got surgeries and stuff like that. But besides that, it's not too big of a deal to me.