As we continue our deep dive through old races and results while we wait for current-day racing to return, we find another rider who could, at times, run with and beat the best, but probably doesn't get the credit he deserves. Steve Matthes, take it away!
Hey people, I know that not all of you out there old enough to realize that former factory Suzuki, Yamaha, Honda, and Kawasaki factory rider Ezra Lusk was fast but we need to let you all know that he very much was. I mean, just the fact that every factory team from back then hired him at one point should give you an indication of just how good "Yogi" was. I recently did a second podcast with Ezra and we talk about some of the things he endured in his career.
Lusk was an early star. As an amateur he won at pretty much every level he was at and his name is all over the old CycleNews results. It seemed that he was a naturally talented rider but as he explains in the podcast, his dad was also very hard on him so when it came to training, Ezra was always putting in the work off the bike.
As a pro, Yogi was super fast, but he was one of those guys who got "McGrath'ed" and only walked away with one title to his name, a regional 125SX one in 1994. He finished second to Jeremy in 250SX twice and third in the series another couple of times. On his days, he was very special rider. Ezra might not have been consistent enough to beat McGrath for the championship, but there were certain nights when he was as fast—if not faster. Ezra shocked everyone when he caught and passed McGrath with a late-race attack at round three of the 1998 season in Tempe, Arizona. Later in the season, he put another attack on McGrath in St. Louis and made the pass….with serious contact that left MC on the ground.
We asked the King himself about racing against Lusk
"Ezra Lusk was a fierce competitor. You knew he would always fight to the end and will do whatever it takes to make a pass," Jeremy McGrath told us. "Honestly, I didn't like racing him that much because I wasn't sure what he was going to do in certain situations. He was always a threat that's for sure."
Injuries seemed to strike him at inopportune times as well, like the time at Anaheim 1 2000 when he crashed in practice and tore his shoulder up. He missed the entire championship after finishing as runner-up in 1999. Yogi also had to ride the early aluminum framed Honda's which weren't always the best.
I crossed paths with Lusk at Yamaha in 2004, his last year of racing. Yogi had ridden for Kawasaki in 2003 and won the Phoenix SX (besting Chad Reed—just another one of those nights he was on) but was dropped by them after two years. He latched on with the satellite Mach 1 Yamaha team for '04 and was given 2003 factory parts. He essentially had Chad Reed's year old factory stuff, along with some additional testing and development.
Lusk showed up in SoCal and immediately was as fast as Reed, a rider that won a ton of races in 2003 and would win the 2004 supercross title. But there were many days at the Yamaha test track were Ezra was faster than Chad. Yes, I'm being serious! He was a veteran at this point but he could still twist the throttle. I saw it first hand. At one point Chad had his guy go up into the tower at the track and film Yogi riding. Then Yogi would stop and pull in. Then Yogi's guy would try to film Chad and Reedy would pull in! Yes, I'm serious that this happened!
That just gives you an idea of Lusk's speed, even at that point in his career. But alas, at the third round of 2004, Lusk crashed and got hurt.
I've always maintained that one of the biggest crowd roars I've ever heard was in the Georgia Dome at the height of Ezra Lusk's power. It was amazing, he was a rock star going up against the Southern California kid named Jeremy McGrath. Something to see for sure and I just don't think Yogi gets enough credit for how damn fast he was on his day. What say you Weege?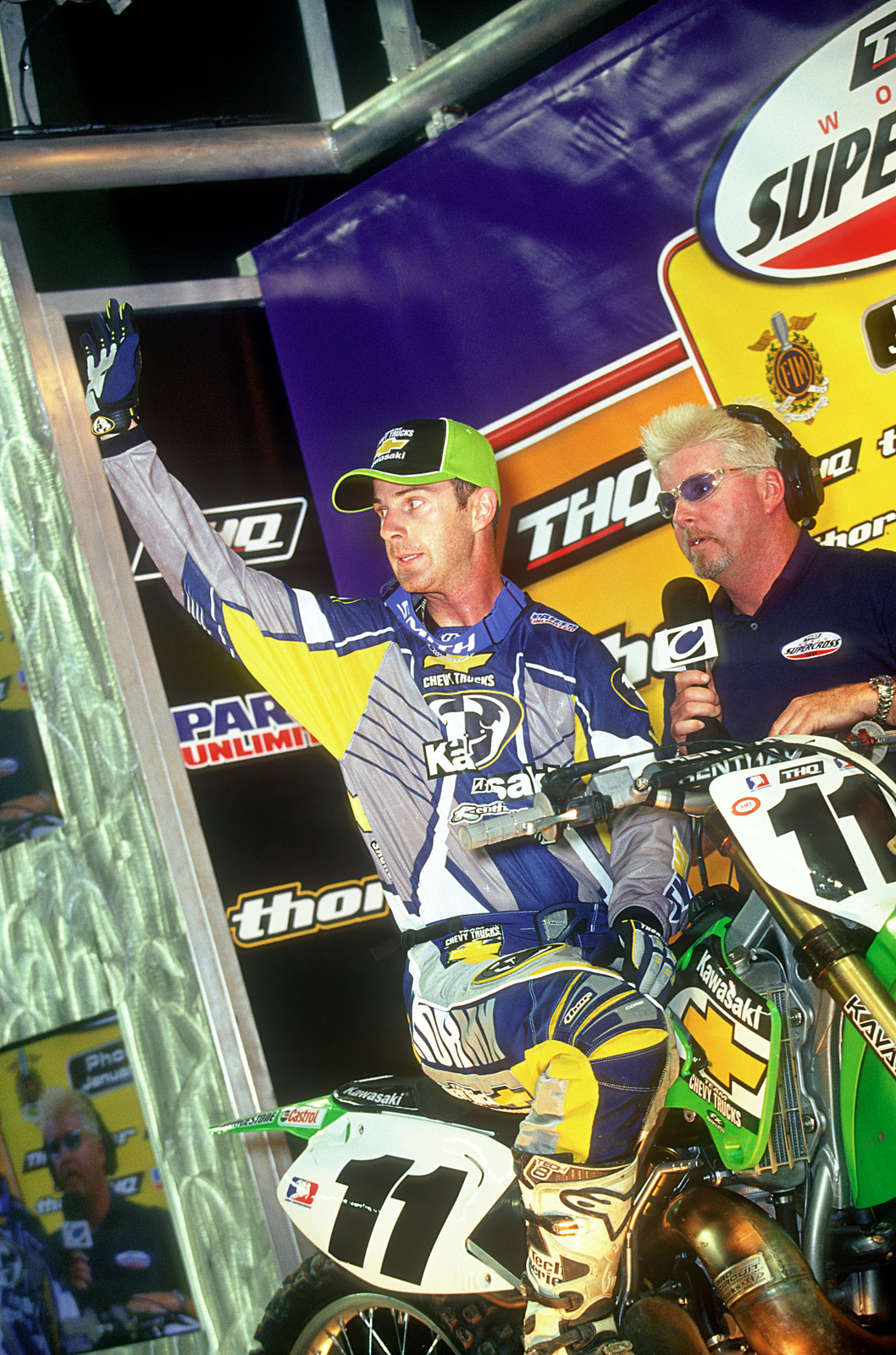 Jason Weigandt:Ezra Lusk wasn't just about results. I count him with 12 premiere-class wins in supercross. That's good, but doesn't compared to the all-time greats. He only has that one career championship as a pro, in 125SX East.
Ezra wasn't a big talker, either, and didn't have any real signature moves or interviews. Remember, this was the 90s, when dudes were busting out Nac-Nacs and heel clickers, and the punk-rock VHS scene was a big part of marketing. Ezra appeared in some early Fox videos, but he didn't make a name with hellacious whips or dune leaps. As a guy who lived back East before the scene really shifted that way, he was way out of the Southern California social loop, the center of the motocross universe in those days. He was just quiet, focused, and fast. Combine his low-profile with the so-so numbers and history doesn't remember Ezra as it should.
He wasn't about the numbers, though. He just had pure, nasty, raw speed. He's one of the few guys, ever, that can say he ran down Jeremy McGrath to win a supercross. He beat Chad Reed straight-up for a shocking win in 2003, and that was Reed on the steel-framed YZ250 two-stroke, which means at or near his peak. For Ezra, the issue was that he couldn't couple his speed with consistency. He was balls-to-the-walls fast but when he crashed…my God did he go down hard. I gotta give him credit for being such a tough hombre. He'd bounce back up and run it to the limit again.
Ezra isn't going to get brought up enough in "fastest ever" conversations but in supercross, he probably should. On the right day, he could go toe-to-toe with anyone, and he was probably McGrath's stiffest competitor in '98 and '99, which means he was no slouch.
Let's remember Ezra Lusk. He was really, really fast.