Welcome to Racer X Next, where we interview up and coming amateur racers. We'll check in with racers on topics such as their training program to qualifying for and competing at the Monster Energy AMA Amateur National Motocross Championship at Loretta Lynn Ranch, and much more.
This week, we talk with Monster Energy/Star Racing Yamaha's Jarrett Frye.
Current Age: 19
Hometown: Mechanicsville, Maryland
Instagram: @Frye34
Team: Monster Energy/Star Racing Yamaha
Class: To make pro debut
Frye testing supercross in September 2019:
Racer X: So, you're from Budds Creek?
Jarrett Frye: Yeah, I'm like ten minutes from there, but I have been in California for a little over a year to be next to the team. I'm living with Justin Cooper and training with Gareth Swanepoel and most of the guys on the team.
What classes are you currently riding?
I was supposed to go pro at Hangtown this year, but I got hurt. I tore my ACL so I won't be going pro at Hangtown or whatever the first round of outdoors ends up being!
So, what will you do now?
I think the plan right now is just to focus on healing up and then maybe try racing outdoors. Time will tell how the recovery goes and stuff and when I can get back on the bike. But if not, I'll just have to wait until next year to go pro in supercross.
Would race any supercross later this year? Are you allowed?
Yeah, I'd be allowed to. I don't know if I would or not, just not having much time on the bike or supercross, really.
How'd you do your ACL?
I was at Hangtown for an area qualifier and on the start I just dabbed my leg and tore it. It sucks.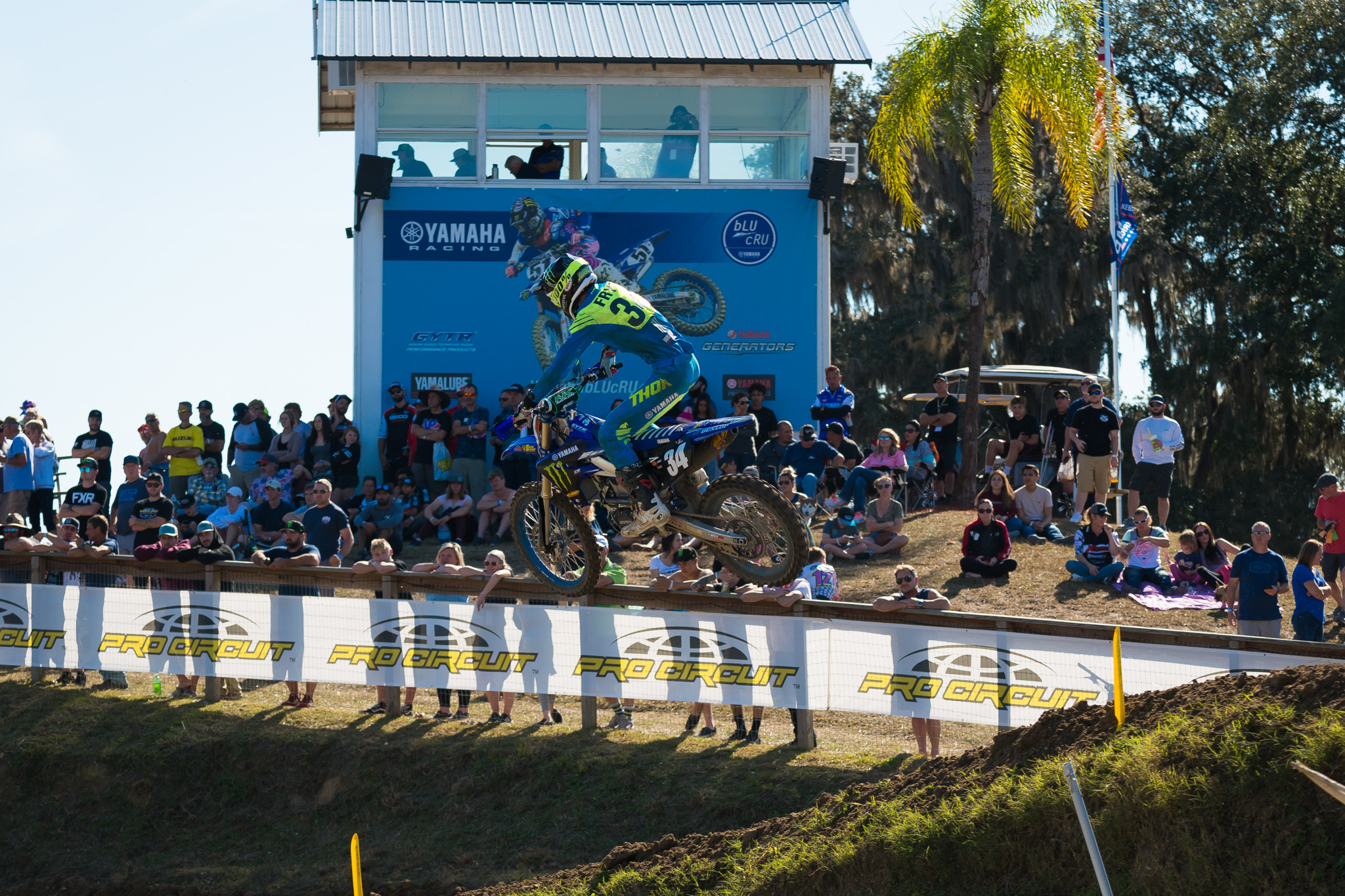 Have you gotten back into a bit of training yet?
Yeah. Actually still been working on stuff, trying to do as much as I can. I'm actually able to do the bicycle and stuff now. Still able to train and do gym.
How long have you been with Yamaha and Star Racing, how did that deal come about?
I did really good at Mini O's in 2018 winning five championships in the B class. Star racing approached us and gave me a deal for 2019 which led to a really good year on the Yamaha and I ended up signing pro with them for 2020 and 2021.
How's it been so far with them?
Yeah, it's been really good. Star Racing is obviously one of the best 250 teams out there, just with how many championships and stuff they've won. To be on a team that's been so successful is pretty awesome.
I guess your ACL was kind of a bummer, but the break in the schedule is kind of giving you a little time that you might be able to jump in maybe at the end of outdoors. What's your prognosis like?
With this whole COVID-19 thing it actually might help me out a little bit with my ACL. Outdoors got pushed back a couple weeks. Hopefully I'll be able to make it back for a round at least. That's the goal we're shooting for.
What got you into racing dirt bikes?
My brother actually, when I was four and he was six, he had a bike and I wanted to get a bike. Obviously you always want to be like the older brother. We started doing local races and stuff like that. I started riding a little bit more and getting into the bigger nationals. Just gone on from there, really.
Obviously besides recovering from your knee, what were your goals for this summer, and how have you adjusted them now with everything that's going on?
Before this my goal was to go pro at Hangtown and just learn as much as I can in the rookie season and just build every race. Now with being hurt, just focus on recovering and getting back to 100 percent. Got to try and make it for the last maybe… I don't know, we'll see how it goes.
What are your goals for supercross next year? Where do you see yourself at in the field?
I just want to go in and learn as much as I can. Just try and build every race and get better.
---
*Hero image courtesy of David Lando.