Red Bull KTM's Marvin Musquin wouldn't be racing right now, anyway. He's still in recovery mode from knee surgery in December. However, the racing delay caused by COVID-19 might actually give him the gift of time, and it's even possible that he races a few rounds of Monster Energy Supercross if that season reboots in the fall, which is the likely plan (for now).
How's Marv coping with recovery and waiting? We got to talk to him last week.
Racer X: Long time no see. Now things have changed. Could you maybe end up racing some supercross this year? Is that possible?
Marvin Musquin: Yeah, it sounds like it, especially if they're racing in September or October. That would be crazy to even think about it right now. But if I feel a hundred percent and ready to go, why not? Before that it will be obviously outdoors. We'll see how it goes. It's pretty early to know exactly what's going to happen with the time right now. We'll see. I'm getting ready for it. That's for sure.
We haven't seen you on the motorcycle yet anywhere. Are you back at that point? Is the knee even ready yet?
Not really. I've been obviously working really hard, but it's been a very tough injury, a big surgery. Takes a long time to get back the muscle. I lost so much muscle. I've been on crutches for the six weeks right after the surgery. I know I already have chicken legs, but it was scary looking. My leg was so skinny! It takes a lot of time to recover from that. The cycling and everything at the gym has been helping. I've been working on range of motion and to get everything back to normal. But it's a long road. I'm doing everything I can to get back to riding a motorcycle. It may be a few weeks or months here. We'll see.
I suppose the goal was originally to try to be ready for Hangtown?
In my head, yeah. Then we never know what's going to happen. Trying my best to recover. We'll see how it goes and when they're going to announce that the racing will be back. That's the big question as well.
[Note: Lucas Oil Pro Motocross is currently scheduled to begin June 13, but all sporting schedules are subject to change at this time.]
This knee injury, was it more complicated because you've had some knee problems before?
It's been tough on that knee, that's for sure, but I was still able to keep on going, training the way I wanted to, even some running and stuff. Obviously, the crash at Indy [Ironman National] didn't help, but then I recovered from that and I was back on the bike last November last year, and I was ready to come back. I was excited for a full boot camp, I would say, November, December and it didn't happen. I had another incident and the knee just was not good. I stretched more ligaments and tore ligaments, so I had multiple ligament repairs. It was really hard to swallow. But I got the surgery and we're on the way to the recovery. I'm feeling a lot better now, but I'm not there yet, but hopefully I'll be back and into my full potential. I miss it so much. Last time I raced it was Indiana last year, '19, so it felt like forever. Even when you're fully racing a whole season and you have a weekend or two weekends off, it already feels like forever because you're so used to people racing. But now months and months of not being on the bike, it's killing me. It's strange.
Plus, the moto right before that! You got hurt right at the beginning of the last moto of the year. That first moto that day, that had to be one of your best motos ever. You passed Kenny [Roczen] and Eli [Tomac] straight up and took the win. That had to be pretty satisfying.
Yeah it was definitely one of my best motos of maybe my career. It was definitely a great battle. I enjoyed it so much. It was really cool because we made some changes just for the last round. I remember calling Ian and said, "Let's do something." I remember I went out to press the day before the racing and I felt great. So just overall an exciting day…well until the second moto it was an exciting day! The track was awesome. Every time there in Indiana it's a lot of fun to race there. It gets so rutted, bumpy, super technical. Finally, we were together battling, me, Eli, and Kenny. You've mentioned it many times. Even when you battle with someone for the championship, you don't really get a chance to battle with the guy all the time. Either one guy gets a good start and the other guy is in the back and has to catch up. So, it's quite strange. That moto was just great. Obviously, I won that moto, so it was awesome for me.
Was there a temptation to try to get the knee fixed right there, or did you know, this is manageable and I don't need surgery?
No, it was definitely fine.
As I keep saying anytime I interview someone, this coronavirus thing is not good in any way, shape or form. This is terrible what we're all going through. But it is odd, I guess I could say. You've been given the gift of a little more time. So at least for your racing, it's probably a little bit of a blessing the way this worked out.
Exactly. There's no good. Obviously for the world, for the people around the world, obviously I don't want because this is not good, but it's definitely playing on my side and giving me more time to recover. Even if supercross would have kept going, I would not be racing right now. We'll see when racing will come back. I am definitely focused on coming back as soon as I can, but I don't want to be at 70 percent or 80 percent and not be happy on the bike, or not giving good results to my sponsors and the team.
Without as much racing and traveling, do you get to be more normal and do regular person stuff?
Not really. My job is to be back and to perform, so all I have to do is focus on my body and try to get back to shape and cardio and to recover my knee and do a lot of rehab. Even though right now we are in confinement, I've been staying home with Mathilde, but all I do is the cycling, the stretching, the rehab. I do my gym and cardio in the morning and then afternoon we have more time to kind of rest or do things. Obviously, there is a lot of things to do around the house, but just because you have extra time doesn't mean that I really want to do it!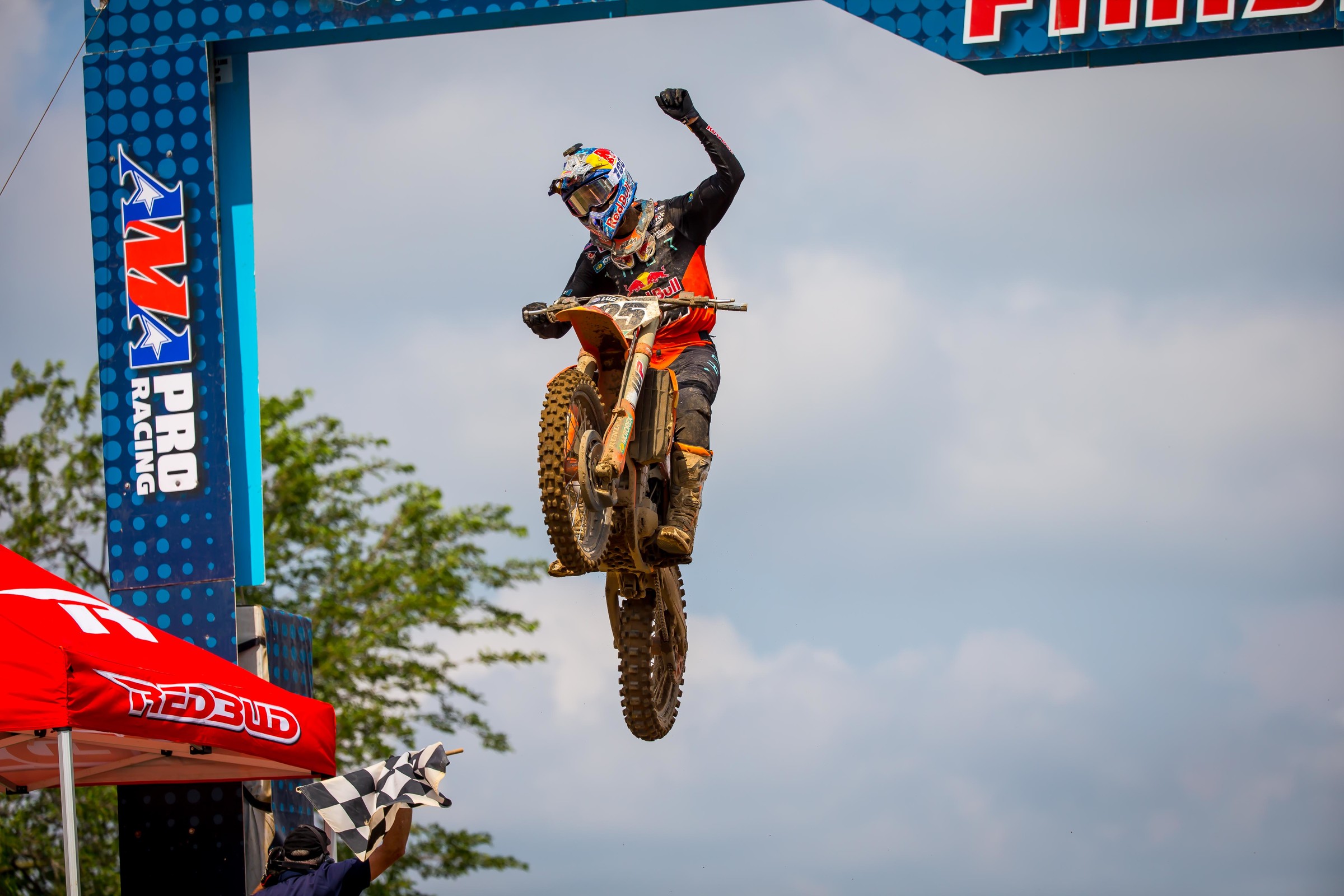 [Laughs] I've heard from every rider. You get a list of things to do and you're like, I wish I could just go to a race and get out of this!
Yeah. We could have a big list of projects, for sure. It's not like that's all we have to do right now. There's other things we got to focus on. Like taking care of our health and obviously staying home, but like I said, working on my knee.
I know there were some French guys that were around racing some races. Before this happened, did you have a pretty good social group when you could hang out with people?
Yeah, here in the U.S. My buddy, Cedric Soubeyras, he's been staying here in Florida, so I was seeing him a little bit. But then when the virus came around, we didn't really want to get in the group and see each other. We wanted to be careful and respect the rules, basically. So, we've been basically staying home with Mathilde. It's a very strange situation because you want to do things, but when you see how things are back home in France and Italy and Spain and stuff, and it's coming here in the U.S. We don't want that. We want to make sure we do our part and stay home and stay healthy. Basically, we go grocery shopping just once a week, even less, and be home.
I've been there watching you guys at Baker's Factory a few times. It's quite social. You're interacting with a practice mechanic or the other guys you ride with or Aldon himself. Then someone like Soubeyras comes in and you end up hanging out with him. It's got to be pretty weird all of a sudden to be on your own. Your normal days are very social.
Yeah, it is weird. Also just going to the airport, traveling, you see other people. Go to the races, or like you said, go to the track and see other people. So, you do this for a week, two weeks… Then it's kind of starting to get strange and you want to get back to some normality and see other people. Right now, it's so important to do that, to stay home and stay healthy and not get in a big group with other people and see other people.
Were you able to watch the races pretty closely this year? Some guys when they get hurt, watching races drives them nuts and they just pull away. Are you one of those guys?
Not really. I'm injured so I know I cannot be out there and be competitive. If I was retired and healthy, maybe I'd be like, "Maybe I should be out there beating those guys." But in this situation, definitely not because I know my knee is recovering. I'm not 100 percent right now. It's funny because I had surgery in December. January comes on and I was like, I don't think I'm going to watch the races, because you're so bummed you're not out there. But at the end, for sure I'm going to watch the races. I didn't miss one race watching it. It's been cool. At the same time, it's hard because I'm not there and I haven't missed a race - I think I missed one race back in 2016, but '14, '15 I raced on 250 but then since '16 on the 450 I haven't missed a whole championship. One race in '16. So, it's been a lot of racing, a lot of seasons. Looking back at it, I'm proud I was able to stay healthy and competitive every single year, every single championship. It's just a tough time right now, but I'm looking forward to get back to it. It'll be fun.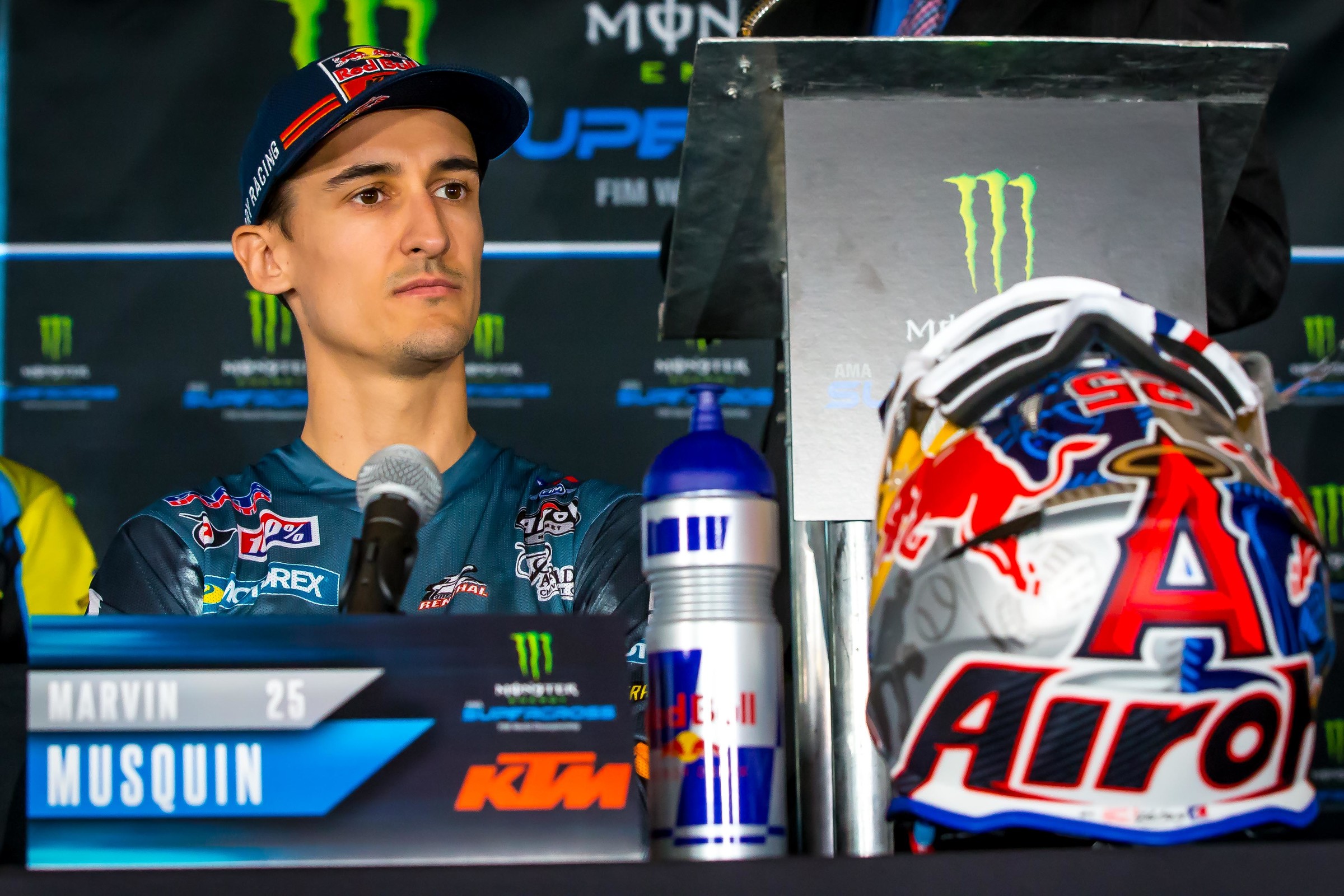 A couple questions from the fans here, and this is usually about everyday stuff. With all the extra time, are there any shows on Netflix, any movies, any particular things that you're watching or catching up on? Because we're all kind of stuck in that same spot.
I started playing more video games, Supercross 3, with some of my friends back home.
Do you play as yourself? Are you yourself when you play?
Yeah. That's a cool part of that video game. I'm able to pick myself, so that is super cool. I've been playing with my friends online. Other than that, a little bit of Netflix. That show Money Heist. It's a Spanish show. But we're done with it, so now I have to find another series. But there is a lot of things to watch this time.
Everyone has a strategy right now for watching the news. Some people want to know everything that's going on, some people would rather not watch because it can be sad or depressing. You're an international guy. Generally, when it comes to current events, do you look at some stuff French news and news from the United States?
Yeah, exactly. That's exactly what I do. I watch the news once a day, but in the French and the American. I want to know what's going to happen, and what's going on back in France. My family is there. We have a lot of friends there. Like you said, if you watch it too much it kind of starts to get crazy. But you've got to be aware and make sure you respect the rules and make sure you do the right things for yourself but for everybody.
We hear you're playing puzzles?
Because of Mathilde, yes. She thought about doing puzzles. It's pretty funny because we get a lot of people sending us pictures or videos of their puzzles at home. My neighbors give us puzzles and stuff. We have close to maybe ten puzzles at home right now. We have done maybe four, I think. Mathilde wants to start making a competition between us two. She wants to do a puzzle, like 1000 pieces, and my puzzle would be like 500 pieces. She is so much better than me, so she wants to time each other and see who beats the other. But I'm afraid I'm going to lose anyway!
Bro, you really need to have some races to distract you and get away from some of this stuff!
[Laughs] Exactly.
Have you even gone to Baker's Factory?
At the beginning I was, but now we all have to keep our distance. I was using the gym there. I have quite a bit of stuff at home. But I have all the cardio stuff. Anyway, I have a specific program for myself, from my physio, from Aldon. I have some exercises for rehab. So basically, I've been doing that on my own, because it's my own workout. A few times we've been going out on the bicycle, but definitely limiting the groups.
I'm assuming the group cycling, do you guys ride kind of like that peloton style where you take turns who's in the front and the back?
Kind of. We take pulls from each other. We go like once or twice a week. That's the minimum we go.
You can't really do that so much now, right? Is that too close for people to do that now?
A little bit. That's why we don't go very often.
For you, it has to feel like years since you were in a normal routine.
Yeah, that's right. That's why it's been so strange. Definitely looking forward to obviously this whole situation with the virus to get back to normal. But also myself get back to normal with a strong knee. Confinement, you do that a week, two, maybe three, and then it started to get very strange. I'm definitely thinking about people that live in cities, especially back in Europe, in apartments and stuff. They can't go outside. It's been super tough. But we've got to stay strong all together and we'll be back better all together.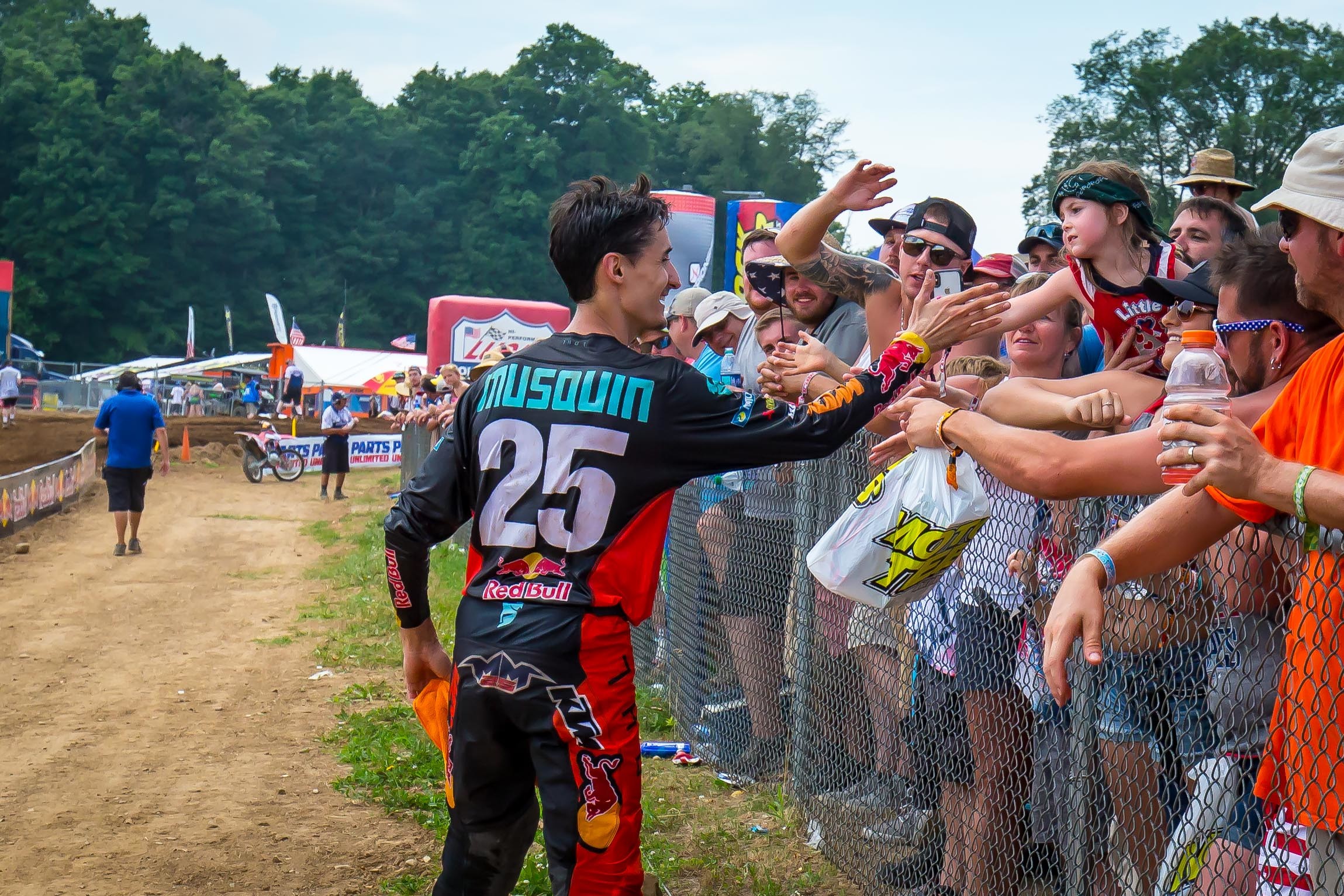 Do you have any take on the racing you've seen this year?
Definitely a lot of battles. Everybody has been pretty healthy. It's been a lot of good guys out there, compared to other years, I feel like. Obviously it's strange for me because I've been out there racing all the time, even though after each race I go and watch the race at home, but when you're not out there it's really hard to imagine myself out there doing the same thing. It's kind of strange. I know those guys are ripping. They're fast, they're strong. But how strong? But anyway, I try to learn and see what the other guys are doing. Even the 250 class as well has been really cool. A lot of intensity. I've been to the races as well. It's funny because Frankie, my mechanic, has been at all the races. He gets super excited because he gets to go in the stands, and he's never been in the stands because he's always either in the pits or either on the track. He says, "Dude, I see so much more of the track. I'm going to give Mathilde the pit board and I'll just stay in the stands when you come back!"
Hey, talk about this goggle thing you're doing?
Yes, I just wanted to say one more thing. It's about Ride 100%. I'm going to do my part to give goggles. It's the website and the foundation. It's super hard to fight against the COVID-19. 100% has been donating so many goggles. I'm going to do the same thing. Actually, today I have spare goggles at home, so I'm going to go the website. It's gogglesfordocs.com. I'm going to be able to look at it for drop-off locations. So, it's pretty cool what they've been doing. I'm encouraging all the riders, all the fans, if you have old goggles you want to get rid of, definitely go to that website. Gogglesfordocs.com. Also, the website, Ride 100%. They have a give back page. It's 20% of all sales go to the CDC foundations. So, thanks to them, and thanks everybody for their support. We'll get through this all together. Hopefully we'll get back in time to some normality and then it' full gas.