Living in quarantine? Have a lot of time to think about stuff? Well, now we can provide a home for your deep thoughts. We let you folks fire some questions off to long-time pro Jason Thomas, and he provided answers. We received so many questions that we divided this into three parts.
(Note: Some questions have been lightly edited for clarity.)
Felipe199
Hello JT. So, are the Carolinas the new Florida? It seems to me that a lot of riders are opting to go there to do their training. Reed is moving to NC and building a training track and all the ClubMX guys in SC, so what's up with that? I don't think it's because they all want to be closer to Weege. Thanks.
JT: Well, two different things going on there. The ClubMX facility just happened to be where Brandon Haas and crew built their facility. The riders then migrated there accordingly. That facility is really great which brings the riders. There isn't much around there AT ALL, so it wasn't because of location. It's similar to Cairo, Georgia, in that way.
As for Reed, he has slowly been setting himself up to transition out of moto and hopefully into car racing. When he signed with JGRMX/Yoshimura Suzuki for the 2019 season, it made too much sense for him to go to Charlotte full time. He would then be able to reduce his overhead of tracks, equipment, etc. He could ride and train at JGR's test track and use their ample resources. He has since sold his house in Florida and his land/track, which I am sure was a big relief. Having been around that program for a long time, it costs a crazy amount of money and takes a tireless staff to keep tracks up to his expectation. Having JGR's track to ride, even if he has to pay to use it, is a much simpler dynamic. It also gives him liquidity in his finances and closer proximity to the car racing world.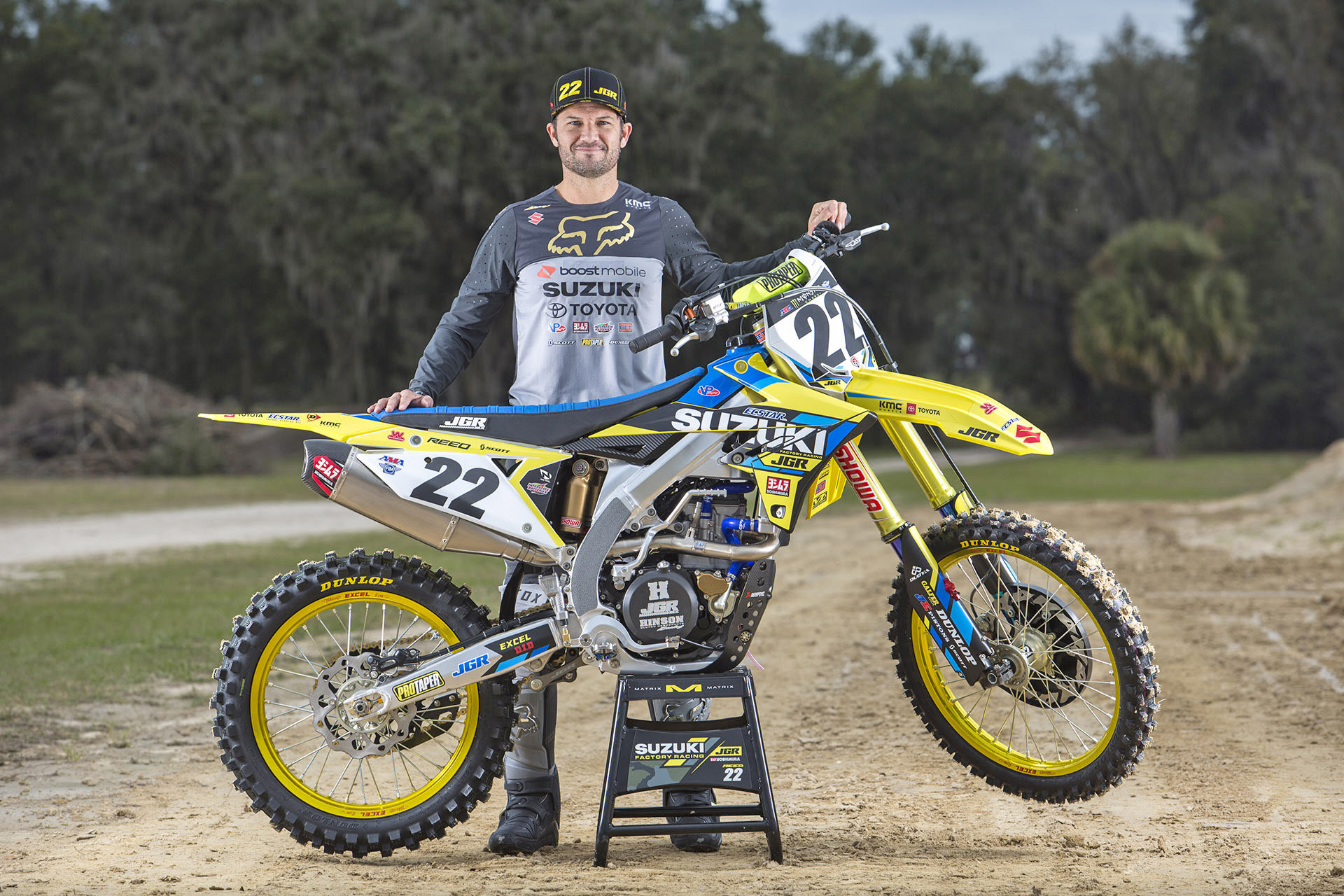 Carl Hutchings
If we take the worst case scenario and say the supercross and outdoors is shut down this year, how would it work with sponsors who pay teams to use their products? Teams still have salaries to pay but suddenly a ton of overheads disappear like flights, hotels, diesel etc., etc., etc. Would it be morally wrong for sponsors to wiggle out of paying in full. Do contracts have a clause for what is potentially happening this year. Are we going to see Eli Tomac turn into a prolific social media influencer to please his team's sponsors?
I don't think this is going to happen. Unless the world just completely shuts down for the next six months, we will be racing somehow, some way. If not, I think there would be someone looking for the "Act of God" clause in their contracts but it would be handled differently across the board, I bet. Some companies don't even use the clauses that they already have in their deals regarding appearances, injuries, etc. They could hold a rider to that and dock pay, but they usually chose not to. This is a tight-knit industry and sponsors and brands usually try to do the right thing to back their athletes, whenever possible.
Frank Spinker
JT,
Has motocross been priced beyond the reach of median and below wage earners after payroll taxes and other expenses?
Good question and I guess it depends what level we are talking. If you want to go racing every weekend in a semi-serious fashion, it's going to cost money. That's just a fact of modern day racing. However, if you want to find a good used two-stroke and go riding, that's readily available. It's certainly more expensive to go racing now that it used to be but the sport's base is more about people riding for enjoyment. The amount of serious racers is a drop in the bucket compared to the number of people who just like riding motorcycles.
Are we in a demographic death spiral with Boomers leaving the sport, Gen. X getting on in years, and Gen. Y & Z potentially not having the resources to participate once off the nipple and nudged out of the nest?
This is definitely a popular subject for those with vested concerns in the financial future of the sport. Kids today are growing up on their iPads instead of dirt bikes. Let's hope something changes and kids get outside more often.
On The Box
Mary Ann or Ginger?
Mary Ann.
Sean Casey
Best Shaun Skinner story.
Skinner is something else. I think the best stories always arose when he and Matt Goerke got together. They seem to operate on the same wavelength and their hairbrained ideas get positive reinforcement from each other. I think my favorite story was them riding and training for Loretta's one year. They rode every day, all summer long, and never wore a jersey because it was hot and they didn't see the point. So imagine two of the best amateur racers in America, Suzuki's best and brightest, just moto-ing down day after day with no shirts on.
betaCO
Hey Jason...do you think Eli has peaked? I think he'll be 28 by the end of this year and Roczen is two years younger than he is and many competitors are even younger. What do you think his chances are of repeating outdoors again and winning the SX title next year knowing this?
I don't think he has peaked but I do think he retires fairly soon. He has another year on his current contract and I could absolutely see him calling it after next season if things go to plan. The pressure these guys are under to stay at the top isn't very much fun, typically, and that's why you see the very best guys retiring in their late 20s (sans Chad Reed). When you're expected to win every race you're in, that really wears on a rider. Once they are financially secure, the risk starts to outweigh the reward at some point. Priorities shift and riders begin to realize there is life beyond a dirt bike. It happens to everyone eventually. Tomac has operated at the elite level for most of his career, so that's a lot of added pressure and stress beyond the regular hard work and travel that goes into racing.
Thereal MrMx
Why don't you shave? It's faster than spending all that time trying to look like Igor the Russian #Braaap
Even if I was planning on it, I would not shave now just to annoy you.
JeremyandAlison Price
My question: Was it Ricky Carmichael's retirement or the injury in '08 that took James Stewart's fire?
Hmm, I don't think it was either, honestly. I think James struggled with the new Yamaha in 2010 and 2011. The bike was radically different and he never seemed to find consistency with it. He was plenty good on the old Yamaha in 2009. Remember, when he switched to the Suzuki in 2012, he won the first four motos in a row before his big crash in Colorado. I also think his split with Aldon Baker took a little of his edge away. That program is very disciplined and arguably brought out the best Stew we ever saw (2008 perfect motocross season and 2009 SX title). I think James suffered from concussions more than he shared as well, preventing a few comeback attempts.
flower87
Seeing as this is your friend Chad's final year, what year do you think he was the fastest? (not best results—I mean raw speed). For me three seasons come to mind:
The start of 2009 on Suzuki, I thought he could go toe-to-toe with James. Then James caught fire with holeshots and race wins. But Chad was starting 15th and getting to second.
The second would be the second Honda year of TwoTwo Motorsports. When he was chasing RV in Dallas. He was flying at RV's peak.
And the third was the outdoors just before he went Chadapult.
Unfortunately—in all three instances, it didn't end well or in a championship.
It's always tough to say because the bikes changed so much over 10-15 years. In 2003 and 2004, he was the fastest guy in supercross. Ricky was struggling with the whoops in 2003 and then missed 2004 but Chad was on fire at that point. I think Chad would have beaten Ricky in 2003 if he was a little more seasoned. The 2004 season would have been interesting to see with Chad much improved but Ricky also on the 450 (that was RC's plan going into that season).
As for 2009, he was really good on that Suzuki in supercross but I didn't think he was mind-blowingly fast on it outdoors. That's weird to say when it was the year he won his only outdoor title. In my eyes, he was much faster in 2011 before he Chadapulted at Millville.
The 2012 season was shaping up to be a barn burner but the Arlington crash ended it. That 2012 CRF450 was almost unfair. The first time I rode it, sometime in November of 2011, I almost quit racing right then and there. To know what I was taking to the starting line compared to what he had was not inspiring. His bike was that good!
jaywash521
Do you think the AMA would ever combine the 10 completed rounds in 2020 and the full season of 2021 and crown an overall 2020/2021 champion?
No.
Burton Lavens
Just watching some '19 mx vids here in ice cold corona infested Illinois. Here's my question: what in god can we do to get some of the repeater banners off the edges of the track!?!?! Come on man. The 486,000 feet of Dunlop banners and others lining the track is stupid for the riders that occasionally go off track and the spectators! I stopped going to Redbud for this reason alone. Paying good money and not being able to see the riders is complete bs. The banners are probably over half the height of the riders when they're riding and that's not counting the corners where they usually completely disappear when watching trackside. Why not occasional banners and the majority of advertising on the infield with signage? What a waste for a spectator to go watch a race only to NOT be able to see much racing. :(
Hey Burton. Stay safe out there. I understand your concerns and have heard others with the same issue. Every series and track is in dire need of sponsor dollars and this is a good way to get their name exposed to the masses, especially via the TV cameras. Is it the best way? Maybe not but I am not in a position to say. Similar to Tuff Blox, sponsorship signage is the only way this sport can operate so we have to make the best of it. I do agree with it being tough to see at times, though.