Living in quarantine? Have a lot of time to think about stuff? Well, now we can provide a home for your deep thoughts. We let you folks fire some questions off to long-time pro Jason Thomas, and he provided answers. We received so many questions that we divided this into two parts. See you back here next week!
(Note: Some questions have been lightly edited for clarity.)
woodshed_addict
I've got a couple. Let's talk about racing, even though it's paused for a bit. :)
It's been well-documented that the whoops this year seemed to be a bigger part of the equation at many of the tracks. So my question is...for the guys at this level, percentage wise, how much of going fast in the whoops is bike set-up? How much is technique? And how much is just saying "Heck with it, I'm not letting off?!"
And, what are some of the lesser-known bike changes that can be made to help generate whoop speed/stability?
Also, on the bigger teams, how often do the riders rotate out their riding gear (boots, jerseys, pants, helmets, goggles, gloves, etc)? How much of the bikes are brand new each weekend? Do they put new everything (tires, wheels, seat, bars, grips, sprockets, chain, etc..) on each week? Are they inspected and used again? Or just handed to the practice mechanic? Thanks!
On the whoops, it's a little bit of everything. For big, steep, nasty whoops, setup is a big part of the equation. Riders stiffen their suspension to startling levels to prevent it from compressing deeply into the stroke on impact. That keeps them at the top of the suspension stroke and driving forward and most importantly, their bikes are on a level plane. A big part of that equation is also confidence. It takes a high level of confidence to enter whoops at the speed James Stewart did. Watching a rider like Stew enter a big set of whoops is much different, visually, than a rider who has historically struggled like Marvin Musquin.
On the gear side, they get new pants, jerseys and gloves each weekend. Multiple sets, in fact. For the companies supporting them, the hope is that the rider looks his absolute best when a photo is taken or that rider is shown on TV. It's probably overkill with the quality of materials now, to be honest. Helmets are rotated based on need but they always have 3-4 helmets at the race (different colors and spares).
The factory bikes are almost brand new each weekend. The engines are usually rotated every 4 races for supercross but things like tires, grips, etc. are replaced every weekend. For outdoor events, the engine is given more attention as an outdoor race is much more stressful on the tolerances.
chz
What's a technique/skill used by elite riders BESIDES scrubbing and whoop speed that always amazed you as a pro? Mine is for sure the way Tomac corners like he is a train on a rail.
I have always been impressed by Ken Roczen's ability to ride in a very tall gear and at the pace he does. I always had a tendency to rev the bike and as my intensity ramped up, so did the revving (much like Barcia). Roczen (like Stefan Everts) is able to maintain a very high level of forward momentum, alleviating his need to accelerate back up to optimal speed. I was more start/stop, too hard on the brakes and too hard on the throttle. It was the only way that I could make it work, though. If I tried to ride like Roczen, I just went slower. Everyone has their own strengths and weaknesses but when Roczen is on his game (Atlanta 2020), it's beautiful to watch.
Dave B
If Supercross did end at Daytona, would Tomac be the 450 Champion? Do you think Dylan Ferrandis will end up on a Red Bull KTM or Monster Yamaha in 2021?
I don't think that will happen. I think Feld Entertainment finds a way to go racing, even if only a minimal amount, to settle this championship.
On Ferrandis, I know he is highly sought after. Both of the teams you named are rumored to have made offers. I don't know what Ferrandis will decide but there are a lot of moving parts. Does Red Bull KTM go to three riders? Do they release Musquin? Same questions for Monster Energy Yamaha, too. Do they add a third seat or do they release one of their current riders? It will soon be a huge game of musical chairs for a lot of riders.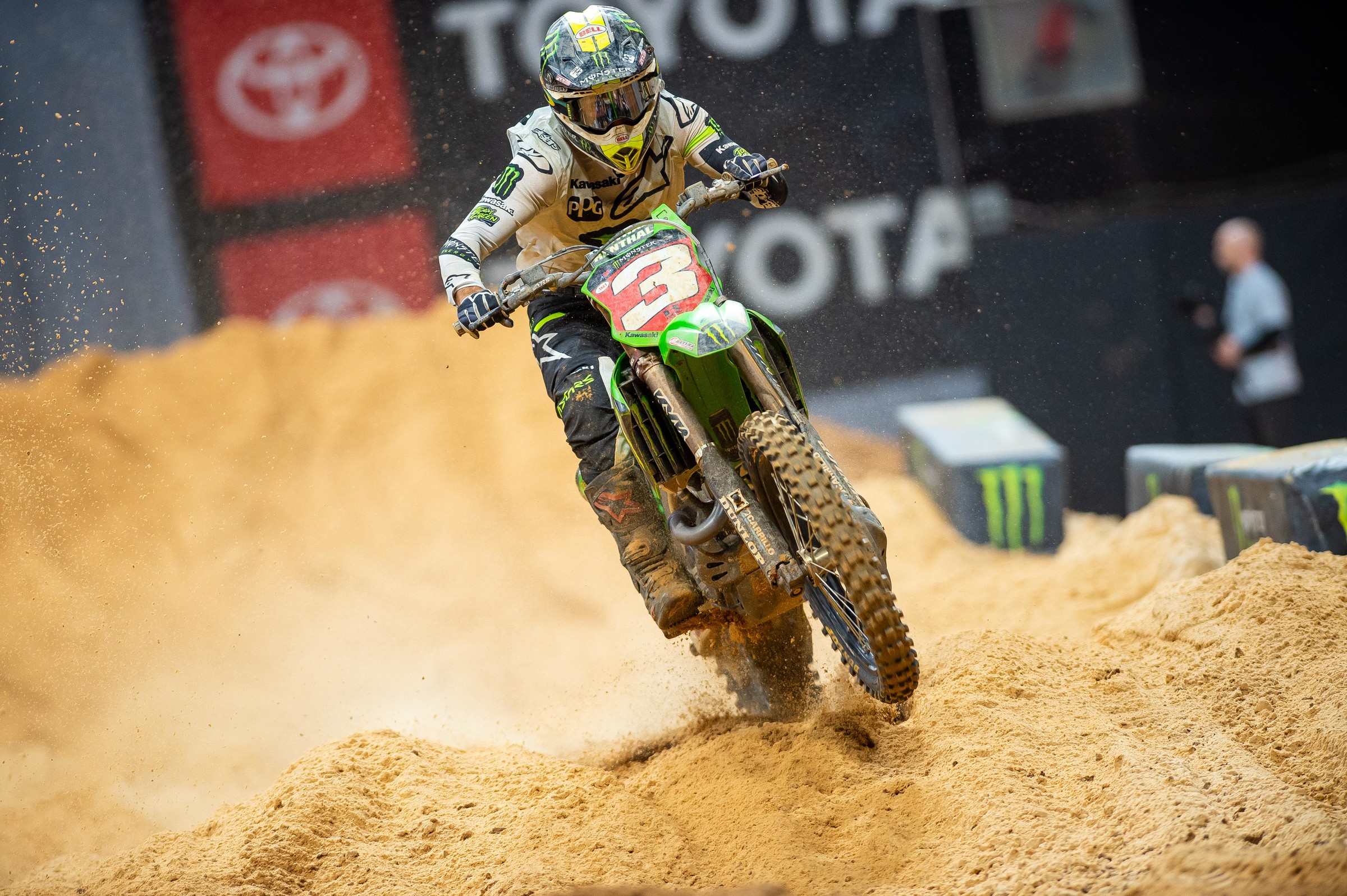 RBone421
Where do you see Plessinger in the future? His tenure at Yamaha is awfully reminiscent of Cooper Webb. I don't think he really likes the bike. Maybe Husky or KTM for him?
Going into the season, I thought he would definitely be changing teams for 2021. His 2020 season was rough to say the least. In his last few races before the break, though, he really found his rhythm. His heat race at Daytona was eye opening. If he can continue with that pace when racing resumes, I think there is a chance he stays.
If he did end up looking elsewhere, I don't think he would have a hard time finding a home. It might not be on a full factory team but teams like Rocky Mountain ATC/MC-KTM-WPS or SmarTop/Bullfrog Spas/MotoConcepts Honda or JGRMX/Yoshimura Suzuki would all provide the equipment necessary to succeed. The toughest part of that step would be on the financial side but he still has time to prove himself worthy of a full factory spot.
Goblue12n0
How will the disruption to the supply chain combined with modified consumer trends relative to COVID-19 affect 2020 mx bike supply, demand and the equilibrium price points? I was planning a purchase of an FC 350 2020 this Spring. Should I grab it now at the full retail price or is there a chance that it will be discounted by July or early Fall?
Interesting question and frankly, I don't know. I know that some factories have stopped production which can't be good for delivery times. If bikes are indeed late, maybe it won't be such a bad thing. The economy will likely need time to rebound and that delay might come at just the right moment. Predicting how this global pandemic effects the moto world is probably foolhardy. We are all taking it day by day and attempting to maintain as much normalcy as possible.
Dave E
Will Reedy come back next year?
I think CR22 will race next year, even if in a limited fashion. He loves racing and being involved in this sport. It's embedded in his fiber as a person. I don't see him committing to a 17-round series but I do envision him racing a schedule that allowed him to race Super Trofeo events or whatever other opportunities that might arise.
Check out what Reed told our Jason Weigandt about his farewell tour following Daytona.
Landon Hicks
Not for this year, but next—have a Can-Am International Outdoor Motocross series. Spring in Florida, go west, back east, a couple Canadian rounds, back to final at RedBud.
Landon, you seem like a nice guy but this is crazy talk. Kidding but there are too many variables to make something like that reality. Canada has their own series, their own sanctioning body, and Gauldy.
Joseph Honescko
Thanks for taking these questions. I have always wondered: is it more exciting / rewarding for a privateer to win an LCQ or qualify 9th out of a heat race? I understand the stress of the LCQ is not great, but I would think any kind of win would feel good. Plus, isn't it more TV exposure for sponsors to be leading a race than to be in hanging in 9th?
Is it more exciting? Perhaps. Is it way, way more stressful? Absolutely. If you could guarantee a win in the LCQ, I guess that would be fine but those LCQ's are unbridled chaos. There is simply too much that can go wrong in a short race like that. No one ever wants to be in the LCQ. Period.