If you're a racing fan who follows more than just motocross and supercross, perhaps you've seen the way other major racing series have began to push virtual racing during this real racing hiatus due to the COVID-19 outbreak. Whether it's the stars of the Monster Energy NASCAR Cup series competing in the eNASCAR iRacing Pro Invitational or the MotoGP World Championship paddock squaring off in the #StayatHomeGP last week, virtual racing is virtually everywhere right now. So, why are we not seeing such competitions in our industry?
That answer is complicated, but perhaps the easiest answer is lack of uniformity. NASCAR already had ties with iRacing, which puts on a true professional iRacing eNASCAR championship every week alongside the real racing. A lot of Cup Series drivers even support teams and drivers that race in the game competitively. It's a series that has run for years and the purse is even $300,000 for the full championship, and that is usually won by someone with limited or no real racing experience. In MotoGP, the game is officially licensed through Dorna and includes all MotoGP class riders in the game. While it's not a simulator, it does create a very simple way for everyone who wants to play as themselves for fun. It's the exact same model that Major League Baseball is following with getting athletes to play each other in MLB The Show 20 during this downtime—amongst other sports.
Where this falls short with supercross is licensing. The most recent supercross game, Monster Energy Supercross – The Official Videogame 3, is based on the 2019 season and doesn't include every rider. Most notably, Ken Roczen is not in the game. Feld Entertainment does not own Ken Roczen's likeness when it comes to non-internal distribution. Therefore, Milestone srl needs to individually get contracts signed with every single rider to be allowed to add them to the game. So, even if Feld decided they wanted to have a #StayatHomeSX, they are at the disadvantage of immediately leaving some people out. That lack of equal opportunity makes an agreeable package that Feld could feasibly accomplish, very unlikely.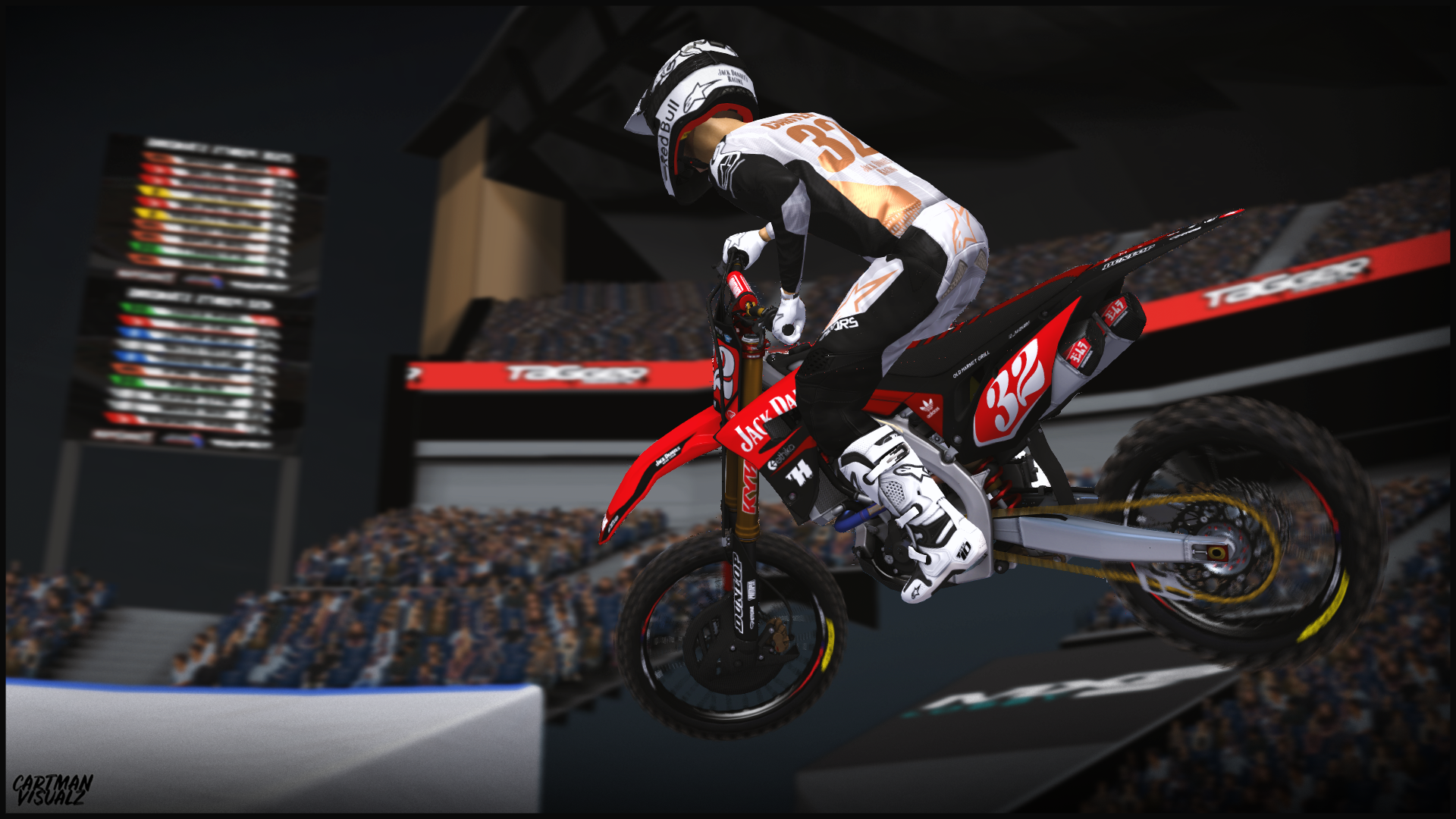 On top of that, just about any motocross game out there right now is still quite far from the real thing. With iRacing, drivers can set up a wheel and pedals and get after it with a very realistic simulation. Maybe they don't have the G-forces or worry of injury, but it's pretty darn close. Motocross and supercross doesn't have that. Arguably the closest to this is MX Simulator. But unlike iRacing, there are no handlebars you plug in, or bike you sit on and lean through corners with, it's all done with a controller. Plus, the game is now 13 years old and is really starting to fall behind in a lot of other departments.
Monster Energy Factory Yamaha Racing's Aaron Plessinger has put a lot of time into MX Simulator, and even he knows we're not close.
"I think the moto games are way behind on the tech and graphics compared to the car games," said Plessinger. "The people that are deep into iRacing have full setups to where you feel like you're actually driving a car. They can do that fairly easy because it's a seat and a steering wheel. If we did a setup like that, it would literally have to be a bike in front of a screen and that would be quite a bit of configuration to make it actually feel like an actual dirt bike."
The amount of contact points needed to make a dirt bike simulator feel like the real thing are much more varied than in car racing. In car racing, a driver straps into the seat and grabs the wheel, and works the pedals. In motocross and supercross, things get much more complicated, because inputs like moving your weight forward or backward have a massive impact on riding.
Another problem the simulation motocross games face is the learning curve. This isn't just plug and play like Monster Energy Supercross – The Official Videogame 3, the hours needed to play are often unreasonable even for the real pros. SGB Racing/Maxxis/Babbitt's Kawasaki rider Jeremy Smith is one of the top MX Simulator players in the world, but realizes the shortcomings of MX Simulator as well.
"The motocross games we have now have been the same for the past five-ten years besides new tracks every year and on top of that, the sport in general doesn't get the same amount of publicity as car racing," said Smith. "In iRacing, you can use a wheel to play the game, so the average person can just hop on and drive easily. A game like MX Simulator, where you use a controller, will take hours on hours to learn. So, the game doesn't appeal to the normal person."
If MX Simulator was even close to iRacing in terms of true simulation of the sport, most riders would be able to hop on the game and at least be decent. While it, and it's more recent competitor, MX Bikes, are both really detailed and physically close games to what could be experienced in real life, most people will tell you it's like trying to learn how to ride a bicycle again when you load up the games for the first time. Without licensing restrictions, both games would be able to accommodate any pro who wants to compete in it and that's true of the MotoOption Clothing SX Series in MX Simulator which has seen professional riders like Smith, Logan Leitzel, Matt Burkeen, Jerry Robin, Hector Assuncao, and more, race competitively. But seeing Eli Tomac hop on the game the same way NASCAR Cup drivers do? Well, those worlds are just too far apart.
"[MX Simulator and MX Bikes] are pretty far from the real thing," said Smith. "But one thing I can take away is the pressure of racing. Going for that one fast lap to qualify or holding off the guy behind you for the win is very relatable to real life. I think it has helped me deal with the pressure in real life racing. I can also play the supercross or motocross tracks the week of the real race, so in my head I will already know the tracks."
Last week, we spoke with Munn Racing's Logan Leitzel who also admitted that using MX Simulator to see how race lines would develop has been helpful to him. There are positives to draw from simulation games at the moment, and even Plessinger believes we may be able to bring what we've already learned into future programs.
"MX Simulator has legit suspension settings," said Plessinger. "I always wanted to try to have an actual suspension guru set up a bike in the game to see what real life settings would feel like, but I never got around to it. So, I think it could be possible one day, but it would take quite a bit of technology and engineering to make it happen."
For now, we may not have the perfect games to produce high-quality racing with real pros that other major racing series' have been able to accomplish. But that doesn't mean racing isn't happening in these games. Even Brian Deegan took the time to organize The "General's Cup" during this downtime. A pro invitational Xbox One series on Monster Energy Supercross – The Official Videogame 3 that last weekend included the likes of Josh Hill, Josh Hansen, Adam Enticknap, Martin Castelo, and many more. And as you can see, MX Simulator has been drawing real pros for years and will likely continue to do so during this time. In this niche sport we all love, it's certainly better than nothing and these games do at least provide great ways to pass the time.