Monster Energy Kawasaki racer Eli Tomac and Honda HRC competitor Ken Roczen rolled into Big Bill France's Daytona International Speedway last Saturday night tied at 200 points each in the titanic fight for the 2020 Monster Energy Supercross Series. And on a nasty, sandy and whooped-out circuit, it was Tomac coming out on top to win the 10th round of the series. And it didn't come easy. After leaping out of the hole in a somewhat suspect mid-pack starting spot, Tomac poured the coals to his KX450 to score his fourth career victory amongst the 50-year history of the Daytona Supercross.
"Tonight, it was a little bit of patience in the beginning because the pace was really hard early on," Tomac told the NBCSN national TV audience immediately after the race. "Somewhere about halfway is where I realized I had to get going and make the moves and passes. And Kenny [Roczen] was out front again. I'm like, 'I cannot lose these points right now because this is my good track.' I just had to pin it.'" And Tomac did pin it to win it.
This morning, Racer X Online caught up with the championship leading rider while he maneuvered his way through an airport on his way to another great racing city: Indianapolis. But is the race even happening? The ongoing watch of the coronavirus outbreak means all sporting events—stadium dirt bike races included—are operating in a fluid state. To get an idea of what this is like to a racer, we rang up Eli himself to get a take from the points leader
[Note: An hour after we received this interview, the Indianapolis Supercross was officially canceled. The Seattle Supercross has also been grounded. We don't know what that means for the rest of the season yet.]
Racer X: Eli, are you in Indianapolis?
Eli Tomac: We're going to go this afternoon. I don't know what's going to happen. It's kind of wild with what's going on right now.
Yes, you could get on the airplane, be up in the air only to ultimately find out that the Indy race is cancelled!
I know. It's kind of gnarly. We'll see. We're just kind of playing it; we're playing it hour by hour.
During last weekend's Daytona Supercross TV broadcast, Ricky Carmichael made mention that the Monster Energy Supercross Series really starts up at Daytona. Factoring what RC said into everything, you seem to have a lot of centrifugal force behind you in this series. Thoughts?
Daytona itself is always a race where you kind of have to just grit it out. It's got the combination of supercross and motocross and the way it breaks down, you're always hunting for a special setting, but a lot of times you just have to deal with what you've got. That's what I've learned over the years. The jumps are still always in play and the track gets real rough. Really, it turned into a crazy-rough supercross track for us. For me, the past four out of five years, have been friggin' awesome there.
Yes, the race was definitely a statement for you. I read in a post-race release where you said, "Truthfully, I really thought it was a long shot to win the main as I was riding around sixth in the first lap with some tough contenders in front of me." The race certainly didn't come easy to you, huh?
Yeah, it's one of those races where you've got to be patient because so much can happen there. It's easy for guys to make mistakes and that's exactly what happened. I made my passes by guys making mistakes. Justin [Barcia] tipped over and Cooper [Webb] made a mistake in the sand and then Ken [Roczen] tipped over, so really if you have a clean race, you're going to make your way to the front because it's so technical to ride good for the 20 minutes.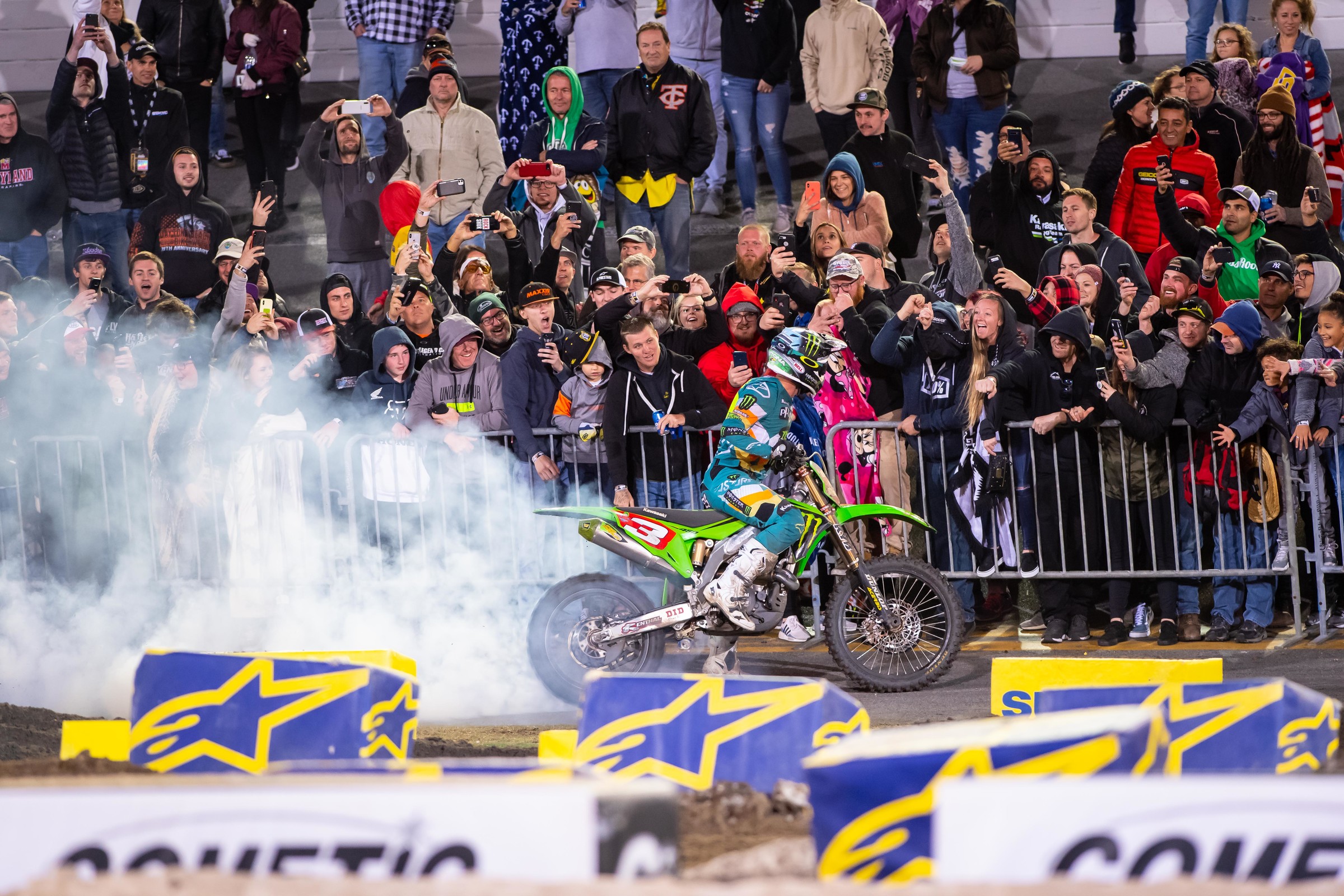 At round nine at Atlanta you and Justin Barcia got into it pretty good both on and off that red dirt track. Even though you placed fourth that night, the overall dust-up seemed to inspire you a bit. Truth to that?
You know, that just shows high emotion in racing, right? There was bumping going down. You know my bar caught his hand and that was what pissed him off, for sure, and I understand that. That being said, we didn't take each other out and we're both going after the same thing so there is going to be that emotion. I think that if you're not showing emotion, you're not into it. So that was Atlanta and I think we both learned from it, right? I don't think we're going to do each other any good by messing around with each other early in the races, you know? Just going back to the emotion of racing, that's what makes it so awesome. We both love what we're doing.
And only one guy can win out there, huh?
[Laughs] Yep, only one guy can win so we've all got to try and be that best guy.
There has been some fierce racing thus far in 2020, hasn't there?
There has. Like I said, everyone is just racing on emotion and adrenaline and it's a good year for supercross, as long as don't get shut down here with a crazy virus… It's been really good racing.
Ken Roczen has absolutely been right there. Did you anticipate him running and racing as well as he has in '20?
Yes, just because I looked at his past and when he's had a healthy season, he's very consistent. This is going to be like who is going to be the first guy to blink. Yeah, it's been competitive with Ken and it's been like who gets the start on each other. I feel like I can't let him run away early. If I have him within sight, I feel like I can get him, for sure. I have to be there on the start and then I can beat him.
What's been your competitive take on Jason Anderson and Cooper Webb?
It's tough to say. It's one of those things where we saw Cooper make a huge mistake in Dallas, that's supercross. And Anderson, he's been hit and miss too. But that being said, both are capable of winning races, so you can't out anyone at any time. Those guys can easily get between me and Ken and I can't let that happen. I can't let those guys get between me and Ken… I feel like that's been the group this year, for sure. Especially after Adam [Cianciarulo] got hurt. Adam was definitely capable of winning.
Your starts have haunted you in the past. Do you feel good with your starts right now?
Yeah, we've been improving on our starts. They may have been a little inconsistent, but they are better than what I would say were average starts before. You always have to try and improve on your weak spot and we've been working really hard at doing that.
So what's it going to take to win the title?
Really, the guy that doesn't blink. Like I said earlier, that's what it's going to take because we have both been so consistent on being in the podium positions. Really, it's that at this point. I feel like we don't even know when the season is really going to end, so my goal right now is just to hold that red plate as long as I can because with this whole virus thing, we don't really know when the end is going to be. It's kind of gnarly.
What do you think about your season thus far? Five wins and the point lead is pretty rock solid.
Rock solid and, mentally, I've been really in-tune this year. I don't know what it is. I don't know if it's age or experience, but I feel like I've been more focused. Each weekend I've had a really good focus. My mind has been in a really good spot. I feel like I've got the best shot I've ever had at it. Obviously, I'm in the best position I've been in. It's been a great season so far and our motorcycle has been really good and working in all conditions. Yeah, we just want to try and keep it going.
[Will he? The rest of the season is certainly up in the air. Stay tuned to Racer X Online for any updates on the 2020 schedule.]