Atlanta, GA
Atlanta
Monster Energy AMA Supercross Championship
Everything broke right for Chase Sexton last year. Austin Forkner's knee injury opened the door for the 250SX East Region Championship, and Sexton outdueled Justin Cooper to claim the title with just one victory for the season. Hey, the championship bonus pays out the same regardless of wins, and then Sexton found himself in an even better slot when the Honda HRC factory team decided to upgrade him early. The squad announced it would move Sexton to the 450 class for 2020 Lucas Oil Pro Motocross Championship and then Monster Energy AMA Supercross for 2021.
It's a perfect fit, as Sexton already rides with his soon-to-be 450 teammate Ken Roczen. However, such good fortune is rare. Guaranteed 450 deals are the stuff dreams are made of for many 250 riders (example: if Shane McElrath doesn't win a title this year—or even if he does—what 450 team has a slot for him?). Sexton only turned 20 last September, and he had a 450 deal in place with just one 250 race win on his resume. As such, there were probably more than a few 250 racers feeling a little jealous. He has the security they all want. Because of that, the number-one on his jersey represents an even bigger target than usual.
Honda was gambling that Sexton would continue his development through his final run on 250s, and indeed he has. Despite breaking his collarbone (which forced him back to the east after originally declaring he would race west), he managed to reach "flying at the test track" status during the off season, with some insiders claiming Sexton had days when he could out pace Roczen, even on his 250.
In the races, the 2020 Chase Sexton looks better than the 2019 edition, and very quickly he's tripled his career win count. The wins have been impressive, too. After McElrath laid the whooping on the 250SX East field at the opener in Tampa, Sexton knew he had to respond. It's key that he's not only won the last two races, but he's made passes on his key championship rivals to do it. After RJ Hampshire knocked him down last week (speaking of seeing Sexton's number one as a target…), Sexton got back up behind McElrath. He managed to pass him en route to second in that race, then went 1-2 over the next two races to lock in the Triple Crown victory.
"Last year was obviously nice to win, but not the way I wanted it to happen," Sexton admitted. "This year, Shane winning that first race, kinda just checked out. I had to stop it."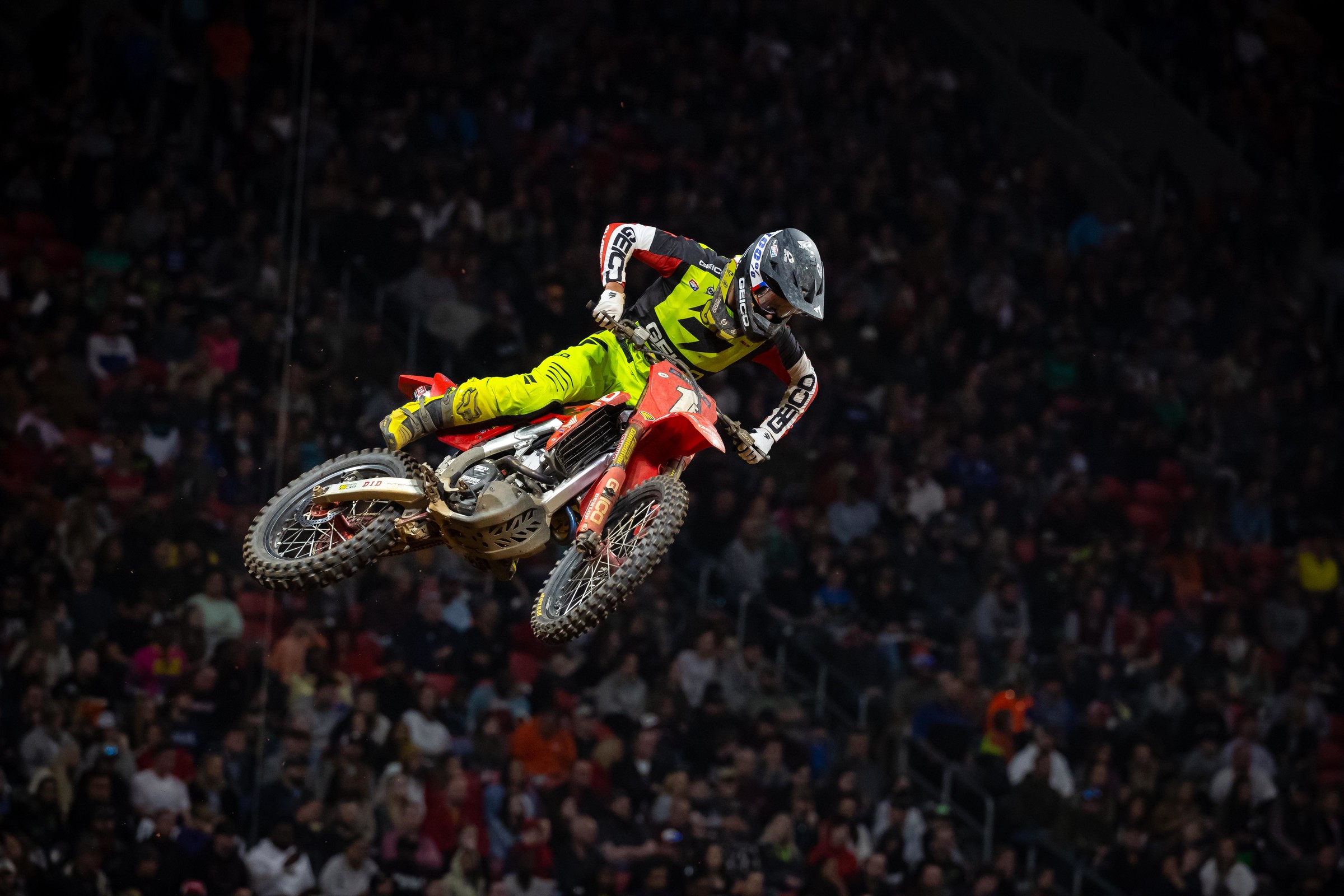 He was battling Hampshire again on Saturday in Atlanta, but McElrath snuck inside of him in the turn ahead of the mechanic's area. Sexton quickly responded to pass McElrath back, then waited until he finally got a mistake from Hampshire, and went on to another win. Sexton is not facing Forkner this year, but McElrath, just as an example, is showing that the East still has plenty of talent. So far, Sexton has risen above it.
In essence, Honda bought stock early for its 450 team future, and now they're starting to see dividends. Sexton is into just his third full-time supercross season, and continuing to blossom. If he maintains this pace, there will be no question about a ride being given or earned.