Arlington, TX
Arlington (Dallas)
Monster Energy AMA Supercross Championship
"I first tried a team in 2013, maybe no one remembers that, but we got fourth in the series with Vince Friese," says Brandon Haas, who operates ClubMX, and is part owner and team manager of the ClubMX race team. "It was the Factory Metal Works, ClubMX team. I got in over my head."
That's the story Haas explained over and over as we stroll through the expansive ClubMX facility on Wednesday. He keeps trying the team thing, he keeps getting in over his head, but he keeps going for it, hoping to find the right combination of team size and ambition. ClubMX, in Chesterfield, South Carolina, is already one of the nation's best riding and training facilities. Combining a strong racing team with such a facility would make for one heck of a place to develop talent. So Haas keeps searching. One year, the team made a tie-up with Canada's Redemption Racing, which raced the Canadian MX Nationals on KTMs. Last year the ClubMX/Redemption Racing team then merged with Trader's Racing, on Yamahas. It was a good marriage on paper, because each of the small teams could benefit from additional staff and resources. It could have worked, but as many mergers go, things came together late, and it didn't work. Switching from KTM to Yamaha was perhaps a tougher transition than the riders expected. Perhaps this could have worked in year two or three, but Trader's moved on from racing. Haas decided to go his own with the ClubMX team this year, and in the early rounds of 250SX East this year, the squad is on fire. They went 6-7-8 with Josh Hill, Joey Crown, and Enzo Lopes, respectively, over the weekend in Arlington, pulling starts and running with the factory teams.
It's a pretty big change from 2019. Last year, Crown, specifically, had a disastrous run, crashing all over the place and failing to make any main events. He dislocated his ankle, then he quit the team altogether.
"I was just out there riding terrible," said Crown, who says his supercross confidence had gone to zero. "I was scared. I would be in qualifying position and just go backwards. I ended up leaving the team, had a pretty big injury."
As an amateur, Crown considered himself a good technical rider. But he had become completely scared by supercross, and was considering even getting a regular job, and maybe just showing up at some motocross races on the side.
The he rejoined the ClubMX team this year. Suddenly, Crown has embarked on a remarkable career turnaround. After not being able to make mains last year, he started winning off-season races, growing his confidence. He's been a dynamo at these first two 250SX East races, going 8-7 at the first two rounds.
"It's always been there," says Crown. "As an amateur, I battled Chase [Sexton] and [Austin] Forkner. I was always one of the top guys. My last year at Loretta's I finished second behind [Justin] Cooper. I was always in the mix, then it just kind of fell off. For me, being comfortable on the machine and finding that confidence, that's hard for me to get, at times. Putting in the work here at Club again helped. Also, winning Red Bull Straight Rhythm [in the 125 class], even though that's in a straight line, that helped. Then I won Geneva, that was really good, Germany was pretty good. All that stuff helped the confidence. Really regrouped this off-season."
Straight Rhythm might be the best example of the turnaround. On Friday's practice day, Crown was off the pace. By the next day, he became the best of the 125 bunch.
"I was struggling with the whoops, and that was getting in my head," he says. "That's one of the things I've had to work on, mentally. I'll let one section throw off the whole rest of my lap. I made some changes with the bike, and also to myself with some little technique things. It kept building, and I started having fun. The day before, I was scared of the whoops. The next day, I started having fun."
Haas and company have helped Crown, as he says, "squash the negative thoughts."
"Try not to overthink things," says Crown. "Even this weekend [in Arlington], on track walk I saw the whoops and the dragon's back, and I was pretty terrified. I put it out of my mind. I've been good in the whoops here at ClubMX, and it's been a strong point practicing. I was riding really tight at first, then I was relaxed in the third practice."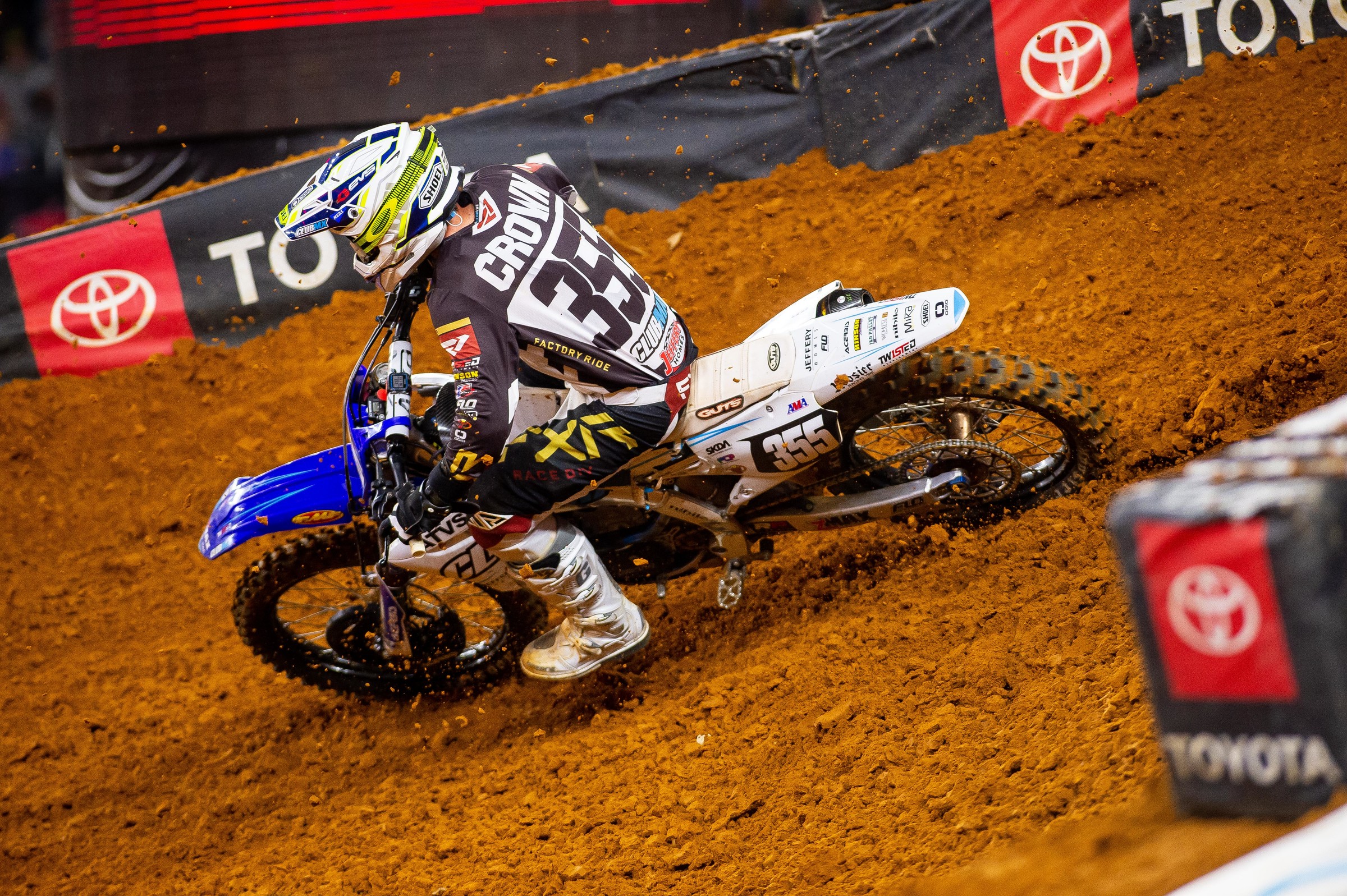 Crown's new teammate Enzo Lopes also opened eyes in Arlington. Haas is working on the same mental things with Lopes.
"He can be so much better, you should see what we see from Enzo during the week here," says Haas. "He just needs to not overthink it too much."
That's the pattern that has worked for Crown. When he grabbed a good start in his first career 250SX main event in Tampa, it was the perfect recipe to get tight, or scared, or nervous. Instead, he was steady.
"I got a sixth-place start, I got into fifth for a second, and I tried not to overthink things. I was saying 'You can do this!' Talking myself into it," Crown explains. "I needed it—I think battling like that early in the race, I wasn't breathing too much, so I think that caught up to me a little bit."
He followed that with even better starts and better riding in Arlington.
"We can't believe how easy everything is coming this year," says Haas. "We've barely even touched the bikes at the races."
On the Wednesday we visited ClubMX, Crown and Josh Hill pounded out more motos, along with riders like Justin Brayton and Justin Hill. Wednesday riding is rare, but rain pushed everyone back this week, except Lopes. He put in a full day in the mud on Tuesday. Even Josh Hill, who has seen and raced against so many greats, said he could not believe how well Lopes can ride a supercross track in the mud.
At the races, Josh Hill pits off to the side with the ClubMX team. His bike has a different look, and he doesn't wear the team FXR gear. He runs one of their bikes, though. These Yamaha YZ250Fs, with engines built by Twisted Development, are fast. Hill pulled a holeshot in Arlington, he says the first holeshot he's even gotten in an AMA Supercross. Hill, who hasn't been a full-time racer in ages and hasn't raced a 250 since 2007, admitted that he's not fully ready to run the edge and the pace of the podium guys. He knew some of the lead group would pass him. But, he thinks he can get better each weekend, and a podium isn't out of reach by season's end.
It could be in reach for any one of the three riders this year. That's a pretty massive turnaround. Maybe this time, Haas has found the exact size and scale needed to get this off the ground. After that, the sky is the limit.