San Diego, CA
San Diego
Monster Energy AMA Supercross Championship
Monster Energy Yamaha Factory Racing's Justin Barcia and Aaron Plessinger each recorded top-ten finishes in the 450SX main event at the San Diego Supercross over the weekend.
Barcia had a busy weekend as he got into it with Martin Davalos during the press day ride on Friday and then eventually battled with Monster Energy Kawasaki's Eli Tomac and Honda HRC's Ken Roczen in the main event. Barcia was pinched going into the first turn but made up several spots early. Eventually, Tomac made his way around Barcia for fourth place but the New York native held off the points leader through the checkered flag.
Plessinger got a great jump out of the gates and was in the front pack before going down on the seventh lap and falling back a few spots. He finished tenth, his third top-ten finish of 2020.
Our Aaron Hansel and Steve Matthes caught up with both riders following the night show.
Racer X: Rode good, man. You were in the mix up there.
Justin Barcia: Yeah, for sure. I was in the mix. It's good. My speed is really good right now. If I had a better start tonight, I would have been in a better position. All in all, it was great racing tonight. Some great battles. It was fun. I had a good time. I felt good on the bike and everything was dialed. The lead up to the heat race and main event I struggled a little bit in practice today, but overcame that stuff and put in a fight tonight. So still in a really good spot points-wise. It's good.
You gained on Kenny. I think Cooper got some on you.
For sure.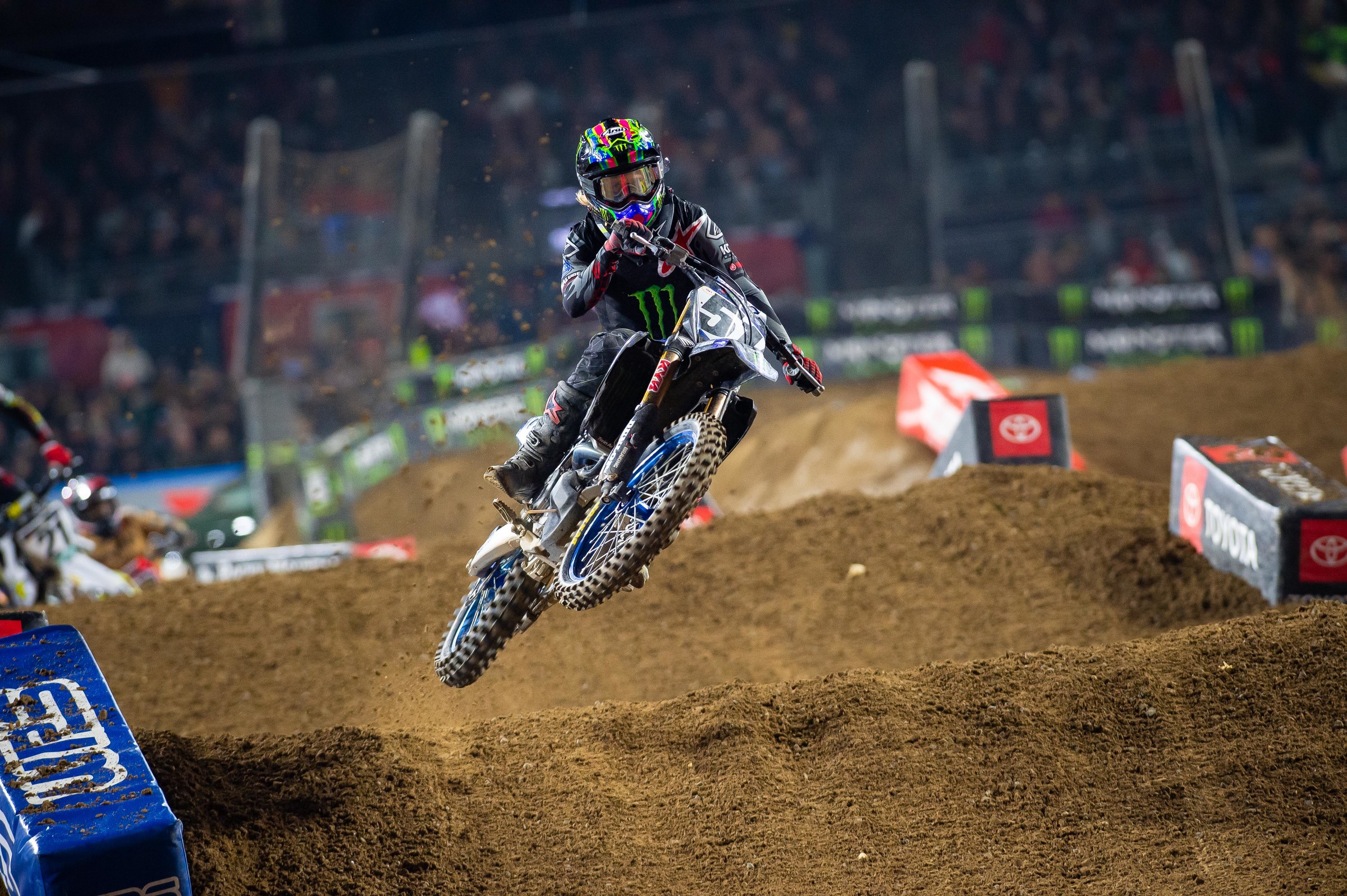 Take us through that battle that you had with Tomac. You guys were getting into each other a little bit.
Justin Barcia: Yeah. I feel like me and Eli both rode pretty darn aggressive. All in all, I think we showed each other some respect, but it was on the verge of being a bit much for me. I wasn't expecting him to drive it in so hard. Just when it catches you off guard… I imagine that's what guys used to think about me. I'm learning. It caught me off guard a little. Had some clean racing and then kind of yo-yo'ed. Caught him a little, and then lost him, and then kind of caught him at the end. So for me that was kind of cool. It felt good to be able to reel him in at the end. That was cool. I would have liked to get him, but just ran out of time.
It looked like a few turns after he got you after that finish line thing, it looked like you kind of got into the back of him a little bit.
Yeah. It was close. We got really close on the finish line. I actually wasn't able to jump the finish line the one lap. But after that, I caught him and then I made a little mistake and lost him and then caught him a little bit. I think I had some really good passes in the beginning of the race. I didn't start right up front, so I made some sweet passes and rode really well.
You guys were talking afterwards. What was said?
I just said, I thought that was pretty aggressive. But to me, Eli's funny. His sense of humor is pretty dry. I always liked Eli. We were on the same team for a while. We always had our ups and downs. He's like, "I could have hit you harder." You could always hit someone harder. It's just funny. It's all good, though. No hard feelings. Back to the races next weekend.
It's good that you take that kind of thing in stride. You don't get all upset about it.
You can't. If you got upset about everything then it would just be not that much fun.
For a minute, after Eli got you finally that last time, it looked like Roczen showed you a wheel. It looked like he was going to come in on you. What were you thinking? Were you tempted to ride defensively?
No. I didn't feel like that at all. I just felt like, Eli got me and then I made a couple mistakes and Kenny got right on my rear wheel. I was able to regroup and actually kind of gapped him. Not even kind of—I did. That was awesome. He's been killing it. He's been on it. So for me, tonight was a big positive because I was able to kind of cat and mouse Eli and pull away Kenny. I rode super good, so I think all in all I didn't have to ride really defensively at all tonight, which was nice.
I know you're tired of this question, so just give me the quick answer. Just take us through press day real quick.
I felt like he [Martin Davalos] kind of cross-jumped me a couple times. I didn't like it. I guess I tapped him a little in the corner. He fell down and then he really just exploded and was mad at me. I kind of can understand why he would be mad at me, but I just don't like when people put their hands on me. I think that's too much. But anyway, hopefully it's done now. We tried to rekindle, because this goes back a long time ago, and we tried to make up. I thought we did, and then stuff like this happens. So I think we probably just both go our separate ways. Not everyone is always friends. I'd like to just move on from it. I think he got a lot of exposure out of it, and so did I yesterday. People on the internet loved it, so whatever. It made some excitement.
Racer X: You fell. That sucks. But back on it. Looking good. Riding well. Catching Coop. An overall positive night.
Aaron Plessinger: Yeah, definitely. It was a great night, other than the fall. Who knows what would have happened if I didn't fall? Great start. I might have got the holeshot, I don't know. Adam took me high and then Coop got me. After that, I was right there with them. It was a good race. That's the speed I'm used to running at the practice tracks. It felt good to be up there. It felt like that's where I belong.
You weren't pushing. You weren't out of your control or anything or your range.
Yeah. I felt so comfortable. I don't know how it looked, but I felt like I was riding smooth. I was breathing. I was flowing. That's where I want to be every weekend and I'm going to work towards it.
Is it just the start? A couple weeks ago you got one, in Oakland. That didn't go well.
We've been working on the bike. Sergio [Avanto], KYB guys, Ross Maeda came out this week and helped.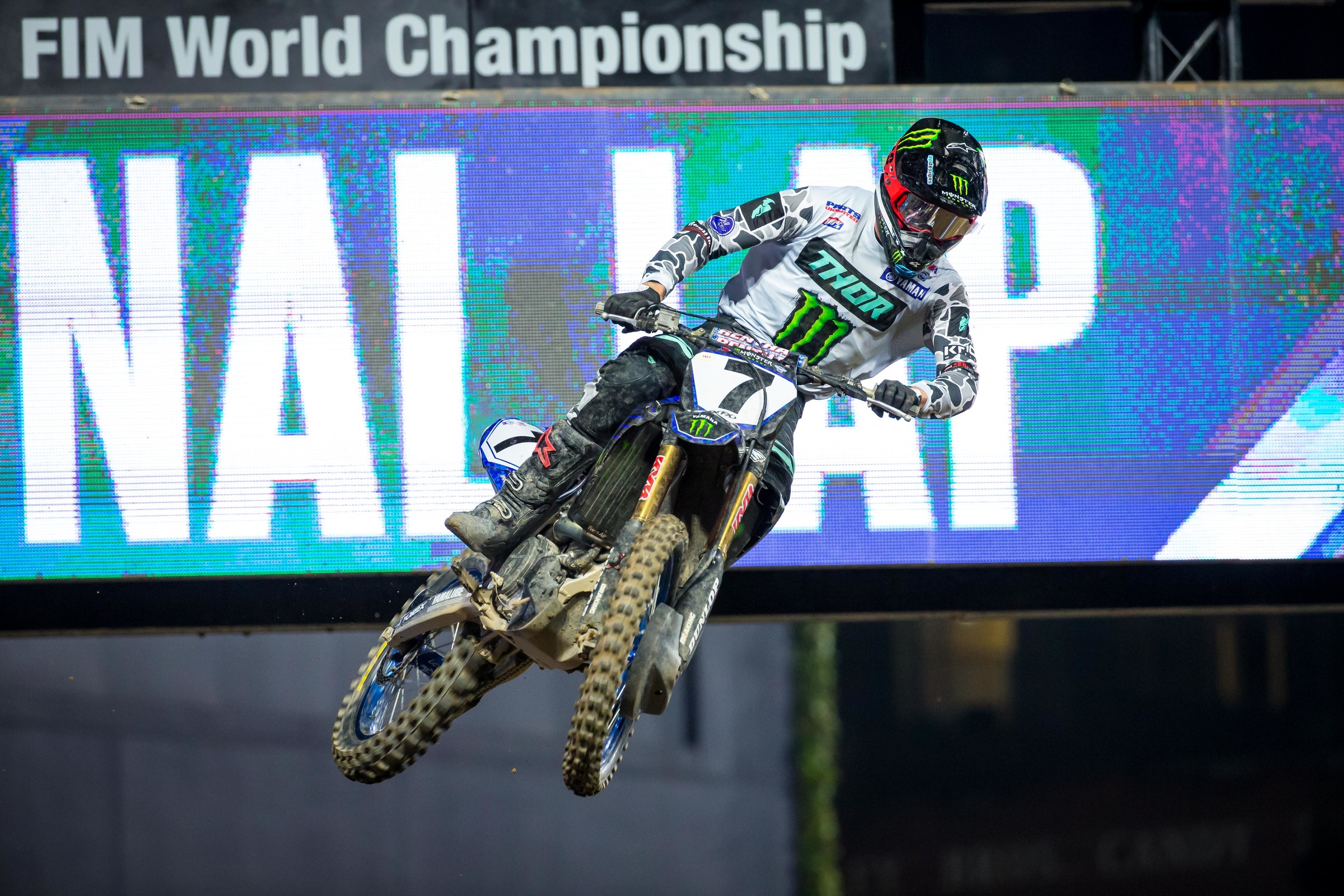 Ross came out? Big guns.
Yeah. Bringing out the after burners. He came out and we went to work. Went to State Fair and got away from Yamaha. The flat goat trails wasn't working for us, so we got away from that. Went to State Fair and just put in the work, put in the long days, long two days. We ran through so much stuff. It was such a positive. It showed tonight. It was unreal. The bike changed. I felt really, really stink bugged last weekend. I was just confused. I was literally confused because I was feeling one thing. The guys were saying it looked this way. Last week I was just so confused until Wednesday. After Wednesday I left the track knowing that I was going to do good this weekend.
Cool feeling, right?
It's a great feeling. I went back to the house and I was in a good mood all week. Even yesterday went really good, press day. I just knew it was going to be a good weekend. Other than the crash, it was an awesome main.
If we can start seeing you up in the mix it will be an even better class. Nice work.
Thank you.
Can you talk about those whoops a little bit and compare? Were they much different in the main than they were in the afternoon, or were they about the same?
Yeah, they were a little bit different. They definitely got some lines down the middle. They were really, really tough. I started jumping them around the end, but they were the more tougher whoops this year I think, being that it was a little slick and it was just tough.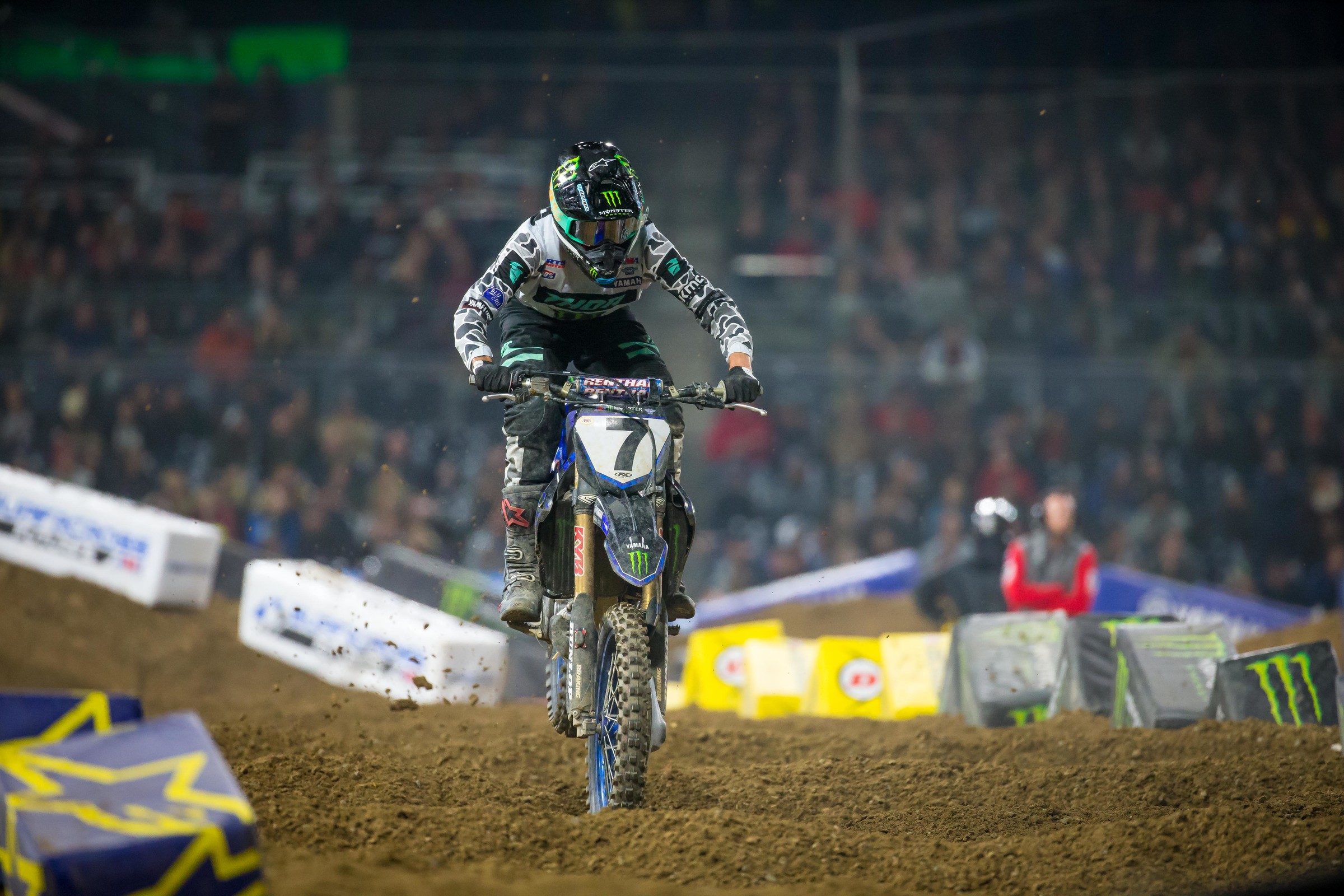 Most of you guys looked like you were handling better by the time the night show rolled around. I was just wondering because you got them figured out or if they had been any different. Is that even an accurate thing to say, that you were doing them better?
Yeah. I was definitely doing them better. All day long I was progressing in them. The main, they were kind of a little bit more laid down, and then obviously the middle line got worked in. After a couple laps they were broken down pretty bad and that's when I started jumping them. I think in the beginning of the main we started hitting them a lot better than we did all day.
Like Steve said, you went down, but even with that, good night. What was going on in your mind when you went down? Was it a sense of, "Oh, no?" Or, "I'm going to get back up and get those guys?"
It was a sense of "Oh, no. Dang it," and then, "Get up. Hurry. Get up. Go. You got to still race." It was a little bit of both. It took me a few laps to get back going, but after I found my groove I started riding pretty good. I think I would have rode a lot, lot better if I didn't go down. So who knows? Next week.
With a night like tonight, what does that do for you moving forward?
Just sets a principle for me. I know I can do it now. I know I can get good starts. I know I can run up front. It's just go back, do my motos, get to ride the bike actually without really changing much because it felt great tonight. Just ride, flow, and have a good time.