San Diego, CA
San Diego
Monster Energy AMA Supercross Championship
Leading laps in a Monster Energy AMA Supercross main event is no small feat, and on Saturday night, Michael Mosiman led four of them. He eventually lost spots to Austin Forkner, Dylan Ferrandis, and Justin Cooper, but spending time out front is a positive step. Even so, Mosiman wasn't thrilled at his final result, fourth, in San Diego. We caught up with him afterward to get his thoughts on what could have been his second podium finish of the season.
Racer X: Hey, good race tonight.
Michael Mosiman: Oh, thanks. [Shrugs]
No? You don't think so? You led laps! Okay, let's start over so I don't put words in your mouth. Take us through your race.
There were a lot of positives to take away. I think it was part of the steps to improvement. One was podium, another one was lead laps, and I'm continuing to hit those marks. I ripped a start too. They rushed us really bad after the sight lap for TV or whatever reason. The 30-second board was up and counting down, and I didn't have any goggles on yet. Usually I would have it on minutes before. I wasn't set or anything. Even my rut, I wasn't super stoked on it. Then I just ripped the start. I got up front and I was like, "Alright, go! Lay it down." I felt really good.
I was stoked with my passes through the whoops. I was pretty aggressive. I made just a couple small mistakes and [Austin] Forkner was right there. He ended up getting by me. Honestly I made a dumb move to the inside, though. I would have totally T-boned him if I did anything more than what I did. I just saw a little opening and I had that pass work for me earlier in the day, but the rut there wasn't nearly as bad as it was earlier in the heat race. I got [Justin] Cooper there. So he just ripped it. He had a lot more speed than Cooper where I could just jump and be there. Then right at the same time I think with that mistake or with that move, Ferrandis got by me. I tried to tow behind, but when people just pass you it takes the wind out of your sails a little bit after you were just leading. So I tried to hook onto them. Then Cooper gets by me. Then it's like, "Hook onto him." That pace is really fast. I'm very capable, but it's going to take a little bit of time to get used to it. I think that's kind of what we saw tonight. I got fatigued, but everyone gets a little fatigued. I know I can push past the fatigue, but tonight I just didn't have it.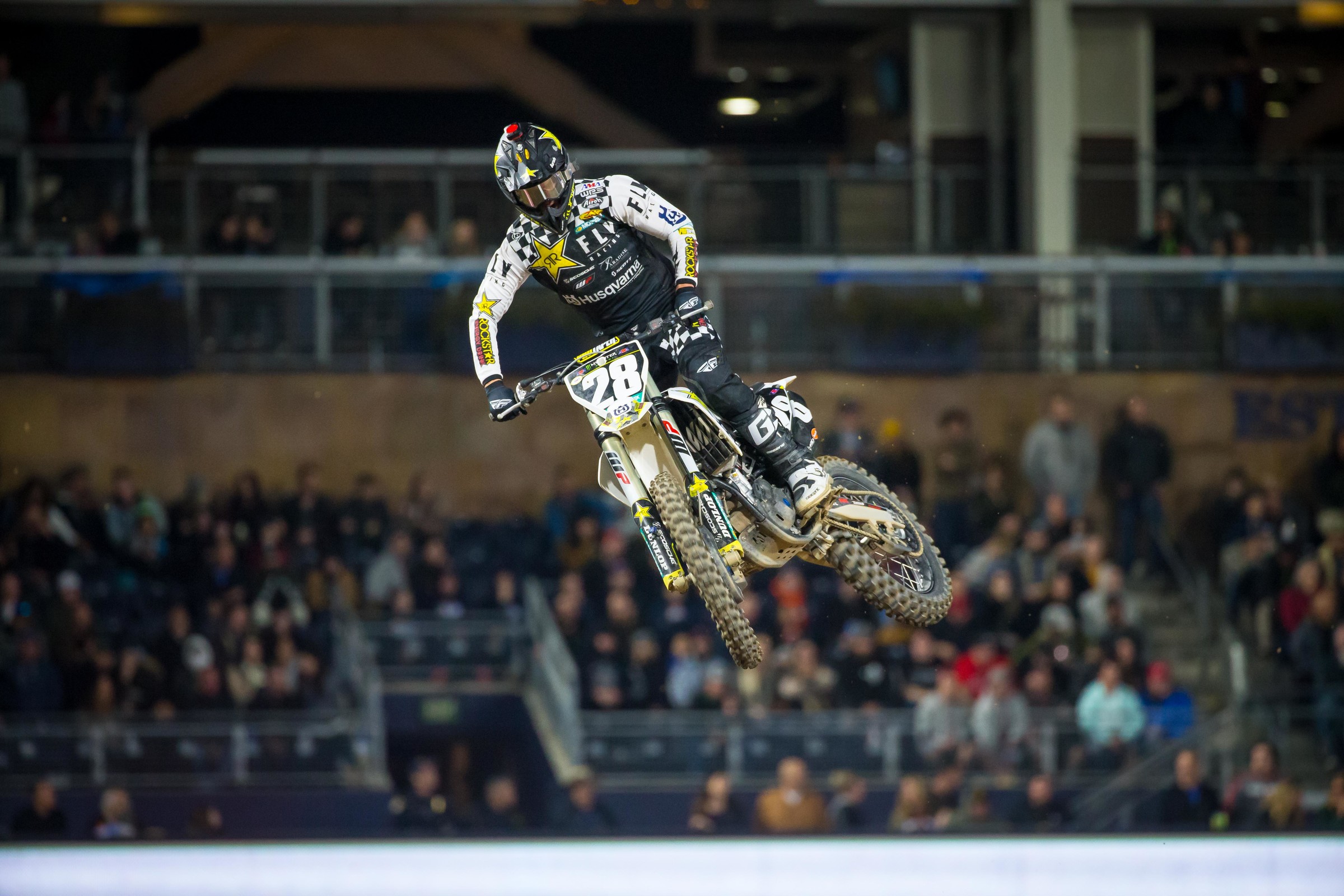 Did you tense up at all being up in the lead?
No.
What's it like different mentally being up in the lead like that?
It's fun. You feel a little pressure. When you start thinking about where they're at or whatever, you start making mistakes. It's fun. It's nice. It's like, "Yes, we're racing." Later on in the race when the crowd went nuts and it wasn't about me or any passes I was doing, it was way ahead of me. I was like, "That's lame. That's a bummer, I should be up there."
You had passed Justin Cooper in the heat race. After he got by you in the main did you think you were going to be able to come back on him?
Yeah, absolutely. I was like, alright. I think I can do this. I can hang with him. The thing is, it doesn't even take a bad pass in the whoops. A bad corner before the whoops makes for a bad pass through the whoops. That's a lot of time. You make two mistakes in a corner and one of those corners before the whoops and boom, that's a lot of time. So, I think those were some of the areas where I struggled when they started cutting down more and more as the ruts got tougher. I needed to hit those lines better. I wasn't able to get the same drive as I was earlier on in the whoops.
Tell me if you think this is stupid or if this maybe has some merit. The last few races, when you get passed, you fight back right away. But it seems like when you fight back you end up getting held up even more. Going back to Oakland, for example, you went to fight back, but then it's almost like Forkner was able to block you even harder after the whoops. Do you find that to be the case?
I'm not going to buy in on that narrative. I'm going to buy in that I'm learning. I'm learning, and you have to fight back. These guys need to know I'm not just going to lay down. They can't just push me around. I'm a man, you know? But also, absolutely my craft can be better. Absolutely I haven't done things perfectly to fight back, and I definitely could work on that.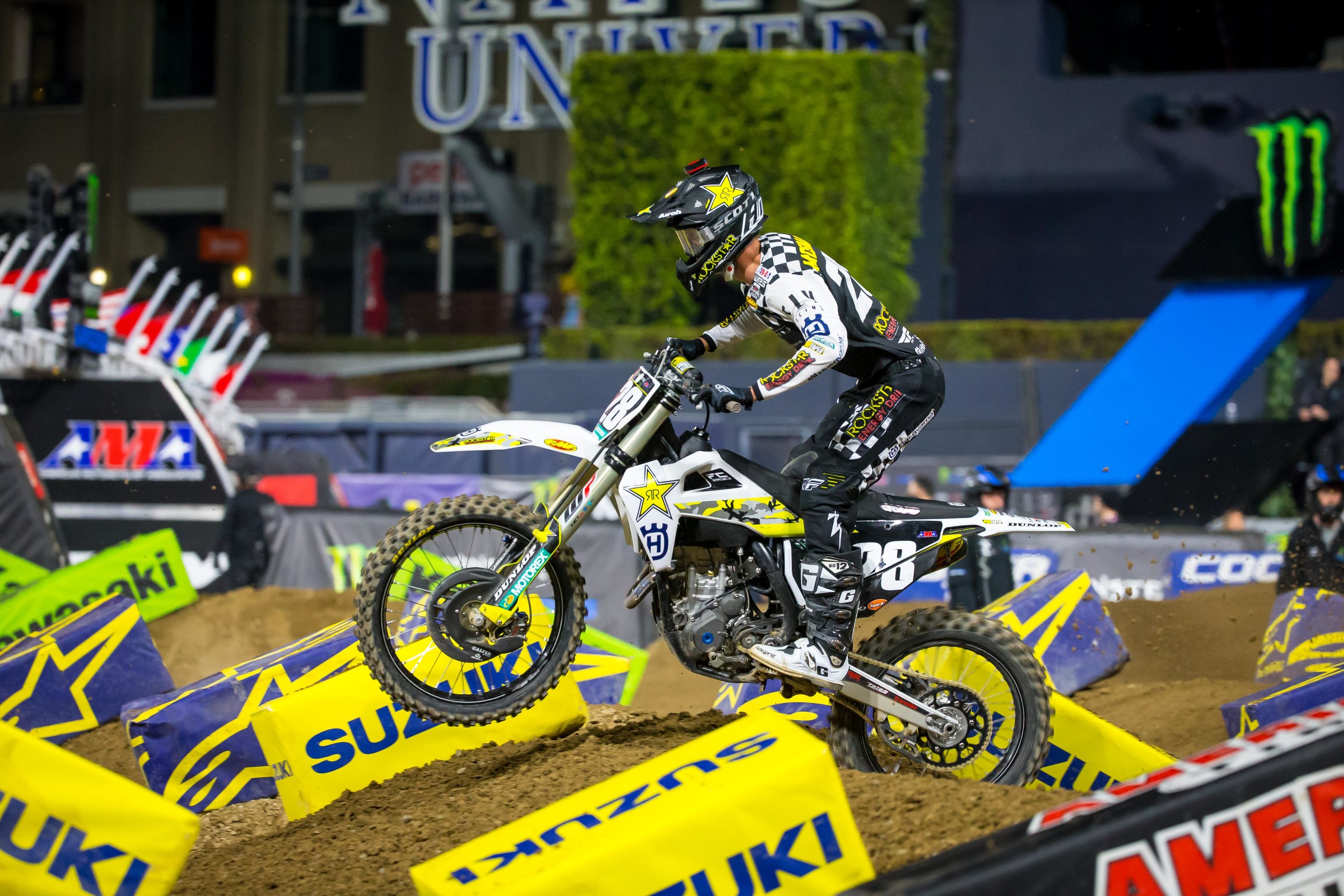 I didn't mean it as like a criticism of your race craft, just in the sense that that seems to be the way things have gone. Not necessarily through any fault of your own, just the way things have worked out.
It's essentially race craft though. I don't know how you separate that.
Okay then, fine, work on your race craft, bro!
Alright, Aaron, what the heck man? [Laughs] You want beef? Right now? We can go. Throw hands!
[Laughs] What are you going to do during the break?
I'm going to go home. I haven't been home in a while. Make sure my house is still intact. I'm going to rest. Aldon's [Baker, trainer] not going to let me rest, but I'm going to do my best to rest. I'm going to keep training. I'm going to work on outdoors. We'll be testing outdoor suspension this week. It doesn't really stop, it just keeps going. I'm going to the International Space Center next Sunday in Florida. That's one thing. Who knows what else I'll do?