Anaheim, CA
Anaheim 1 (A1)
Monster Energy AMA Supercross Championship
When Josh Cartwright graduated from Florida State University in December 2018, his parents gave him two options:
"My parents told me either find a real job with your degree, or go find a team where you can start making some money with motocross."
Cartwright found an opportunity with Julien Perrier and his team, PR-MX Kawasaki, to race in Canada over the summer and has been wide open since then. He won a four-round arenacross championship in Quebec and then went on to win the 450 Expert class of the 2019 Challenge Quebec Championship as well before racing the last four rounds of the Rockstar Energy Triple Crown MX Tour where he raced against veterans such as Mike Alessi, Colton Facciotti, Matt Goerke, Phil Nicoletti, Cole Thompson, and more.
The team will field a solid lineup of riders for the 2020 Monster Energy AMA Supercross Championship: Cartwright and Cade Clason will race the 450SX championship as Logan Karnow and Mathias Jorgensen race the 250SX West Region and Lorenzo Locurcio and Justin Thompson race the 250SX East Region.
The team semi left for St. Louis on Tuesday and the Memphis, Tennessee, native will head out this morning for his second 450SX race, this time at his hometown race.
I caught up to Cartwright last night to talk about what life without classes is like, how he came on board with the PR-MX Pelletier Kawasaki team, and the first round of 2020.
Racer X: What have you been up to since we last talked to you?
Josh Cartwright: Since then, I graduated last December in 2018. Since then I've just been focusing on motocross. My parents told me either find a real job with your degree, or go find a team where you can start making some money with motocross. After the supercross season that year, I found a good team with Team PR-MX. I did the whole summer series in Canada. Did a lot of different series up there. SXQC, the supercross series up there. Challenge Quebec motocross series. I did a few of the outdoor nationals of the Triple Crown Series. Then after that I just started training for this year's supercross series. Going 450 for my first year, so rookie year for that. Starting to feel good with a good team this year. Kind of just going with it.
Was it Canada because of them, or them because of Canada? How did you land with that team and get in contact with them?
The owner, Julien Perrier. We've been talking for a couple years now, and it just fell into place really well this year. I talked to him in detail and I really liked how he ran his program. He told me, "If you come and ride with me this summer, if you come up here and stay here in the summer I'll have a race for you every single weekend." So that's what I really liked. I told him, I need to start making money at this. He was like, "I'll find a race every weekend." Which he did. It kind of just worked out perfect. It was this little arenacross series up there, a little four-round series. I won a championship there. It was in Quebec. And then this little motocross series called Challenge Quebec, which I won the series in that as well. Then after that was done, I went and did the last four outdoor nationals with the Triple Crown Series. I had a couple top fives, had a holeshot my first race. I was kind of getting my feet wet on the 450 and also outdoors because ever since I turned pro in 2015, I've never done an outdoor race since then, because I've always done school year-round. In the summer I kind of just wanted to focus only on school. I did school during the winter as well with supercross, but once it got to summer, doing motocross and school at the same time is a little more difficult than supercross, just because the outdoors is more brutal. So since then, we just kind linked together. I felt really good with the outdoors. I felt really good on the 450, so I decided to go 450 for the supercross series.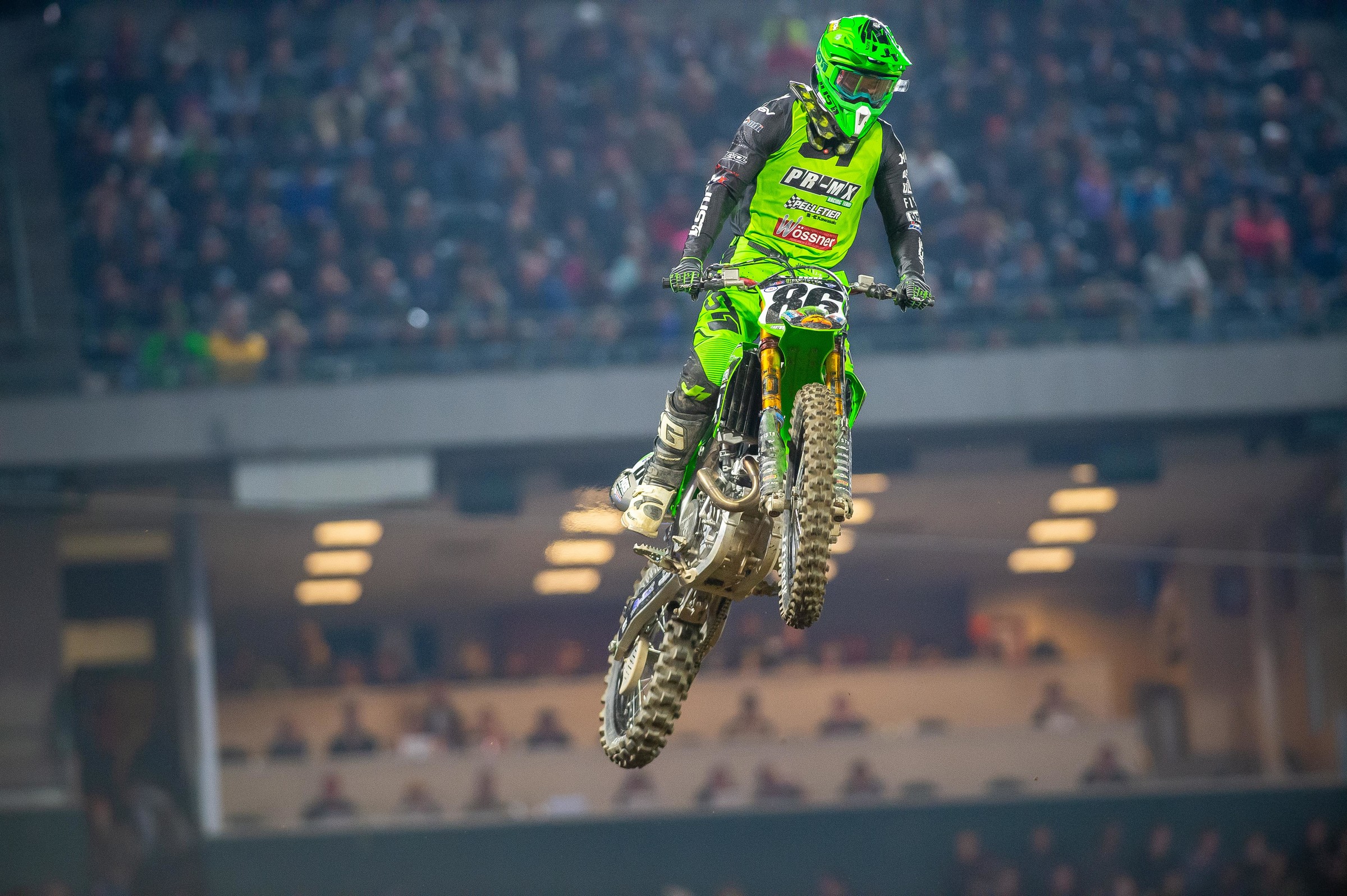 Racing every weekend, what did you learn in Canada about your race craft and the small things? Like you said, adapting to the big bike but anything specific you can point out that you were like, "I worked on this a lot?"
Yeah. The 450 is a whole other animal compared to the 250. It's a lot more bike. It's heavier. It's faster. With a 250 it's kind of just wide open, 24/7, balls to the wall, just do as much as you can. When you get on a 450 it's more be smooth, ride the bike, don't let the bike ride you, and just kind of work on your fluidity of your motions on the bike. So kind of riding throughout the summer and riding in the outdoors before I went supercross really helped because I was able to learn the bike and learn where the power was and everything like that. Doing the outdoors for the first time ever was a lot of experience doing that, since in Canada it's not as stacked as the AMA Pro Motocross. It still has a lot of good riders, like Mike Alessi, Colton Facciotti, Goerke and Thompson and riders like that. So I was able to get closer to their speed and try to push to get to their speed. It helped me learn more things with the 450 and with outdoors.
It sounds like it was very beneficial not only in terms of getting the money but also learning and getting better. Then looking back on your racing in 2019 and supercross last year, what was that year like? What learning things did you take from that going into this year?
So my year in 2019 went really well. I think it was one of my best years. Since I graduated that December, I was able to actually just focus on racing. I didn't have to actually go to class the Monday after a supercross that year. So I was able to just focus on racing. I had a more clear mind. That year I just made it through the heat races each round. Instead, years prior I would make it through some heat races. Sometimes I'd make it to the main through the LCQ's. There I had the confidence. I knew I had the speed. I was able to just get straight into the heat race. I was able to work on pushing harder and pushing faster through the jumps and everywhere and racing the track instead of just riding the supercross track, which is really key in supercross. It was a good year. I had a couple top 15's. Was kind of just trying to stay in the mains every weekend. It really helped for this year. Now I need to bring that to the 450 class.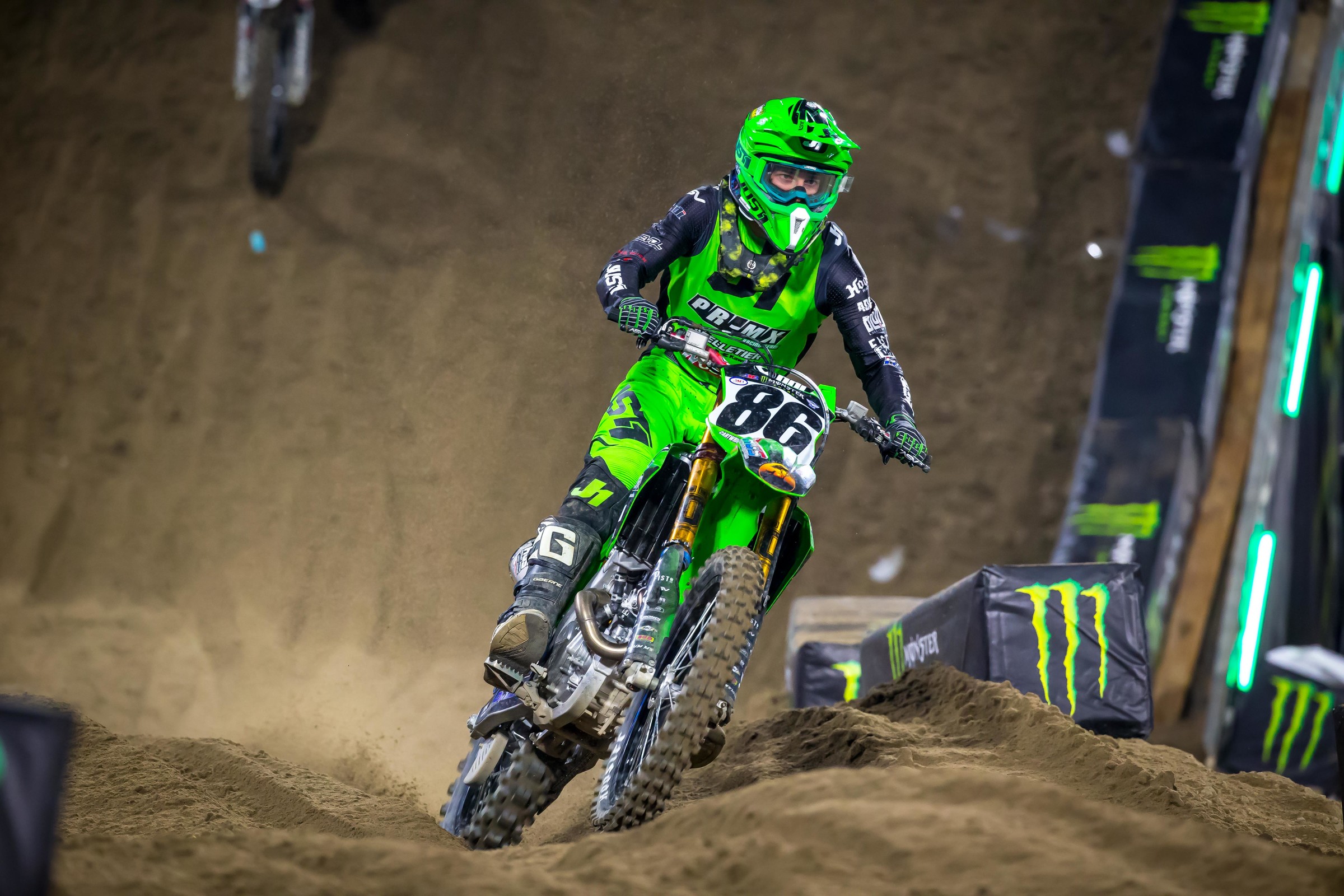 Obviously A1, didn't quite get into the main event, but what could you take away from the weekend? Like you said, your first real experience with the big bike in supercross. What were your takeaways from this weekend?
I got into the night program. I didn't make the main event. I qualified 27th, which I felt was pretty good. I got 11th in the heat race, which I was really close. Two away from the main. In the LCQ I just got a terrible start. When the class is this stacked as much as it is this year, in the LCQ's you have to have a good start. I wanted to get into the first round and just not kill myself the first round. I knew it was a stacked class. It's my first round as a rookie on the 450. I just wanted to get through it and be good and see where my speed was. I was really happy with my actual riding. I just needed to work on a couple things like starts and being more aggressive on the first lap.
Speaking about the LCQ, some of those guys in the 250 class, it was a little bit hectic there. Your one teammate, Logan, he just happened to be in front of Howell by enough where he was kind of out of that crazy zone. It was a little bit hectic at the end.
The 250 [race] was pretty crazy. We had Mathias and Karnow both up in the top four for the first few laps. Unfortunately Mathias I think just made a couple mistakes and wasn't able to make it in. He definitely has the speed to get into the main, I know. He just needs to get a good start again and get it in. Logan was fortunate enough. He rode really well. Got a good start and was able to put it into the main. He's going to be a really good rider this year. He's going to have a lot of main events I think this year. The LCQ's are going to be crazy this year, especially with the 450. This year at A1, the four riders who made it in through the LCQ was Bowers, Plessinger, Osborne, and Reed. Three of those are full-blown factory riders. Bowers is right up there with them too. So it's crazy this year. But I think it's going to make the sport even better and make it a lot more interesting to watch the races. It's going to be a lot of different changes with riders with so many fast riders.
"Me, Cade, Karnow [shown above], and Mathias all rode together for about two weeks at Game Moto in Oklahoma just before the series. We had a little two-week bootcamp on the way out here to the west. We all got to ride together and it really helped push us.

Align Media
Going back to the team, you guys have a bunch of solid riders. Obviously, you and Cade in the 450 class. Cade, obviously there's been a lot of news around him within the last six, seven months. Does he kind of have a chip on his shoulder? And what's it like training with all those guys? Do you guys get to ride together a whole lot?
The team this year is really good. With Team PR-MX, we just got a semi this year. He's really growing this year. We got a couple new big sponsors this year with Just1 and Wossner coming on with being a title sponsor, also with Pelletier Kawasaki. The riders we have this year is me and Cade Clason on 450, Karnow and Mathias Jorgensen on 250 West, and then we have Lorenzo Locurcio and Justin Thompson for 250 East. I feel like it's a really stacked privateer team. I think we're going to turn a lot of heads this year. Me, Cade, Karnow, and Mathias all rode together for about two weeks at Game Moto in Oklahoma just before the series. We had a little two-week bootcamp on the way out here to the west. We all got to ride together and it really helped push us. Me and Cade are similar speeds, so we helped push each other at the track. Mathias and Karnow are similar speeds, so they helped push each other at the track, which is always going to help you riding with someone with similar speeds because that person wants to beat that person, and the other person wants to beat the other person. So it was kind of just back and forth, back and forth, which will always help.
Are you still based in Florida or are you in California now?
Right now just for these five weeks while the supercross is out here on the West Coast I'm here in Murrieta, California, but my home base is still in Florida. I still train at the GOAT Farm with Ricky Carmichael. That's my main facility where I train. They couldn't be any better to me. I love them to death. I'll be back there once the racing goes back East. I'll be there through February and through May.
I'm sure that's an awesome experience.
Having Ricky on your shoulder definitely helps. Jeanie, everyone knows how she's actually the trainer at the farm. She's the biggest sweetheart off the track, but once you get on the track, she doesn't take any bull. She will make you do what you need to do.
When did you start riding the 450?
The end of [spring] was right when I got on the 450, right after supercross. Literally about a week after the last round, I headed up to Canada and started riding the 450 up there and just was able to ride it all summer which really helped. When you go to a new bike like that, especially a bigger bike, it's kind of sketchy to go onto a supercross track right away because the supercross track is so technical. So it was good for me to actually ride the outdoor tracks and get used to the power, where everything was, where all the power was, and just get used to the bike completely.
You talked about the team makeup and everything and some of those guys. They've raced in Canada a little bit but this is a really big step for them.
PR-MX has been around for about five years now. They did it a lot different than other teams. A lot of teams will maybe start out one year and then the next year try to go big, and then just waste all their money and just fold. The thing about Julien Perrier, he's very smart and he knows how to build a team. He just loves motocross and he just wants to have a team. He started out just in a sprinter van for the first year, and then slowly has progressed since then. He got a bigger trailer and then another bigger trailer, and then last year they had a decent-size pull-behind, and then this year he just ended up buying a full semi. We got a full setup this year. He's a great salesman and knows how to bring in sponsors and knows how to sell the team. We're going to advertise the team as much as possible. We have a lot of great sponsors this year helping us out, and we couldn't thank all of them enough. He's done really well with everything. He does everything pretty much on his own, one-man show. We all chip in as much as possible, helping him out with anything he needs on the rig or anything like that. He has a lot of great mechanics, Fred, Freddy, and Jordan. They all just kind of bust their butts and getting this team out there as much as possible.
You mentioned they have a little bit different approach, kind of little bit by little bit instead of all at once. Does that kind of help you and the other guys? There's not as much pressure when it's just, you're here to do your thing. It's not like all of a sudden everything at once. It's not as much pressure and everything come race day?
Yeah, for sure. He definitely wants us to do as best as we can, and he knows we can do really well, but he knows that there is a lot of fast riders out there and a lot of riders like us. So it's going to take a little bit of time. But at the same time, he does push us. If he sees something that we aren't doing, or didn't do well, he will get on our butts about it. If we don't hit a rhythm section or if we give up in a race, the real team owner will come out of him, which it should because this team is his baby and we are representing it as best as possible. So it helps a lot and kind of just helps the pressure come off. I just couldn't thank him enough for everything he does for all of us.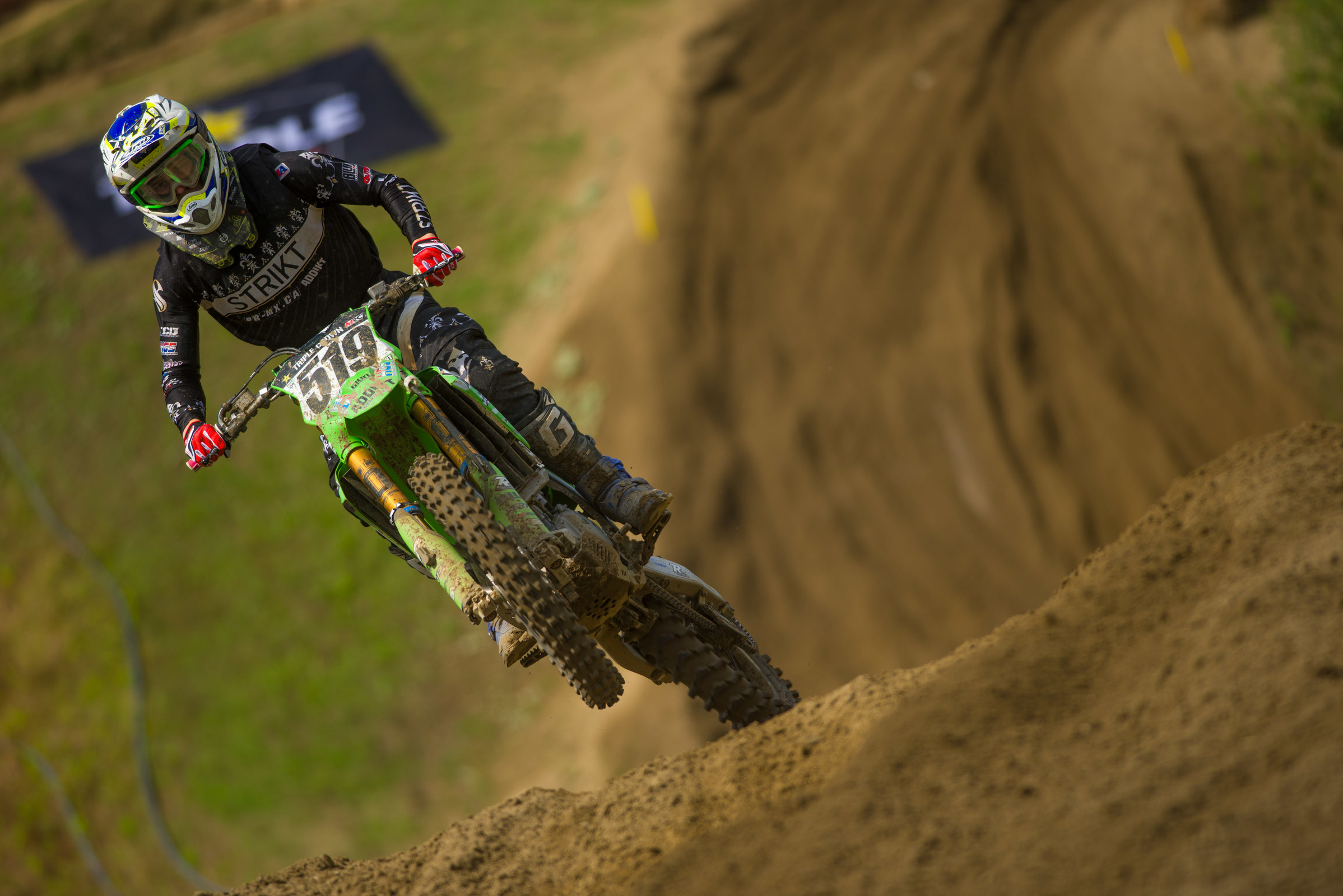 So now that you've been able to just focus on riding and not school, has that kind of changed your mindset? Obviously, you were balancing you'd have to do school here and then the next day was riding and vice versa. How do you keep yourself motivated?
Now that I'm just doing racing, it's helped a lot because when I was in school, I was getting up at 7 a.m. going to 8 a.m. classes, and then right after class going to ride, then right after riding going back to a 5 p.m. class, and then getting my off-the-bike training done right after that. So, it was just literally a 16-hour day of just 24/7 doing something. Now I'm able to just get up, get a breakfast in, go to the track, ride, come back, relax, get my off-the-bike training done, stretch. I'm not rushed anymore. It's kind of just opened up my mind. No more migraines like I had all throughout college. It's helped a lot, I think. It's going to help my riding tremendously. The thing about me, I feel like this is my start. A lot of people have been training and riding and their start has been years ago. I feel like this is going to be my start where I'm just now really starting to push 100 percent where I can focus just on racing. I think I'm going to get better and better as the years progress.
It sounds like you have a great team and teammates behind you to help support that. Is there anything else you'd like to add? What are you guys working on this week to get ready for St. Louis?
For me personally, I worked on sprints a lot this week just because I know that's where I needed to work on, and starts a lot. Starts and being more aggressive at the beginning is what I needed to work on, so that's what I've been working on. We've kind of just been putting everything together. The team headed out to St. Louis yesterday. We're going to get out there and kill it.
Josh would like to thank the following sponsors for their support:
PR-MX, Pelletier Kawasaki, Just1, Wossner, Hoosier, HGS Exhaust, Addikt graphics, ASV, Fist hand wear, ODI Bars, DeVol, Dirt Tricks, Ohlins, Stellar CBD, Blud Lubricants, EVS, Guts Seats, Majeje Africa Safari, EZE Race Products, HS Trucking, Bolt, No Toil, Load Lugger, MX Locker, Rekluse, Evans, KDEAM, UFO, and for me personally, Ryno Power and Atlas Brace.
Everyone helps out and we couldn't do it without them.