Anaheim, CA
Anaheim 1 (A1)
Monster Energy AMA Supercross Championship
John Short didn't have a lot to work with in 2019. In fact, there were plenty of times when he didn't even know who was going to serve as his mechanic on the weekends! Yet somehow, he still managed to put in some great results. Despite missing the first two rounds of the Lucas Oil AMA Pro Motocross Championship, Short finished fifteenth overall in the 450 Class standings and even took seventh overall at Spring Creek. In 2020 he'll be back, but with the backing of a new team, Team Manluk/K&R Racing. We caught up with Short to see how things are coming together for the upcoming season.
Racer X: It's getting to be crunch time, A1 is just about here. How's the prep going for the new season?
John Short: Prep is going pretty well, I've been riding the 450 a lot and we've gotten it pretty dialed in. It just keeps getting better and better. The guys at Merge Racing have been working pretty closely with me to get the suspension dialed in. I won't actually be racing A1. I'm going to race A2 and maybe another one. My main focus is 250SX East. I do want to do a couple 450 races though because I've been riding it a lot. I can kind of use it as a warmup for 250 East.
Where are you doing all your training and prep?
When I'm working and doing suspension testing and all that stuff I'm up at Compound 77, right across the Red River in Thackerville, Oklahoma. I also ride in Shawnee, Underground MX, and Blake Wharton has a supercross track he lets us ride. So we've got four or five different options and different terrains. We try to ride a little bit of everything.
With your emphasis on 250SX East, is it stressful at all trying to get a 450 ready too?
I wouldn't say that. I'd never ridden a 450 in supercross up until last year when I did a couple rounds, but I rode the 450 in the nationals and this whole off-season so I'm pretty comfortable on it. But after those couple 450 rounds I'll put it away and just focus on the 250.
Talk about the team. It's a product of a merger with a Canadian team, right?
I've been talking with the Manluk racing guys over the summer. They had the same motor and suspension builder I was using, I've been with Merge Racing the past few years, and that's how I got to know them. They're a great group of guys. Frank [Luebke], the owner, his only motive is to have fun and give us the best equipment he can supply. When they decided they wanted to go do 250SX East it was a no-brainer for me. It's kind of the same equipment, we just have more budget and support. That was really cool and it's going to be a good year. And of course the K&R Racing guys, they all teamed up together and we're all working together as a big team. It's going to be a fun year, for sure. I'll have a little more support than I had in the past. A lot more, actually, and it's going to be exciting.
Well it sounds like it's pretty good for you, but it sounds like a big step for the team too.
Yeah, Manluk Racing has been racing with local guys in Canada for a handful of seasons and last year they did the [Rockstar Energy] Triple Crown [Tour]. That was a step for them toward doing some bigger races. They had a win in arenacross too, they're moving forward. And merging with K&R and racing supercross is a huge step. It's a learning experience for everybody right now.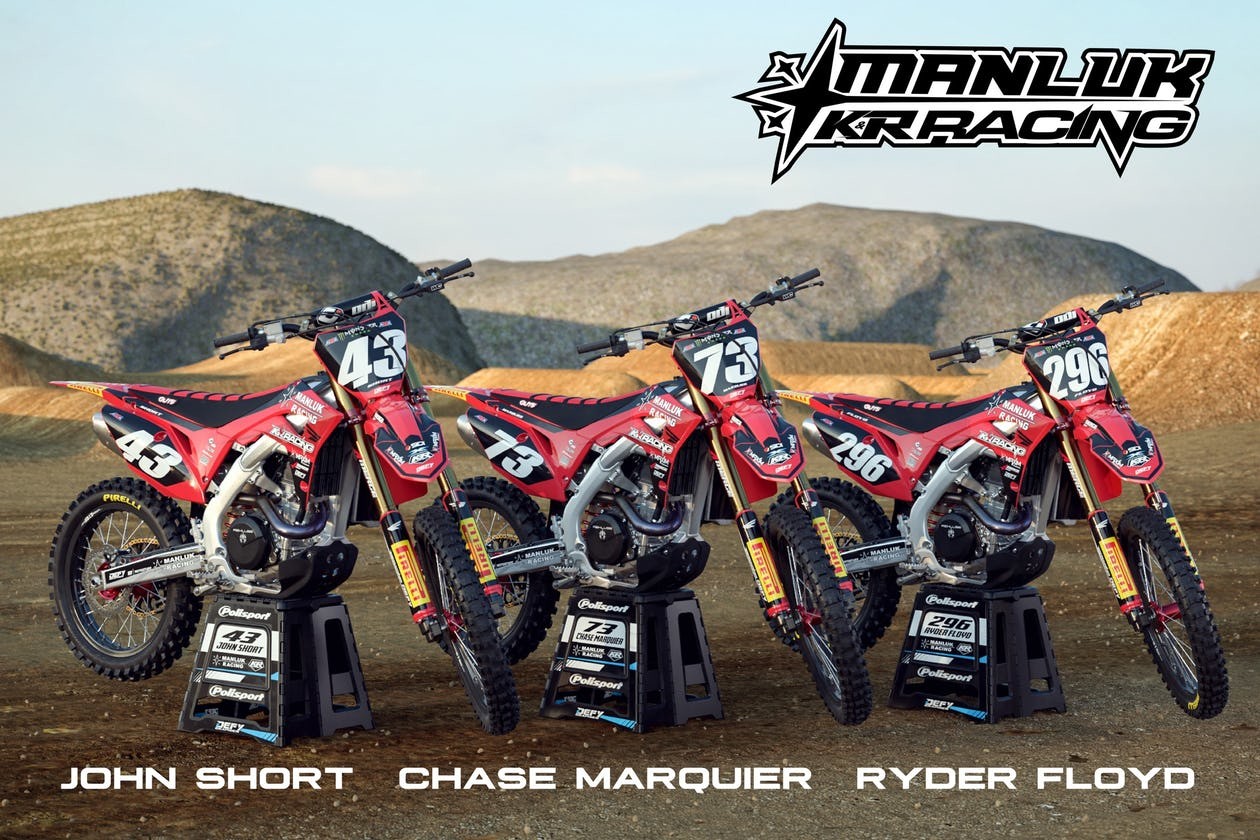 After supercross are you going to Canada or are you going to stay and do the nationals?
The plan right now is to do a couple 450SX races, 250SX East, ride the 450 in Canada, and ride as many 450 nationals in America as possible. That's the game plan.
You're like the Marty Smith of North America.
[Laughs] Don't go comparing me to Marty, I'm not to that level.
What are the goals for 2020?
As far as supercross, I've got a few years under my belt now and I'm really confident. I just came off a really good outdoor season and I want to run up front and get great starts. I want to be up there pushing for top fives. As far as I'm concerned, the finishing position doesn't matter as long as I'm riding to my ability and getting great starts. I'm going to end up where I'm going to end up, I just want to ride to my potential every single weekend. The starts are a big deal for me too. When you get a good start it's like you find that next level, so my big goal this year is starts, starts, starts. I want to be up front every time the gate drops.
Speaking of gate drops, how many are you going to get this year? It sounds like a lot.
It is. There's not a whole lot of off-weekends scheduled right now. Whatever breaks there are in supercross and the time between supercross and outdoors. Pretty much after that it'll be every weekend in the U.S. or Canada. It's going to be busy for sure, it'll be nonstop.
What are the logistics of that? You're not taking your bikes back and forth are you?
No. That's one of the many benefits of Manluk merging with K&R. K&R will be at all the American races, which allows Manluck to have race bikes up in Canada. We'll have race bikes in Canada and America, that way it's pretty seamless. We'll have things all set up and we'll fly to where we need to be.
Wow, it sounds like you guys have it all worked out.
Yeah, between the Manluk guys, the K&R guys, and Merge Racing, it's coming together. I know it's a little late in the year but I'm excited. Usually I show up at the races and I'm like, "Man, who's going to be my mechanic this weekend? Does anyone have any spare parts?" It'll be a change of pace for sure. We'll have a lot of new sponsors still coming on board, but I'll get to keep a lot of my existing personal sponsors who have helped get me to this point. Maxim Honda Yamaha, CCR Transportation, Gainesville Sheet Metal, LapKing, McWhorter Brothers MX, DSC Construction, Cadence Cyclery, Xclusive Truck Kustoms, Sidi, and many more have all helped me get to where I am today and I'm excited we'll be able to continue this journey together.
---
Main Image: Short at the 2019 Las Vegas Supercross - Photo by Rich Shepherd