Melbourne, Australia
AUS-X Open Melbourne
Australian Supercross Championship
While attending the Monster Energy AUS-X Open in Australia, I cruised the pits and met a variety of riders, including some privateers. How's that side of the game work Down Under? I asked Joel Wightman, who finished seventh overall in the final SX1 (450SX) standings in Australia, about his privateer prep at home, and his plans to try some U.S. races in 2020.
Racer X: Let's talk about privateer life here in Australia. What's your setup? Who are your sponsors? Is it just you and your family, or how does it work?
Joel Wightman: I've got pretty decent help here. Honda Australia helped me with the Ride Red program, so they helped me out with bikes and parts and organized gear deals for me and stuff. So, I've got good help here, but still my family and dad's business helps me out a lot. Our suspension business helps cover a lot of the cost here. We just travel around together, just my dad and I. Also, my brother—I made him come with me! We seem to get it done.
So, you're like a support guy? You're not the full Penrite team, but you've got help?
Yeah, just sort of under that, I suppose. I'm not full privateer, but pretty much am in a way. Still driving to all the races and getting it done. I really enjoy it, so keep doing it as long as I can while I'm enjoying it.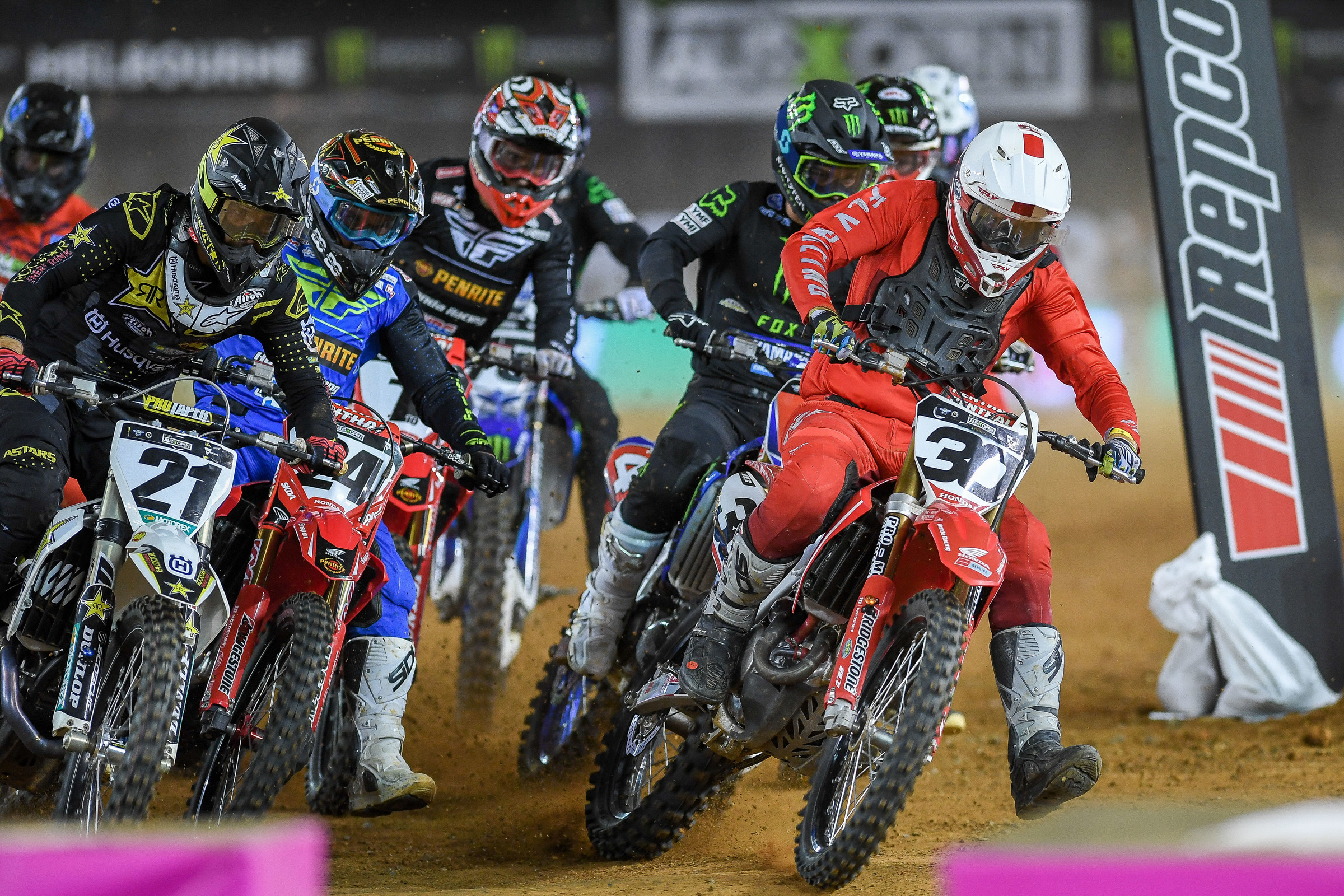 Is supercross more your thing?
Yeah, it is. Definitely. I just enjoy it more. I'm able to sort of water my track at home, the supercross track. So, I always enjoy practicing a little bit more too. I've always had my own track to practice on, so that helps. Even results-wise I sort of tend to do a little bit better in supercross.
This series specifically, you get riders from all over. Americans come in, et cetera. So, what's that experience like? Do you gain learning racing those guys?
Oh, for sure. It really puts it in perspective. You watch it on TV and stuff, and then to actually be on the track with [Jason] Anderson and [Joey] Savatgy and all them boys, like last weekend in New Zealand, you've got an appreciation of how fast they are, for sure. Even some of the more privateer guys, like Henry Miller and stuff, that come over and they're still very, very fast. So, it's been good to sort of chase them and just see where they're at.
Australian SX
| Position | Rider | Hometown | Points |
| --- | --- | --- | --- |
| 1 | Justin Brayton | Fort Dodge, IA | 113 |
| 2 | Luke Clout | Sydney | 103 |
| 3 | Daniel Reardon | | 95 |
| 4 | Brett Metcalfe | | 90 |
| 5 | Dylan Long | | 67 |
| 6 | Richie Evans | | 62 |
| 7 | Joel Wightman | | 55 |
| 8 | Josh Hill | Yoncalla, OR | 53 |
| 9 | Todd Waters | | 49 |
| 10 | Jason Anderson | Edgewood, NM | 47 |
Full Standings
How have your results been? You've been a top-ten guy?
Just hovering around it. Round one I was eleventh and then I had a sixth at Adelaide, which was sort of my highlight. Then I've had two twelfths the last two rounds. So, I'm sitting eighth in the championship. So, I'm pretty happy with that. Top privateer at the moment, so that's good.
[Editor's note: Wightman ended up seventh in Australian SX1 points]
But you've got plans to just try United States? Literally just trying it. You're just going for it.
Yeah, basically that's it. My brother and me, and then my dad has helped a little bit as well. We're just all organizing a trip. We're going to leave just before Chrissy [Christmas]. Saved up enough money from working two casual jobs here while racing to spend that on hiring a van. We're going to travel around for close to eight weeks. I'm going to buy a bike. Got a little bit of help organizing it through Temecula Motorsports. So, he's going to help me out a bit. I'll purchase one there. We'll just go for it and enjoy it.
What are these two casual jobs?
Well, my dad has a suspension company, so I help out with that, do testing and things like that. Then, I'm also a lifeguard!
Wow cool! Have you raced in the United States ever before?
No, I haven't. I went and watched the first three supercross rounds in 2017, just purely like a holiday. Did all the touristy stuff and watched those first few, so that was good. But this time I'm trying to get a bike organized and have a ride.
Is this just for fun or are you thinking you can maybe make a real run at it? Get support? What are your goals of the trip?
I would say look for fun and experience. It's something I've wanted to do for a long time, so I just want to tick it off the bucket list, more or less. I'll definitely be trying my best and trying to do well, but as long as I can make night shows and be in there and experience it, then I'll be pumped.
Do you know where to ride? A lot of guys used to ride at Milestone. That just closed. Do you have that stuff figured out?
Yeah. We've been trying to look at it. I think we're going to get over there and see what we can do, because as you said, Milestone's closed. Lake Elsinore has been closed for a little while; I believe. So as far as the public tracks go, that's not helping our cause. We'll see. Hopefully something will come up.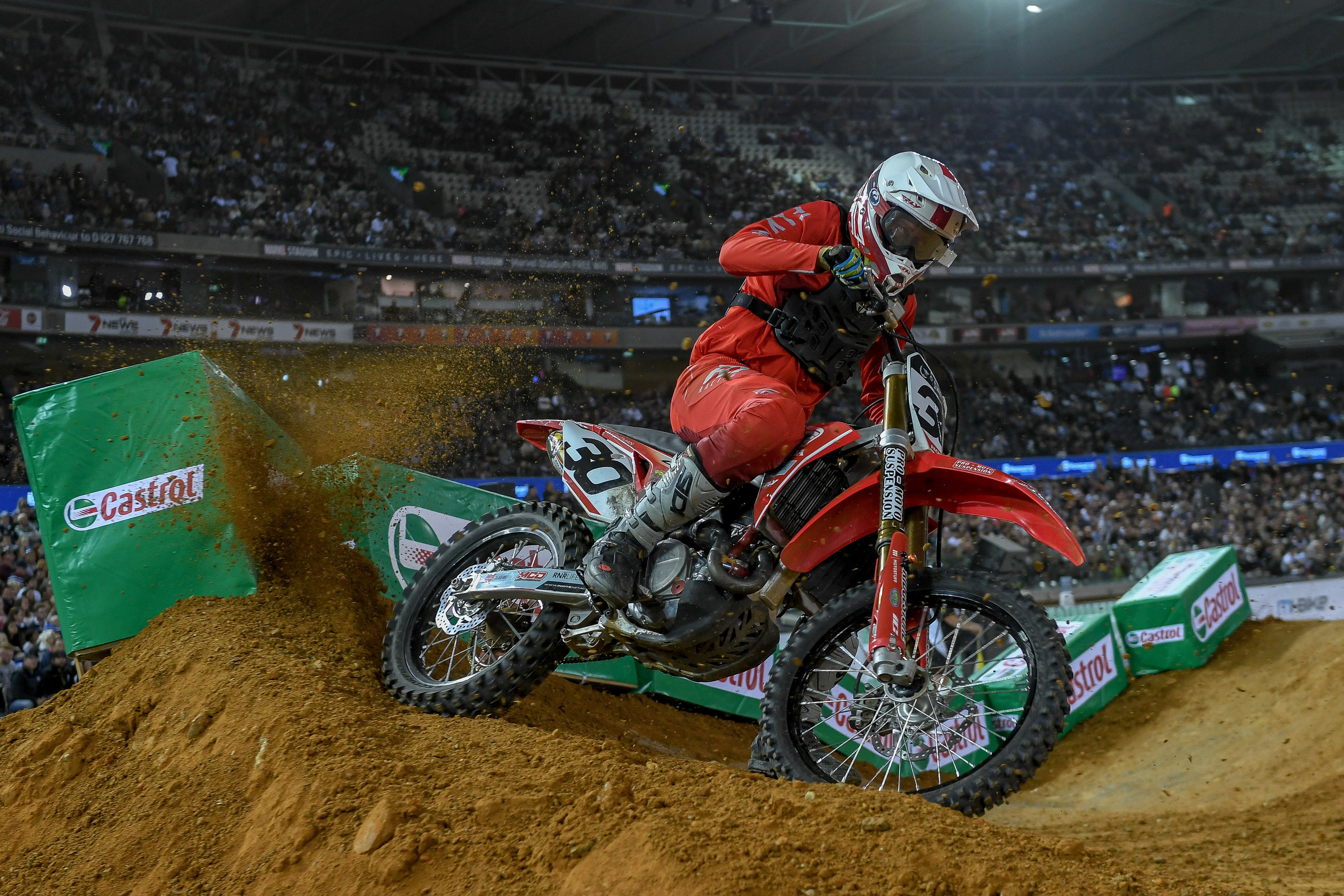 Miller told me about a new place, that opened. It's further away, but at least it's out there.
I think I've seen on Instagram 707. The last I seen, it was looking like closing, too. It's not looking too good, but we're pretty organized to go so worst case we'll ride a little bit of motocross during the week. I just want to get to the supercross and enjoy it.
Where are you going to live for the eight weeks?
We've got a little bit of the combination organized for the first sort of two weeks around Corona. We stayed at the motel there last time we were over in 2017, so we're going to start basing ourselves there. Then we'll work it out as we go.
Are you ready for the St. Louis winter in round two? We're talking around zero degrees, Celsius.
Well, I haven't been in that before, so that's going to be a whole new experience, apart from the racing side. We'll see. That round is a little bit up in the air because of the travel. So, if I can get someone to take my bikes over or organize something then we might be able to fly, but if not, it's going to go over the mileage that we're allowed on the van I've hired. So basically, that one's not locked in, but we'll see. If I get five out of the six, I'll still be happy.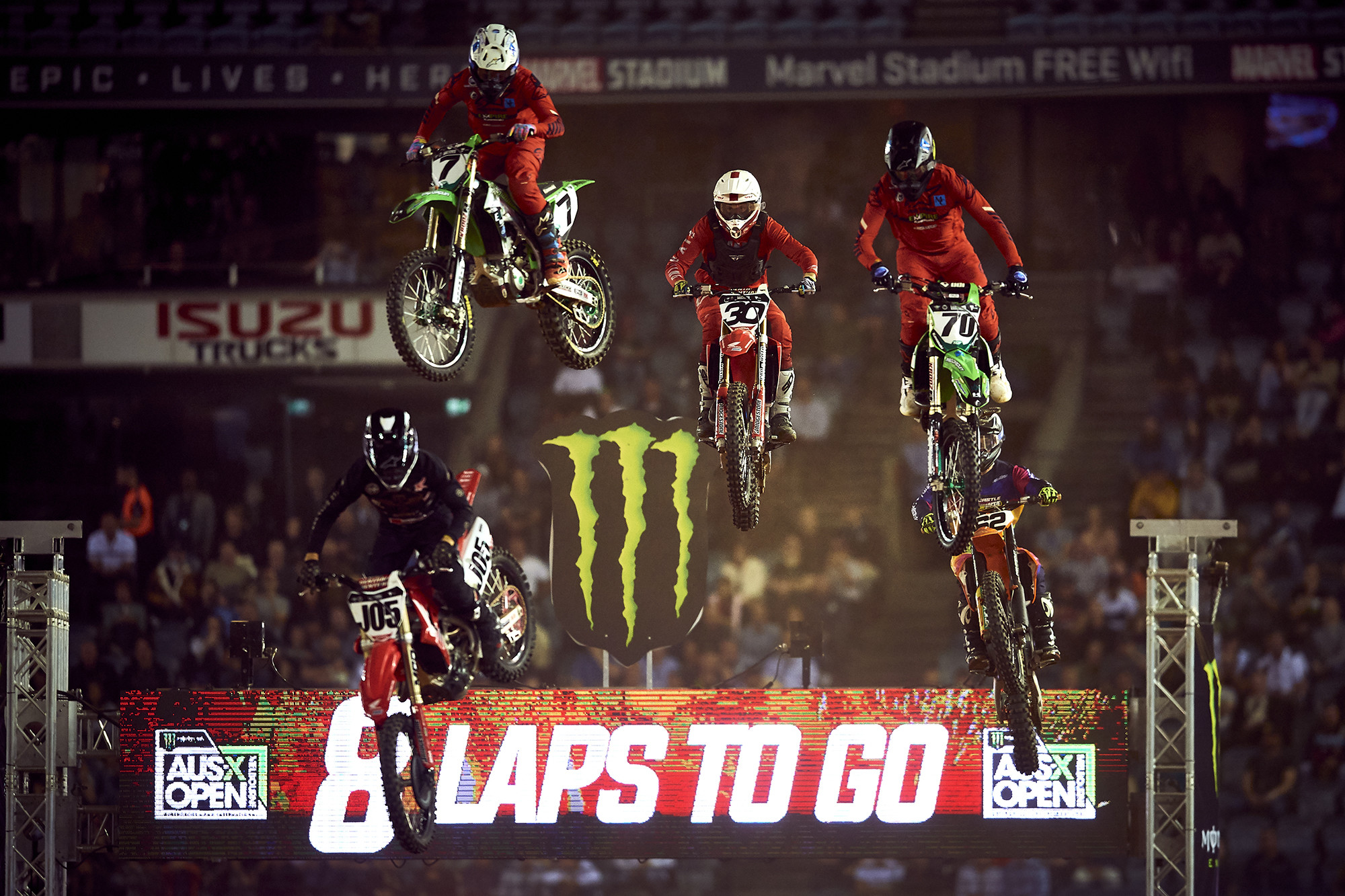 Back home in Australia, you've got a supercross track and motocross tracks at your place. Explain all that.
Basically, two hours north of Sydney and a little bit inland of New Castle, I've got a supercross track and a few motocross tracks. My dad and I run Pro Moto suspension, so we run a little shop from home. Customers come and test and then that's where I practice and do all my riding and training, so it works well.
How rare is that to have a supercross track to ride? Is that actually common here?
I wouldn't say it's super common. You're probably surprised at how many there is. There is definitely quite a few guys that have their own private tracks. A lot of guys practice together, but there's also a lot like myself that sort of just do their own thing and ride their own track. It's more of you've got to know who's got the tracks and where they are. It's definitely not like the States with Milestone and stuff where you can just pay and go and ride.
Well, you might need that model over in the U.S. now if you can't find a public track!
Yeah, get over there and start a ride park! [Laughs] It's not looking too positive, but we'll get around it. There's always a way around things, so it should work. I'm really just looking forward to the experience, just saying I got to race in America.
---
Main Image: AME Management