Jace Owen, the 2018 Prince of Paris, returned to the 37th running of the event this year, where he finished second to Brian Hsu. Owen didn't pick up any race wins on the weekend but was battling in the top four spots every race.
Following the last race, our Steve Matthes caught up to Owen to talk about his weekend.
Racer X: Last year you won, this year second place. It was a battle with you, Do, and Hsu all weekend long. [Brian] Hsu, the starts were incredible today for him, and you kind of just trailed behind a little bit.
Jace Owen: Yeah, definitely. He was riding really good. Normally my starts are awesome and I was struggling with them a little bit. I brought my engine and stuff, but definitely the gas that they had over here, my bike—no excuses, but it didn't run quite as it normally does. So I was struggling a little bit. There's a couple rhythms out there that I was struggling to get.
Onto the table?
The triple onto the table.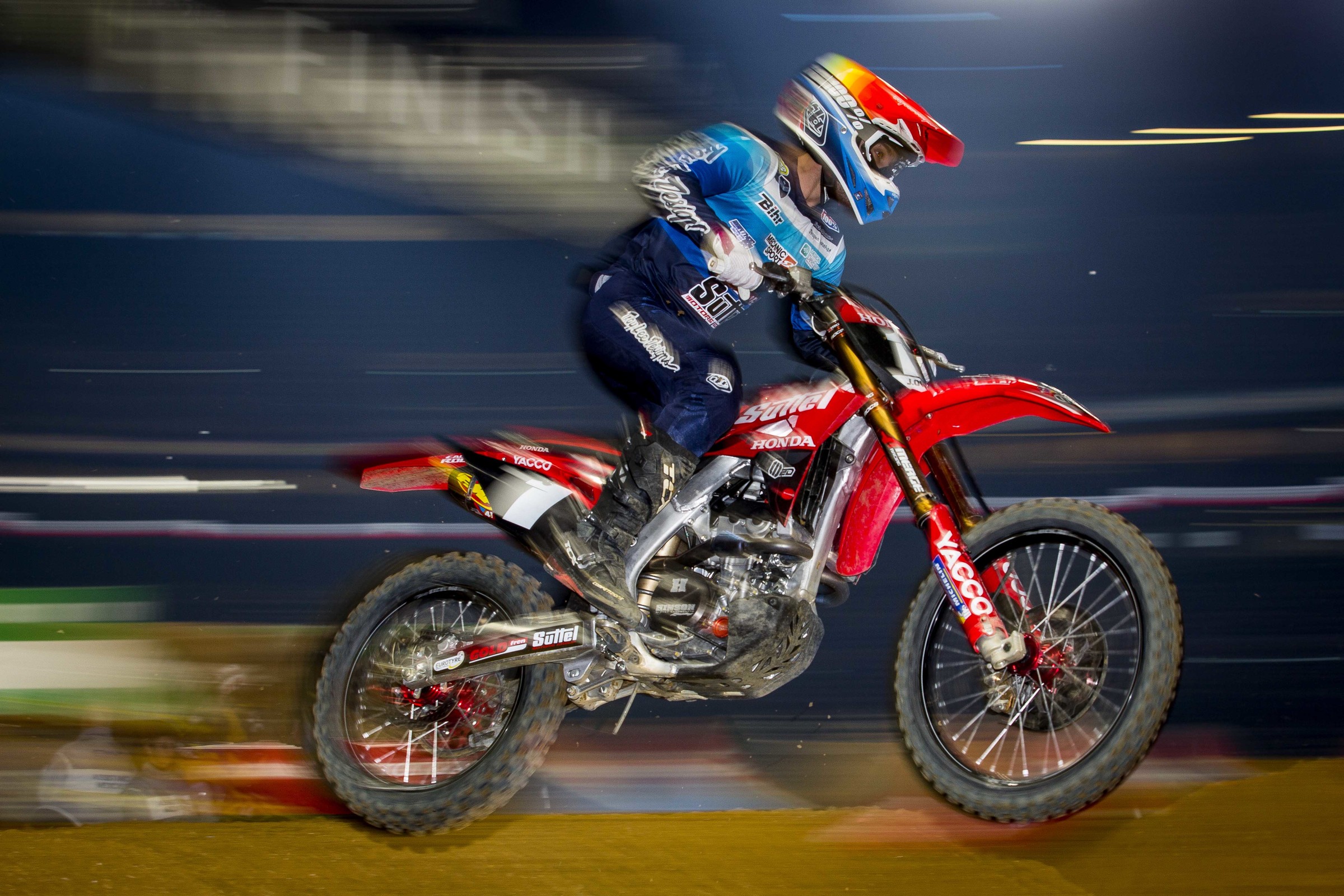 You clipped the back a lot.
Yeah, exactly. I was giving everything. Seat-bouncing. I just couldn't get it, where those guys could get on it a little bit better. I definitely didn't get the holeshot, but never got in front of them. Definitely all in all, it was good. Kind of a learning experience coming back over here and bringing my own stuff, but at the same time some of the stuff didn't really work out as I thought it would. We struggled with it, but definitely as the weekend went, we made quite a few changes. Today I felt better than yesterday.
Your very first practice yesterday, I think you were off a little bit, right? That's kind of what you're talking about?
Yeah. Yesterday in actually the free practice I was the fastest, but when the track would deteriorate and get broken down I was having…
Maybe it was the second practice, then.
Second practice. I was off. I think I was fifth or something. Whereas today [Sunday] I ended up being first in practice again, so that was good for me. I was struggling when the track would break down and get some ruts and stuff. I couldn't carve and cut like I wanted. The tires a little bit, too. We didn't have the spec ones. I ran Michelin last year, so I thought I would be dialed, but it was a different tire that I had this year.
Noticed it a little bit?
I definitely did. I noticed it a lot.
There's a reason why those spec tires are expensive and only used by a few.
Yeah, exactly. Not having the spec tires, I can't make excuses. Like I said, Hsu was riding good. Really there was a lot of guys out there.
It was pretty cool to watch. It was Do, you, and Hsu. Lopes rode better today. But it got intense, man, at times. You'd go for a pass, you'd lose time to the guy behind you or ahead of you. It was good racing all weekend.
Yeah, exactly. There were times where all three or four of us were together. You go to stuff the guy and then two guys get by you. So it did make for exciting racing. I had fun. We didn't win. We're the first loser. But I was excited to be here and had a good time.
So arenacross for you next year
Yeah, that's the plan. Do the Kicker Arenacross, now that it's AMA again. I think it will be a bigger series. Going to do the 250 East Coast. I think there's a couple races that overlap, but as long as I'm healthy and everything is going good, I will be at the first East Coast.
All of our PulpMX Fantasy people about the 250 supercross East. That will be good.
Yeah. Last year I was a letdown, a little bit.
The year before though you killed it.
I had some crashes. At Daytona I broke a vertebra in my back, so when I came back I qualified good but then I jarred it again. It was a little bit of a struggle, but I'm healthy now. I feel good. Just go back to North Carolina where the team is and train at ClubMX and put in the work and try to be ready.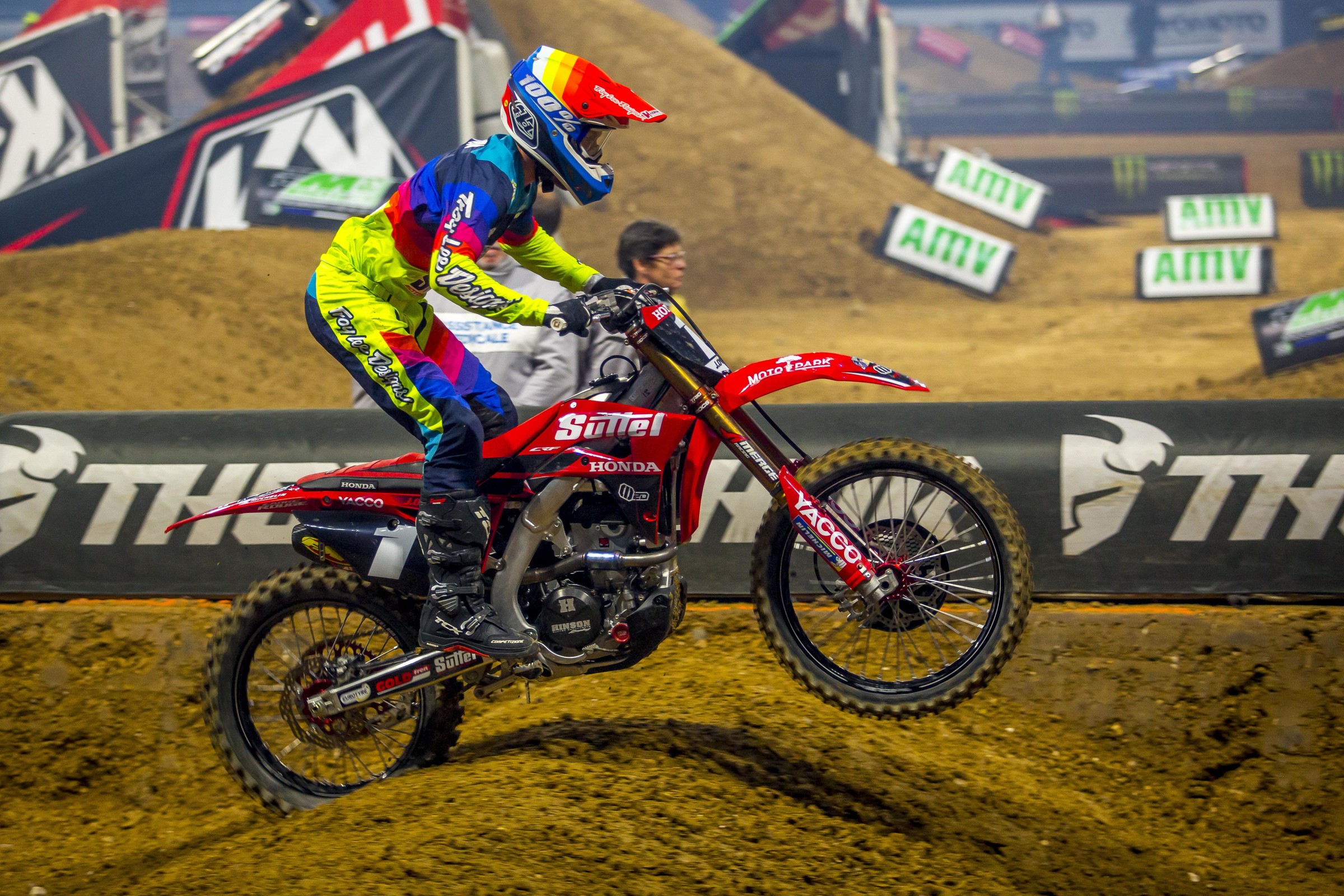 Last year you won. This year you brought Heath Harrison and you didn't win. I'm not going to make any judgements, but I'm just saying.
He busted his ass for me. It was awesome. He did a lot of work for me. It was cool that he was here too, so I wasn't over here by myself. We're actually going to stay a couple days and be tourists and go tour around. Last year that's what I wanted to do while I was here in Paris, but didn't get the chance to. This year we're going to cruise around for a couple days.
I'm looking at him and he looks like a pro mechanic. He's wiping stuff down, he's taking it apart in a good order. He's actually looking like he may be good at this.
It's insane. That's what I tell him all the time. I was like, if you don't want to race the GNCC, you can be my full-time mechanic. I'd like that. He's still way too good a rider to give up on that. Maybe this is something he'll do once he's fully finished. If I'm still going at it, maybe we'll be the duo.
I'd rather be a mechanic than race a GNCC. A hundred percent.
I don't know about the three-hour races. Outdoors, that's brutal too. I haven't done that in a few years, but let alone three hours on a bike at one time. That's pretty grueling.
---
Main Image: Christophe Desmet