Milan, Italy's, EICMA show marks an annual taste test for the motorcycle world at large, as Europe is a massive, massive market (especially on the street side) and new product launches tied into the show give a good indication where things are headed.
We've got our publisher Scott Wallenberg on the ground there in Milan (tough gig!) but we're also armed with a bevy of press releases, with info and photos on new bikes. The motocross industry generally launches bikes much earlier, usually from May through July, but EICMA's timing works out well for the street side. How's the other side living? Here's some news we picked up.
Cake
Hey, why not start this with something crazy? Cake has been building these extremely ugly low-frills electric bikes for a bit now. Somehow, they found a way to make the bike look even odder with this new Ösa, which is designed for work.
From the press release:
Named after CAKE's carpenter and craftsman and heavily influenced by the workbench, the Ösa design features a large gray bar extending out from underneath the seat. This uni-bar, modular clamp-on, system serves as the heart of the Ösa, allowing users to attach baskets, bags, tools and more to create over 1,000 different possible configurations. Thanks to the powerful battery with multiple outlets, the Ösa doubles as a power station on wheels, enabling the rider to be completely independent, off-the-grid.
The Ösa will come in 2 versions: the Ösa Lite and Ösa+. The Ösa Lite (priced at $6,500 with Battery Lean) operates as a moped with top speeds of 30mph and the Ösa+ (priced at $8,500 with Battery Lean) operates as a motorcycle with top speeds of 63mph.
You can also put a passenger on the back of a Cake bike. Seems perfect for this:
KTM
Is there anything less shocking than KTM pushing hard and introducing some new bikes? Over here on the moto side we saw the SX-E 5 electric mini debut last month, but EICMA continues the brand's push on the street side.
Here's KTM's words on the 1290 Super Duke R.
The KTM 1290 SUPER DUKE R has been "re-Beasted." KTM's flagship bike has won rave reviews by catering to the preferences and skills of a vast range of motorcyclists and has undergone its most radical re-invention yet for 2020. Completely new chassis, styling, and electronics mean the KTM 1290 SUPER DUKE R has trimmed weight across the board, while a reworked LC8 engine has unleashed even more power.
If you're like us, you still like to sprinkle some dirt on your street bike ride, and so the inevitable Adventuring of KTM's popular 390 line leads to a very versatile and low-cost bike. This is a strong entry point into adventure bikes (however, last week our own managing editor Andrew Fredrickson was spotted on a Honda CRF250L Rally pounding sand laps in our local Morgantown, West Virginia, "ash piles" riding hot spot . So there are several good first steps into this range).
Here's KTM's stuff on the new 390.
The new KTM 390 ADVENTURE has harnessed the attributes and DNA from the incredibly capable and highly versatile KTM 790 ADVENTURE as well as the R&D information gathered from nearly two decades of Dakar Rally success. A light, agile, and ideal entry model for riders looking to discover the world adventure riding, this motorcycle offers added versatility for touring and light offroading.Using elements of the KTM 390 DUKE as a base and taking performance cues found at the heart of the KTM 450 RALLY, the KTM 390 ADVENTURE offers offroad performance but with impressive road manners as part of the package.
Also, KTM's 790 Adventure line, which made a bike splash a year ago, will now feature a limited-edition 790 Adventure R Rally. Sounds a bike like the Factory Edition model on the moto side.
KTM North America proudly announces that the KTM 790 ADVENTURE R RALLY will come to North America for 2020. Restricted to just 500 units worldwide, it will be available in extremely limited numbers. It is the third and newest member of the KTM 790 ADVENTURE family and is positioned as the most travel capable rally bike. For those riders who demand the most hardcore performance and the very best suspension equipment available, this is the machine that will easily cross continents in order to ride to the start line of a rally.
Husqvarna
Not to be outdone by its KTM sister company, Husqvarna has teased a new, you guessed it, adventure model, the Norden 901. This is a concept bike (for now) so release details are as yet unavailable. Companies can't crank out new adventure bikes quickly enough!
Showing Husqvarna Motorcycles' view of an adventure-touring motorcycle, the NORDEN 901 concept is a dynamic, twin-cylinder motorcycle that will feature advanced rider ergonomics and outstanding performance, based on years of rally experience, in a distinct modern design. A versatile long-distance exploration concept, it will deliver both outstanding street and off-road performance. Expect class-leading lightness and power delivery set in a versatile and accessible package, precisely arranged to allow discerning riders uncompromised exploration possibilities. Delivering effortless rideability and sensible, high-end modern equipment, this motorcycle will be used on daily commutes, extended adventures and everything in between.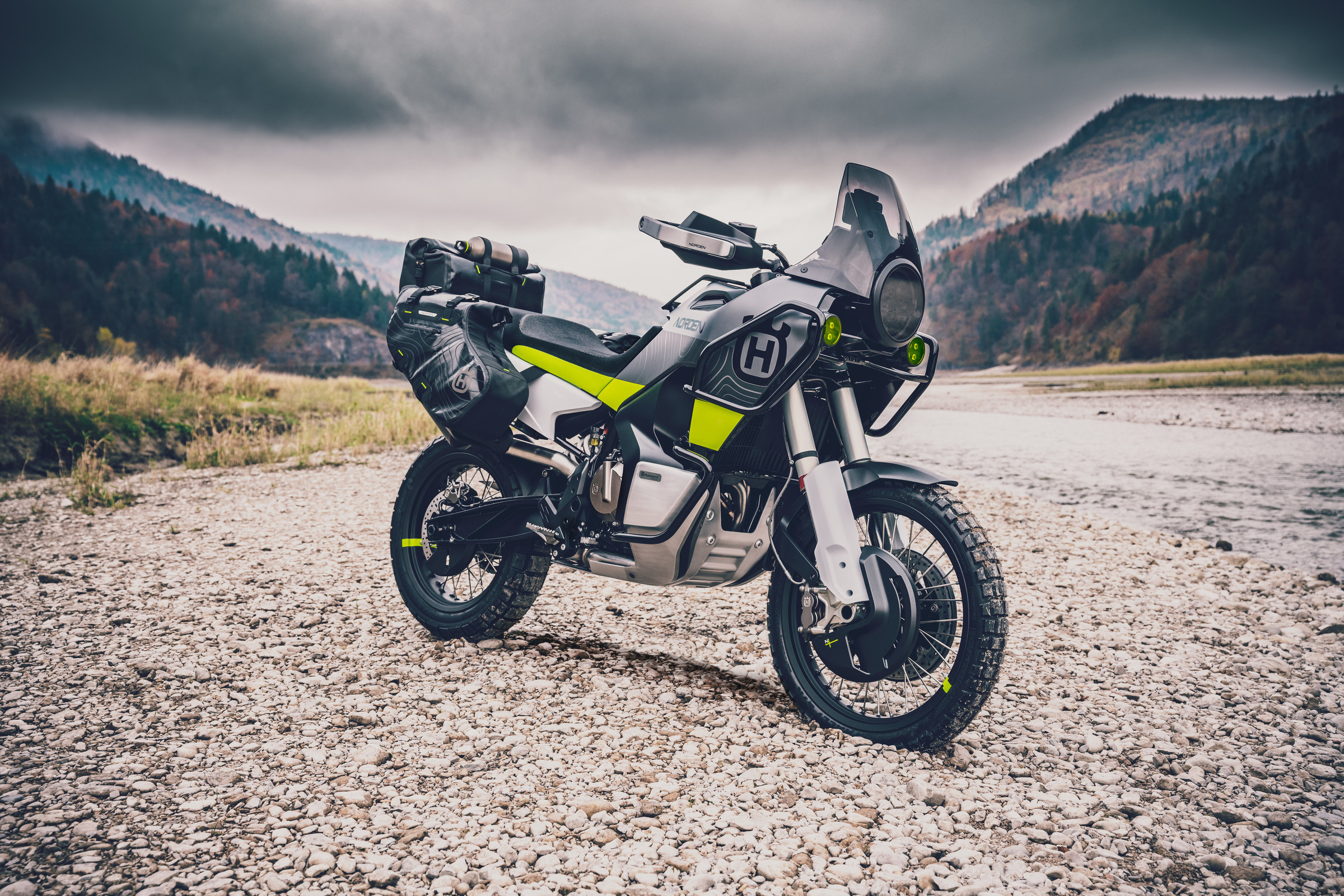 Suzuki
You know what would make for big news? How about an all-new adventure bike? Yup, Suzuki isn't missing out on the craze, revamping it's famous V-Strom line, with increased displacement (now a 1050) and some cool new looks. We really dig the retro yellow stuff.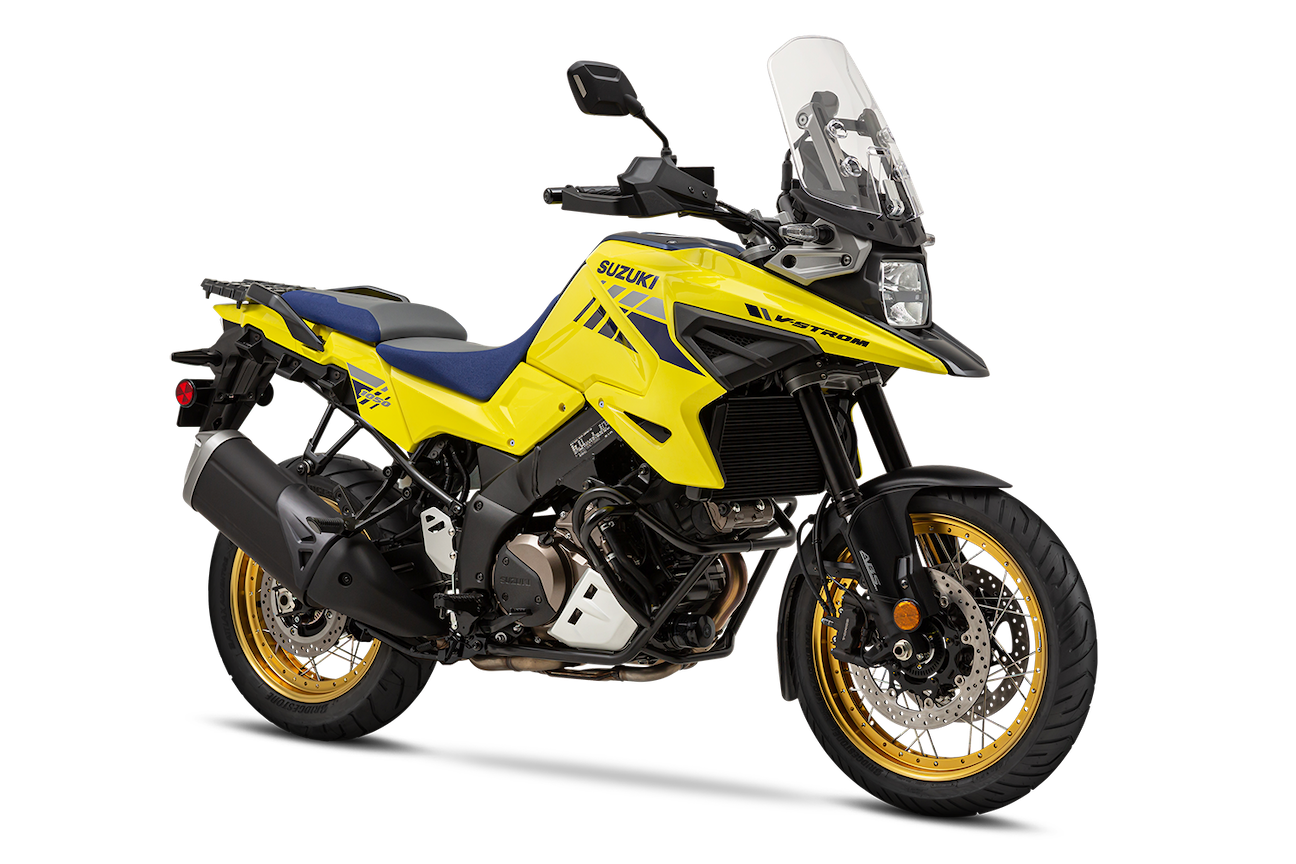 Here's some info from Suzuki:
Inspired by the legendary DR-Z800 Dakar Rally bike that proved Suzuki could take on the planet's most rigorous off-road event and the DR800S, also known as the DR-Big, that was powerful and nimble for its size, the new generation of V-STROM 1050 models share similar characteristics with its distinct design and electrifying colors that hearken back to its historical race livery. The V-STROM 1050XT model comes coated in the Championship Yellow color that resembles the legendary DR-Z rally bike while the orange and white combination pays respectful homage to the DR-Big. Whether on-or-off road, commuting, or sport-riding, the all-new V-STROM is poised to help riders master their own adventure.
2020 V-STROM 1050
Riding on cast aluminum wheels, the new V-STROM 1050 arrives in trim, new black and gray bodywork. The updated 1037cc V-twin engine has more horsepower than ever before, retaining its strong pull in the lower RPM range with good fuel economy while complying with worldwide emissions standards.
The V-STROM 1050 can take on diverse road conditions, or adjust to the rider's preference through its advanced electronic aids including new Ride-by-Wire dual electronic throttle assemblies, refined traction control with four sensitivity modes, a new three-mode Drive Mode Selector to select power delivery characteristics, and a new Easy Start System that make start-ups quick and easy.
Above the new, vibration-damping tapered aluminum handlebar is the V-STROM's all-new, multifunction instrument panel that presents all required information and rider necessities on a full LCD screen via a clean and intuitive layout. Overhead of the instrument panel is a mounting bar that's ideal for putting accessories like a GPS in the rider's forward vision. Located near the left side of the instrument panel and mounting bar is a new USB port is that can power a GPS, smartphone or other accessories.
In addition to the upgrades found on the V-STROM 1050, additional features have been integrated into the V-STROM 1050XT and the V-STROM 1050XT Adventure models through the Suzuki Intelligent Ride System (S.I.R.S.). These new V-STROM's now lead the Adventure category in technology as this advanced suite of features is interconnected to a new ECM via a Controller Area Network (CAN) wire harness that quickly transmits information from a new six-direction, three-axis IMU.
The S.I.R.S. includes Cruise Control that effectively maintains road speed though the new Ride-by-Wire electronic throttle bodies. The updated Motion Track Antilock & Combined Brake System now includes a Hill Hold Control system to aid the rider when stopped uphill while the Slope Dependent Control System helps manage braking force to avoid rear wheel lift when riding downhill. The Motion Track Brake System also includes a Load Dependent Control System that monitors and retains braking force information to optimize braking force when riding with a passenger or heavy cargo. Each element of S.I.R.S. provides V-STROM 1050XT riders stress-free use and convenience during long distance adventures, commuting, or pleasure riding.
The V-STROM 1050XT comes with a new adjustable, wind-tunnel developed windscreen, redesigned handguards and mirrors, a new height-adjustable two piece seat, plus a rugged accessory bar and center-stand, and much more. The 1050XT has two exciting color schemes; the Championship Yellow color that resembles the legendary DR-Z rally bike while the Orange and White combination pays respectful homage to the DR-Big.
Honda
Adventure bikes are good at a variety of things. Now it's time for a good old-fashioned focus on one thing and one thing only: going super fast on a track. Honda has added a fourth R into the name of this bike, the CBR1000RR-R Fireblade SP, which is an all-new MotoGP-derived tarmac killer. SP stands for special production, by the way, so this will be limited production, all-out technology.
Here's Honda's words
CBR1000RR-R FIREBLADE SP
Focusing on outright track performance, engineers have developed the CBR1000RR-R Fireblade SP with engine and chassis technology from MotoGP, the all-new model drawing heavily on the RCV combustion efficiency and low-friction solutions. The engine is more compact than the inline four-cylinder powerplant it replaces and benefits from the use of high-end technologies like titanium connecting rods, forged aluminum pistons and finger-follower rocker arms.
The CBR1000RR-R Fireblade SP uses an all-new aluminum diamond frame with increased vertical and torsional rigidity, but decreased horizontal rigidity, for maximum levels of grip and feel. A longer swingarm—stamped from aluminum of 18 individual thicknesses—is developed with lessons learned through Honda's Grand Prix efforts, further highlighting the connection between the all-new model and Honda's championship-winning race bikes.
Honda Selectable Torque Control (HSTC) has been optimized and an adjustable Start Mode joins Power, Engine Brake and Wheelie Control; a quick shifter is standard. The CBR1000RR-R Fireblade SP is outfitted with a six-axis Inertial Measurement Unit (IMU), three-level Honda Electronic Steering Damper (HESD) and second-generation Öhlins Smart Electronic Control (S-EC) suspension and user interface. New Brembo Stylema brake calipers bite 330mm rotors through two-level ABS. The bodywork and riding position have an uncompromising focus on aerodynamic performance, and the fairing features MotoGP-derived winglets to generate downforce. A full-color TFT screen and Honda Smart Key are the finishing touches.
No pricing announced yet, but nothing about this bike is for the faint of heart. If your tastes are more tame, Honda did announce changes to it's popular Rebel 500 and Rebel 300, including clutch changes, new fork settings and some styling updates. Our man Chase Stallo wants to graduate from a Kawasaki Z-125 pro to a Rebel 500 in the worst way.
Kawasaki
Think a bike with not one, not two, but three Rs and the word "Fireblade" in the name isn't bonkers enough? Well, Kawi keeps developing its supercharged H2 line.
Kawasaki's legacy of creating motorcycles that have unrivaled performance, excitement, and Sugomi™ styling continues with a flagship model of the Kawasaki Z line of naked motorcycles, the all-new 2020 Z H2 supercharged hypernaked. With the arrival of the hypernaked Z H2 and its powerful, balanced supercharged engine, the second chapter of Z history is about to begin and marks the beginning of a new era.
On the other side, Kawasaki's new W800 is old-school style over some modern(ish) technology. This lists for $9199.
The 1960s spirit runs deep in the Kawasaki W retro-classic lineup with class-leading authentic styling, sound and feel. A true throwback to the iconic W1, modern W800 motorcycles are meticulously crafted to pay homage to the past, all while thoughtfully incorporating modern technology and features.
Aston Freaking Martin
What would James Bond ride? We suppose this, Aston Martin's first motorcycle. Only 100 will be available and pricing is announced at $120,000. It has 180 horsepower. Maybe some machine guns built in for 007. Details are scarce.
Aston Martin revealed its first motorcycle, the AMB 001, created in partnership with the English motorcycle-maker Brough Superior.
The same people who design Aston Martin's cars worked on the track-only AMB 001. This "full breadth of experience" is shown in the creation of the bike, according to Aston Martin Executive vice president and chief creative officer Marek Reichman in a statement.
"This is what we believe a cutting-edge motorcycle should be and we are very proud to see the Aston Martin wings on a motorcycle for the first time," Reichman said.
Segway electric dirt bike
You all know the Segway scooter right? Tours around cities? Mall cops? James Stewart?!
Well, Segway-Ninebot has been pushing other electric scooters for awhile now, but this is a splash. A Segway-branded dirt bike!
Well, kinda. This electric dirt bike/mountain bike mashup will make for a real battle between traditional companies and new ones like this.
This news comes to us not from EICMA but from TechCrunch:
The Dirt eBike will come in two versions, the X160 and X260. The X260 will be, as you might assume, the beefier, heavier, longer-range and more capable bike. It also will be more expensive, coming in at about $4,500.
The X260 weighs 121 pounds with the battery; the X160, which costs $3,000, is about 105 pounds.
The X260 comes with a headlight, can hit a top speed of 46.6 miles per hour and handle steeper slopes of up to 45 degrees.
Both versions have swappable batteries. The X260 has an estimated battery range of 74.6 miles on a single charge, while the X160 has 40.4-mile range.
The product will be available for consumers in the first quarter of 2020, the company said.