Vine Grove, Kentucky's Ryan Sipes is on extended time. He first turned pro back in 2004, and he enjoyed a very long career in AMA Supercross and Pro Motocross, even winning some 125/250 SX main events and reaching the podium at some outdoor nationals. Then he transitioned into off-road and managed to not only win a Grand National Cross Country (GNCC) overall, but he also became the first American to ever win the International Six Days Enduro individual overall. Now he's become something of a modern Malcolm Smith or Dick Mann, using his versatility to be competitive in a wide variety of motorcycle racing, from American Flat Track TT victories or a win in 125cc All Star races like he did last month in Indiana.
This past weekend we ran into Sipes and his wife Holly at the Racer X Maine Event. Sipes was at the Stuart family's MX207 Raceway to compete in the 125 class, where some of the competition was probably less than half his age! He was also helping his son Jack, as the four-year-old boy entered his very first minicycle race.
Racer X: So which made you more nervous here at the Racer X Maine Event, your own races or being a minicycle dad as your son Jack starts racing?
Ryan Sipes: Being a racing dad for sure. But I wasn't worried about him crashing or whatever. Well, I was a little worried in the first two motos because the bigger kids were out there too, kind of jumping past him—he doesn't really jump—but it was super cool for me to see his competitive spirt come out in the last moto, because he could see the kid in front of him and he was going twice as fast as he did in all of the other motos. He actually chased him down and passed him, crashed, and then had to pass him back again. It was really great to see that competitive spirit come out. He's already showing a little potential.
It looked you were having fun out there, especially when you were racing with Justin Allen in the 125 class.
Hey, it was, and he was pinning it out there. I told him if he'd slow down three percent he would go faster. But maybe that's what makes him so fast—he was not scared to send it! We raced together three motos, and the first two motos I really just out-smarted him, me just being a little older and knowing how to pick lines and all that kind of stuff. And that last moto, which he won, I'm not taking anything away from him—he was riding really good. I made a few runs on him but there weren't a lot of lines out there and I just wasn't able to make the pass, but I also knew that I could take second and still take the overall win, which I did. I really think Justin could be one to watch in the next few years—he's got some real potential.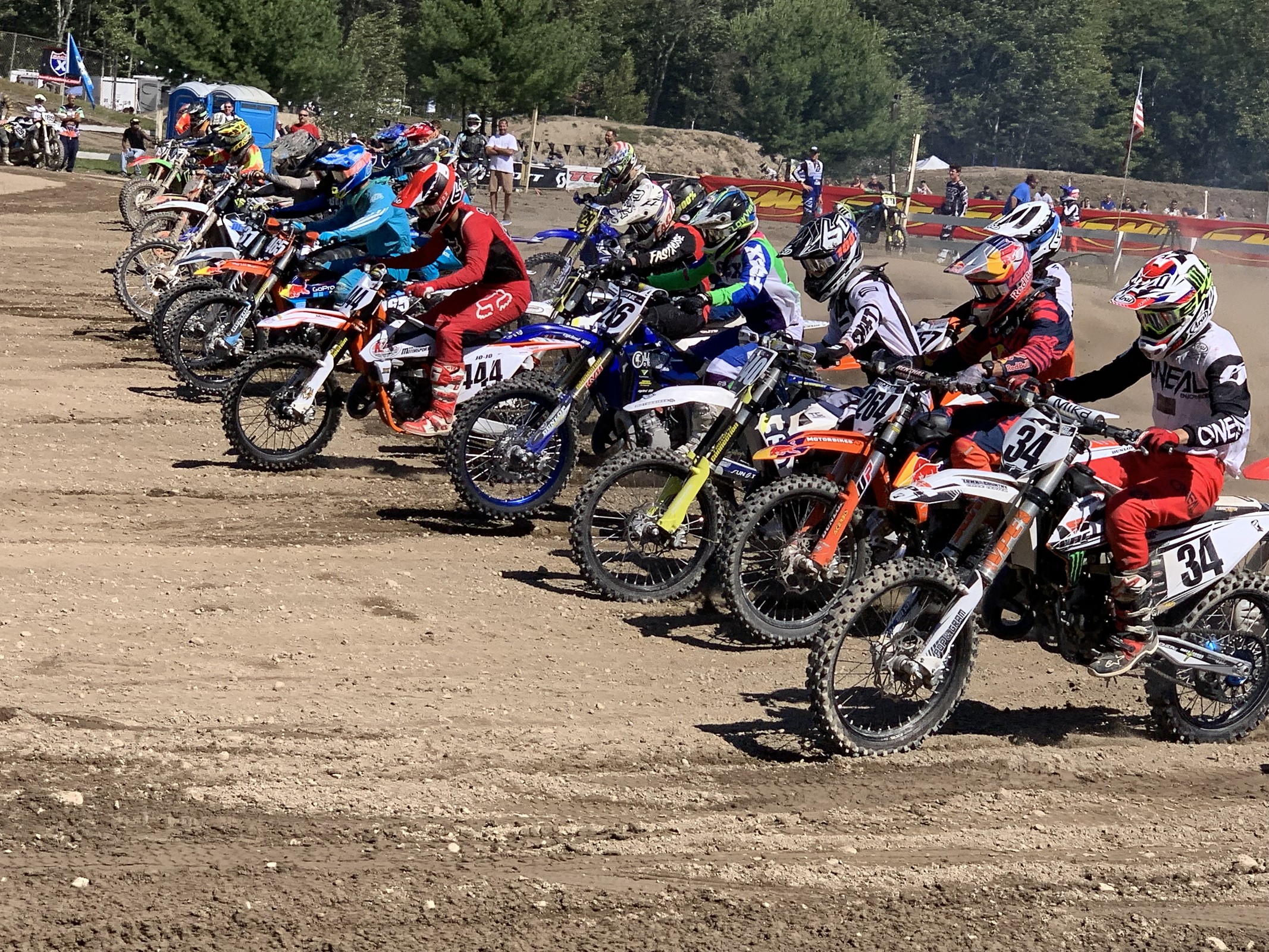 I noticed you and Justin talking for awhile up on the podium after that last moto.
Yes, I was just telling him, "Dude, figure your lines out," especially in the second moto. I was behind him and he would almost kill himself in every section, and I'm just like kind of cruising, taking a better line and keeping right up with him. He was like, "Oh, but I had to block the inside over there," and I was like, "Yeah, but the outside is a way better line—that's why I passed you on the outside!" But he's just young, and I was the same one at one time: zero fear, don't know when to let off. I was super fast as a kid but not very smart. But I've got 20 years on the kid so I should be a little smarter on the bike. I mean, he's really good, and if I were him, I would work on lines and being smooth, because he makes a lot of mistakes. That's the reason he's fast—he's not scared at all—but if he would calm down just a hair… Like I said, he's one to watch. He's going to be really good down the road.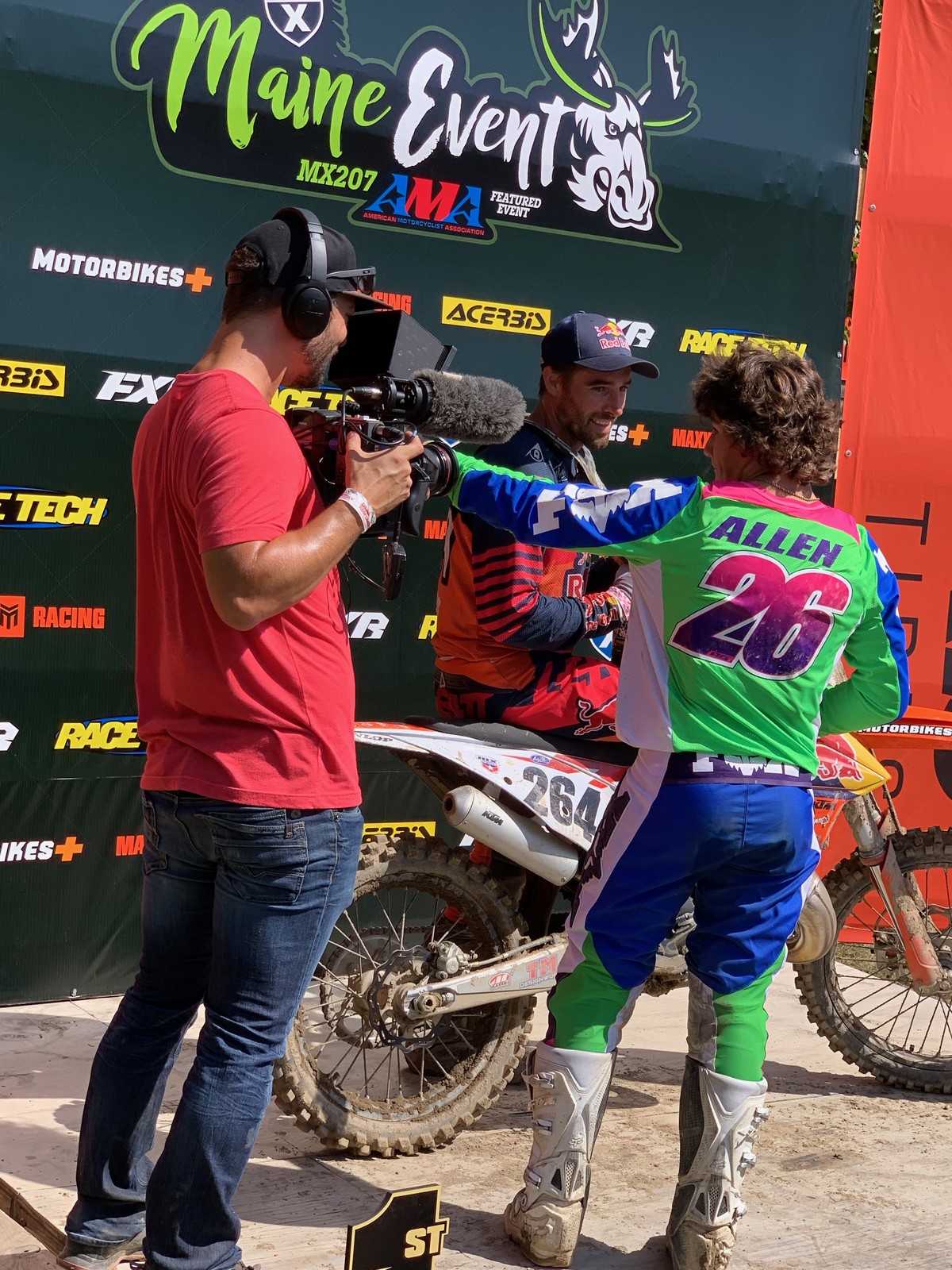 What about the event in general? You have your family here, you have some friends here, track is really good, the weather is great…
Man, the weather could not be any better. This is awesome racing weather, and this Maine Event, man, I would compare it to one of the bigger amateur races out there. There is a ton of people here, the track is really good, everybody is super cool, all of the people from up in this area have been really nice to talk to. Coming to some of these northeastern states, people can sometimes be not very nice, but everyone here is really cool and friendly and I love their accents too, so we're just having a great time, me and my family all weekend.
You mentioned your son's first race—does your daughter Ava do any sports?
She's 11 and so she's going to get into volleyball and softball. She's never done a lot of sports in the past but now she wants to. She's kind of tall so maybe volleyball will be her deal. As for my other daughter, Claire, she's only one so we just don't know yet.
Is your family going with you to Portugal for the upcoming International Six Days Enduro?
My wife Holly just doesn't like to fly overseas. In fact, she refuses, for whatever reason. Plus it would be hard to take all of the kids on a trip like that! So she will stay home. She's a champ in the way she takes of the three of them all by herself sometimes while I'm off racing. I couldn't do it without her. And it really is nice when I get to take them all with me like I did this week.
Hey, what's it like to have Wes Williams following you around everywhere with his camera focused on you?
Yeah, he's right here in my face again [@vurbwes is standing right next to him, viewing our conversation through his lens and laughs]. No, it's cool. I've worked with a lot of photographers and all over the years—
—You're like Hailie and Dangerboy Deegan, having a filmographer with you all the time!
[Laughs] Yes, it would be different if he weren't cool, but we'll go out and eat tonight and hang out like buddies, we're friends and all so it's alright. It's definitely been different. All year I've had this camera right here, filming everything I do, but that's what's made this year so cool. It's been a good year, we've had some really good results, some ups and down, so it's been fun to document it all.
It's like Team Fried with Jason Anderson, only it's Team Wes!
[Laughs] Team Wes? Don't name it after him! Maybe call it Team Vurb instead.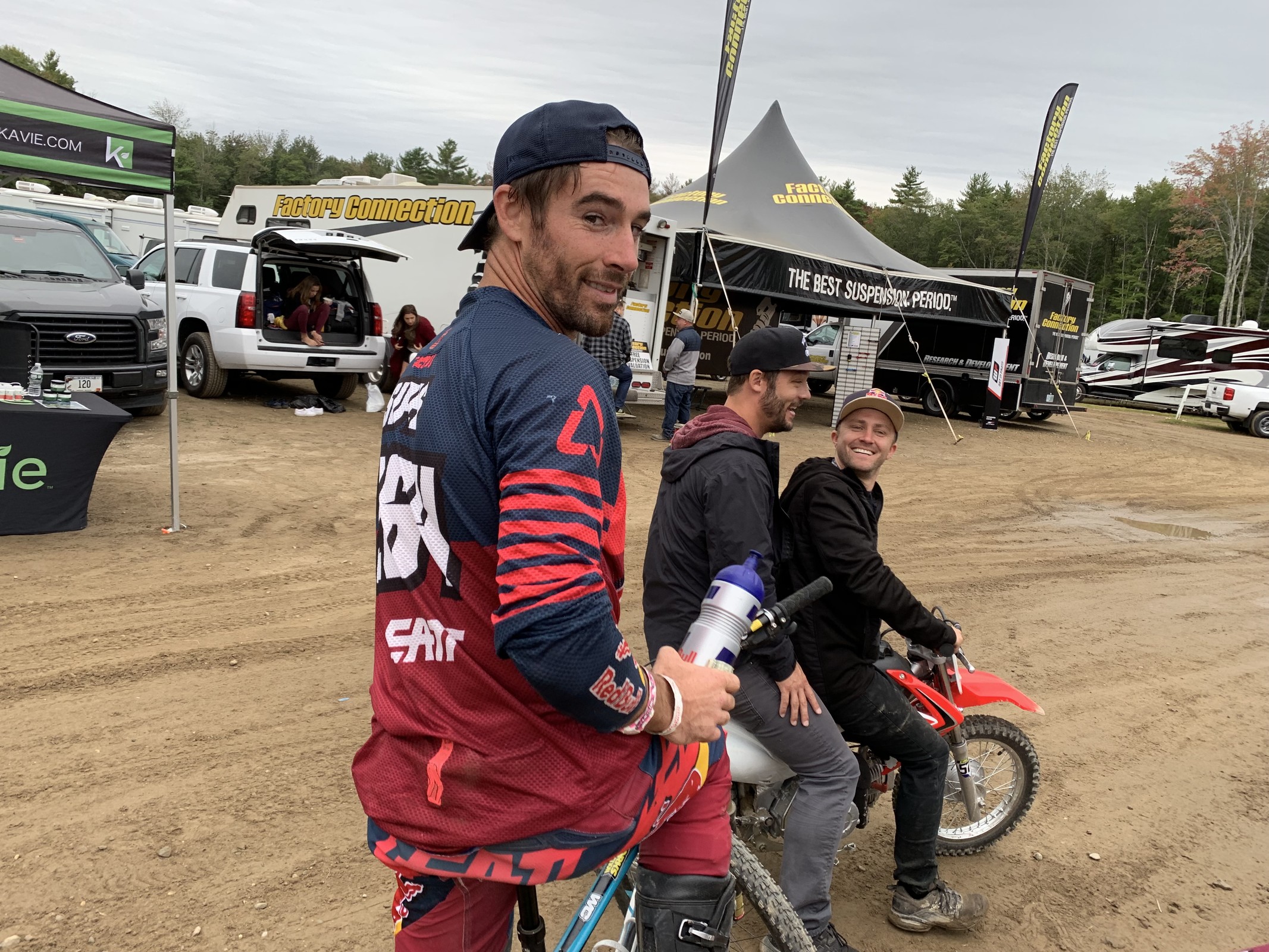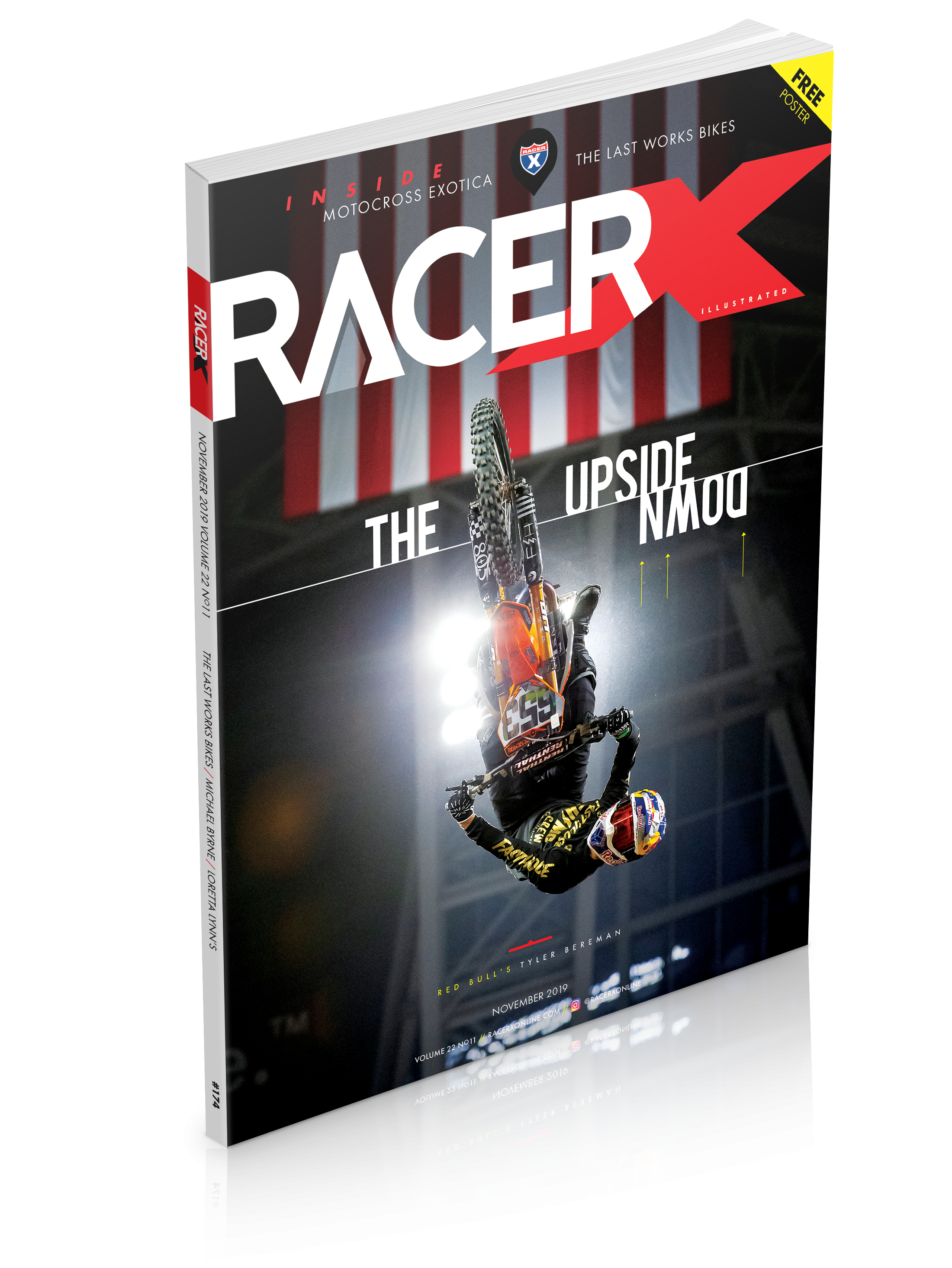 Racer X Illustrated Motocross Magazine
The November 2019 Issue
Inside the November issue of Racer X magazine: See who stood out and what our takeaways are from Loretta Lynn's and all of its future moto talent. GEICO Honda had a packed house at the last three nationals, but who's sticking around? Former factory rider Michael Byrne has made a successful jump to team management, and we find out how and why. When the AMA's 1986 Production Rule went into effect, it ended a glorious run of exotic, hand-built—and wildly expensive—bikes in AMA racing. We dig into the story of those final years. All these features and much more inside the November issue.
Read the Issue Now
Preview the Issue Now