The Montreal Supercross is unique in that it's a bit of an off-season race, but also a full points-paying event at the same time. For American-based racers like Dean Wilson, Malcolm Stewart, and Justin Brayton, it's a way to get in a trip and snag a paycheck, just like an off-season race in Paris, Geneva or Australia. However, this race is also part of the Rockstar Energy Triple Crown, a Canadian National Championship combining points from arenacross, motocross, and supercross throughout the year. American racer "Filthy" Phil Nicoletti is leading those standings, and finished one spot in front of his closest title rival, Cole Thompson, in Montreal.
Phil ended up fourth overall, behind the three visiting riders from the U.S.—Wilson, Stewart, and Brayton. In the three-moto format, Phil actually tied Brayton, but lost the tie breaker. That's how it usually goes for Phil.
As for Malcolm Stewart, it was a welcome return after a long, long injury layoff. "Mookie" hasn't raced since breaking his femur at round two of Monster Energy AMA Supercross in January!
Steve Matthes caught up to "Mookie" and "Filthy" Phil after the race. He also snagged Brayton to talk about his battles with both.
Malcolm Stewart | 2-1-5 for second overall in 450SX
Racer X: Bummer. You go into the last main event with the points lead. Crashed in the first turn. On the good side, you were about the fourth guy to go down in that first turn. So it was a tricky first turn.
Malcolm Stewart: Yeah. I come out of the gate like a rocket ship, so obviously my starts are good. My MCR bike hooks up. I just blew the start and then went down. It is what it is. Then I came dead last to fifth, so I fought my way back.
I only watched you that last main event. I don't think I watched any of the other guys.
I made a good charge. I'm pumped on that. I think the thing I'm more happy about is I come into this race, it was like, "Let's just get on the podium, have a good race." I didn't know what to expect. It's been like eight months. So that's a long time. You can do all the practicing in the world, but you can't replicate the gate drop. All the guys that finished ahead of me, they've been racing. But for me, it was just a matter of just having fun, enjoying myself. We ended up getting second overall, so I'm pumped on that.
So something like this where you go down in the first turn, you're not upset at all, right? You're perfectly fine with how it went?
No. Honestly, sometimes I'm kind of like, "I'm kind of glad I went down in the first turn, just to come back just so I can know what it feels like to be passing riders and stuff like that." Obviously I went second the first main and won the second one. So that was good to have clean air and stuff. I was so nervous. I was so nervous! Before the first main, right when the 30-second board went up I'm like hyperventilating.
That's crazy because you're such a veteran guy.
Like I said, you can't replicate races. For a rider like me, any time that you take time off or you have an injury and things like that, all that starts to, not necessarily run in the back of your mind, but the time off… It feels like forever that I've raced! Again, I'm happy. I can't thank the whole team [enough]—Mike Genova, Tony Alessi, my mechanic Jason, Seven MX, Shoei, Scott, Gaerne, my mom and dad, brother, everybody.
Can we talk about Phil? He was giving you all you wanted. He's a supercross expert now.
I told Phil, I was like, "Bro, you need to come back to the States." I was like, "If you're going to ride like that, bro…"
Whatever you wanted, he had it.
Fifty-four [Nicoletti] was the guy I saw all weekend. Phil rode good. I love Phil. He's a good guy. We were teammates at JGR last year or two years ago. He rode phenomenal. Dean Wilson rode great. Congrats to him, coming home with the number one plate. JB [Justin Brayton,] he rode great. All I can say it was one big, happy family. The goal was to come out here, have fun, ride safe. We're going home and getting on the plane safe.
How's the leg? Are we a hundred percent?
The leg's a hundred percent. Still have my trainer, [Gareth] Swanepoel, helping me out with that. I don't even think about it. Everyone's like, do you ever get nervous about the crash? I'm like, honestly, I don't even think about that. I think about not racing. It was good that we had three gate drops. So I'm pumped on that. Looking forward to Monster Cup next month.
You'll do Monster Energy Cup. Will you do Paris and Geneva Supercrosses?
Yeah. Paris and Geneva are as well on the list. Thanks to [Eric] Peronnard on that one. I'm just happy to be back.
Phil Nicoletti | 4-2-3 for fourth overall in 450SX
Racer X: I owe you an apology. A lot of booze cruise jokes. A lot of not being prepared jokes. But maybe you should go on one more booze cruises because you rode really well tonight.
I'll booze tonight. Drink some wine. Maybe get a little buzz on.
You had a good night.
Yeah. It was okay. Obviously it's not very supercrossy, but you've still got to be racy. I felt good. My bike worked great. I practiced legit supercross coming into this because last year was pretty legit, as you know. Obviously here there's still some stuff that's still kind of technical and whatnot. Just rode for what I knew how to ride. We had the three guys [Wilson, Stewart, Brayton] and I really wanted to be on the box. That was my main goal.
"Mookie" bumped you off a couple laps to go.
I know. I kind of figured that was going to happen. I was really bummed about that. Still tied with JB for third, so I'm kind of happy with it.
Do you get 22 points in their championship or whatever fourth is? I don't know how that works.
Yeah, it just goes normal, just like a normal race.
So Deano scored 30 points tonight?
Deano scored 30. So I got 24 or whatever. I don't know how it works.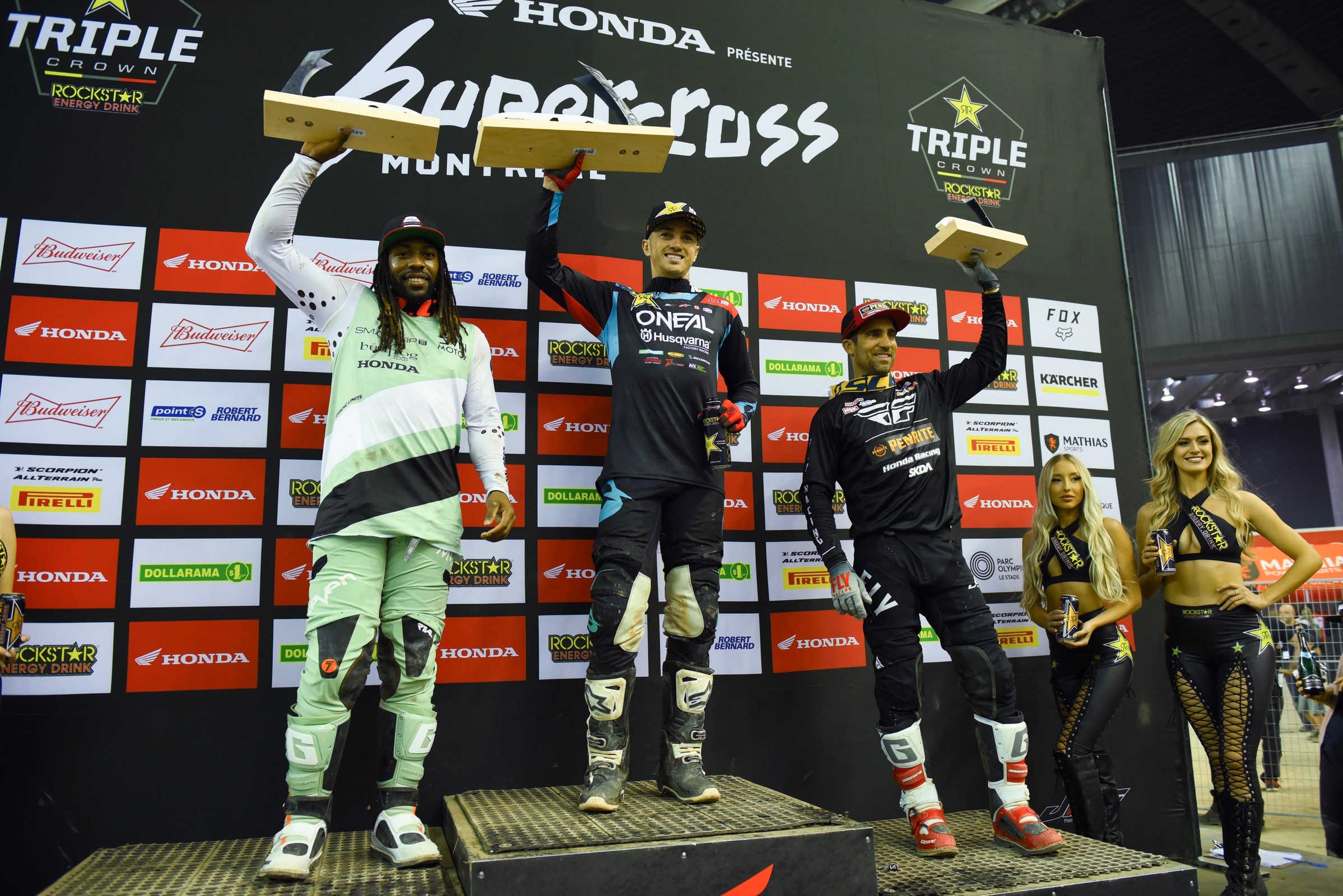 So two more races in this Rockstar Triple Crown?
Yeah. It's okay. Like I said, it's what I needed to do. I didn't need anything catastrophic to happen tonight, so it's good.
Not great jumps off the start, but snuck inside every main event.
Yeah. My first one I had a good jump. Second one I snuck in because I should have been out the back. Then third one I snuck in as well. So it kind of worked out good. Yamaha cornered on a dime tonight. Blue crew. It felt really good. I'm just so pissed off I didn't get on the box.
It was weird because "Mookie" was obviously making moves after he fell in the last race. But I'm not sure how he did it, you couldn't really push too hard. It seemed like the third main was too hard because the dirt was getting pushed off. The track had cool obstacles but I don't know about the dirt.
No, I think the dirt would have been okay if they didn't have to run side-by-sides and quads and whatever the hell else we ran out there. The dirt with moisture was actually really good in practice. So that was kind of a bummer. It kind of took the raciness away from it.
Phil was NOT happy about the dune buggies racing on the track.
You couldn't really switch lines.
No. The whoops and stuff. I wish we could have been able to skim them instead of jump them. When "Mookie" and JB are jumping through them, you know something's wrong. Like I said, I did what I had to do. I'm happy to get out of here safe.
Were you marking [Cole] Thompson at all out there? Were you able to see him?
I couldn't care less. I just went and did my deal.
Was that kind of in the back of your head, though? Like, I'm not racing "Mookie" and I'm not racing Brayton. Let's be calm?
It wasn't. I wanted to go after those guys and stay on them as long as I could and they would pull me away from him. Like I said, I got a big enough cushion to where I kind of can manage it a little bit and know what I need to do. You kind of had me stressing on the booze cruise aspect of it, but I'm just like, I've put in so much time, dude. Tons and tons of time.
You just don't see champions go on booze cruises with three races to go. You just don't see it.
I could have got hammered last night and still came out and did this. Let's be real.
Probably. Brayton is impressed with you. I owe you an apology. It was a real redemption night for Phil Nicoletti.
I need to talk to [Chad] Reed and get on his program back in '08 and then we really start getting the vibe going here.
Justin Brayton | 3-4-2 for third overall in 450SX
Racer X: "Filthy." I got to go apologize to him because I threw a lot of booze cruise jokes at him. Maybe he needs to go on more booze cruises because supercross.
Justin Brayton: Supercross is his thing now!
He killed it.
What's crazy is we were talking about it at dinner I think last night or before that. We've been doing motos at Club[MX] and it's not even close. Not even close. Then he shows up here and he's like breathing down my neck, beats me one main. Where'd this guy come from? I told him Jimmy Perry [Monster Energy Yamaha Team Manager] is going to be calling him for Anaheim 1.
I think the best race was you and Dean in main number two. You guys were going at it. There might have even been some aluminum exchange there. It was a really good race.
It was a good race. Unfortunately as we were doing it we were losing touch with the top two, but we talked after. We were like, "Dude, that was fun!" We were just back and forth. What's crazy is he would come inside of me and I knew that he would drift wide because it was so slick, so I would square him up and go underneath. He would do the same thing to me. We were back and forth pretty much the whole main. It was fun.
Start was huge here tonight. Easy track for you guys.
Yeah. It is what it is. This was the furthest away from a track that would suit me, but it was cool just to race, honestly, and get some gate drops and feel those nerves again. It's been a long time. I'm glad I did it. Thanks to everyone here in Montreal for having me. The fans were great. I'm excited to get things rolling.
I was wondering when you showed up here, would you be in SmarTop/Bullfrog Spas/MotoConcepts graphics and gear, or would you be in Factory Honda graphics and gear. Neither. You're with Penrite, the Australian guys, and your guy is here and everything. So how did that deal come together for this race?
So pretty much how my deals have always worked in the past with Genova and MCR is my contract with him is from December 1 to actually May 1, right after Vegas. And then my Australia contract starts and I start getting paid from them in June. It goes from June into November. So I just thought it would be cool to give them some love. Essentially I'm employed by them right now until December. It was just cool to have Yuri from Honda Australia out here and have Penrite on my bike. Just basically give him some love internationally.
You happy with the night?
Not really, to be honest. Kind of is what it is. I got to take it with a grain of salt and just from the track. Can't take a lot with it, but also I did learn some stuff about the bike. So yeah, I'm excited for the next few weeks.
---
Main Image: James Lissimore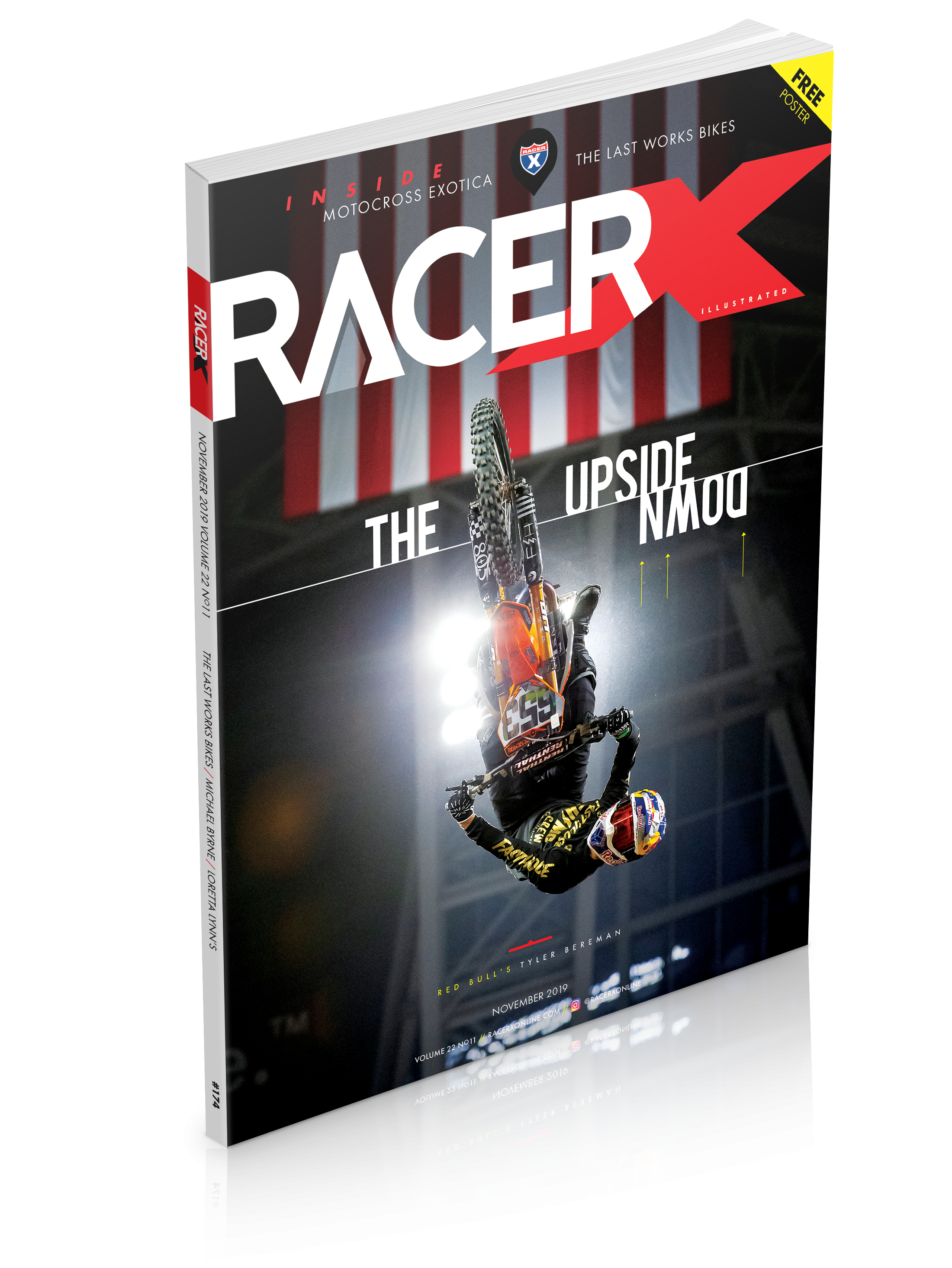 Racer X Illustrated Motocross Magazine
The November 2019 Issue
Inside the November issue of Racer X magazine: See who stood out and what our takeaways are from Loretta Lynn's and all of its future moto talent. GEICO Honda had a packed house at the last three nationals, but who's sticking around? Former factory rider Michael Byrne has made a successful jump to team management, and we find out how and why. When the AMA's 1986 Production Rule went into effect, it ended a glorious run of exotic, hand-built—and wildly expensive—bikes in AMA racing. We dig into the story of those final years. All these features and much more inside the November issue.
Read the Issue Now
Preview the Issue Now