Afyonkarahisar, Turkey
MXGP of Turkey
FIM Motocross World Championship
Jorge Prado is only the third double FIM MX2 World Champion and has won every Grand Prix he has contested in 2019 bar one. He owned 12 rounds in 2018 and has taken 15 so far in the current campaign with an incredible 29 moto wins from 32 starts. The next nearest challenger is '19 runner-up Rockstar Energy Husqvarna's Thomas Kjer Olsen, who has three. The Galician (by way of Belgium and now Rome) is already the most successful Spaniard in the history of the sport.
The fact that he has accumulated 22 holeshots from 32 motos tells a lot about the majority of his race wins. He is every inch the junior version of mentor, training partner and 2020 MXGP teammate Tony Cairoli. In other words, he burns with potential and is seemingly devoid of any weakness.
It is little surprise that KTM, who have backed Prado since he was a squeaky 12-year-old, have bagged #61 for another four years and see him as their principal MXGP star for the future when the iconic Sicilian decides enough is enough and Jeffrey Herlings scarred body also cries 'stop.'
Prado has changed little from the accessible, jokey, and humble figure that came into the Red Bull awning as a scrawny 16-year-old. He's actually still pretty scrawny, in fact. He has a freakish talent for switching off the light-heartedness and immediately adopting a game-face. His transformative work with team manager Claudio De Carli and his family, principally son David, has made Prado the most formidable package in Grand Prix: starts, reserves of speed and stamina, eagerness, and flamboyance (when he fancies).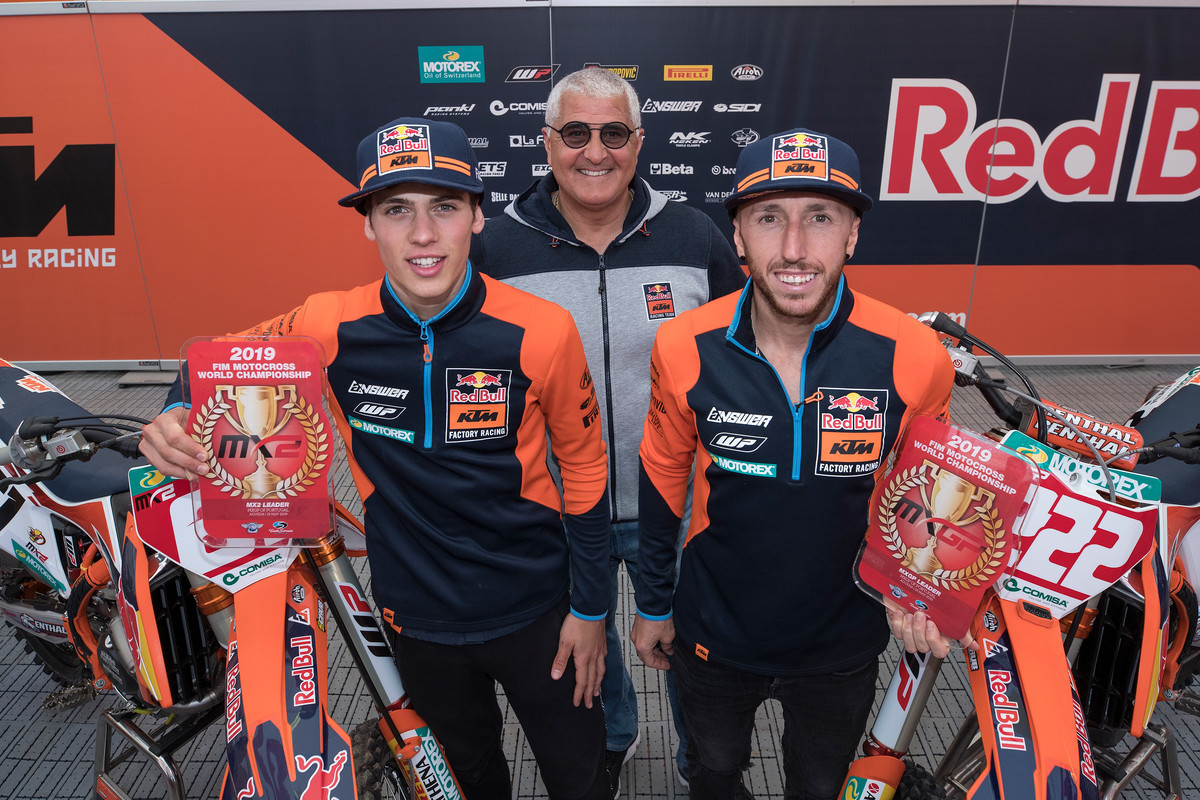 The 2020 MXGP campaign will be mouth-watering. Cairoli, Herlings, and Prado on the same team and on the same bike and with the knowledge that rookies have conquered the premier class twice in the last five seasons (and Herlings mastering MXGP in his second term) it could be a career zenith for Prado at a ridiculously early age.
Racer X: 2019 has been a 'Herlings-esque' year of domination. Does winning ever become routine? Or is it possible to take the same amount of pleasure each time?
Jorge Prado: Yeah, because every single one is different. Lommel [Grand Prix of Belgium] stands out. It is a very tough sand track and I'm so happy when I get over the finish line first there. It is almost a home GP for me and that gives extra happiness. It's difficult to keep the focus every single time you go on the track because a small mistake means you don't win the moto. It's hard to stay on two wheels for a whole championship. Sometimes when I get home or I am travelling back from the race I do stop and think, "I'm doing an incredible job this season."
When you say it is hard can you understand why people might find that difficult to believe? You make it look very easy…
Maybe from the outside it could look a bit easy but I am keeping my rhythm. In the last races I have been taking more distance over the second place rider and I'm improving also, and this is another goal next to winning the championship. I want to improve. Sometimes I don't push too much because I want to manage risk but I want to ride the best I can each week. If I can ride smoothly then [that's] better because I am always thinking about the future and I know the MXGP class will be hard. I'm very ordered with everything I do. I am always thinking that the others are working and training more. I give my all…and sometimes a bit too much; the time to recover for the weekend can be too small. If you push too much in the week then you can have some consequences in the weekend, which I've had before.
Did it ever get to a point where it became stressful or pressurised to maintain it all? Any issues with motivation?
When Tony got injured [Cairoli dislocated his shoulder in Latvia for round nine]. We had always trained together and when he was hurt I didn't have that partner and the first days were a bit disorientating and I didn't know what to do. I would ride but it was weird being on the track alone. I wasn't used to that. I'd trained by myself all my life and in the beginning it was difficult to ride with Tony but I could always put challenges every time I went out there, whether it was a lap-time or trying to be smoother.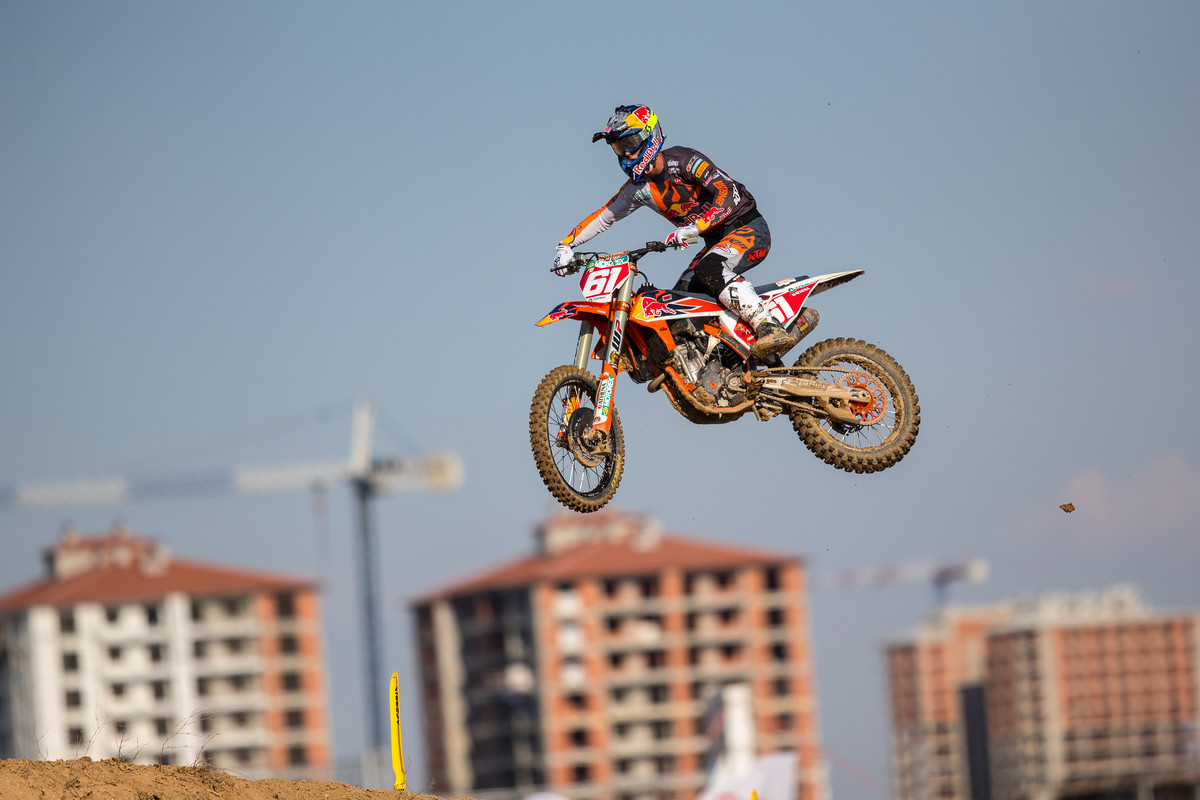 How does it work with Tony? Do you pace each other?
It depends on the day and the plan. Sometimes he's in the front and I follow or the other way. Sometimes we just go out. We are never really close because we have the whole track for us and it's stupid to swallow dust or roost from the guy in front. We see each other around points of the track though and I'll try to push and he'll try to push. We try to play cat-and-mouse.
That regime with Cairoli at Malagrotta in Rome means one track most of the time. Do you miss somewhere like Lommel?
I rode a lot in Lommel! For the first three years living in Belgium it was a lot, a lot. Then I started going to more tracks in Belgium and Holland and now I sometimes feel that I miss riding the sand because in Italy, like you say, we are always at Malagrotta which is hard-pack. Before the GP in Lommel I'll normally be there one week enjoying it again. The second moto at the race this year was the best I have felt in the sand for a while. But, you know, 90 percent of the championship is on hard-pack.
Talk about how your style has changed. On the 125s and for the first year on the 250s you were quite flamboyant and whipped the bike a lot—a bit like Tony used to—but now you are very economical, very straight-
It's true. I see that too.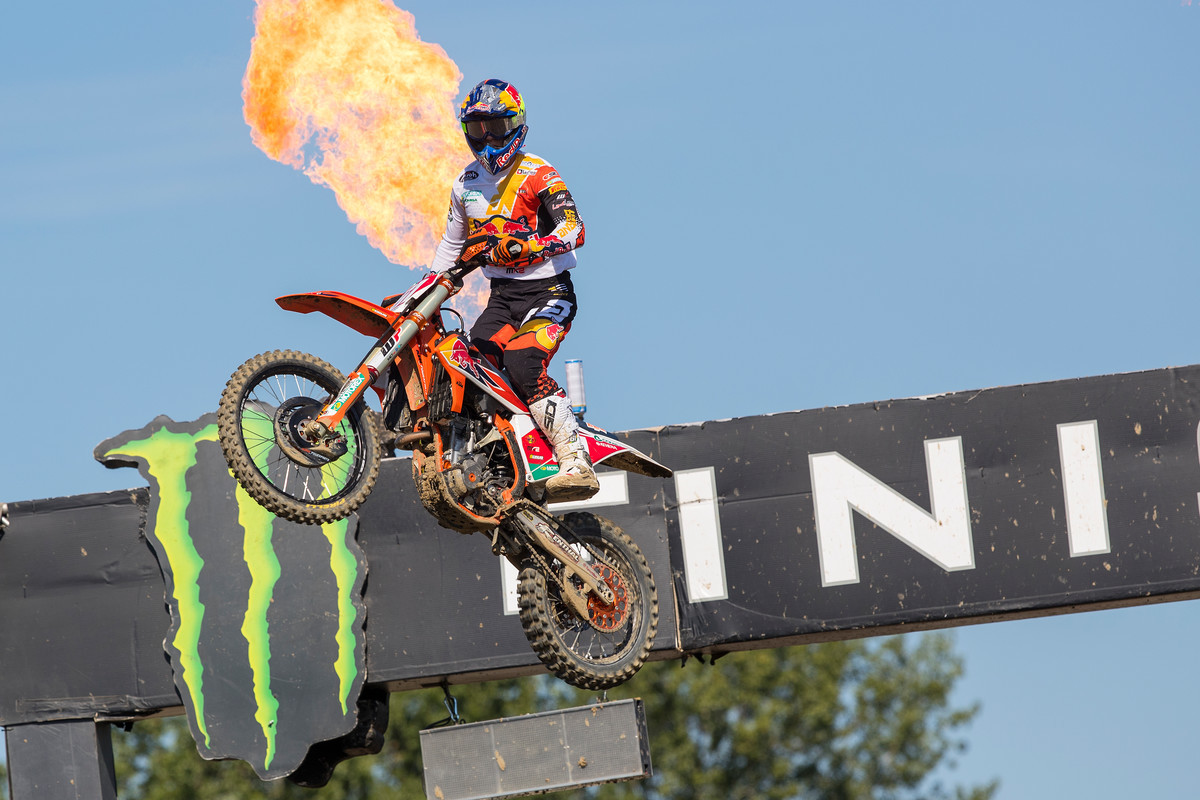 How do you feel about that?
Um, before I was wilder, you know? I was revving the bike more. [Pauses]. I was whipping and scrubbing and now I am like an old man! [But] I have to stay on two wheels. Maybe now I focus more on pushing when the wheels hit the ground rather than what they are doing in the air. The whips were nice for style but it made me tired. Sometimes I have fun and play on the jumps but the tracks don't really allow you to make so much stuff. For example in Imola there were 2-3 but they were not well prepared. We were casing the finish line jump almost every lap because it was so hard and we didn't get the speed. On the European tracks the jumps are not so big…and this year I missed Matterley [Basin, he was injured for the British Grand Prix]. I jump more straight now…maybe also to stretch a little bit I think.
But you traded all that 'show' for two titles and 30+ wins…
Last year was the first season where I calmed down. Maybe it was Claudio's fault! If I want I can still go very big. But it would be really stupid to lose something because of it. Winning races is much more important.
Is there one trophy on the shelf that you can look at and think, "That one is special, I really earned it?"
This year has been a big different. In many motos I made the start, got to first and then just had to focus on me and what I was doing and try not to make any mistakes. Last year with Pauls [Jonass]…it was a season where I look back now and think "That was so hard." I started off badly in Argentina and it took me half a season to get the red plate, and another half for the title. With three rounds to go last year there were almost no points between us whereas this time I took the championship. It was a campaign where I had to push every single time. When I won I was like "Yes!" but looking back now it was hard racing, good racing and I was fighting a lot. This year has been incredible…but different. The other riders have also been fast but I had a bit extra. I made fewer mistakes this year. The feeling around the results is different. In 2018 it was 'Pauls, Pauls, Pauls: I need to beat him.' It was a nice championship.
Tim Gajser is doing the Monster Energy Cup this year. Ever thought about it?
I saw that. Nah. It is a bad date for me because I will be riding the 450 a lot for next year and will do as many hours as possible until I feel good with it for next season. I need to have the confidence and a set-up where I feel safe.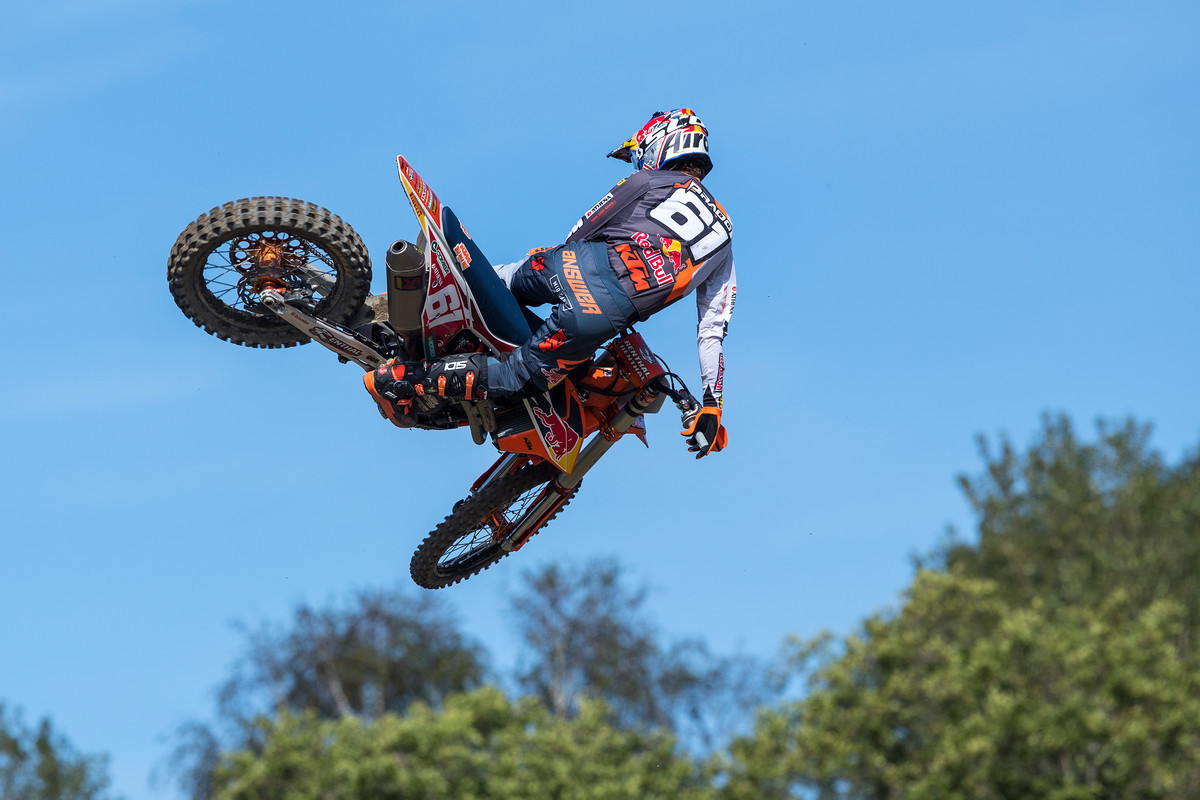 Will your start technique need some refining for the 450?
I'm not sure. Hopefully not much. I started well with 85, 125, and 250 bikes so I hope the 450 as well.
What's the training program? Do you plan to put on some more kilos?
It's not easy. I'm quite a tiny guy and don't have big muscles. Tony is small but he is a very strong man. And I'm not! I'm a bit different. I'm good, but if you look at my arms then they are not super-powerful. I work a lot and I have strength but I don't have bulk. I hope we can improve on that for the 450. But if you look at a rider like Marvin [Musquin] he is a skinny guy as well but is very strong. So it is not all about the muscles and we need to find a good program, the right program, although I think it won't be too different to what we are doing now. I think a lot of bike hours will be important. It will be totally new for me.
Is it going to be easy to keep working and riding with Tony if you are on the same team?
Yeah. I think so. I don't see where the problem could come from, or how we'd stop being friends. We have a good relationship and we only help each other improve. He also feels that. This year Tony was very fast, faster than last year. I was better than 2018 as well. It is good that we train together physically and on the bike. I think it is good for his motivation that I'm there and for me I have the best possible reference. It is only good for both of us.
Next year could be daunting. You won't only be a rookie but also part of the best Grand Prix team ever. However, perhaps Jeffrey and Tony will have more pressure to be title contenders…
There is always pressure. Everybody—KTM included—wants you to win. They are looking for victory so as long as it is one of us then that's fine, and I will try my best to make sure it is me. [Pauses] Winning next year is not the main goal. Instead I will be looking for improvement and trying to make a good season. I cannot tell you how I will feel in 2020 until I get used to the bike and compete against the other MXGP riders. Next year is the rookie year. An adventure. I need to keep learning and keep having fun. I have the best guys behind me and Red Bull KTM have always been fantastic to me. I'm with them for four years and I'm really happy about that. Some people have to worry about worse things. I just need to worry about riding and having fun.