New Berlin, NY
Unadilla
Lucas Oil AMA Pro Motocross Championship
What do you need to know about Hunter Lawrence's younger brother Jett? For one, he's hilarious. Second, he's fast but has an ultra-smooth riding style that makes him look like a young Kevin Windham. When we say young, we mean it. He will turn 16 on Wednesday, just in time to get his pro license and race Unadilla.
Jett, born in Australia but racing in Europe the last few years, made a heck of a debut at the Rocky Mountain ATV/MC AMA Amateur National at Loretta Lynn's. He won his first moto of the week—impressive against riders who have grown up racing this event—and looked good for possibly two titles and the AMA Nicky Hayden Amateur Horizon Award. Then, a bike malfunction while leading the final 250 Pro Sport moto cost him dearly, as he had the title in hand. He was probably a bit out of sorts, then, for his final Open Pro Sport moto a few hours later, and he blew the start, relegating him to 2-1-3 scores and second overall to Jalek Swoll. Swoll went on to win the award.
Had Lawrence's bike not broken in his final 250 Pro Sport Moto, his scores for the week would have been 1-2-1-2-1-3, by far the best of any Pro Sport rider. But the fact is that his bike did quit, and the results are what they are.
No rider has ever won the Horizon Award without winning a title, in fact Lawrence was probably the first to even be considered for it. He wasn't too bummed, though. In fact it doesn't seem like Jett gets too bummed on anything, except comparisons to his brother!
Racer X: I don't know if this is good or bad. You're the first guy that didn't win a title that was truly thought of as maybe he could still win the Horizon Award. I don't know if you even know how this award works, but it was in consideration.
Jett Lawrence: Yeah. I was a little bit confused on that. All my friends and that stuff, they were saying that I should win it. I wasn't 100 percent sure about it. I was a little bit bummed because that was probably why the trophy was the one they presented at the end. It's just a trophy, but it's pretty cool. It's like, "Oh yeah, I won this," but also it's an amateur event. I'll probably get a lot more big bucks doing the nationals than this race. So I'm a little bit bummed, but it is what it is. I can't change it.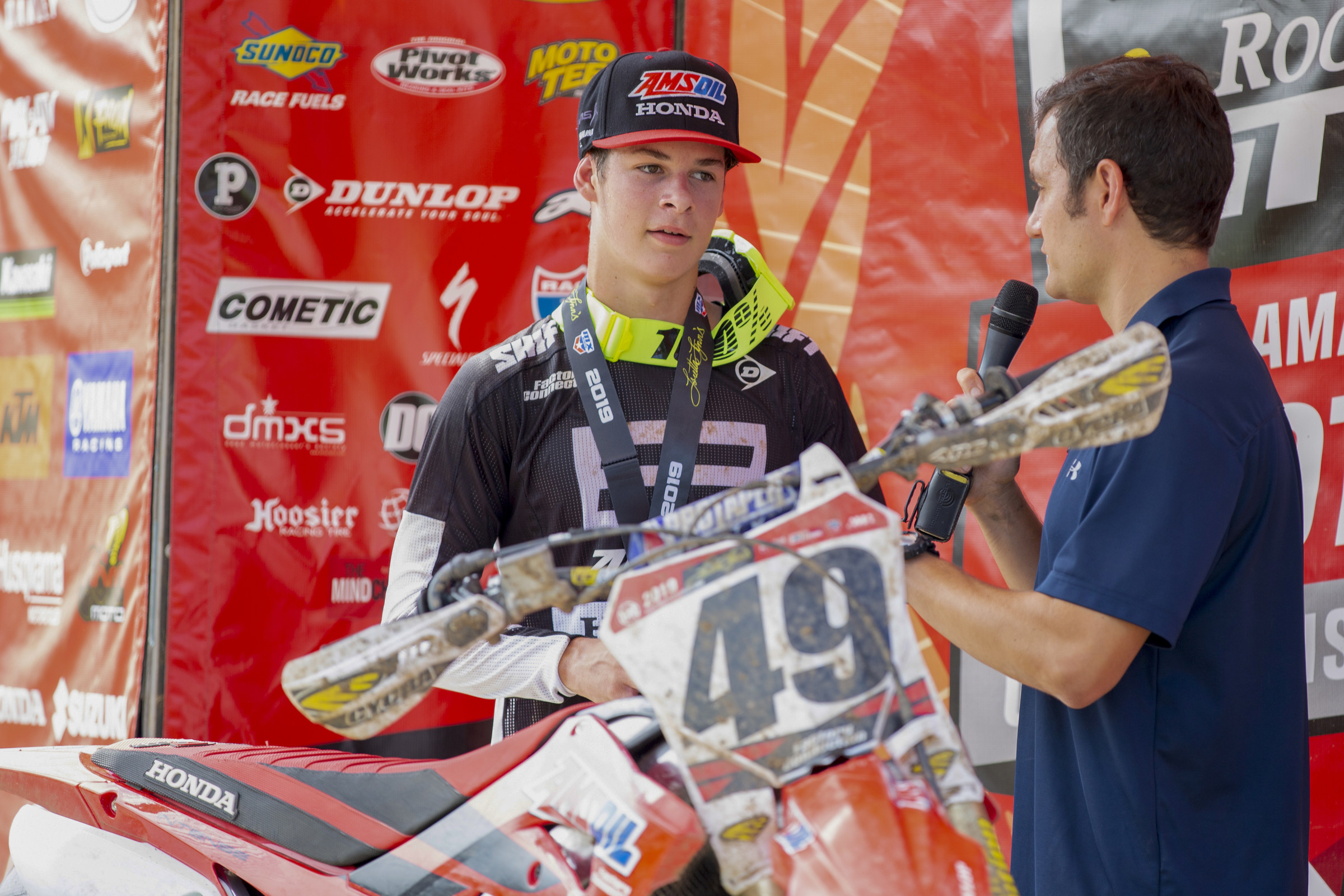 Did you expect to do this well here? You won your very first moto. I know you're a good rider, but usually it takes a while to figure Loretta's out. Did that surprise you?
Yeah. My dad was telling me at the end of the week, he thought I was going to be around fifth or fourth the whole thing. So when I went out and won that… I knew I had the potential to win it, but to win it with a gap? I was like, okay, I just got to keep the ball rolling. I was able to go out, got definitely close to the 450 Open win [he finished second to Jalek Swoll in a photo finish, the final margin officially listed as 0.066 seconds]. My teammate Sushi [Jo Shimoda] got me for the win in my second 250 moto, that was good, get more Amsoil Hondas up there. Then third moto of 250 was going super well. I got the best start of the whole week that I've done. Feeling comfortable. I know Jo crashed. Pierce [Brown] crashed, and Swoll didn't even race. I don't know why. So I had quite an easy race. Unlucky to have a bike malfunction, but it is what it is. I can't change it now. Just as I said, it's just a little amateur event. I'm a little bit bummed at that because I had an easy title in my hands. But it's fine. It's just a title.
I went to go do the same for the 450, so I knew I had a chance with that. My bike was fixed. It didn't start off the way I planned. I got a very good jump, but I just rushed stuff on the start a little bit too much. Got off balance a little bit. Had to clutch it down the start straight. I was having it come through a bit. I got behind my teammate, Jo [Shimoda], and made a little bit of a stupid mistake on my behalf. Just came in again trying to rush, trying to get up there as fast as I can because I knew Swoll got the holeshot and was out there. So I was trying to get the lap times down. Stupid little mistake. I ended up going back, and then Wacka Flocka [Jessy Flock] was behind me, so he had a go at me. Luckily, I was able to pull my finger out and actually go. I was able to catch up to my teammate, Sushi. I got third. Second overall for the championship. Not too bad for my first year. I'm pretty sure not many other guys have done that for their first year in A class. So I'm happy with that. I know my riding is a lot better now. I've been training in Florida with RJ Hampshire and my brother, Hunter Lawrence, Cullen Park, my buddy Mexico, and with Dean Wilson also. I've improved a lot, so I've got to say a shoutout to them to help me. I'm just ready for Unadilla. I can't say what I can do. I was coming here thinking I was going to get a fifth place first moto. So I can't say what I get now. I just have to see what comes to me, and if I get a good start, I get a good start. If I don't, I don't. I just have to ride 100 percent. I might not even qualify. I'm not sure!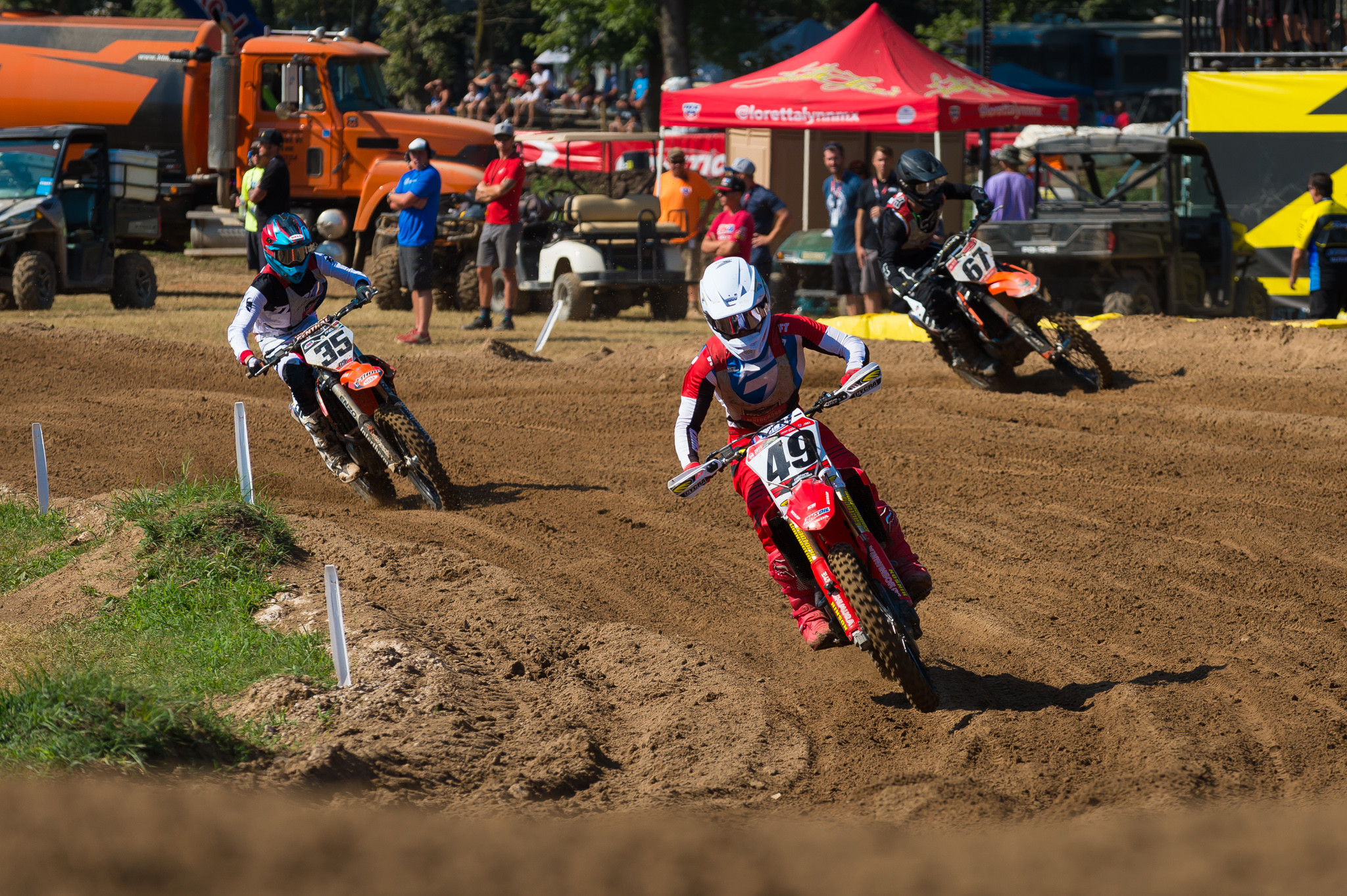 In other amateur races you've done this year, is this the level you've been?
No. Honestly, at the start of the year I was still learning the bike and testing. Then I did a test day with Ziggy [Rick Zielfelder from Factory Connection] and I haven't changed it since then. That's how good it is. Just from there, I hit a little bit of a wall halfway through the year, I wasn't progressing as fast as I was at the start. But I was able to get through that wall. Honestly, I had RJ and those top guys to chase, so I was able to hook onto them and that stuff. From start of the year to now I've improved a lot, I think. I can't stop now. So next week I'm going to go back, train, not do anything stupid, stay healthy and just don't stop. Just train and try and be the fastest 250 rider and eventually 450 hopefully. I'm not going to say I will, but definitely going to go for it.
Do you know what you're doing next year? Are you pro for good? You can come back here, the way the rules are. Do you have any clue?
I know I want to go pro. The amateurs for me…it's just not for me, basically. The shorter motos, the tighter tracks, not as rough… I want to go pro next year at Hangtown. Maybe even earlier. It depends how my supercross winter is.
Have you done much supercross?
No! I'm definitely going to be training. I got my buddy Josh Hansen. I'm buddies with him. He said he would help me with that, so I'm very grateful of him. Like another dad, kind of thing. I'm definitely going to see how it goes. Obviously just try and get through the winter as healthy as I can. If I'm ready, I'm ready. Then I'll try and go for East Coast. If I'm not, I'll go at Hangtown. I'll just finish early and get a little bit ahead on outdoors.
Honda HRC's Ken Roczen showed some love for Jett Lawrence during his week at the Ranch.
Your brother is out I guess for these final nationals, so you're not going to get to bang bars with your bro?
I think he might be coming back for the last two because he got his collarbone plated. But I think he's probably going to be in pain still. It's still fairly fresh. I'm obviously going to give it to him because I don't want to take crap from him. Big brother, always saying he's the best and that stuff. We're definitely going to be closer in speed. If I ever do pass him, I'm probably going to scrub the next jump and look at him and smile! I'll probably have the biggest grin and pump! Obviously, he's injured, so it's probably not going to be 100 percent fair. I'll have a little bit of an advantage because I'm fully healthy and he's not, but I'm still going to take it.
When you were in Europe or even in Australia, is this race on your radar?
I honestly had heard of this, a little, but the team said I have to do amateurs because I'm too young. I'm only 15 still.
Wait, really? When do you turn 16?
I turn 16 on Wednesday, actually.
So your birthday is three days before the race?
Yes. So basically we have all the papers filled out and all that stuff, so Wednesday we have to send the papers out so we can get signed up and that stuff. I wanted to do more the sand ones, like Southwick, RedBud, they're more my style, but we have to wait until I'm 16 then to sign up. It won't be much of a difference. I'll just be a little bit older. Might grow a few hairs on the top lip. I don't know. Maybe on the armpits, not sure. Just going to see how it goes!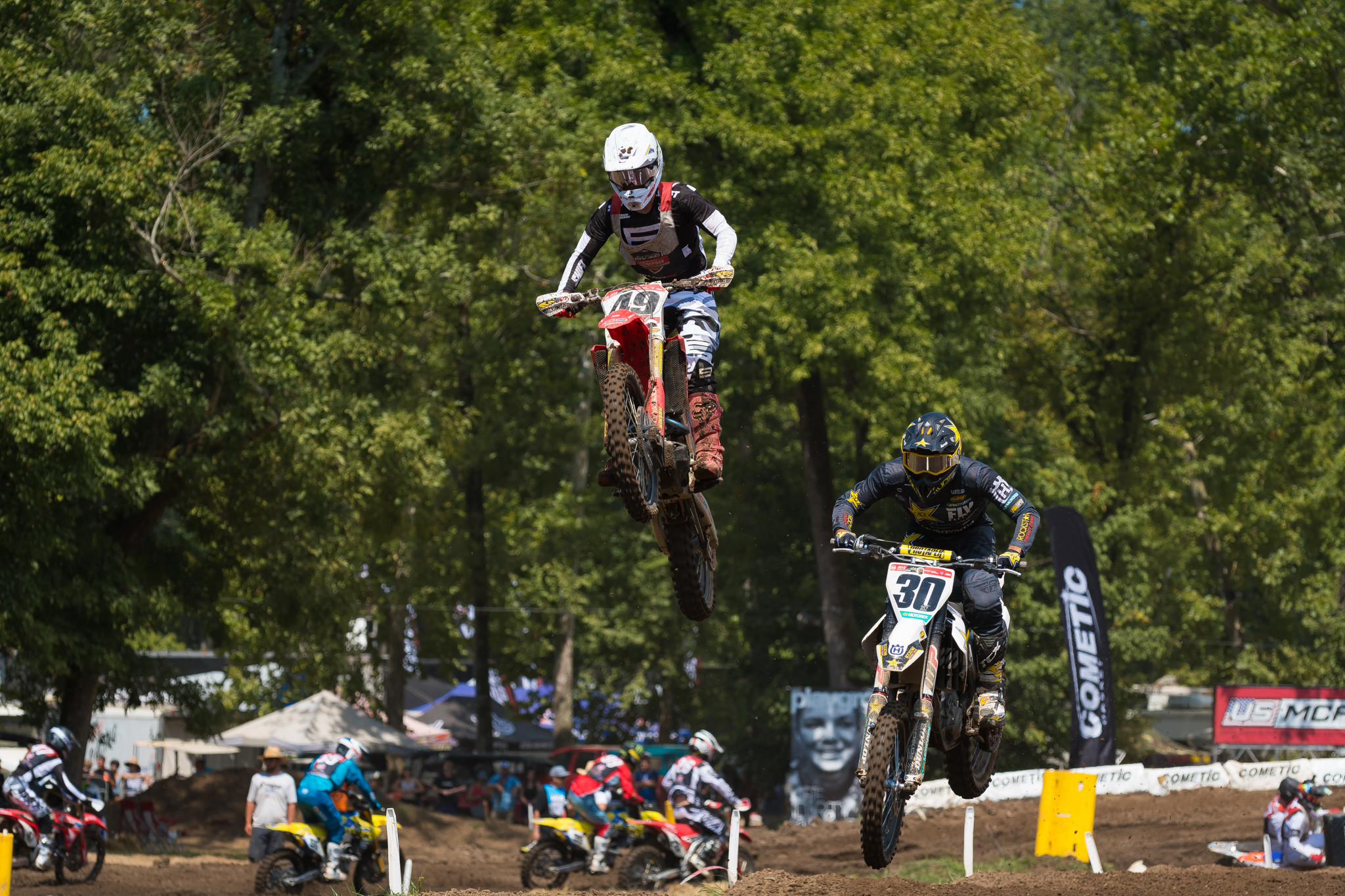 Speaking of style, that's what's impressive to me. Not just that you won immediately. You have one of those styles where you're so smooth, it doesn't look like you're going as fast as you're going. Do you realize that? Did you work on that? Does it confuse you when people say that because you're like, dude, I'm pinning it?
Definitely. I'm going hard as I can, honestly. But I can go out there and try and look as fast as I can and be sketchy, getting that thing going sideways into a turn. That's actually not so fast. That's one thing with this track—you have to be smooth. I may look slow, but I'm pretty sure if you get a stop watch out, the times are different.
It's awesome to watch, actually. Did you develop that on purpose or is that just the way you ride?
Thank you. No, I just get it from my brother. My brother is exactly the same. He looks slow. I even say some days, "Man, you're looking slow." Then I ask dad what's the lap times, and I'm like, "Oh, okay. I've got to step it up a little bit."
Does dad say that to you?
No. He just says I'm slow, full stop. [Laughs] I don't get, "Oh, you're actually looking kind of fast today." I just get, "You're just slow." I don't get much. I may have the looks of the family, but I'm just the slower one, is what he says. I'm the mailman's son. That's what they say. I'm just that much better looking than my brother.
So we don't know where you came from. You might not even be related to your brother.
Probably not, hopefully.