Millville, MN
Spring Creek
Lucas Oil AMA Pro Motocross Championship
Of course GEICO Honda's Jeremy Martin was on hand at the Spring Creek National. His parents own the track, and Jeremy is back to living in Minnesota these days. Still, it's not easy for the two-time AMA 250 Class National Motocross Champion to watch, because he'd much rather be racing. A severe back injury, though, will keep him away from the race track for all of 2019. He's about 30 days away from getting clearing to start training, though, and expects to be riding shortly.
We last checked in with Jeremy in April, and got an update on his progress again when we saw him over the weekend.
Racer X: You're here. You're not racing, but you're at least moving around.
Jeremy Martin: Yeah. I'm super excited to be here. Obviously, it sucks to be on these terms, but I haven't been to a national yet this year where I've spectated. So it's cool to be here at the hometown race. If I missed it, I'm pretty sure my dad might shoot me!
Alex [Martin, brother] tells me that really when you guys are racing you barely get to talk to mom and dad during this weekend. Do you still barely get to, even though you're not as busy?
Yeah. My dad, he's getting pulled left and right, especially when you have a torrential downpour like what we just had. So you just let him do his deal. I saw him this morning. I went and parked my car behind the big shop. I saw my dad. He was stressing out pretty bad. I feel bad for him, but you've just got to get it done.
You were actually telling me you wished you could go out there. You like pitching in if you could.
Yeah, for sure. I'm a worker. Got to wake up and serve a purpose. I sat on the couch basically for the last year of my life, and I'm over it. I've watched a lot of movies and a lot of Netflix!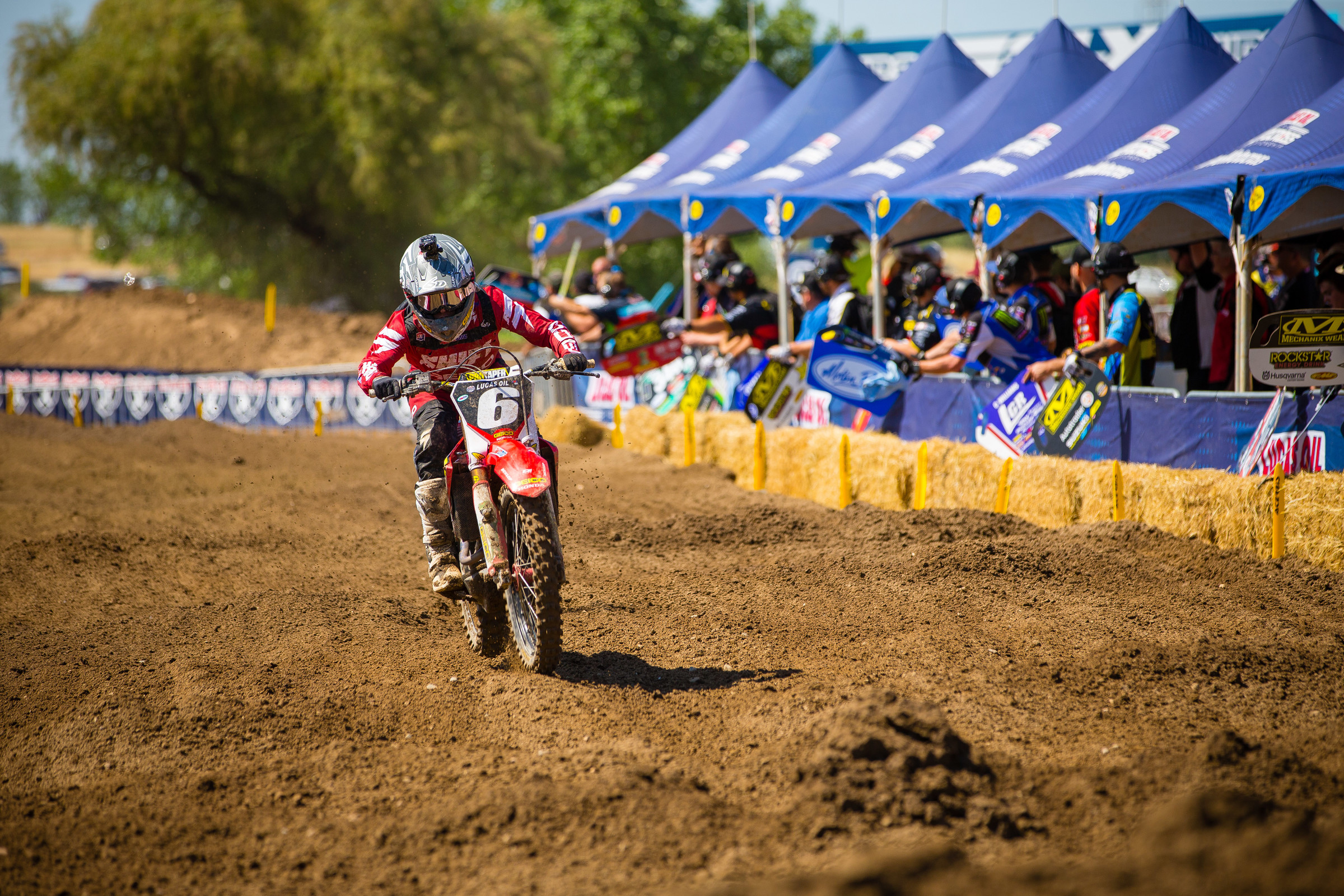 You got a little bit of light stuff you can do now?
Yeah. So I've been doing some gym stuff, physical therapy. Doing some bending and motion stuff to activate the spine and get the movement back. So that's going really well. I'm about under thirty days away from seeing the doctor. I got a GEICO Honda being shipped to my house right now. So we're rolling.
You're actually watching the races, and I thought you'd be the least likely guy to do that. I figured it would kill you more than anybody. Does it kill you to watch these races?
Oh it does! One thing I've learned is you're not going to enjoy everything you do in life. Yes, it pains me to watch the races, but I am a student of the game. I like to learn. It really helps listening to guys like you, Weege, and Grant Langston where you guys are educated and you guys sound good. It's fun to listen to.
When you say you're a student of the game, if you watch a video of yourself from 2014, 2015, 2013, whatever, does your style change? Are there certain things you watch? Like, 'I don't do that anymore, or I do this differently.'
Oh, for sure. I actually quit watching footage of me on the Yamaha because it was a different bike. I rode it differently. Things were different back then. So the Honda is a different bike. I only watch all the Honda footage. Then I watch obviously the races coming up because you can study. Right now is a good time with the down time, you can pick people apart, your competitors. You can watch them, figure out where they're weak, figure out where they're strong. Maybe see when they crack mentally on TV and stuff like that, under certain different conditions. It's very educational.
You're probably just going crazy wanting to learn or do something, just feel like you're doing anything to improve yourself. Is it like, if all I can do is sit here, I might as well learn while I'm sitting here?
Yeah, for sure. I can't do the physical part. But you can never stop working on mentally preparing yourself and getting ready. I've been through a lot the last year. A lot of surgeries, a lot of pain. But I've really matured mentally and I'm mentally in a different place and in a good spot.
Are you still doing that weirdo, regular job thing? We had our man Aaron Hansel talking you a few months ago and you were working an actual job. Are you still doing this?
I did it for a while, and then once I got my last checkup, I got okay to start doing therapy and stuff, I quit. I actually really enjoyed it. It gave me a really good perspective of what retirement would be like. I'm a guy that wakes up and I can't just not do anything. It really made me think about just how much I appreciate my job. I wake up and I have a passion for myself. When I'm racing, I'm all in for me and myself and I. I'm not going to work for someone else. When you see that, it's really eye-opening.
Yeah, as a racer, you really control your own destiny in a way most people don't.
Yes. A lot of people wake up and they sit in traffic every day and they clock in at work, and they're making money that's benefiting someone else. Then you go home, and you've still got to do your yard work. You've got to take care of the house. You've got to do all this other stuff. I wake up and everything I do is for the benefit of Jeremy Martin. That's a big deal.
You probably never thought of it that way until…
I did, but you don't really realize it until you're in it. Everything is great when you're winning and life is good, but when you're in the trenches you learn a lot. And I've been in the trenches really the last year of my life and it's been very, very good for me.
So are you going to go back to Colorado at some point when you're good to go?
Yeah. I love the Tomac family. I'm pretty sure they enjoy having me around. I'm welcome back. So I think that's a good sign. I'm beyond excited.
What about the team? You cannot ask for any more loyalty from a team.
Yeah. Honestly, there's a lot of teams, a lot of people out there, and there's a lot of good people in this industry. I've missed a full year and GEICO is behind me and they're still supporting me. They extended my contract, which is like unheard of. I'd finish out the rest of my career with them, if I could.