Every rider who signs up for the Lucas Oil AMA Pro Motocross Championship has their own goals that they have established for themselves and hope to accomplish by the time the series ends. For some, it's just to qualify for the 40-rider gate. For others, it's to win races—or a championship. For what seems to be a lot of riders—privateers especially—it's to finish in the 10-15 range. Delaware's Coty Schock was able to achieve his season goal, twice. He finished 15th overall in the 450 Class on back-to-back weekends, going 17-14 at Southwick and then 15-16 the following weekend at RedBud.
To say that Coty was "stoked," "excited," "elated," or any other adjective you'd like to use, would be an understatement. [Editor's note: But was he "Schocked?"] How happy was he to achieve his goal at RedBud? Happy enough to throw a fist-pump over the finish line while crossing the checkered flag in 16th place!
We caught up with Schock earlier this week to chat about his season, earning his goals, and more.
(NOTE: The following interview was conducted via iMessage and has been lightly edited for clarity.)
Racer X: Hey, Coty! What are you up to today?
Coty Schock: Hey man! Not much honestly just another day going to the gym getting in my workouts.
Nice! What's a standard day/week like for you? Gym, ride, gym, ride?
My standard week is go to the gym at least five days a week, and hope to ride maybe twice a week and if I'm lucky three times. [Laughs] It's kind of hard to ride during the week at the moment because my practice bike got stolen the week of High Point National sadly.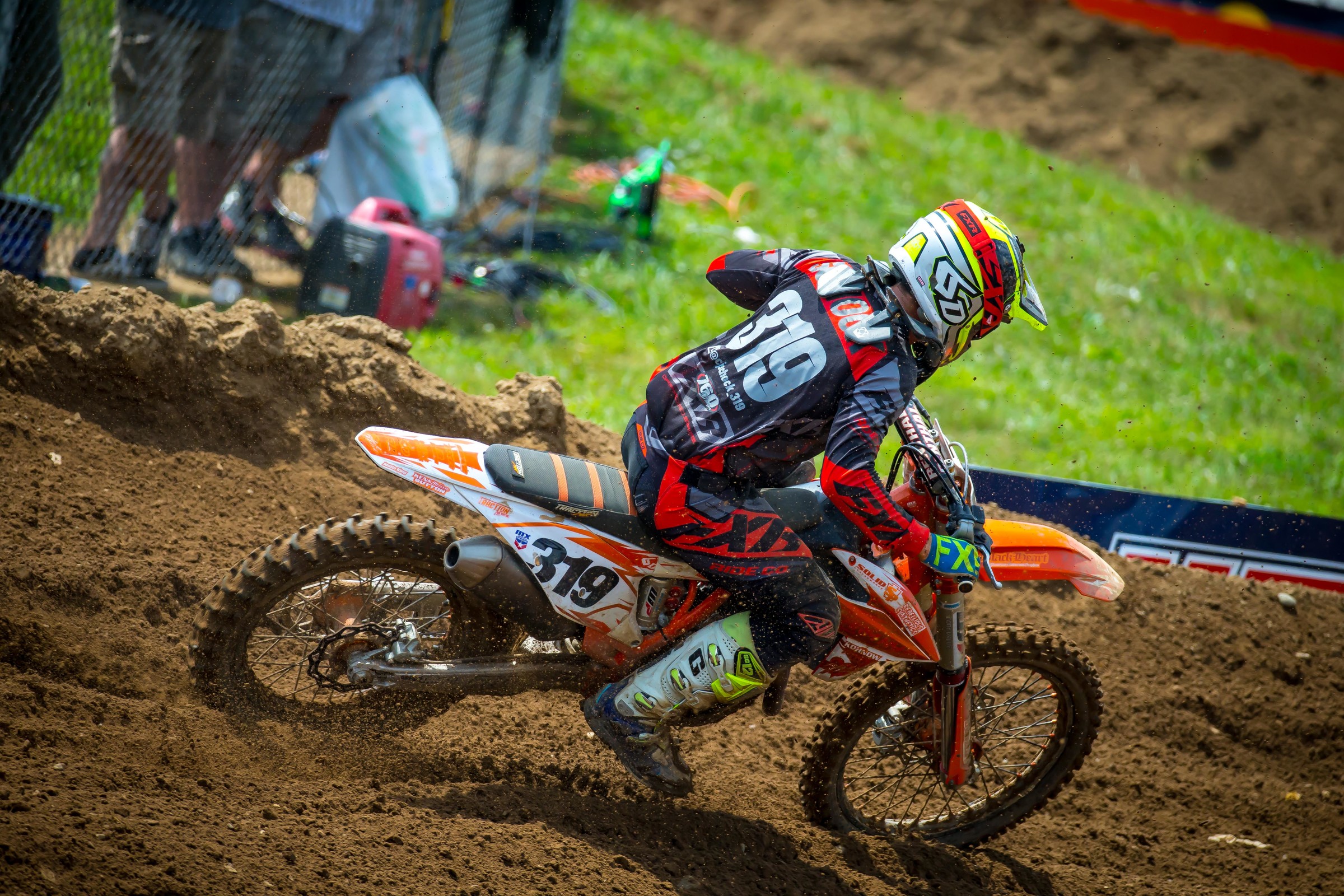 Wait, what?! Your bike got stolen from the track?
It got stolen from my house the Monday morning before the High Point National. The people who stole it got ahold of my race bike as well, but they didn't get far because I had a rag in the air box and it ended up getting sucked in so the motor cut out thankfully! The worst part about it is I finally got a set of WP A-kit suspension for the first time, and only got to ride on it twice before it got stolen from me. I was like 'Dang, I can't have anything nice.' But I regrouped mentally and went racing still.
That's awful! Hopefully you get it back. Any leads?
Yeah but you have to keep moving forward, you know? There have been multiple sightings near my house, just haven't been able to capture it. It's a shame.
Bummer, man. Let's talk racing. Back-to-back top-15 weekends for you at Southwick and RedBud. How pumped are you on that?
I AM STOKED to say the least! Last year I had my first top-20 at Budds Creek and knew I could get a top-15 the following year. To fulfill my goal and do it twice is awesome. It feels good to run up there with the factory guys! I switched to a KTM three weeks before High Point and knew I could do it because the amount of comfort I had on the bike. To finally be consistent in the top-15 feels great and I'm ready for more.
Not going to lie, you're the first rider I've ever seen fist pump while crossing the finish line in 15th! [Laughs]
I've had a rough couple of years and the 15th feels like a win to me honestly. I did a fist pump for the 15th and not getting lapped until the last lap! [Laughs]
[Laughs] Personal victories. That's what it's all about, right?
Personal victories is right! I always set reasonable goals and when I achieve them, I just keep setting the bar higher!
Your confidence is through the roof, this is awesome!
I wouldn't say through the roof. [Laughs] I'm just in a good place right now and always try to have a positive mind set.
That's cool that you mentioned that, because prior to Southwick you scored no points, now you've logged two really respectable overall finishes. What clicked to develop such an awesome turnaround?
A few things clicked! One of them is learning my suspension because I've never had A-kit before, so I had to gain trust in it over time. Then after WW Ranch [Motocross Park] I knew how far I could push my body until it shut down, because that national was brutal. Lastly, I got my starts down and became more consistent with them.
Florida was actually beneficial to you? You may be the only one I've heard say this!
Yes, Florida taught me a ton. [Laughs] It taught me how to suffer and handle the pain! I'm different, personally. I enjoy the pain because I know it's weakness leaving the body.
Racing aside, you seem to enjoy having fun on your dirt bike. Talk about that a little bit.
I grew up in a sand pit, so free riding was what I did first. Then decided to race at age sevem so I've always seen things differently on the track. I enjoy throwing whips and hitting turns as low as possible. You'll always find me doing whips, wheelies, stoppies, and transfers. My dad has always said if I'm not throwing a whip I'm not having fun. If I could, I'd be on a bike seven days a week, hands down. Because it's what I love to do and it's all I think about.
Your scrub skills; good grief, kid!
[Laughs] Yeah scrubbing came natural to me and it's one of my favorite things to do!
Before we wrap up, you've crossed the top 15 goal off your list. What's next as we head into the rest of the season?
Honestly, I'd love to get closer to a top-10 finish and get a two digit number for next year. Just want to stay consistent and continue to be up there with the big guys!
Sounds like you're confident enough to make it happen. Who do you want to shout out before we let you go?
Have to shout out everyone for helping me out this year which includes Hawkeye Farms NY, Solid Performance, Boyesen, FXR, Rebellious Synthetics, 6D, Traction MX, Flo Motorsports, Tamer, Dunlop, Dubya, Kohnow Family, Ken and Melissa Sutton, Cycra, Black Heart MX, Kenny Day, and Tony Archer!