Kaeden Amerine Wins 125 All Star Race at Thunder Valley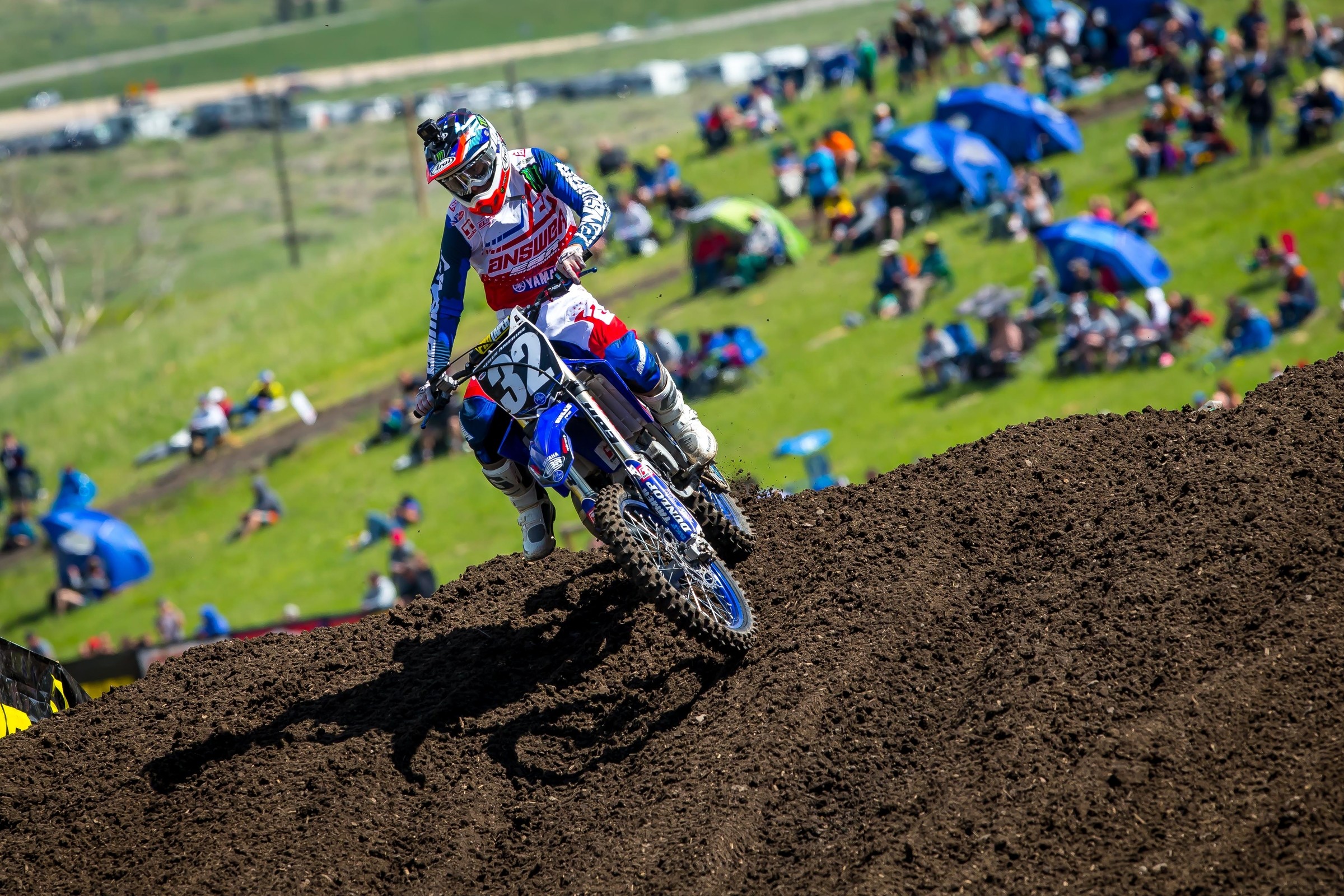 Lakewood, CO
Thunder Valley
Lucas Oil AMA Pro Motocross Championship
Between the first and second motos of the Thunder Valley National on Saturday, fans were treated to a two-stroke showcase as the third stop of the 125 All Star Series took place.
Yamaha rider Kaeden Amerine, 17, took the win over 15-year-old Brock Lassiter. Joey Dalzell rounded out the podium.
Stay tuned to Racer X Online this week as we'll have full video coverage from the third round of the 125 All Star Series.
Thunder Valley Overall Results
| | | | | | | |
| --- | --- | --- | --- | --- | --- | --- |
| Pos | # | First Name | Last Name | Bike | City, ST | Sponsors |
| 1 | 32 | Kaeden | Amerine | YAM | Great Bend, KS | EBR Performance | Yamaha | Monster Army |
| 2 | 69 | Brock | Lassiter | HQV | Asbury, MO | Gregg Albertson | Race Tech | Fly Racing |
| 3 | 243 | Joseph | Dalzell | YAM | Dekalb, IL | SSi Decals | TZR | Novik Gloves |
| 4 | 210 | Scotty | Miller | HQV | Denver, CO | Fasthouse | Elite Motorsports | Applied Technology Suspension |
| 5 | 644 | Brennan | Myers | KTM | Woolstock, IA | SSB Motosports | Black Diamond Graphics | Wagner Trucking |
| 6 | 746 | Chase | Stevenson | KTM | Cedar Rapids, IA | FXR | Wiseco | Motoseat |
| 7 | 41 | Michael | Sweney | KTM | Johnstown, CO | Sun Racing | Fox | Spy |
| 8 | 196 | Trevor | Whitmarsh | KAW | Sedalia, CO | Johns Collision | Vickery Motorsports| Fox |
| 9 | 333 | John | Ayers | HQV | Port Orange, FL | Gear Racewear |
| 10 | 52 | Robin | Kniss | HQV | Denver, CO | Mxfactory | Munn Racing | 812 Suspension| FXR| 100% |
| 11 | 100 | Jet | Underwood | YAM | Lakewood, CO | J.S. ProFormance | JGR | G ForcePowersports |
| 12 | 237 | Nick | Whiton | YAM | Polvadera, NM | Bobby J's Yamaha | FMF | Whiton MX Schools |
| 13 | 112 | DJ | Gritzmacher | KTM | Sussex, WI | Southeast Sales | Fly Racing | Spy |
| 14 | 95 | Brad | Haskell | KTM | Northglenn, CO | Fullfactoryoffroad |
| 15 | 766 | Samantha | Peters | KTM | Wheat Ridge, CO | Sun Enterprises | Absolute Race Technology | Spy Optic |
| 16 | 895 | Taylor | Burley | KTM | Elizabeth, CO | Serial Cables | Ryburn Racing |
| 17 | 78 | Steven | Stultz | YAM | Peoria, AZ | Dr.Dirt |
| 18 | 98 | Bryce | Shondeck | YAM | Colorado Springs, CO | Apex Sports | Pro-Cycling Warehouse | Dunlop |
| 19 | 15 | Carter | Dubach | YAM | Tustin, CA | Dubach Racing | Oneal | 6D |
| 20 | 616 | Dylan | Vanderlaan | YAM | Rapid City, SD | Gateway Autoplex | Olson Towing | CSI Construction |
| 21 | 916 | Kyle | Poole | HQV | Golden, CO | Rawdog Racing |
| 22 | 11 | Scott | See | SUZ | Morrison, CO | Team Party Racing | Gforce Powersports | Z&M Ball |
| 23 | 112 | Tyler | Aldor | YAM | Arvada, CO | PRS | LSE | Fox |
| 24 | 306 | Brody | Chyma | KTM | Toledo, IA | |
| 25 | 167 | Christopher | Wasil | KTM | Pinecliffe, CO | Airyte Coatings & Sealants | G Force Powersports |
| 26 | 885 | Andrew | McNulty | SUZ | Brighton, CO | Motoadventure Kawasaki Beta | 100%| Ryno Power |