Last February, after 14 years of professional racing, Davi Millsaps announced his retirement from the sport. Prior to the start of the 2018 season, Millsaps sustained a major concussion, among other injuries, that forced him to step away from racing sooner than he would have liked. Almost a year into retirement, we gave Davi a call to see how life away from racing is going, and as you'll read below, it's quite busy!
Racer X: Davi, thanks for chatting with us. It has been roughly one year since you announced your retirement. How are things going?
Davi Millsaps: Yeah, about a year right now. Basically, I have been doing BMX with both kids, full time! I'm president of the board on our local BMX track, and have been really busy doing that. Dane, my six-year-old, he got picked up by Factory Throwdown, which is a BMX team. So we are really involved with our local track out here in Lake Havasu, and that's what we are doing. My wife Brittney has family out here, and when I retired, we sold our house in Southern California and moved out here. We really like Havasu.
Nothing motorized for the kids?
Well, funny you should mention that. I lost a bet to Dane last year at the BMX State Finals. He ended up getting a dirt bike out of it. So, now we're doing WORCS races as well. We've done a few WORCS events, as well as some AZOP and a Big Six race. So, basically, we are crazy.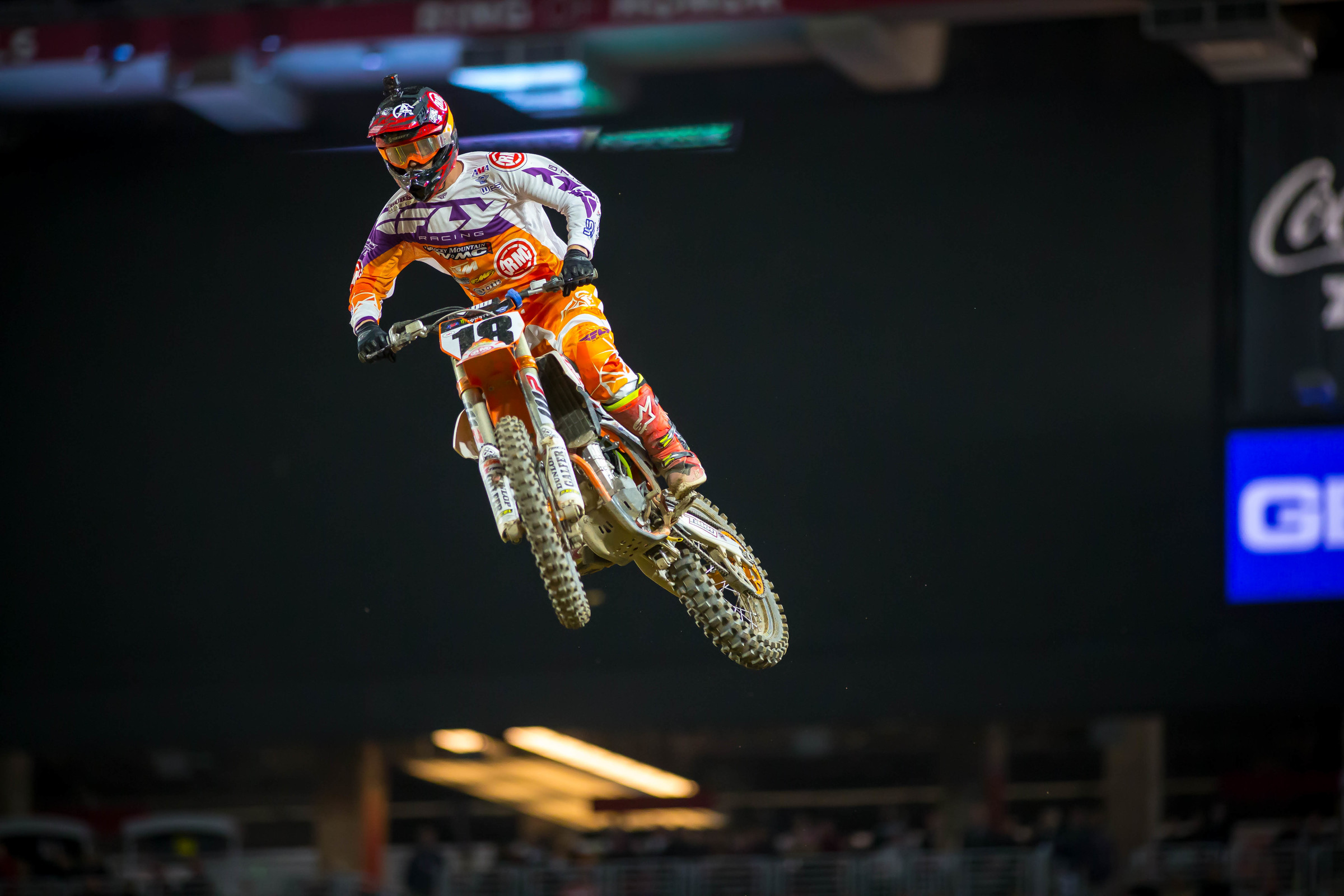 I hate to say it this way, but you are becoming you a minibike dad!
Okay, technically, I am a mini-BMX bike dad. A moto dad, I am really not trying to be. I'm not trying to live through my kid. I'm just letting him have fun with it and do what he wants and give him the options that he wants to have. All this stuff is what he wants to do.
Your youth was spent being a prodigy racer, and you had all the baggage comes with that. Now your son's maybe doing it. What are your feelings on that?
How can you stop him? It's one of those things where I don't want to take away something that he has the opportunity to earn or take away the opportunity for him to be somebody that he truly wants to be, whether it be a professional BMX rider, or whatever it is with dirt bikes. I don't know. Dirt bikes are tough though. Football, baseball, basketball, it doesn't matter to me. For him to have the opportunity to be on a factory BMX team, which is what he's on right now with Throwdown, when he got the offer it was just one of those things where I'm like, yeah, for sure. How do you say no to something like that for a six-year-old? I couldn't say no to it. It's great. The guys there are great and they treat him really, really good. So it was an easy decision. Other than that, we're still shooting for things. Still trying everything out. He's only six. It's not like I'm too worried about it right now. One day, we'll see, but right now it's just for fun.
So you're basically a full-time dad?
Yeah, I'm a stay-at-home dad now. We have two kids, Dane and my daughter Bryn. But more so I think I am a travel everywhere dad, I guess. I'm not traveling as far as I used to for the races, but we are still on the go all the time. This weekend, we are going to Peoria [Arizona] for the WORCS race Saturday morning, and then as soon as he's done racing we have to drive to Chandler which is like a little over an hour away to do a BMX. To do that Saturday as well, drive back to Peoria, wake up Sunday, race the WORCS race Sunday morning and then drive back to Chandler to race again BMX, and then from there drive home. It's just craziness! But it is what he wants to do, so I am supporting him.
Wow, racing both BMX and dirt bikes in one day is a pretty gnarly thing, but I guess at six years old, you can do it.
Yeah. It's something that he wanted to do. He's going to be smoked by the time he gets to BMX on Sunday, but if he wants to do it, he wants to do it. Then the following weekend we go somewhere else, and the following weekend we're somewhere else. It's crazy. So, for me, what I'm up to right now it's just trying to make memories with my kids. That's really about it—making the memories.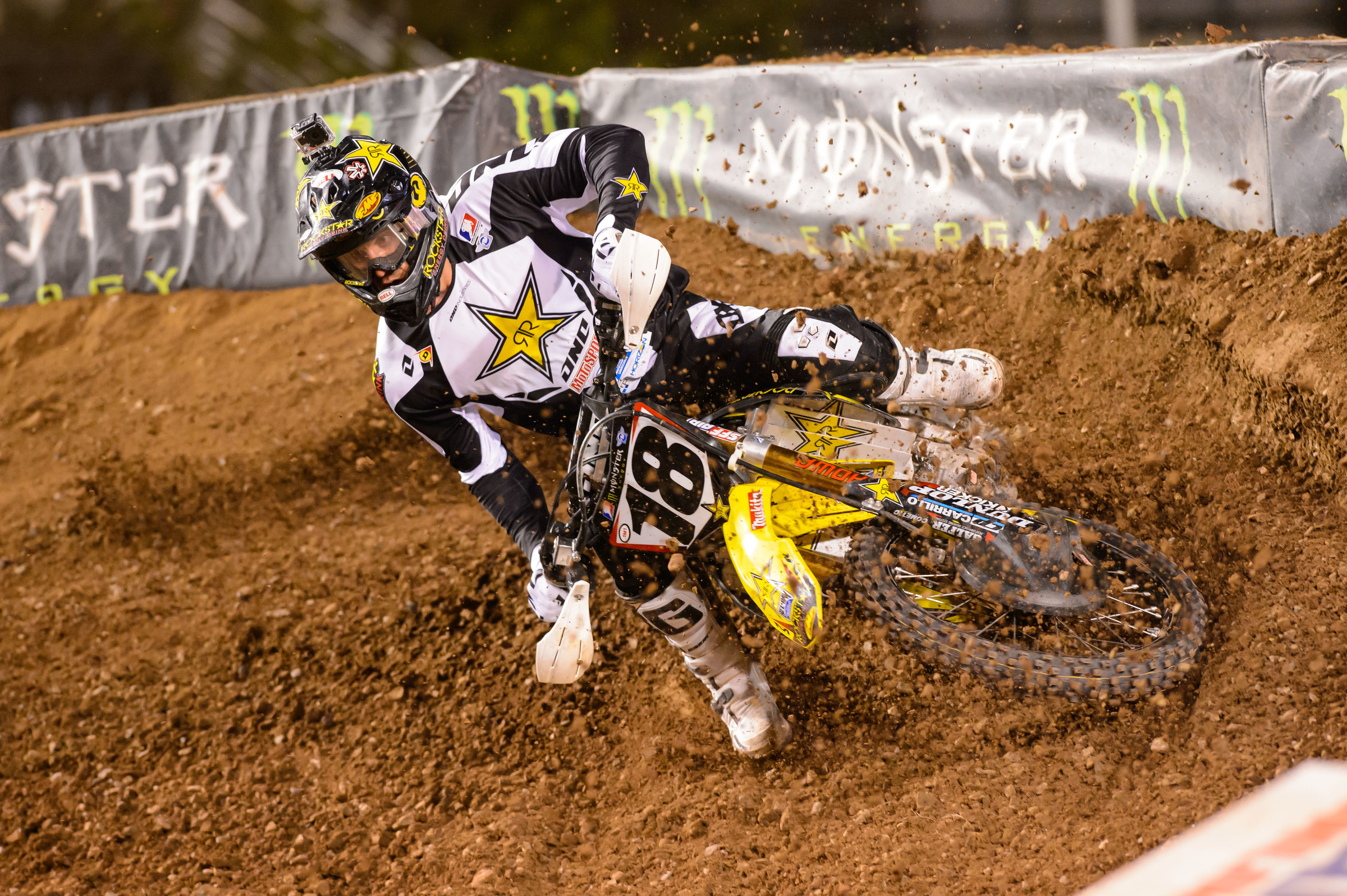 That's awesome, and you are lucky that you can do that.
I got to get a job soon enough to be able to afford all this bull crap, but we're having fun with it in the meantime. It's going to get expensive if he sticks with it.
You raced as a professional from 2004 through 2017 and had a long career. I always ask this question, but how was the money for you during your career?
I was professional for a long time. Obviously, I feel like a lot of people have their ups and downs and whatnot. I'm not complaining. It could be way nicer if I would have listened to a lot more different people, but at the end of the day we're doing what we can. I made a lot of investments throughout my years. Just doing what we can. I'm still looking to do something because I don't want to sit on my butt the whole time. I can't live forever on what I have, and as of right now, but I'm working on stuff. We'll see how it goes. It is what it is, and I am having a good time.
How do you feel about your decision to retire now that you're one year into it?
I didn't have much of a choice. The accident that I had with my brain injury still to this day, even if a doctor said, "You're fine. You can go back to racing whenever you feel like it," even to this day I wouldn't be okay to go back. I'm still not all quite there, unfortunately. It's getting closer to 100 percent healed, so that's good. I feel like I'm reaching the light at the end of the tunnel to feel back to being 100 percent myself, but the doctors wouldn't release me just because of the damage that I sustained with my accident. So there was no choice for me. Even my friends that were around me after my accident, I don't remember at all. There's just no way. It's to the point where I must have been pretty messed up. But I lost a good month of my memory from the accident, maybe a little bit more than a month. It's very foggy, even from that point on for a long time. So, it's one of those things where like I said, even if I wanted to go back and race, even if I wanted to go back and ride, I wouldn't even let myself get on a dirt bike right now just because I just don't know how I would be out there, having to make those split-second decisions.
What about the mental side? I am respective and understand you were forced out of racing physically, but in your head, how do you feel about where you were at?
I would have loved to have raced in 2018. That was my goal. The day that I crashed was probably the best that I felt realistically, mentally, physically, everything since 2013 when I had one of my best years. I felt good. I was probably in the best shape of my life. I literally was working really, really, really hard on getting in shape. I was doing everything I could, and then it was taken from me, and a year too soon. So that was hard to get over.
But at the end of the day, and after my injury, I look back and I didn't know who my kids were for over a month. Physically and mentally, I didn't remember them at all. And I don't really want to live like that. So, it was a hard decision but at the same time mentally for me it was more so I would rather know my kids than not. So that's kind of where it was an easier mental decision for me. I can't chance that again because they even told me, if you hit your head slightly as hard as what you did, you won't come back. So there's too much damage done. It's unfortunate because I've only had three concussions in my life, so the last one just did me in.
You look at some of the other guys that have had many more, both known and unknown, and they kept going.
I think I just hit the right spot hard enough and it just kind of ricocheted around my brain, or my brain ricocheted around my skull. It literally just created enough damage to where the doctors didn't feel safe releasing me. So I get it. I'm not going to argue with them. I don't know much about brains.
The crash happened at the Yamaha test track, right?
Yeah. I had three laps left that day. Three laps, and that was it. Tested all day long and I was on my twenty-lap moto, just to end the day off with a twenty. When Hutch gave me three laps to go, that was it. But it was just him and I—there was no one else out there. So, he happened to see it or whatever, I don't know. There's bits and pieces that I do remember. Being in the hospital, I do remember a couple people visiting me but not very many, not a lot of it. It sucked. I got that bike, it was so good that day and it ended for me, right there. So it was unfortunate. What are you going to do? I'm not going to sit here and dwell on it. It's one of those things where I can't go back now.
Have you followed the racing series this year at all? Do you watch the races?
Bits and pieces. I've watched a couple, but a lot of the weekends we're gone for Dane's BMX races and they don't get done until the races are done. So for me, I don't really have a chance to watch them. I obviously see the results. Definitely shocked with some of the results, but at the end of the day, all those guys are putting in the work so they deserve it.
What do you think about Cooper Webb's results?
That was the one I was talking about with the work. It was shocking to see Cooper do what he's doing, but he's putting in the work. He deserves the results. You can't take that from him at all. It's not like none of those other guys are putting in the work. They're all putting in the work. So he's talented. He's fast. He's gelling with that bike. Obviously Carlos [Rivera, mechanic] has it good for him. Carlos is an amazing mechanic. He's an amazing person. He's definitely gelling and getting it good with Carlos as well. But then you have Kenny [Roczen]. I still believe in Kenny. I still believe Kenny will come back. I have 100 percent faith in him. Just watching him ride, watching what he's went through and his comeback and whatnot. He's not done. He's young. He's still not done. There's still more left in him. Looking from the outside in, I just think that he's still reserved because of what happened. Every time that he lets loose, something bad happens. I think that he's just a little bit nervous and trying to control it to make it through the whole season, and I think it's smart. Kenny still has a lot more. Obviously, all the other guys out there that are riding and racing with these guys are giving it their all. It's all fun to watch. It's all fun. I just look at things a little bit differently than probably most people do.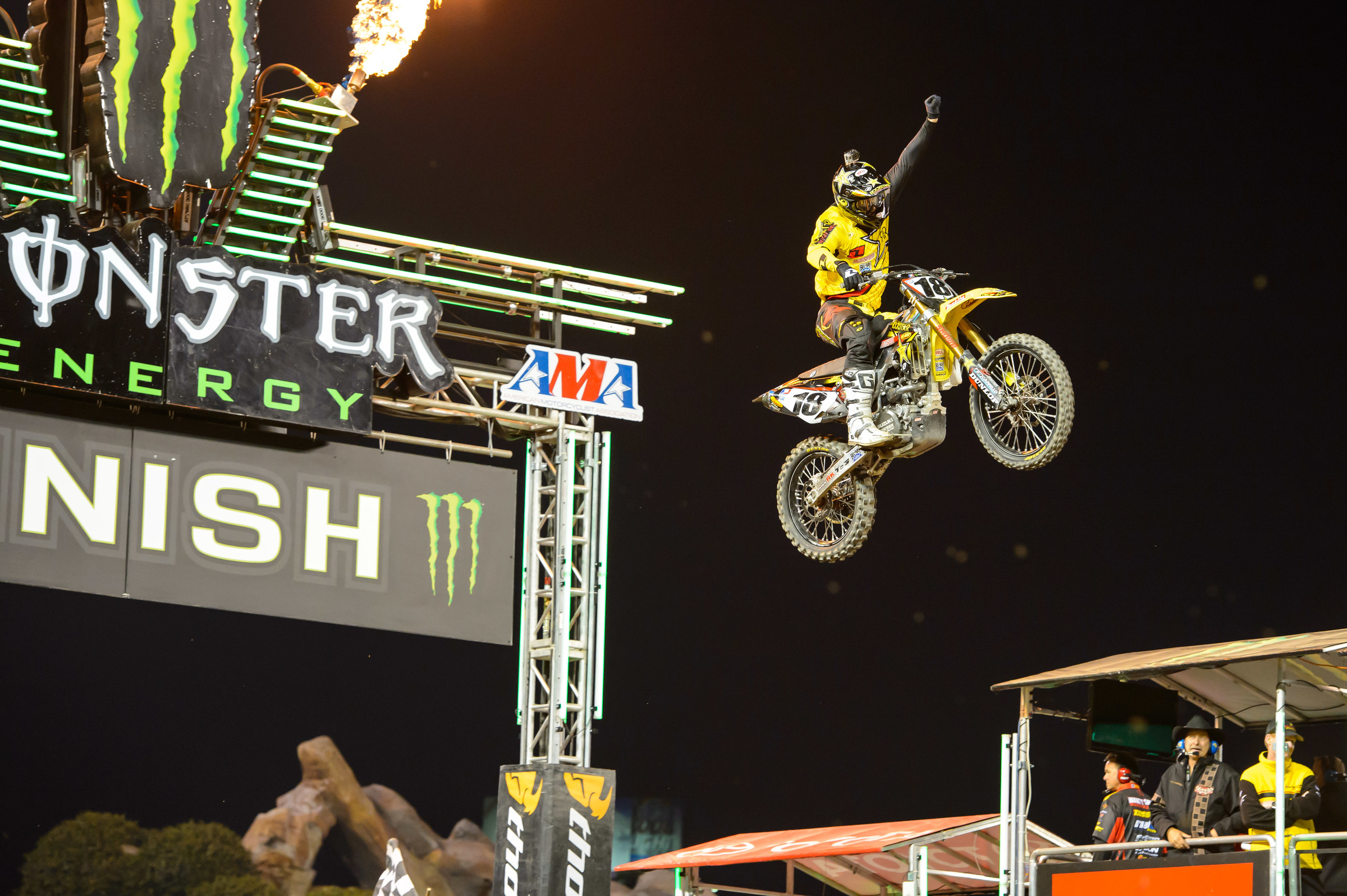 Well, having been there yourself you have a unique perspective. Looking back at your career, can you speak to both some of the highlights and lowlights? Obviously my championship was a big one. My first win. I would say my first win obviously in the 450 class as well as my 2013 season. I think one of the best races that I feel like I had was probably Salt Lake City in 2013 when [Ryan] Villopoto, myself, and [Ryan] Dungey, we literally went all 20 laps within a second of each other. That to me was probably the best race that I think I've ever done. We were there every single lap. It was so fun and so cool to do that. Hands down was probably one of my best races. As far as the lows go, we all have lows in our career. It's just something that getting mixed up with probably the wrong people and just not really focused on training and doing what I needed to do to win. I think if I would have probably done it a little bit differently early on then I think my career might have been quite a bit different. But the lows are simply just getting mixed up with the wrong people. There's a lot of good. I raced a lot of races. I won races. I got lots of podiums. Made a lot of good friends. I got good, close friends. I had a great career. I made a good living. I got kids now, and life is good, so I can't complain.
The amount of podiums you had were pretty crazy!
I love racing my dirt bike. I love the jumps. I love the whoops. I miss riding my dirt bike. I miss racing. That's one of the things that I loved about it. Simply just riding. It was fun.
Thanks for chatting with us, and good luck with the BMX, Davi! Is there anyone you want to give a shout out to?
Obviously for my career it's hard to pass up thanking Carlos and Thelma Rivera. They were a massive part of my career, massive part of every bit through amateurs and into the pro ranks. Hands down I wish I would have listened to them more. My wife and family, they are everything to me now. Then obviously Scuba Steve. I love Scuba. He did a lot for me. There's just been so many teams, all of the teams that I was with. Even to 2017 with the last team that I actually rode with was Forrest Butler. Forrest and I have been friends forever. Just everyone that has ever helped me, has made an impact on my career. It means the world to me. Most of them are still my friends today, so it's awesome.