Dave Castillo was born into a motocross family. His father Jim was the founder of Innovation Sports, the original knee brace manufacturer, and a legendary tinkerer and mechanical problem solver. Dave grew up riding and racing in Southern California and was a formidable racer himself.
Despite qualifying for a supercross main event (Tampa '96) and being part of the legendary Great Western Bank team, the Castillo name is perhaps better recognized for the ranch that they own on California's central coast.
The ranch is situated just off the 101 Freeway north of Los Alamos and has hosted countless photo and video shoots, as well several significant freestyle jumps, and has also served as the winter boot camp home for riders like Chad Reed, Travis Pastrana, and Ken Roczen.
We recently caught up with Dave to talk about the ranch and much more.
Racer X: It is an honor to be sitting with one of the famous members of the legendary Great Western Bank team. How has life been since your retirement?
Dave Castillo: We don't talk about that program.
Oh come on, we ran six page feature on you guys! Certainly everyone is off probation now and the NDA's have expired?
Oh, all right. We had a lot of fun with that Great Western Bank team. We had "Factory" Phil Lawrence and Denny Stephenson and Buddy Antunez and myself and we liked having fun. We had fun—that's what it was all for. That's why we started riding motorcycles in the beginning, right? So we just kept that going with the racing. Fun. What can I say? It was 1996, and things were different back then. We made the most of what we had.
As a privateer racer, you were actually pretty good and managed to qualify for a 250SX main event. That is a significant accomplishment!
I don't know if you'd call that a good career, but it was fun. I was always close to qualifying every weekend, but for whatever reasons, I never qualified. I tried. I trained a little bit and stuff, but everyone was just fast back then. I think I got lucky that night and unfortunately for Damon Huffman, I think he crashed and that was the spot I needed to get in in that semi, and that's what I did. It was great. A lot of people were really happy for me. I rolled around for 20 laps but I do think I finished the main.
How long did you race as a professional?
It was sporadic because I immediately turned pro on a 125 from Loretta's. Raced a few nationals. I don't remember how I did, but it was okay. Well, actually it probably wasn't as good as I think, but that's cool. Then I did supercross next year. My very first supercross, I think it was the Coliseum that year. I blew my knee out for the first time. So then I didn't race again that supercross season, which was '91. Then again in '92 I raced. I did alright. I made main events in the 125 class. Nothing to speak of really though, as far as finishes. In '93, well, it was the same thing. I blew my knee out again and it was another six to eight months off. No supercross.
It's kind of blurry at that point. I don't remember exactly what I did, but I know I wasn't racing again until '95. I decided I'm too big for a 125, I'm going to try 250, and raced the '95 nationals. That's where I had a lot of fun. I wasn't top 20 racing supercross and nationals, so that's where we decided to put together the Great Western Bank team for '96. That's where that all came about. So then I did that 1996 season, and then decided to quit. Despite making that one main, I wasn't doing well. I wasn't making any money or anything. So 2000 came around and I was just bored, and I decided to make a comeback. I think I was working with Innovation Sports and was riding still. I think somebody dared me to race, is what I think happened. So I said fine. I'll go race. Then I raced again, sporadically, supercross and the nationals for three more years.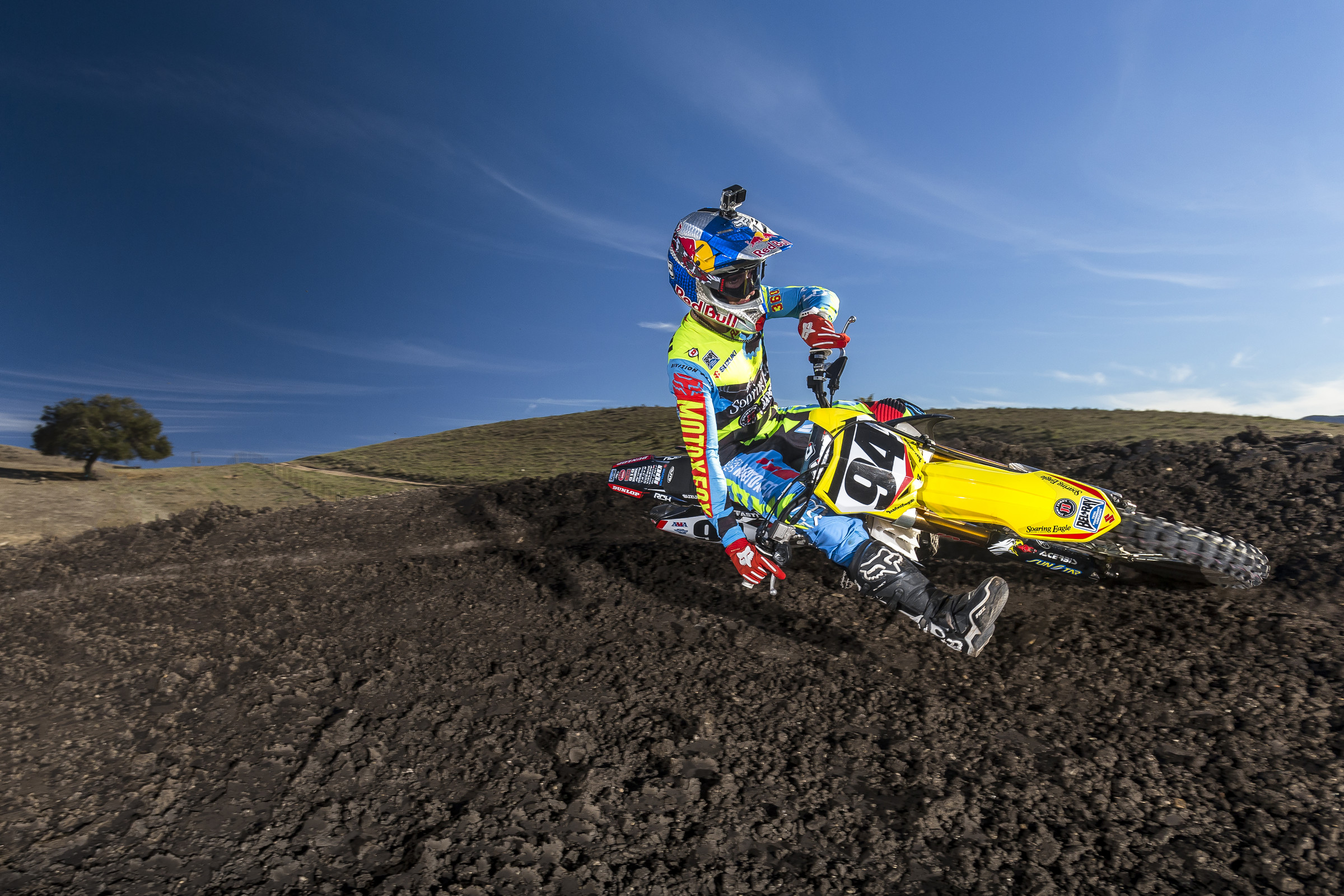 Switching gears, your family's ranch, this place is pretty famous. A lot of stuff has happened here, be it Jeremy McGrath riding in the Terrafirma days or Ken Roczen or Chad Reed training here or even photo shoots for the new apparel or video shoots for the Crusty Demons of Dirt guys. You've been here for all of it, and its been nearly 25 years or so. What are some of the personal highlights of this place and for you?
The highlights, funny enough, come from before anybody knew about it. When my dad first bought this place, there was nothing here. Myself and "Ryno" [Ryan Hughes], we were inseparable at the time. Some other friends would come up. Where the outdoor track is now, we built an outdoor track, but it was just like you would do it old school. You would just burn it in with the bikes. So we would burn in this track here. We built ourselves a supercross track. Learned how to drive tractors doing that. We terrorized this place before anyone even knew what it was, where it was, or anything. So that to me is kind of the greatest memory of this place. But then what really cracked it open was Fox doing their first Terrafirma video here with Doug Henry. It was like an Alice in Chains song with Doug Henry, all slow motion, just in the hills. People were like, what is that? Then they did a Dream On ad with that as the backdrop on the supercross track with Doug Henry. Gave it a little more notoriety. Then what really cracked it wide open was the Terrafirma 2 with Jeremy McGrath. That made it sort of everyone's wet dream.
So what is going on with the ranch today? You guys have sort of opened it up for the locals?
Well, yeah, sort of. From the Terrafirma videos, as well as countless other ones, and to Travis [Pastrana] training here, Chad Reed training here, Roczen… all that stuff happens. But nobody gets to ride here, ever. It's always been very private. So, fast forward to now, everyone on the central coast had Zaca Station to ride at. It unfortunately closed down last summer, as the owners didn't want the liability. At the same time, we have a track, and people really wanted to ride it. So although we're still private, we've started to allow people, friends, and family, friends of friends who we sort of vet through looking through Instagram and making sure they can actually ride and stuff. In moto, we're all a family and a community. We have a few days a week where we get a list together and we have private ride days.
Tell me a little bit about the moto scene up here in the valley. I know Carey Hart is up here, the Enticknap brothers have a track. You've got your place. It is still California, but it's kind of different than what's down South?
Yeah, the central coast moto scene is sort of underground because everyone lives in Southern California or Northern California and they don't really realize right in the middle there's this beautiful area. We have a handful of riders. Carey Hart lives up here. He moved up here not too many years ago. The Enticknap brothers, [Adam] "The 722," and his brother, Tyler. There's a handful of guys I don't even really know their names, but they all ride the 250 class and they all ride our supercross track. I see them. I don't necessarily know them. I just go by and there's people riding our supercross track. Then there's a ton of people who just grew up riding, racing. They moved up here. They ride really well. Those are the people that frequented Zaca a lot. They all just want a place to ride, and we thought we would give it a try, and try to give something back to the sport.
That's awesome. Besides doing the track thing right now, what are you up to?
Aside from doing this, which has taken a little bit of time and effort lately, well, I have parleyed the motocross racing career into stunt work. So I do stunts for TV commercials, movies, all that stuff. I do all kinds of stunts, but I'm known in that world as a motorcycle specialist. So I do a lot of motorcycle stunts. I do a lot of stunt work with driving cars and all the stuff you see—fire and falling down, crashing stuff. All that fun stuff. That's been going on since 1999 or 2000. That's been really fun. Along with that lately we started a breathing apparatus to open your nasal passageways called Intake Breathing Technologies. That is still in its infancy, but it's been around. We've tested it. We've had it on a lot of riders, back off the riders, back on the riders. Trying to figure out the best system for under goggles. Without goggles, it's a no brainer. With goggles, some people have issues, some people don't.
I have seen the strips on many of the riders, it seems like a pretty cool idea.
We're working that all out. It's actually starting a Kickstarter campaign. I've kind of backed myself out of the business end of it because it's a lot of work and we have people running it. They're going to start a Kickstarter campaign with it as a marketing tool and as a way to really blow it out to a lot of different people and a lot of different industries and sports. So that will be interesting. I think that's coming around pretty soon.
What about on the personal side of things? Tell me about your family.
Well, I am married and I have three kids. One who is 21 years old now. I can't believe it. Then my wife and I have a 10-year-old boy and an eight-year-old daughter. We live in Solvang, up here near the ranch. So I have to commute back and forth to LA a lot for stunt work. We live up here in the valley, and I like to mess around at the track. I go to work down in LA, and that's about it.